Dancing on the Yellow Medicine
In a history-filled river valley, a wacipi celebrates Dakota culture.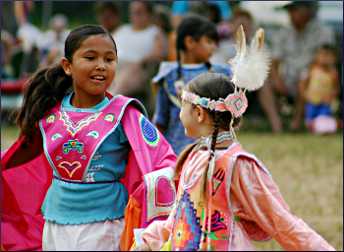 For many people, the Minnesota River Valley is full of shadows.
In 1862, years of greed and misunderstanding erupted into a clash that cost settlers their lives, the Dakota their homeland and a new state its innocence. Even today, the valley's lush peacefulness is undercut by anger and guilt.
But on the first weekend of August, people of indigenous and European descent alike come to Upper Sioux Agency State Park to have a good time. At a wacipi, or powwow, the tradition of welcoming outsiders has held steady for many generations.
The Yellow Medicine River winds through the state park, southeast of Granite Falls, and the Upper Sioux Community of Dakota is named for it: Pejuhutazizi Oyate, the people who dig for yellow medicine, the root of the gentian.
At a wacipi, the Dakota connect with friends, renew their cultural identity and teach the young. When I was at the Upper Sioux wacipi, children were everywhere, running figure eights around their elders and dancing themselves.
I couldn't help watching a 6-year-old fancy dancer, Timothy Wells Jr. of Granite Falls, because he was rarely out of the circle, twirling in a flash of yellow and black feathers and ending each song with a bow.
After a while, I complimented him and his great-grandmother, Glorene Rainville of Sisseton, S.D. She declined the credit.
"It comes from within," Rainville told me. "He taught himself. He has his own drum, too, and he tries to sing."
For non-Indians, a wacipi is a window into a rich culture.
Dancing always starts with a tribute to veterans, and local soldiers home on leave are warmly honored.
Warriors are revered, and despite their troubled history with the U.S. government, American Indians volunteer to serve it in larger percentages than any other ethnic group, including whites.
A prayer was offered for those who suffered or died in the Minneapolis bridge collapse and for family members who have passed on.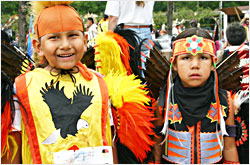 "This is the Indian way," emcee Butch Felix said. "We remember all our loved ones."
Princesses were introduced, and dancers entered the sacred circle: traditional dancers, fancy dancers, grass and jingle dancers.
For dress, anything goes — cowboy hats, sequins, polo shirts — but most of the dancers wear elaborate home-made regalia of beads, leather and feathers.
Some of the older dancers wear eagle-feather bustles, bone breastplates and coyote heads, and they're popular with visitors, with whom they good-naturedly pose for photos.
Felix called out a tribute to "all our beautiful grandmas." The elders are keepers of wisdom and often the caretakers, and small children follow them everywhere.
One older dancer wore a "Powwow Flirt" button, and when I sat near him, he smiled at me.
"Hopefully, we can get them to follow our footsteps," said Doug Furman, who came with three of his own grandchildren and has danced for three decades. "I try to be a role model."
Furman had come south from the White Earth band of Ojibwe, the Dakota's traditional enemy.
"They call us rabbit chasers and we call them dog eaters, but they're glad to see us and shake our hands," he said. "We respect their ways."
There's a concept central to the world view of both the Dakota and Ojibwe, so I repeated it: "Well, we're all related," I said.
"I'm glad you feel that way," he replied.
Stands were selling fry bread and Indian tacos, but I'd also seen people eating plates of chicken and mashed potatoes, and when I went to one of the food stands to get some, a woman pointed me toward a tent.
There I got a heaping plate of food, but the young servers wouldn't take money for it.
I saw state-park manager Terri Dinesen and asked her about it.
"This is how it's been explained to me," she said. "Traditional wacipis and powwows are like a confirmation at a church. When we invite people to church, we feed our relatives and friends who come, right?"
I remembered that the emcee had welcomed "all our new relatives," and I was moved by the band's generosity.
When I arrived at the wacipi, I'd felt uneasy, burdened by unhappy thoughts; along the way, I'd stopped at monuments and ruins marking the tragic events of 1862.
But I'd hung around for several days and watched all three Grand Entries. The dancers had become familiar, like neighbors. The drums seemed comforting, like a steady heartbeat.
For anyone who goes, a wacipi is good medicine for a heavy heart.
Trip Tips: Wacipi in Upper Sioux Agency State Park
Getting there: It's eight miles southeast of Granite Falls off Minnesota 67. No state-park vehicle sticker is required for the event.
When to go: It's the first weekend of August. Don't miss the Grand Entries at 1 and 7 p.m. Saturday and 1 p.m. Sunday.
What to know: Guests may want to bring tobacco to honor dancers, drummers, or elders with whom they wish to talk. Never enter the circle unless invited, and don't take photos when the announcer forbids them.
Refer to outfits or regalia, not "costumes." Guests should stand during the Grand Entry and honor songs.
Information: Upper Sioux Agency State Park, 320-564-4777.
For tourism information, contact the Minnesota River Valley National Scenic Byway, 888-463-9856.
For more about the Dakota Conflict of 1862, see River with a past.
Other powwows and wacipi: See Powwow primer.
Last updated on March 13, 2021