Syttende Mai in Stoughton
In May, everyone turns Norwegian in this southern Wisconsin town.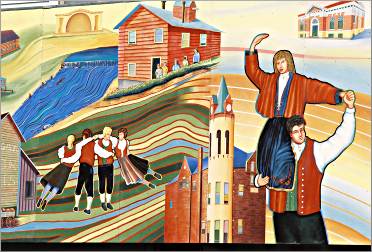 In the small Wisconsin town of Stoughton, red, white and blue flags fly everywhere on Independence Day.
Except here, the patriotic holiday is celebrated in May, and the flag is Norwegian, not American.
Norway had been under Denmark's heel for more than 400 years when it signed a new democratic constitution on May 17, 1814, a day that became known as Syttende Mai.
Norway wasn't really independent until 1905, when Sweden relinquished control, but that day marked a resurgence of national pride in the longtime underdog.
And, as we all know, underdogs tend to have the most tenacious cheering sections.
On Syttende Mai (pronounced SEH-tend-ah MY), they'll be celebrating in Decorah, Iowa; Spring Grove, Minn.; Westby, Wis., and especially Stoughton, where Norwegians from Norway routinely are astonished by the extent of the festivities.
The town attracts 75,000 people yearly and calls its celebration the largest outside Norway. Actually, it might be the largest anywhere.
"We've had Norwegians come to celebrate with us, and they say this is a big event compared to what they have there," an organizer told me when I went there. "So why don't we call it the biggest in the world? Probably because no one would believe it."
Stoughton, a town of 12,700 that's 20 miles south of Madison, has been devoutly Norwegian since early immigrants made it a tobacco-growing and wagon-manufacturing center. Its first Syttende Mai ball was held in 1868, and its celebrations have been tourist attractions since the turn of the century.
Today, a Syttende Mai includes everything a Norwegian festival should. There are demonstrations of rosemaling and acanthus woodcarving, a Viking encampment and hardanger fiddling.
Apple-cheeked youngsters perform folk dances wearing bunads, dresses whose colors and embroidery each represent a different Norwegian district.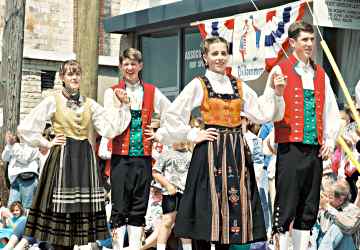 During the festival, church dinners feature lefse, lutefisk, rømmegrøt and krumkake, which translates into potato bread, lye-soaked cod, butter-soaked cream pudding and cone-shaped butter cookies.
However, the Syttende Mai in Stoughton also is pure Wisconsin.
When I was there, the ubiquitous green and gold of the Green Bay Packers had infiltrated the quilt show, and the streets overflowed with cheese curds, brats and beer — to which, of course, the Norse never have been averse.
In the basement of the town library, a standing-room-only crowd ate pie and listened to a folk group sing goofy ballads in "a special language we call Scandihoovian."
Norwegians are used to being the butt of jokes. Holding up a musical triangle, one of the group said, "We call this the Norwegian circle — notice the little slit in the side, so we can get the stick in to play it."
I went outside to watch the Youth Parade, which include lots of royalty, lots of flaxen-haired girls in embroidered red bonnets and burly Vikings in horned helmets and animal hides.
After that, the Stoughton High School Norwegian Dancers performed on the street, the boys in red vests, black breeches and buckled shoes and the girls in bunads.
These clean-cut young dancers are a big deal in Stoughton, which generally tacks "World Famous" before their name. They dance with athletic aplomb, the boys lifting the girls over their heads and, in one trademark dance, twining arms around waists and necks, two on two, and twirling in a circle.
I stopped by the Stoughton Historical Museum as the afternoon wound down and scrutinized a plaque making an unusual claim: "Norwegian farmers made Stoughton a great tobacco growing and warehousing center, and women who sorted tobacco inaugurated the national coffee-break custom."
The coffee break, invented in quiet little Stoughton? Inside the museum, I quizzed locals Marilyn Granrud and Bonnie Rae.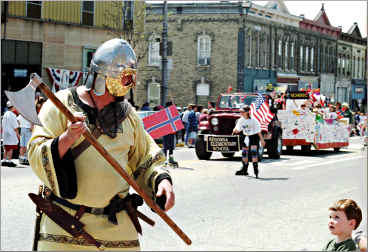 "The women who worked in the warehouses would leave several times a day to check on dinner, see how the kids were and, of course, have a cup of coffee," Granrud said.
And how did it spread? "We Norwegians went everywhere," Rae said stoutly. "The Norwegians had to have their coffee."
Today, farms around Stoughton still grow tobacco, used primarily to wrap cigars. But its biggest factories make semi-trailers and mufflers, and Norwegian is rarely heard on the streets. Except this time of year.
"In Stoughton, when it gets to be Syttende Mai time, no matter what you are, you get to be Norwegian," says local historian Douglas Stokstad. "Everyone here is Norwegian in May."
Trip Tips: Syttende Mai in Stoughton, Wisconsin
Getting there: It's seven miles west of I-90, between Madison and Janesville.
Syttende Mai: It's May 19-21 in 2023.
Events: There's a canoe race Friday, a 17-mile walk and 10- and 20-mile runs Saturday, a youth parade at 1:15 p.m. Saturday and the big parade at 1:30 p.m. Sunday.
There's also a Viking strongman competition, art fair, storytelling, theater, music, performances by the Norwegian Dancers and many demonstrations of Norwegian culture.
Syttende Mai elsewhere: It's also celebrated in Spring Grove in southeast Minnesota; Decorah in northeast Iowa; Westby in southwest Wisconsin; and many smaller towns.
For more about Norwegian culture in the Upper Midwest, see Norwegians among us.
Accommodations: The 1878 Naeset-Roe Inn B&B is walking distance from the festivities, but everything in town gets booked far in advance. Airbnbs and the many lodgings in Madison are a good alternative; see Madison stories.
Information: Stoughton tourism, 888-873-7912.
Last updated on January 13, 2022