Hayward's lumberjacks
A northwest Wisconsin resort town keeps a frontier art alive.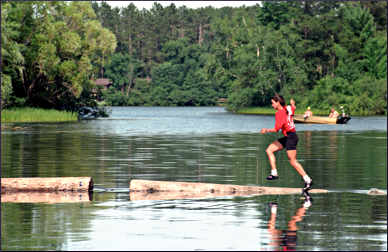 One hundred years ago, the white-pine forests around Hayward were the domain of a special breed of man.
They were swampers, sawyers and skidders. They were deckers, chainers, undercutters and riverhogs. They were dwarfed by the colossal trees they had to wrestle out of the forest, and their lives hung on their own brawn, nerve and dumb luck.
Six days a week they worked, dawn to dusk, all winter long. In spring, they'd roar into Hayward for whiskey and women; their brawling earned the town a reputation reflected in a train conductor's call: "All aboard for Hayward, Hurley and Hell!"
These strapping jacks passed into history along with the virgin forest. Or did they?
I'm sitting along a dammed inlet of the Namekagon River, and next to me is a man with the loglike arms and neck of a medieval executioner, explaining the art of springboard chopping in a rolling Australian brogue.
On a platform across the water, a burly man from New Zealand is attacking a 14-inch-round block of white pine; :21.74 seconds later, he's chopped through it and set a new world record.
It's Hayward's annual Lumberjack World Championships, to which jacks — and jills — from all over the world have come to compete. Not all of them are Bunyanesque; in log-rolling and speed-climbing events, weight is a liability, and the competitors are lithe and sinewy.
Hayward grows those by the dozen; this town in the middle of Chequamegon National Forest is a log-rolling hotbed.
Starting as young as 3, town children spend long summer days at the Lumberjack Bowl, splashing, playing and practicing an art that, during log drives a century ago, left hundreds of grown men crushed or drowned.
The sport no longer is lethal, but it still takes cunning and stamina. Home-grown birlers are in both title matches today; in the women's, Judy Scheer-Hoeschler, winner of seven titles, is challenging her former student at Hayward's Logrolling School, Tina Salzman, in a match New Zealand announcer John Hughes bills as "experience against youth."
They climb onto a 14-inch log and play cat and mouse, studying each other's feet as they flash along the twirling log. Salzman falls first, but then Hoeschler begins to falter. The two climb onto a 12-inch log the announcer calls "a little stick of dynamite"; one more fall, and Salzman is champion.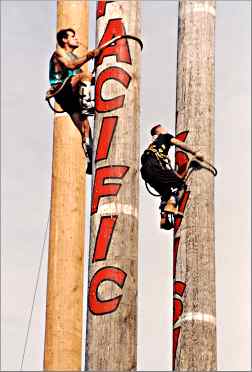 The men's contest is another battle of wits: "They'll try to get in each other's head, shake 'er up," Hughes says. Michigan's Dan McDonough has come back to regain his title from Hayward's Brian Duffy, who ended McDonough's seven-year winning streak.
But now McDonough is leaner and fitter, and soon they are furiously spinning the log in a froth of whitewater, trying to find a crack in the other's guard, to make a sudden feint from which there can be no recovery.
One falls, then the other. Finally, McDonough topples Duffy one last time and throws up his arms in victory.
The next event is the men's boom run, in which the jacks run on a bobbing line of logs chained end to end; Tina Salzman's younger brother J.R. wins, whipping across the water as if wolves are nipping at his heels.
Wiry veteran Fred Scheer wins the river pig event over nine younger rivals, poling a log along the boom line.
It's a picturesque sport — the finals are being covered by ABC, MTV and the BBC — and sometimes a perilous one. In the preliminaries, one of the climbers failed to break his fall in the 90-foot competition and broke a vertebra.
The underhand chop, in which the jack stands on the log he's chopping, also is dangerous; when Tina Salzman, while accepting the Ladyjack prize, is asked whether she'll take it up, she laughs and says, "No, I'm too attached to my feet."
Her answer is eerily prophetic: A few weeks later, Carson Bosworth, with whom she won Hayward's Jack 'n' Jill sawing competition, chopped off his big toe in a Canadian underhand event.
The first world championships for log-rolling were held more than a century ago in Omaha, Neb., and evolved into the Lumberjack World Championships, which moved to Hayward in 1960.
For a town of 2,000, Hayward is the hub for an astounding number of events: Besides the Lumberjack Championships, it's also home to the Birkebeiner, North America's most famous Nordic ski race, and the Chequamegon Fat Tire Festival, one of the biggest and best-known mountain-bike races.
The late Tony Wise was the midwife for all three events and also helped launch Scheer's Lumberjack Shows, which Fred and Robert Scheer started as young men in 1980 and now go all over the world from bases in Hayward and Woodruff.
And the town is known for even more. The 143-foot-long muskie at the National Fresh Water Fishing Hall of Fame is a northwoods landmark; sometimes, weddings are been held in its open jaw, 48 feet above the ground.
In the Moccasin Bar downtown, a 67½-pound muskie stretches along one wall, along with a quirky collection of other taxidermy; the fish was a world record when it was caught in 1949 in nearby Lac Court Oreilles.
Big fish, big athletes, big entrepreneurs: Hayward always has been home to folks who have a lot of drive. No doubt, it's the legacy of the lumberjacks.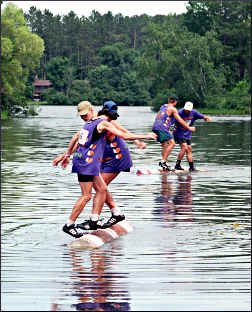 Trip Tips: Lumberjacks in Hayward, Wisconsin
Lumberjack World Championships: It's July 20-22 in 2023.
2023 events : June 23-25, Musky Festival. July 14-16, Honor the Earth Traditional Powwow. Sept. 16, Chequamegon Fat Tire Festival. Sept. 23, Fall Festival.
For more about mountain-biking, see On a roll in Hayward and Cable.
Attractions: From late June through late August, Scheer's Lumberjack Shows are held Tuesday-Sunday at Lumberjack Village.
The National Fresh Water Fishing Hall of Fame & Museum is open daily from April 15 through October.
Lake resorts: On the Quiet Lakes, so-called because of their 10mph speed limit and wilderness setting, Northland Lodge is on Lost Land Lake, connected by channel to Teal Lake and Ross' Teal Lake vacation homes.
The handsomely restored 1923 Spider Lake Lodge, half an hour east of town, is very popular.
Dining: The Angry Minnow on Florida Avenue serves its own beers as well as many sandwiches and such dishes as cedar plank mango salmon, grilled duck, pork tenderloin with black-bean salsa and rib-eye.
Backroads Coffee & Tea serves sandwiches, and Coop's Pizza is a longtime favorite.
In summer, Angler's Bar & Grill has a beer garden on Main Street downtown.
Details: For more, see Unwinding in Hayward.
Last updated on February 2, 2022