Destination: Mackinaw City
On the south shore of the Mackinac Straits, the year is 1775.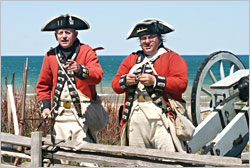 At the top of the Michigan mitten, a little village has seen a lot of action over the centuries.
Iroquois war parties, French explorers and British soldiers passed by on the Mackinac Straits, which link Lake Huron to Lake Michigan. American traders, lighthouse-builders, ore boats and tourist ferries followed.
Then the continent's longest suspension bridge went up, a link to the Upper Peninsula and an attraction in itself.
Mackinaw City lives quietly in its shadow, supplying ferries and fudge shops for tourists headed to the more popular Mackinac Island.
But it's also a destination. On its shores, there's a 1775 fort filled with redcoats, two lighthouses, sandy beaches and a view that never gets old: the spectacular spans of the Mighty Mac.
The biggest day of the year is Labor Day, when up to 80,000 people show up in Mackinaw City to ride school buses to St. Ignace for the start of the free annual walk across the Mackinac Bridge.
The drive across the five-mile bridge is a scenic cruise on calm days, but it can be  a thrill ride on windy days (in 1989, a gust famously blew a Yugo off the bridge).
Mackinaw is the British spelling of Mackinac, which has a silent "c." Both are shortened French versions of the Ojibwe word for round, humpbacked Mackinac Island: Michilimackinac, or "Great Turtle."
In 1715, the French built a fort on the south shore of the straits, in present-day Mackinaw City. The British took it in 1761, but abandoned it 20 years later to build a more defensible fort on Mackinac Island.
The mainland fort was excavated and, in 1960, re-created as Colonial Michilimackinac. Within its wooden palisades, interpreters portray the year 1775, when the King's Eighth Regiment was posted there.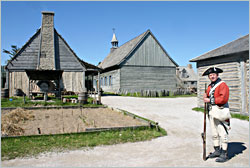 It was a fur depot as well as a military post, and at any one time, Ottawa, Ojibwe, French-Canadians, métis, Scots and German Jews could be seen conducting business.
Now tourists walk the streets, wrapped by brisk breezes off the lake. Often, they're asked to dance by one of the jolly voyageurs. If there's a shipment of trade goods, they put on stocking caps and sashes and help distribute them.
In summer, there are games of baggatiway, a kind of lacrosse. In 1763, the Ottawa and Ojibwe, fed up with the stingy British, used the game as a ruse, assembling outside the fort and then attacking.
On the parade grounds, a British sergeant gives musket-firing demonstrations on the hour. It always draws appreciative audiences.
"Imagine thousands of these going off every 20 seconds in an open meadow; it makes a lot of smoke," he says. "That's one of the reasons the British wore red coats, so they could see each other."
On wet or humid days, muskets were unreliable, and he showed how troops would "set bayonet," turning their muskets into a 7-foot spear coated in sulfur dioxide from gunpowder residue.
"The bayonet was more feared," he says. "If you were even poked in the hand, you could die of blood poisoning."
In St. Anne's chapel, we witnessed a French ceremony in which visiting priest Father Gibeault married one of the fort's Indian interpreters and his bride from a prominent family in Detroit.
In 1781, during the American Revolution, the British burned the fort to the ground and built another on Mackinac Island. After 1783, it technically belonged to the Americans, but they were unable to take control until a treaty in 1796.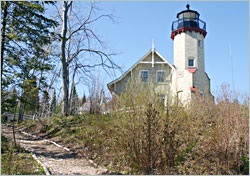 The British took it back in the first land battle of the War of 1812; the Americans tried to recapture it but failed, regaining control only by the passage of another treaty in 1815.
Colonial Michilimackinac is just one of four historic sites in Mackinaw City.  On the other side of the bridge, the Old Point Mackinac Lighthouse sits alongside Alexander Henry Park.
The lighthouse was made obsolete by the lights of the Mackinac Bridge when it was opened in 1957. And it, in turn, had made the McGulpin Point lighthouse obsolete when it was built in 1890.
McGulpin Point opened in 1869 west of town, but drew complaints because it failed to illuminate the entire straits. It's now owned by the county and is free to tour. Its Chi-Sin Trail leads to the water and a 54-ton rock used for centuries as a water gauge.
Farther west, Wilderness State Park has one of Lake Michigan's most beautiful beaches and 26 miles of shoreline.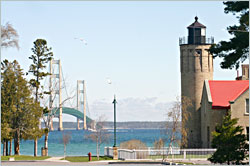 East of downtown, the Historic Mill Creek Discovery Park includes a zipline, canopy bridge and climbing wall on the site of an 18th-century sawmill.
Downtown is geared to tourists, with wide streets lined with fudge shops, trading posts and stores selling popcorn, kites and T-shirts.
From early morning to late at night, ferries shuttle tourists to Mackinac Island from three docks.
With all of the activity, it's hard to believe this town has a population of only 800. For a town so small, it's got a lot to share.
Trip Tips: Exploring Mackinaw City, Michigan
Getting there: It's 400 miles from Chicago and 255 miles from Green Bay.
If you're planning a Circle Tour, see Circling Lake Michigan. For more about Mackinac Island, see Touring Mackinac Island.
2023 events: May 27-29, Fort Michilimackinac Reenactment. June 18, Lilac Festival parade on Mackinac Island. June 22-25, St. Ignace Car Show. Sept. 4, Mackinac Bridge Walk.
Colonial Michilimackinac: It's open daily from early May to mid-October. Cannon and musket firing and walking tours are held hourly; check the schedule for special tours and programs and special weekend encampments.
Admission is $14.50, $8.75 for youths 5-12. If you're also planning to see the Old Mackinac Point Lighthouse and Historic Mill Creek Discovery Park, the Mainland Combo ticket is $31.75 for adults, $22.25 for children 5-12.
Old Mackinac Point Lighthouse: It's open daily from early May to mid-October. Admission is $9.75, $7 for youths 5-12.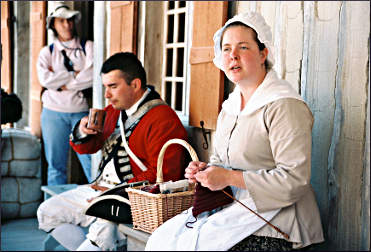 Historic Mill Creek Discovery Park: This wooded state park near the Mackinac Straits includes the 425-foot Eagle's Flight Zipline, which soars over Mill Creek.
It's $11 for the Forest Adventure Experience, which includes the zipline, the 165-foot-long, 50-foot-high Forest Canopy Bridge and the 40-foot Treetop Discovery Tower Climbing Wall.
You also have to buy admission to the park, $10.50 for adults, $8 for youths 5-12. It includes living history programs and hiking trails.
McGulpin Point Lighthouse: From Mackinaw City, travel west on Central Avenue, turn north on Headlands/Wilderness Park Drive. There's no charge to tour the lighthouse and climb the tower.
Wilderness State Park: This park, on a point 15 miles west of town, has a beautiful beach and 26 miles of shoreline. It has modern campgrounds and a track chair available for visitors with mobility challenges.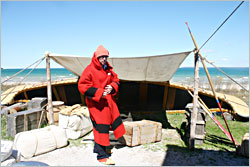 Ferries to Mackinac Island: Shepler's and the Star Line offer ferry trips to Mackinac Island. Buy online and get a few dollars off.
You can also get to the island on the Star Line's pirate ship Good Fortune.
Accommodations: There's a string of inexpensive mom-and-pop motels along the lake that are walking distance from the ferries. They include the well-located Lighthouse View Motel, across from the Old Mackinac Point Lighthouse.
Just west of town, near McGulpin Point, there's a guesthouse at Headlands International Dark Sky Park, a certified stargazing site. The modern house sleeps 22 people and has four bedrooms and three baths.
Wilderness State Park has six rustic cabins that sleep four to eight and three rustic bunkhouses that sleep 24.
Just east of Mackinaw City, Cheboygan State Park rents a three-bedroom modern lodge that sleeps eight.
Dining: Just south of town, Bière de Mac Brew Works serves its own craft beer and a menu of appetizers, sandwiches, burgers, salads and soups.
Information: Mackinaw City tourism, 800-666-0160.
Last updated on February 1, 2022