Circling Lake Michigan
A road trip around this sandy inland sea uncovers multiple personalities.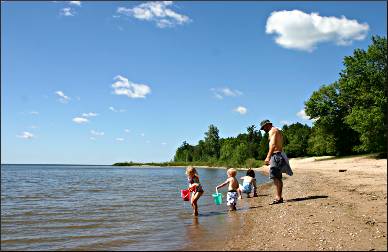 If Lake Superior is the drama queen of the Great Lakes, then Lake Michigan is president of the pep club.
It's beautiful, popular and a lot easier to get along with than its tempestuous sister. Its shores are lined with sand, not jagged cliffs, and its beaches attract festive crowds every summer.
It's the only Great Lake you can circle without a passport, and if you don't want to drive around the whole thing, you can take a short cut on a car ferry.
It's still a little moody, though. Shipwrecks litter the bottom, because sandy shoals can snag a boat as surely as rock.
But Lake Michigan hardly is wild. It's been thoroughly domesticated, with two giant cities near its foot, a bevy of beach towns on the east and a long chain of state and national parks.
The 1,100-mile tour of its shores is a classic road trip, featuring the world's largest freshwater dunes, a fabled island, a restored ghost town, the world's third-longest suspension bridge and one magnificent beach after another.
The route goes through four states — five, if you count the Upper Peninsula — and you can travel from steel mill to heron habitat in 10 minutes.
It's never boring, that's for sure.
We traveled it the third week in June, right before the tourist season started in earnest.
Seven years earlier, we'd done the half-Circle Tour, cutting off the southern part by taking the car ferry between Ludington, Mich., and Manitowoc, Wis.
This time, we wanted to see the famous beaches between Ludington and Indiana Dunes National Lakeshore. We wanted to stay overnight on Mackinac Island and spend time in Traverse City. We wanted more of everything.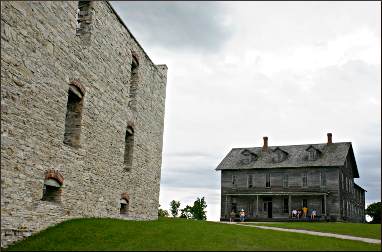 A Circle Tour is drive-by tourism; the first time, you can't do much more than gape, snap a photo and move on.
The second time, you try to catch what you missed the first time. But you still have to keep moving.
Starting on the Wisconsin-Michigan border
We started at the Menominee River, where Marinette, Wis., and Menominee, Mich., sit on opposite sides.
The working-class Upper Peninsula is far removed from the wealthy enclaves of Lower Michigan; its spiritual home is Green Bay, not Grosse Pointe. Much of the land was tax-forfeited during the 1930s and now is state and national forest.
Our first stop was J.W. Wells State Park, where we stayed in the first of a string of very nice state-park cabins.
For details, see Michigan's great lake cabins.
The next day on the beach, we ran into a couple from Manistique who love to explore the area.
They mapped out the things they thought we should see: Fayette Historic Townsite on the Garden Peninsula, Kitch-iti-kipi Spring near Indian Lake, the hiking trail down the 100-foot gorge of the Cut River near Naubinway.
U.S. 2 hums with vehicles heading cross-country, but few stop at nearby attractions.
You have to drive 17 miles down the Garden Peninsula to see the Fayette Historic Townsite, but once there, it's easy to imagine the description in the 1882 Schoolcraft County Pioneer: "Fayette looks like a little Chicago this week; the harbor is full of boats and business is brisk."
The little company town on the cliff-lined bay was a boom town in the 1870s and '80s, when its giant furnaces smelted ore into iron.
Today, visitors wander paths between the preserved music hall, hotel, bank, superintendent's home and boardinghouse, each with exhibits on the people who lived, worked or entertained there.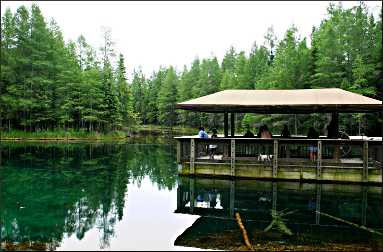 Thirteen bottles that once contained 9,000 doses of morphine were found behind the walls of one house, and visitors can try to answer the question, "Who do you think was the morphine addict?"
We were barely back on the highway before we made the 11-mile detour to Palms Book State Park and Kitch-iti-kipi Spring.
From our raft, we gazed at its bubbling bottom through a viewing well. We were propelled by a 10-year-old girl from Victoria, B.C., who liked to crank the cable along which it rode.
Ten thousand gallons a minute hurl themselves upward through a limestone fissure, making the white sand on the bottom dance and swirl. It was hypnotizing, like watching an emerald-tinted aerial view of an erupting volcano.
We continued east through Manistique, whose high-school teams are called the Emeralds after the spring. There's a lovely beach there, right around the corner from the red pierhead light, but we were headed for St. Ignace and the ferry to Mackinac Island.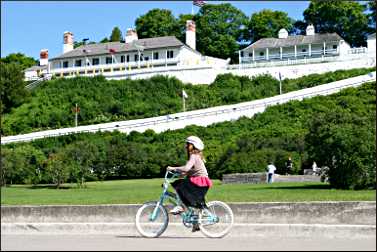 We'd brought our own bikes, and as soon as we arrived on the island, we circled it on the eight-mile Lake Shore Road, also known as M-185, the only state highway in the nation that doesn't allow cars.
In the golden light before dusk, it seemed sun-kissed and magical.
There's more to this fabled island than fudge shops and Fort Mackinac, which I toured on my first visit. This time, we poked into every nook and cranny, from wooded nature trails to the ruins of a British fort.
We crossed paths with the crowds only on Main Street and the path to Arch Rock, to which most tourists ride on horse-drawn trolleys.
Toward the end of Sunday afternoon, we returned to watch the big Lilac Festival parade, featuring the cross-dressing Scottsville Clown Band.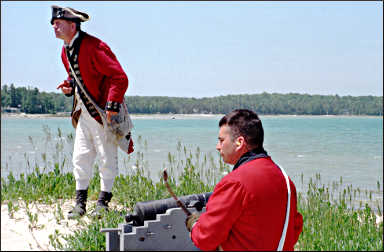 After two nights, we returned to St. Ignace and crossed the five-mile Mackinac Bridge, thinking about the Yugo that was blown over the side in 1989 by gale-force winds. Luckily, it was calm that day.
Colonial Michilimackinac, a re-created British fur post, is right on the strait in Mackinaw City and a great stop for families, especially those with kids who might like to see soldiers fire cannons and muskets.
For more about the Circle Tour with children, see Lake Michigan with kids.
We kept going to Cross Village and the Legs Inn, a folk-art landmark whose fieldstone façade is lined with white stove legs.
It was founded by a Polish immigrant in 1921, and we guessed, correctly, that it would be showing World Cup soccer games. So we settled at the bar to eat a plate of pierogis and watch Spain play Honduras.
Nearly everyone else was on the flower-filled patio, sampling some of 100 beers served by young, dirndl-clad waitresses from Poland. Just beyond, the lawn rolled to the shore of Lake Michigan.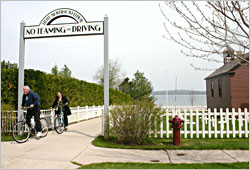 Down the Tunnel of Trees
We couldn't imagine a better place to while away an afternoon, but we kept going down M-119, also called the Tunnel of Trees.
The twisting road, barely wide enough for two cars to pass, has views of Lake Michigan and is famous for its spring wildflowers and fall color.
But it was June and we'd just spent two days bicycling on Mackinac's more-scenic M-185, so we weren't that impressed.
The drive ends in the old-money enclave of Harbor Springs. We drove on to the new-money enclave of Petoskey, where we tried in vain to find a trailhead of the 23-mile Little Traverse Wheelway, thinking one of us could ride it to Charlevoix.
We rode it later, one May, and it was beautiful. For more, see Bicycling in western Michigan.
Charlevoix is a pleasant tourist town squeezed between Lake Michigan and big Lake Charlevoix.
It's known for its ties to Ernest Hemingway, who spent his boyhood summers there, and for the stone "mushroom houses" designed and built by local resident Earl Young.
From downtown, we took a stroll along the channel to Lake Michigan, past Young's Weathervane Inn. As we left town, we wound through the adjoining neighborhood, past some of his whimsical homes.
On Grand Traverse Bay
Traverse City is the first of the big beach towns. For more, see America's freshwater Riviera.
We checked into a cabin in Traverse City State Park, just across the highway from the beach on the East Arm of Grand Traverse Bay.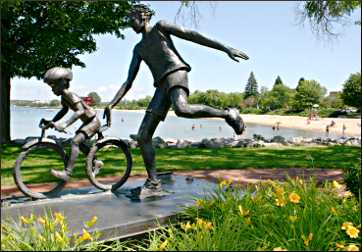 The 10½-mile TART Trail runs alongside the park, so we hopped on and rode to the West Arm beaches, the marina, the adorable downtown and the Old Town district.
People can and do spend a week or more here. It's both beach town and cultural capital, with free music and festivals all summer, including the giant National Cherry Festival in early July.
Bicyclists like to ride its trails and also the roads around nearby Torch Lake and up the Old Mission Peninsula, which separates the two lobes of Grand Traverse Bay, and the Leelanau Peninsula, between the bay and Lake Michigan.
When we drove up the Old Mission Peninsula, ripening cherries were bright red in the orchards, and roadside stands sold strawberries.
Local farmers also grow grapes on this water-wrapped finger of land; at Chateau Chantal Winery, we stopped for a taste of the local pinot blanc.
We visited the Old Mission Light on the tip of that peninsula, and the Grand Traverse Light at the tip of the Leelanau Peninsula.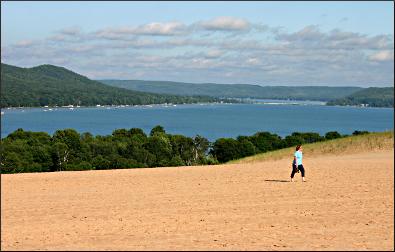 In Leland, we stopped at touristy Fish Town, whose weathered shanties now are occupied by T-shirt shops.
Playing in a giant sandbox
From Leland, it's not far to Empire and Sleeping Bear Dunes National Lakeshore. Kids adore this giant playground of sand, and we spent several days there on the first trip.
Nevertheless, we stopped to do the classic Dune Climb and hike the Empire Bluff Trail again. We hit them in the golden hour before dusk, when the vast swath of sand glowed.
In Manistee, we stopped to tour the 1930 steamship S.S. City of Milwaukee, beached on the shore like a whale with its mouth propped open.
Once, this boat transported entire freight trains across Lake Michigan. Today, it's also a bed-and-breakfast, with rooms outfitted with antique-store finds from the era and a lake view from every angle.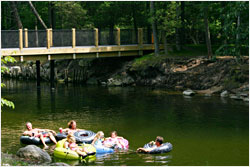 In Ludington, we picked up a picnic lunch downtown and took it to Ludington State Park, one of the most popular in Michigan.
It's like a little resort, with four campgrounds plus tubing, canoeing, swimming, bicycling, a store and evening music and stories in the amphitheater.
"People come for 50 years, and then they bring their grandkids," said friendly campground host Stub Willick. He turned out to be a drummer in the Scottville Clown Band, founded in 1903; we'd seen them performing, memorably, in Mackinac Island's Lilac Festival parade.
We rode our bikes through the dunes to the 1867 Big Sable Point Lighthouse and caught the last tour. Volunteer keeper Larry Gorsh took us up the 132 steps to the catwalk, which had a sweeping view of dunes and water.
"I've often caught myself saying to visitors, 'Look out at the ocean,' " he said.
Our next stop was Muskegon, a working port where it's not so easy to find the beach.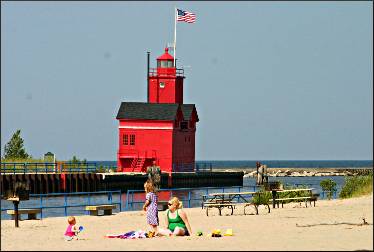 Winding our way through town, we finally found the long beach at Pere Marquette Park, and nearby the World War II submarine U.S.S. Silversides, part of the Great Lakes Naval Memorial & Museum.
Sleeping on the beach
We washed up for the night at Holland State Park in the Dutch town of Holland, where we had a camper cabin at the edge of the beach, with a view of the beloved Big Red lighthouse.
When everyone else had to leave for the day, we got to stay, and we were first on the beach in the morning.
Just south of Holland, Saugatuck is another popular beach town. Its streets were thronged with shoppers and strollers, many sampling fudge. In Lower Michigan, eating fudge is a required tourist activity, much as eating pasties is on the U.P.
On our way to lunch, we walked past the S.S. Keewatin, a passenger liner that once sailed between Thunder Bay and Port McNicoll on Lake Superior.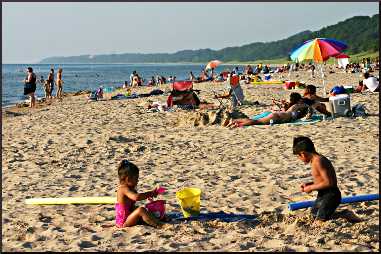 We would have liked to visit Oval Beach, reached via hand-cranked chain ferry across the Kalamazoo River, but we had to move on.
In South Haven, we spotted the Friends Good Will, a replica of an 1810 square-topsail sloop, coming into the harbor and its berth at the Michigan Maritime Museum.
There was a beach downtown, and also beaches all the way down the shore, each populated with sunbathers and swimmers.
It seemed to extend all the way to Warren Dunes State Park, where the beach seemed to go on forever. Giant dunes rose behind it, with paths lined by wildflowers. It was a balmy evening, and we weren't the only ones who stayed well into dusk.
On the Red Arrow Highway
From nearby Sawyer, we traveled on an old stretch of the Red Arrow Highway, part of the 1922 West Michigan Pike between Chicago and Mackinaw City.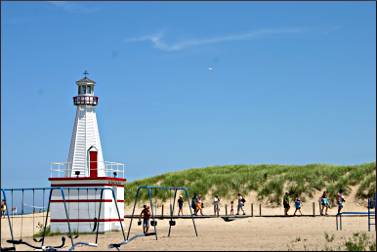 Parallel I-94 now carries most of the traffic, but this stretch is fun for its old-time roadhouses, fruit stands and antiques stores.
Around Harbert, art galleries and an Italian ristorante appeared, signs of the Chicagoans for whom this area is a favorite weekend getaway.
In Union Pier, we stopped and bought plump berries and baked goods at the Saturday-morning farmers market.
Near the Indiana border, we stopped in New Buffalo, the closest town to the Indiana border, and spent an hour swimming at the town beach.
Then we crossed the border and started looking for Indiana Dunes National Park, which looked large on the map but turned out to be elusive.
We finally found a beach where we could park. It was beautiful, but it was flanked on both sides by steel mills, and we could see the outline of Chicago in the haze. Created by a swap with the steel industry, the park is an oasis that harbors wetlands and wildlife.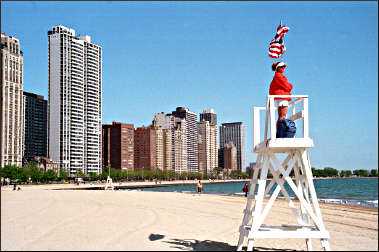 U.S. 12 through Gary was a trip through the Third World, though we still were following Circle Tour signs. An astringent smell hung in the air, and the only nice building we saw was a shiny blue-glass casino.
Chicago has gorgeous beaches. But the next time we saw Lake Michigan, it was on the other side of the city at Illinois Beach State Park, near Waukegan.
It's big, with a 6-mile-long beach, trails through nature preserves, wildflowers and a campground.
Park facilities have had problems with maintenance, due to underfunding, but the beach itself is beautiful. And for campers who don't want to cook, there's a conference center with a restaurant.
Lighthouses in Wisconsin
Ahead of us lay Kenosha, Racine and Milwaukee, all with gorgeous beaches and lighthouses.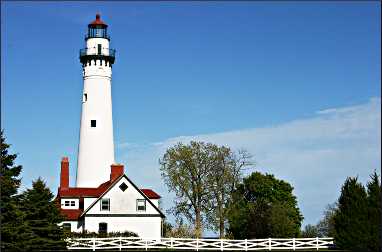 The beach in downtown Kenosha stretches from two adorable, candy-striped pierhead lights, and the 1866 Southport Lighthouse is up the hill. The Electric Streetcar Circulator makes a two-mile loop along the shoreline and through downtown and historic districts.
In Racine, the 1880 Wind Point Lighthouse is a classic Poe tower that's one of the tallest on the Great Lakes. If you're there on the first Sunday of the month from June through October, you can tour it.
A bike trail connects North Beach to the Racine Zoo and downtown, where kids can run through the multi-jet fountain at Pershing Park without getting sandy.
Like Chicago, Milwaukee is a destination in itself. Its lakeshore is lined with tourist attractions and is fun to cruise either in a car or on a bike.
Port Washington is a stop on the Interurban bicycle trail and a good place to charter a fishing boat.
Sheboygan has a lovely beach at Deland Park and is famous for its free John Michael Kohler Arts Center, the nation's premier steward of outsider art.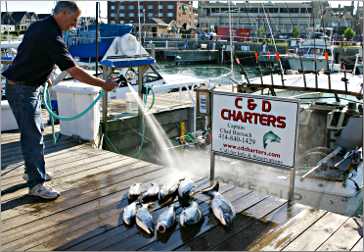 Manitowoc, where the Wisconsin Maritime Museum includes the U.S.S. Cobia submarine, and Two Rivers are linked by a bicycle trail right on the lake.
Point Beach State Forest, just north of Two Rivers, has perhaps Wisconsin's loveliest beaches and a lighthouse whose elegance rivals Racine's.
Like Milwaukee, Door County is a destination well worth a week to itself; it's very popular, like Michigan's beach towns all pushed together on one peninsula.
If you're closing the loop, your next stop will be Green Bay, in Packer country.
It's crawling with football fans every day, but if you're there in August, you can join the festivities around the Packers' training camp, which Sports Illustrated calls one of the best and most fan-friendly in the nation.
More information
Want to do the Circle Tour? See Planning a Circle Tour of Lake Michigan.
For details on making a half-Circle Tour, see Lake Michigan with kids.
For a nine-day sample itinerary, see Lake Michigan's greatest hits.
For more on camping, see Camping around Lake Michigan.
For more on staying in Michigan state parks, see Michigan's great lake cabins.
For more about the beaches and beach towns, see America's freshwater Riviera.
Last updated on April 6, 2021