Feisty Northfield
As outlaws discovered, this Minnesota college town is small but rarely sleepy.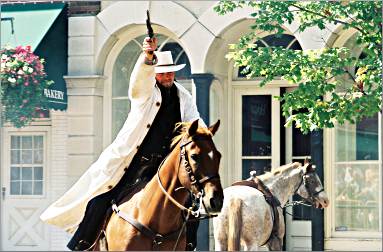 Northfield always has been shaped by newcomers.
First the Yankees came to town, then the Norwegians. Each started a college, and the Yankees built mills, whose flour won international prizes as the Minneapolis mill were just getting started.
Missourians arrived in 1876 for a brief but memorable visit; the violent bank raid by the James-Younger Gang is called "the seven minutes that shook Northfield."
But after the turn of the century, the town settled into a sedate existence, churning out college graduates and cream.
Northfield's cows were butterfat champions that earned it the title "Holstein Capital of America." It was the town's "contented cows," went an advertising slogan, that produced milk for the local Carnation plant.
Over time, the cows disappeared and people streamed in, drawn to the quiet but cultured town and its old-fashioned downtown. Housing subdivisions and big-box retailers followed the people, many of whom commute to the Twin Cities.
As the town of 17,000 struggles to maintain its small-town character, its longtime slogan — "Cows, Colleges and Contentment" — sounds a little dated.
But for visitors, Northfield retains plenty of small-town charm. The big stores are on a strip of highway, not downtown, which retains its century-old brick storefronts and small, locally owned shops.
The brick Victorian tower of Old Main, St. Olaf College's first building, still pokes above treetops at the edge of town, surrounded by a campus of wholesome white limestone.
Carleton's less-lofty but decorous campus is just east of downtown, tucked among the trees and clustered around the Bald Spot, a gathering place.
Founded by the Congregational Church in 1866, Carleton soon became independent; it's the smaller college but is rated highest in national publications.
For 21 years, the late Paul Wellstone taught at the college. The famously scrappy former wrestler taught political science, shaping a generation of independent thinkers, before he became a U.S. senator.
Carleton's free public Convocation lectures bring in well-known speakers whose exchanges with students tend to be spirited. The college also is the alma mater of economist Thorstein Veblen, the iconoclast who coined the term "conspicuous consumption."
St. Olaf still is a bastion of Norwegian Lutherans, though its student body is diverse.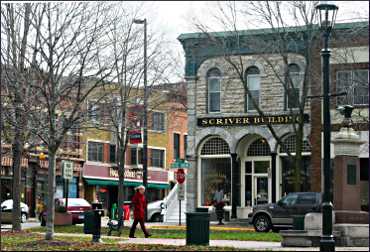 The college's choirs, orchestras and bands are known worldwide, and its professional and student musicians give recitals and concerts that are free to appreciative public audiences in hilltop concert halls.
Bridge Square is the heart of town and the spot at which it began. For years, the only bridge across the Cannon River led into the square, past the Ames flour mill on one bank and the North grist mill on the other.
It was across this bridge that the James-Younger Gang rode in September 1876. Adelbert Ames saw them; he had been a Union commander during the Civil War, became the carpetbagging governor of Mississippi and had just been impeached.
Ames' father-in-law, Union Gen. Benjamin Butler, was one of the most hated men in the South.
He was infamous for filching Confederate silver — his nickname was "Spoons" — and for his occupation of New Orleans in 1862, when his "Woman Order" decreed that any local woman who insulted a Union solder could be treated as a prostitute.
Around the South, his face often was featured on the bottom of chamber pots.
He also was a major investor in Northfield's First National Bank.
That bank was the target of the Younger brothers and Frank and Jesse James, who had been Confederate guerrillas during the war. On Sept. 7, three men in long white dusters strode into First National Bank.
Another two men, Cole Younger and Clell Miller, slowly rode toward the bank, and Miller took up guard at its door.
But a nosy local man named Joseph Allen tried to get inside; instead of pulling him in, Miller shoved him away, whereupon Allen cried, "Get your guns, boys, they're robbing the bank."
A former Union sharpshooter and an expert hunter were nearby; they grabbed rifles, and in a few minutes, Miller was dead.
So was William Stiles, part of a rear guard that included Jesse James and Jim Younger. Bob Younger, Cole Younger and Charlie Pitts were wounded.
"These were hard-working Northerners who did not believe in such foolishness as letting people come into their town and hold up their bank and take their hard-earned dollars," says historian Cathy Jackson in the PBS film "Jesse James."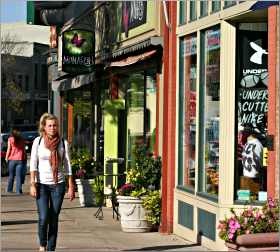 Frank and Jesse James escaped, but Pitts was killed by a posse from the town of Madelia, Minn., and the Younger brothers were captured and served terms at the state prison in Stillwater.
Northfield became known as "The Little Town That Defeated the Jesse James Gang." Its fame came with a price: For several years, it received anonymous threats from those who considered the gang folk heroes.
The Northfield Historical Society has restored the bank office, part of its museum in the 1868 Scriver Building, on the corner of Division Street and Bridge Square. Visitors see the original gilt vault door and guns used in the raid.
A video re-enactment shows the action inside the bank, when cashier Joseph Lee Heywood, who refused to open the vault, was shot and killed, reportedly by Frank James.
Every September, townspeople re-enact the street scenes of the famous raid. As spectators watch from the sidelines, women and men in 1870s garb begin to walk up and down Division Street.
"Who could have suspected," the announcer asks, "that violence lurked just a moment away?"
Then the street is filled with gunfire and the thundering of hooves. Horses wheel and rear, and at the end, three men lie still in the street — the two outlaws and an immigrant from Sweden who didn't understand English.
The Ames Mill still stands across the river; it's now part of the Malt-O-Meal plant.
Most Division Street storefronts were built just after the raid. Now, the handsome Second Empire and Richardson Romanesque and Queen Anne buildings that once housed hardware and department stores are the homes of cafes and gift shops.
The 1877 Archer House was built a year after the raid and was a distinctive presence on Division Street until it was destroyed by fire in 2020.
The mansard-roofed hotel had housed generations of travelers and visiting parents.
My friend Grace and I stayed there during a November shopping foray. Trade from the colleges help keep Northfield's downtown healthy, and it's filled with specialty stores.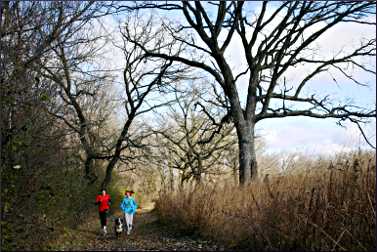 At Monarch, the Enchanted Garden, we perused gifts with Celtic and fairy themes. At Sketchy Artist, I found a box of comic-book postcards.
We had a hard time deciding what to do next. There was a lot going on that Saturday night: a staged reading of a new play at the Northfield Art Guild Theater, an antique auction by the Historical Society, a Renaissance-music concert at Carleton and, at St. Olaf, a Chekhov play and a Javanese gamelan performance.
We decided to do the Gallery Crawl, starting with a reception at the Arts Guild Gallery downtown. Then we caught the free van to an exhibit of works by Edward Anders Sovik, the architect of the St. Olaf look — spare but splendid, with vertical lines soaring heavenward.
The van already was waiting to take us to Carleton's Art Gallery. Then we had it drop us off at the Contented Cow pub, where we ordered glasses of ale and listened to a set of live jazz.
The next day, we took a hike along the Cannon River in Carleton's Arboretum, then returned to pick up cappuccinos at Goodbye Blue Monday, one of the few spots downtown with a collegiate atmosphere.
"I've been wondering where all the students are," Grace said. "For a town with two colleges, you don't see that many students."
The colleges, several people had mentioned, keep their students busy. With so much going on all over town, there's enough to keep visitors busy, too.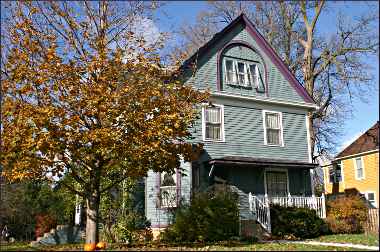 Trip Tips: Northfield, Minnesota
Getting there: It's an hour south of the Twin Cities.
2023 events: May 20 to Oct. 21, Riverwalk Market Fair on Saturday mornings. Sept. 6-10, Defeat of Jesse James Days (don't miss the re-enactments). Oct. 6-8, Studio ArTour of South Central Minnesota.
Shopping: Some the shops are closed on Sundays. In fall, stop at Fireside Orchard, just off I-35, for apples and freshly made doughnuts.
Northfield Historical Society Museum: This is the place to learn about the infamous bank raid. Volunteers discuss some of the odd aspects of the raid, including smuggled cadavers, a mystery skeleton and the bizarre fates of the gang members who survived the raid.
For more about the pursuit of the outlaws after the raid and their capture in Madelia, Minn., see Posse on the prairie.
Hiking: Carleton's Arboretum, or "Arb," lies on the floodplain of the Cannon River on the edge of town; from downtown, head northeast on Division Street.
Three loops, with 7½ miles of trails, take hikers past oak savanna and prairie being restored by the college.
Nearby, Nerstrand Big Woods State Park has 13 miles of hiking trails and is best known for its splendid display of spring ephemerals and for fall colors.
From downtown Northfield, take Division Street (Minnesota 246) south for about 11 miles to County Road 40 and into the park, 507-333-4840.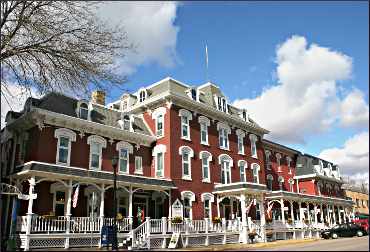 Nightlife: The Northfield Arts Guild sponsors theater and music events. St. Olaf College hosts many free concerts and recitals, by world-renowned musicians as well as professors and students.
Carleton College brings in well-known speakers of its free Friday-morning convocation lectures. The Contented Cow often schedules music.
Dining: On Division Street, Reunion offers American classics and the Contented Cow specializes in British fare.
Imminent Brewing is at Division and Sixth Street East and has food trucks and outdoor seating. Across the river, Tanzenwald Brewing serves sandwiches as well as its own craft beer.
Near the St. Olaf campus, the Ole Store Restaurant serves fresh twists on Scandinavian comfort food as well as the famous Ole Roll.
On Division Street, The Blast serves soft-serve ice cream from late March to late September.
Accommodations: The Magic Door B&B is an 1899 Victorian on four blocks from downtown. Its three rooms are very attractive, especially the Summer Suite, which has a gas fireplace and a whirlpool room.
All rooms have VCRs and mini-fridges; rates include breakfast as well as wine or beer, a fruit and cheese plate and a bottomless cookie jar.
Near St. Olaf, Contented Cottage B&B has two rooms and a suite.
There's a Country Inn & Suites across the river from downtown. There's a pool, and rates include breakfast. Trains run just behind the hotel, and whistles may bother guests.
In 2020, the historic Archer House River Inn was severely damaged by fire and later torn down. Its owners plan to redevelop the site.
Information: Northfield tourism, 800-658-2548.
Last updated on February 9, 2022