Cornish in Mineral Point
A fall festival honors the Wisconsin miners who left their mark on Mineral Point.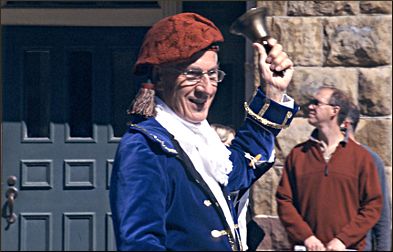 The Cornish have been good to Mineral Point.
In the 1830s, skilled tin miners from Cornwall, England, came to southwest Wisconsin, replacing the rough frontiersmen whose "badger" digs gave the state a nickname but the town an unsavory atmosphere.
"They'd start fights just for entertainment," said Lisa Kreul, a tour guide at the historic site Pendarvis. "Not until the Cornish came in 1837 did the town start to settle down."
They brought their families and built English-style cottages with the local limestone. Mineral Point was a boom town, the hub of Wisconsin's lead rush, and the Cornish worked hard, prospered and then moved on.
Their stone cottages were falling down by 1935, when a young local man and a friend began restoring them, raising money by serving Cornish teas.
Their first cottage was called Pendarvis, after an estate in Cornwall, and it became part of a hillside complex now run by the Wisconsin Historical Society.
The Southwest Wisconsin Cornish Society holds a Cornish Festival there and around town in late September, and one year, I went to it with some girlfriends.
We started out in Pendarvis' cozy, firelit Kiddleywink Pub, named because kiddle is liquor smuggled by pirates onto the rocky Cornwall coast, and a wink is what you had to give the bartender to get it.
There were tavern games to try — toad in the hole, a bean-bag game, and shove ha'penny, played on a wooden board with washers standing in for coins.
For shove ha'penny, my opponent was glass artist Ann Alderson Cabezas, one of many artists who have found their way to Mineral Point, pop. 2,600.
"I'm a prodigal daughter; my people were miners here and left in 1905, and here we are again, back where we belong," said Cabezas. "I came down from Madison to buy shoes at the Bargain Nook, and I came home with a building."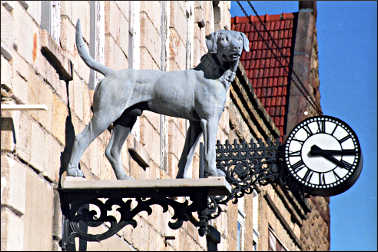 In the gift shop, we bought a loaf of saffron cake, a favorite treat in Cornwall. The Cornish acquired a taste for saffron when Phoenician traders brought it to the British Isles, Cabezas said, and they'd trade their tin to get it.
Then we went to a tent outside to listen to Harry "Safari" Glasson, a folk singer from Cornwall.
His first song was about the miners — "They had to climb 500 to 600 feet down in the dark by the light of a candle, on wet, slimy, greasy ladders, can you imagine that?" — but then he launched into bawdier songs, and eventually we discerned a theme.
"All these girls — the first one's pregnant, the next one's a prostitute and this one's alcoholic," said my friend Karen. "I should ask if he's got any nice-girl songs."
She did, and we got "Sweet Molly Malone," about a young woman who dies of fever. Apparently, it's hard to be happy if you're a woman in old Cornwall. Or a man, for that matter — Glasson finished the evening with "Man of Constant Sorrow."
The next day, we filled our plates with Cornish food at Taste of Mineral Point, put on by the town's restaurants along High Street. We tried the lemony tea biscuits and the figgyhobbin, with caramel and whipped cream, and the classic pasty, in which meat, potatoes and onions are enclosed in a flaky crust.
But our favorites were the Red Rooster's Magwan meatballs, which tasted Swedish to us, and Brewery Creek's blackberry rhubarb crisp, which was more Wisconsin than Cornwall.
"How does such a little town have such good food?" wondered my friend Cathy.
In the Celtic Connection shop — Cornwall was one of the seven Celtic nations — we looked at imported kippers and brown sauce and salad cream that saleswoman Kathy Madigan said are very popular with customers.
"People who have traveled in the British Isles want another taste of what they had there," she said.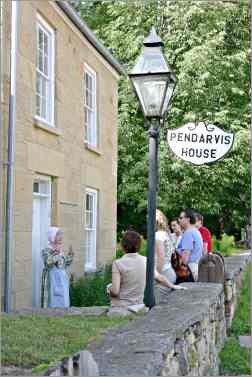 At Pendarvis, we listened to storyteller Craig Dunigan spin a tale about piskies that sounded a lot like the Brothers Grimm's "The Elves and the Shoemaker," except it featured a farmer, his nosy wife and a bowl of porridge.
"The only moral I've been able to get out of it is that mortals shouldn't interfere in the ways of the little people," Dunigan said.
The Cornish believed not only in piskies, which are good-natured elves, but also in spriggins — "horrible ugly little fellows that supposedly guarded treasure" — and tommyknockers, who live underground and play tricks on miners.
"Celtic people were fascinated by fairy folk," Dunigan said.
They also were superstitious, considering white rabbits bad luck, said Pendarvis guide Lisa Kreul, and they left pasties for the tommyknockers so they wouldn't steal their tools.
In a muslin cap and apron, Kreul gave us a tour of the small cottages, showing us such miner's equipment as a sticking tommy, a candlestick that served as headlamp. The first hard hat, she said, was made of two layers of felt dipped in beeswax.
In 1935, she said, Edgar Hellum ("the muscles") and Bob Neal ("the brain") took the first heap of crumbling stone and turned it into a simple but unusual restaurant that restaurant reviewer Duncan Hines called "a real adventure in dining."
Neal also had a little antiques store there, and Kreul said it's likely he changed the name of the street outside to fit it.
The whole town once was nicknamed Shake Rag Under the Hill, supposedly because the miner working at the top of the hillside mine would know it was dinnertime when the women in the cottages below waved their dish towels.
Neal figured Shake Rag Street would be a better name than Hoard Street.
"Bob changed it to Shake Rag Street because he wanted people to be curious and drive by and see his antiques," she said.
Tourists have loved the name ever since. The Cornish know a good story when they hear one, and Mineral Point still is benefiting today.
Trip Tips: Cornish Festival in Mineral Point, Wis.
Getting there: It's in southwest Wisconsin, about 45 minutes west of Madison.
Cornish Festival: It's the last full weekend in September. It starts Friday with Kiddleywink Pub Night and continues with Crowdy Crawn at Pendarvis, tours, artisan demonstrations, Taste of Mineral Point and Celtic entertainment at the Opera House.
Celtic crafts: During the festival, Shake Rag Alley Center for the Arts, in historic buildings down the street from Pendarvis, offers classes in which students can make such crafts as spiral hammered jewelry, a paper scrapbook, a pendant, knotwork and clay piskies.
Pendarvis: Costumed interpreters give tours of the restored miners' cottages Thursdays-Sundays from June 1 to Oct. 15. Admission is $12, $8 for children 5-12.
Accommodations and dining: See Beauty in Mineral Point.
Information: Mineral Point Chamber of Commerce, 888-764-6894.
Last updated on March 13, 2021