Beauty in Mineral Point
In southwest Wisconsin, artists and shoppers alike are drawn to a lovely village.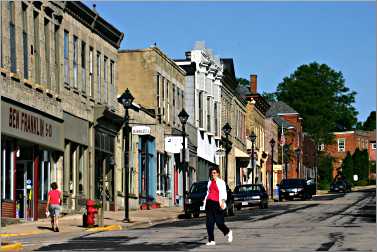 Since its earliest days, the people of Mineral Point have created beauty out of nothing.
Lead first drew eager frontiersmen, who often lived in the "badger holes" they dug in their search for "mineral."
The territory later became known as the badger state, and the town became Mineral Point, the nucleus around which Wisconsin developed.
In the early 1830s, skilled miners began arriving from Cornwall, on the rocky western tip of England.
They also were expert stonemasons, and they chipped blocks of golden limestone out of the ground and fashioned handsome little cottages that resembled those of their homeland.
With time, mining waned, and the stone cottages began to crumble. In 1934, a chance meeting of Mineral Point native Robert Neal and Edgar Hellum, who had come to buy scrap wood from the cottages, resulted in what many thought a crackpot decision.
The two decided to restore a cottage on Shake Rag Street, named for the dishrags the wives supposedly waved to tell miners up on Merry Christmas Mine hill their dinner was ready.
To finance their project, the partners began serving tea, saffron cake and clotted cream to curious visitors.
They added Cornish pasties — meat, potatoes and onions enclosed in a flaky crust — and soon stories about the quaint little restaurant with the grapevine-draped privy were appearing in Gourmet magazine and the Saturday Evening Post.
Neal and Hellum called it Pendarvis House, after an estate in Cornwall.
Powered by pasties
In 1939, the first artists moved to the town. Ava Fernekes made clay sculptures, her husband Max drew Mineral Point's stone cottages in crayon and watercolors, and both became friends with Neal and Hellum, who fed the often-hungry artists on leftovers from the restaurant.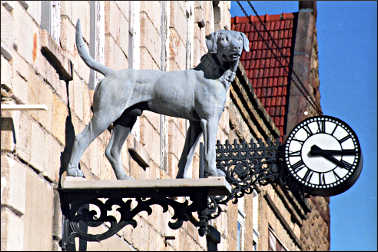 "They were the foundations, and then people started coming in," says potter Diana Johnston, who lives and works with her husband, Tom, in a huge stone 1850 brewery on the edge of town.
"Once there was a nucleus, it just grew and grew from there. Now artists come, and they have a ready market for their work. So it keeps going, and it just keeps getting nicer."
The National Trust for Historic Preservation named Mineral Point one of its Distinctive Destinations, calling it "an architectural treasure trove."
Today, studios and galleries sit alongside hardware stores, bars and doctor's offices along High Street, which veers down a steep hill toward Shake Rag and Brewery Creek, where lead first was found.
Jail Alley runs behind it, lined by old-fashioned street lamps. Both streets are lined with a variety of architectural styles and filled with history.
There's the 1871 Gundry & Gray building, whose Cornish proprietor ran a department store until 1938 and was Neal and Hellum's earliest patron. There's a deli there now, but over it juts the store's original cast-zinc symbol, a hunting dog that's the mascot for the high-school teams, the Pointers.
There's the 1849 brick building of Cadwallader Washburn, who in 1871 became the second Mineral Point resident to be elected governor of Wisconsin.
By then, he'd already built a flour mill in Minneapolis and later founded the Washburn-Crosby Co., a Minneapolis milling giant that spawned WCCO Radio and later became General Mills.
And there's the humble 1849 stone miner's cottage that became the home of Bob Neal, who had spent time in New York and London yet never felt the need to venture beyond the beautifully landscaped grounds of Pendarvis.
In 1970, he and Hellum retired and arranged for the Wisconsin Historical Society to buy the complex, which it now runs as a state historic site. In 1971, Mineral Point became Wisconsin's first historic district on the National Register of Historic Places.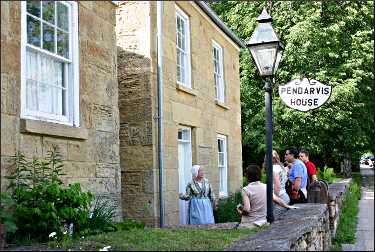 An eye for potential
The artists have continued their work, restoring Mineral Point's buildings. Because they were so small, and often in such bad shape, the artists were able to buy them, renovate them and stay put.
The lovely buildings bring even more people to Mineral Point. It was mobbed with shoppers when I attended the annual Fall Art Tour, when artists open their studios.
Carole Spelic, who makes vessels that look like marble but actually are a sophisticated papier-mache, said she sometimes sells out during the tour.
Sure enough, right after her Green Lantern Gallery opened, Linda Friedman of Chicago came in and nabbed a $200 tiger-striped vessel. Meanwhile, Friedman's mother, Joan, was looking raptly at the buildings.
"I didn't know about Mineral Point; we were just going to the different towns on the art tour," said Joan Friedman, who trains docents for the Chicago Architecture Foundation. "I'm just flabbergasted. It's so interesting."
Just up the street, shoppers crowded into Johnston Gallery, which carries beautiful art glass, jewelry, handbags and carved wood in addition to the Johnstons' pottery. Their most popular pieces feature patterns made with lace, rope, lefse rollers and hardtack rolling pins.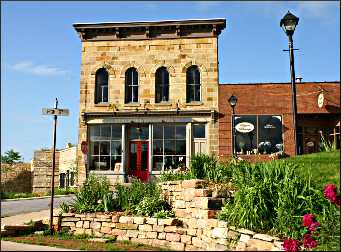 Down on Commerce Street,  potter Harriet Story was showing off her building and her kiln, one of many she's built herself.
Judith Sutcliffe and Sandra Scott had opened their Longbranch folk-art gallery just the day before, in a former engine-repair garage that a still-dazed Sutcliffe said was "the ugliest building in town."
But shoppers were raving about the painted concrete floor, wildly uneven but adorned with reverse stencils of fall leaves, and the tall glass windows, installed where trucks once drove into the shop.
Art begets art
As it turned out, Longbranch was only the beginning for the two newcomers.
Two years later, when they were hosting the annual Woodlanders gathering of rustic-furniture makers at Shake Rag Alley, a complex of historic stone cottages and cabins that housed shops, they found out it was to be sold for a private vacation home.
In six weeks, they raised $100,000 from the community, bought the complex and started the Shake Rag Alley Center for the Arts, now run by a board.
Workshops are held year-round, and eventually, the center opened the Alley Stage, an outdoor summer theater in an old quarry on the grounds.
Like Mineral Point's famous buildings, much of its best art comes straight out of the earth, from stone, clay and sticks.
Perhaps this is why the town has such a lack of pretension — it's still walking in the dusty footprints of Neal, an aesthete who spent much of his life rolling pasty crust, and Hellum, a graduate of the Chicago Art Institute who spent his life hauling rock and digging in the dirt.
Hellum especially is remembered fondly by today's artists. Shortly before he died in 2000 at 94, he began to make photo collages and was featured in an exhibit at his alma mater.
Diana Johnston was one of the townsfolk who, with Hellum, got on a bus and went to Chicago to see it.
"Edgar Hellum was so full of ideas, and there was so much spinning around his head, I think because of him Mineral Point is the way it is today," she says. "It's not something replicated to look like something, it is something."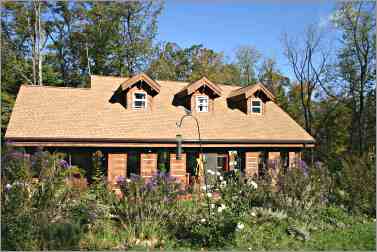 Trip Tips: Mineral Point in southwest Wisconsin
Getting there: It's about 45 minutes west of Madison.
2023 events: Feb. 11, Ice Lantern Festival. Early June, Tour of Fairy Homes at Shake Rag Alley. Aug. 18-19, Mineral Point Blues & Roots Fest.
Late September, Cornish Festival (for more, see Cozying up to the Cornish).
Oct. 20-22, Fall Art Tour (for more, see Autumn in the studios).
From May through October, there are Saturday morning markets in Watertower Park.
Accommodations: There are many very good inns and cottages along Commerce Street, at the foot of High Street:
Lodgings at Shake Rag Alley include three small but very comfortable rooms in its 1840s Coach House and two apartments on Commerce Street, Roland's Loft and The Tuckpoint.
The Commerce Street Brewery Hotel, a renovated 1854 limestone warehouse, has five attractive rooms, four with sleeper sofas, gas fireplaces and double whirlpools. It includes a taproom with a variety of drinks and small plates.
Next to the place where Europeans first discovered "mineral," the Walker House is a restored 1860 stone hotel with nine rooms, a Cornish-style pub and art galleries.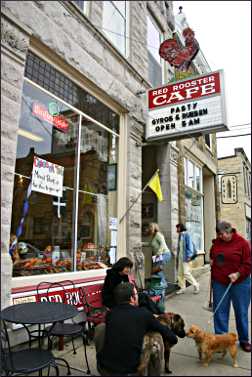 The Mineral Point Hotel has five rooms, one with two queen beds. The rate includes a continental breakfast. Bicycles are available to guests.
On the edge of the historic area, the Historic Cothren House includes a stone cottage and log cabin.
Up on the highway, the Quality Inn has 50 rooms and an indoor pool.
Dining: On High Street, Cafe 43 serves breakfast, bowls and sandwiches. The Gray Dog serves burgers and bowls, and the Midway Bar & Grill serves burgers.
The Red Rooster Cafe is known for its pasties. They're big and heavy, so make sure you're hungry.
Shake Rag Alley Center for Arts & Crafts: This charmingly restored complex holds classes throughout the year in nine buildings, some from the 1840s.
They include workshops in mosaics in concrete (see Slinging cement in Mineral Point ); rustic furniture; acting and directing; gourds and baskets; hooking, dyeing and felting; and paper and polymers. Guests who are taking classes get a 10 percent discount on lodgings. 608-987-3292.
Pendarvis: Costumed interpreters give tours of the restored miner's cottages Thursdays-Sundays from June 1 to Oct. 15. Admission is $12, $8 for children 5-12.
Nightlife: The Shake Rag Players and Mineral Point Film Society put on theater and films at the 1914 Mineral Point Opera House on High Street. In summer, original plays and concerts are held at the Alley Stage, an amphitheater at Shake Rag Alley.
Other shopping: The Bargain Nook on High Street is a non-profit used-clothing store that benefits adults with disabilities, and nearly all of its stock is catalog returns from Land's End. Only a few have flaws, and they're all very cheap.
There are other Bargain Nooks in nearby Spring Green, Darlington, Platteville and Mount Horeb.
Information: Mineral Point tourism, 888-764-6894.
Last updated on January 15, 2022