Polish for a day
At Milwaukee's lakefront festivals, visitors get a big helping of another culture.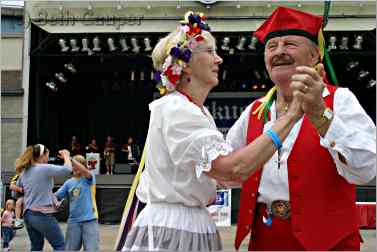 On a beautiful summer day in Milwaukee, history's underdogs were having a ball.
They were listening to pianists play Chopin. They were dancing an exuberant style of polka. They were tucking into pierogi and paczki.
Call it payback time for Poles.
The 20th century was hard on the Poles. Many immigrated to Wisconsin, giving it the nation's highest percentage of residents with Polish ancestry. They were thousands of miles from home, but they still had a yen for potato pancakes.
So in 1981, Milwaukee's Poles — some of whom had first-hand experience with panzers and Politburos — put on the first Polish Fest.
It was a hit. Over the years, things improved in the old country; Poland cast off the Communists and joined the European Union. But that didn't change anything in Milwaukee, along the shores of Lake Michigan.
Polish Fest now is the largest Polish celebration in the nation. It's the first of the big heritage festivals in Milwaukee's 90-acre Maier Festival Park. Festa Italiana and German Fest, which come in July, also are huge affairs, drawing pilgrims from around the nation.
Not Polish? No problem.
My only connection to Polish culture is my fondness for their pierogi, filled dumplings that are fried in butter with onions and served with horseradish-laced sour cream.
Now, this isn't the kind of thing you want to eat every day. But you have to admire a culture that makes comfort food like that.
And those of us who belong to groups who also are the butt of jokes — say, those of us who are Scandihoovian blondes from Iowa — can relate to the long-suffering Poles.
So one June, my husband and I became Poles for a day. Two days, actually. We become so entranced by the music — zydeco-laced polka, with a trace of mariachi — that we had to go back.
Gotta polka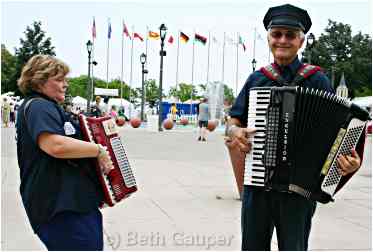 The dancing started at the front gate, where Jan Stasiak of the Polka Police apprehended us, making us do a few turns on the spot.
"It's my duty," said Stasiak, who lives in Ontario, Wis., and follows her favorite bands around the region. "I do what I can for polka."
Sporting our new "Learn to polka — it's the law" stickers, we wandered through the festival grounds. We watched "The Tale of Pon Tzardofski," in which a Polish nobleman sells his soul to the devil in exchange for riches and, instead of sinking into shame, tricks him into taking his nagging wife.
We listened to a story about the Wawel Dragon and the shoemaker, who became king by feeding the dragon a ram stuffed with sulfur, which burned his throat and made him drink so much water he burst.
We took a polka lesson and watched a nun making wycinanki, paper cutouts. And we listened to identical-triplet violinists. The long-legged, flaxen-haired Okapiec sisters are triple-blessed: They've been playing since age 6, they compose their own music and they look like supermodels.
But we spent most of our time at the Krakus Ham Non-Stop Polka Stage.
My husband, who had his fill of oompah-style polka growing up in Germany, couldn't believe how cool the music was — polka waylaid in New Orleans and hijacked to Tijuana.
At the Cultural Village, I collared Polish Fest committee member Rich Tyszka and got him to explain.
"Some of the earliest Polish and German communities were in Texas; they heard Mexican tecate, and you know, music tends to blend together," he said. "Polka is really not Polish; it's more German and Czech. But here in America, we borrowed here and there and came up with our own style."
The dancing is athletic, like swing with bounce, and young dancers do it with some serious butt-swiveling. Even the musicians were jumping; the young trumpeter for the Polka Family Band was bobbing his head as if he were at a rave.
"That's the new Polish style, with a lot of turning and spinning," said Len Tate of Duluth, Ga. "I'm glad to see the younger people doing it; I'd hate to see polka dwindle away."
Tate said he and his wife, Pat, had skipped another big festival, Polka Spree by the Sea in New Jersey, to come to Milwaukee for Polish Fest.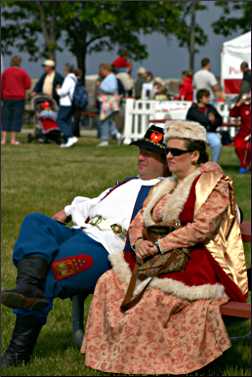 "We're polka groupies," he said. "We wear red and white, and we know all the bands."
Dancers Edwin Bialobrzeski and his wife, Millie, danced a more sedate style of polka, but like the younger dancers, they barely sat down.
"I started going to Polish Fest in 1982 and haven't missed one, and I'll keep going as long as I last," said Edwin Bialobrzeski, who was Wisconsin Polka Champion in 1983.
Bialobrzeski was born in the United States in 1929, he said, but his father took the family back to Poland, and that's where they were when Hitler invaded in 1939. The young U.S. citizen spent the war dodging Nazis: "I could write a book," he said.
More pierogi, please
As we were sitting at a picnic table near the stage, 14-year-old Katelynn Prebish brushed by, complaining that she "wasn't done dancing."
Dancing runs in the family, said her mother, Karen Prebish, who had summoned Katelynn to dinner.
"My parents were both Polish, and on Sunday afternoons, all we did was dance," she said. "We'd move the furniture and tune in a program on TV, and we all danced. It was fun."
You'd better dance, if you're going to eat Polish food. My husband got the Polish plate from Polonez restaurant — Polish sausage, cabbage roll, sauerkraut, pierogi with sour cream and a potato pancake with applesauce — and tucked into it with relish.
"Once again, heritage through the stomach never fails," he said.
I got pierogi, mushroom soup and strawberry paczki, a jelly-filled fried roll. And on the recommendation of Barbara Cherney, I tried czarnina, a sweet, dark soup made with raisins and duck's blood.
"It's my favorite," she said. "My dad used to make it."
Both grandparents came from Poland, she said, and her grandmother never learned English.
"When I was a little girl, I spoke Polish like I stepped off the boat, until I was about 7," she said. "But when you don't use it, you forget it."
Cherney and her husband, John, also come to Maier Festival Park for German Fest and Festa Italiana.
"Really, from now on, there's a party every weekend," said John Cherney.
Unlike most towns in the Midwest, Milwaukee was settled first by newly immigrated Germans, not Yankees. City historian John Gurda says that made it OK to be different, and it's the reason why diversity is so celebrated today.
If there's not a lakefront festival devoted to your origins, there's probably one elsewhere in Milwaukee or around the region. When the parties start, you're welcome to piggyback on any heritage you choose.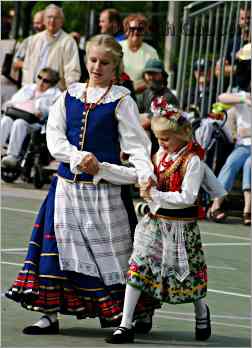 Trip Tips: Milwaukee's lakefront festivals
Getting around: During festivals, the Milwaukee County Transit System runs a shuttle down Wisconsin Avenue and straight to the gate.
Polish Fest: The 42nd annual Polish Fest will be June 9-11 in 2023.
Check the web site for the entertainment schedule and special deals, such as 50-cent Fridays.
Lakefront festivals: After Polish Fest comes July's Festa Italiana and German Fest. In August come Irish Fest and Mexican Fiesta. Gate admission varies by festival. Check web sites for deals.
For details on other ethnic festivals around the region, see Celebrating roots.
Accommodations: Wisconsin Avenue hotels are a good bet because they're on the shuttle route to the festival grounds (and also to the Brewers games).
Marquette University's Straz Tower, at the edge of downtown, is a good budget choice. Rooms are air-conditioned and have private baths. Call 414-288-7208.
For more places to stay, see Party in Milwaukee.
Information: Milwaukee tourism, 800-554-1448.
Last updated on January 13, 2022