Party in Milwaukee
Summer is one long festival in this unsung city on Lake Michigan.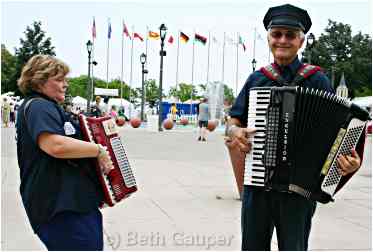 Once, I thought of Milwaukee as the ugly duckling of Midwest cities, a colorless runt with the grit of Chicago but none of its allure.
Silly me.
It's true that downtown Milwaukee, during the day, is not exactly flashy.
It's best to drive right past its dumpy gray office buildings, bypassing even the popular Milwaukee Public Museum on the way to the neighborhoods between the Milwaukee River and the shores of Lake Michigan.
For it's here that this blue-collar city, built upon beer, motorcycles and farm implements, reveals its appeal.
Along the lake, a visitor finds miles and miles of lakeshore trails, cutting through wooded bluffs and into secluded blufftop parks, and unpretentious streets lined by the manors of early industrialists.
At lake's edge, sunbathers gather on beaches, boaters at marinas and ball-players on expansive fields. Bicyclists whiz by on the Oak Leaf Trail.
Tourists gather to watch the "wings" of the Milwaukee Art Museum open and close, and the 90-acre Maier Festival Park draws hundreds of thousands to music festivals and ethnic celebrations that go on all summer long.
Ten blocks to the west, people promenade along the three miles of downtown's Riverwalk, listen to free concerts outside Marcus Center for the Performing Arts and visit the theaters, brewpubs and restaurants that line the river.
Just to the south, in the Historic Third Ward, an urban crowd frequents a revived neighborhood of bistros, galleries and more theaters. And handsome American Family Field, the former Miller Park, attracts baseball fans with its old-style atmosphere and retractable roof.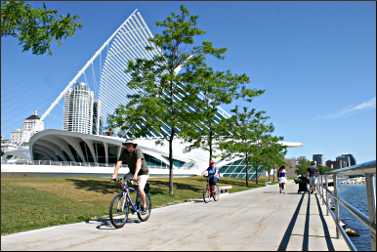 Surprise, surprise --- Milwaukee is fun, with big-city assets ensconced in a cozy, small-town setting.
"Milwaukee tends to be undersung, partly because the glare from Chicago is kind of bright," says historian John Gurda, author of "The Making of Milwaukee."
Milwaukeeans, he says, have built their city on the concept of Gemütlichkeit, opting for congeniality over glamour every time. He calls the town "a reluctant metropolis."
"Its self-image is as a smaller town than it actually is," he says. "We've got huge industries here, and a population that once was 11th largest in the nation (now 31st). But it's maintained, for better or worse, a big-small-town image."
Most visitors are drawn first to the Milwaukee Art Museum, which, with a striking addition designed by Spanish architect Santiago Calatrava, often is called America's version of the Sydney Opera House.
The museum is most famous for Calatrava's bright-white brise soleil, a sun shade that unfolds like a pair of wings three times daily, but its collection also is superb. Sculptures by Duchamp, Picasso, Arp and Leger sit in spotlit gloom in front of floor-to-ceiling windows, competing with a sweeping view of the lake just outside.
There's a top-notch collection of German Expressionists, a quirky gallery of folk art and rooms full of exquisite 15th-century carved altarpieces.
And yet even in these refined surroundings, there's a collection of turn-of-the-century beer steins and oils of Bismarck-era bourgeois Germany, a nod to the ethnic group so closely identified with Milwaukee.
These days, Milwaukee's identity as a German town is shifting. Once known as Beer City, Suds City and Brew Town, it has just one big brewery left, Miller. Pabst closed in 1997, though in 2017 it opened a brewpub in part of the historic brewery complex, where it makes small batches of craft beer.
Microbreweries have stepped into the gap. Sprecher offers tours of its Glendale brewery and has built a reputation for its stouts, bocks and lagers. On the Milwaukee River, Lakefront's tours are very popular, and the two have been joined by more than two dozen other breweries and brewpubs.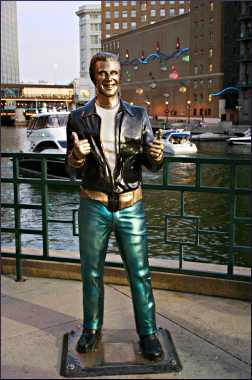 Milwaukee's German contingent is still strong --- German Fest each July is the nation's largest celebration of German heritage --- but Asians, Hispanics and African-Americans have added new segments to the ethnic patchwork.
This patchwork is celebrated every summer in a dizzying succession of festivals: Scottish Fest, Juneteenth, Polish Fest, Bastille Days, Festa Italiana, African World Festival, Arab World Fest, Irish Fest, Mexican Fiesta, Indian Summer Festival.
Historian Gurda attributes this emphasis on ethnicity to the early arrival of the city's Germans, who sank civic roots before the Yankees arrived.
"They made it OK to be different, OK not to be fitting tightly into an ethnic mold," he says. "In Milwaukee, more than in other cities, the areas of diversity are celebrated as well as tolerated."
For gays and lesbians, there's PrideFest in June, and Harley riders roll in over Labor Day weekend for the annual Milwaukee Rally.
The Harley-Davidson Museum has appealed to Milwaukee's appeal; for Harley owners around the nation, says Gurda, "It's become a religious experience to come here."
The young and hip also make their presence felt. When I was there one weekend, they were hopping between the bars and bistros of Jefferson Street, the theaters and brewpubs along cobblestoned Riverwalk and restaurants on picturesque Old World Third Street, a remnant of the old German downtown.
Actually, there were people everywhere. Families were trooping through the gold doors of the Pabst Theater. A bus was unloading teen-agers in front of the Riverside Theater, where jazz musician Pat Metheny was performing.
At Marcus Center for the Performing Arts, the Milwaukee Symphony Orchestra's performance of Beethoven's Ninth Symphony was sold out.
In recent years, Milwaukee has rediscovered and refurbished its riverfront, drawing suburbanites into downtown.
At night, lights now turn the ugly duckling into a swan, with the cupolas, domes and gables atop downtown roofs bathed in spotlights, pedestrian bridges lined by twinkle lights and the neon of brewpubs and marquees reflecting off the river.
It's just living up to its name, Potawatomi for "gathering place by the waters."
"Things have certainly come to life," Gurda says. "We're kind of on a roll."
Trip Tips: Milwaukee and its festivals
When to go : In April, the Brewers open at home, and the retractable roof of American Family Field makes games comfortable in any weather. Summer means non-stop festivals, and fall is lovely, with leaf color lasting into early November.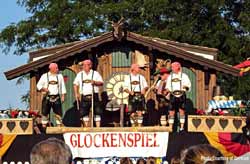 For visiting over the holidays, see Milwaukee at Christmas .
For a trip with kids, see Playtime in Milwaukee .
For more on Polish Fest and the lakefront festival grounds, see Polish for a day .
Want to go on a brewery tour? See Mad about brew .
2022 events : June, Lakefront Festival of Art . June 23-25, June 30-July 2 and July 7-9, Summerfest music festival on the lakefront. July 23-24, Air & Water Show . Aug. 4-14, Wisconsin State Fair in West Allis.
2022 heritage festivals at Henry Maier Festival Park :  June 10-12, Polish Fest .  July 29-31, German Fest . Aug. 18-21, Irish Fest . Aug. 26-28, Mexican Fiesta .
2022 heritage festivals elsewhere : June 19, Juneteenth on Martin Luther King Drive. July, Bastille Days in East Town. Labor Day weekend, Wisconsin Highland Games in Waukesha.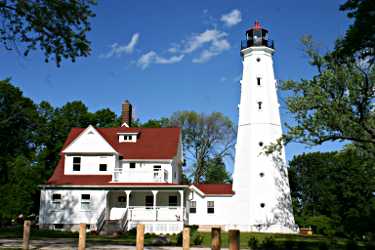 Getting around : During festivals, the Milwaukee County Transit System runs a shuttle down Wisconsin Avenue and straight to the gate.
The Hop streetcar travels a two-mile loop around downtown, connecting the Third Ward to Cathedral Square along Broadway and Milwaukee streets and traveling north along Jackson Street to Ogden Avenue and Burns Commons near the lake. It's free.
The Bublr bike-sharing service offers bikes in many locations downtown, near the lake and along the Milwaukee River Greenway.
Accommodations : Wisconsin Avenue hotels are a good bet because they're on the shuttle route to the festival grounds (and also to the Brewers games). They include:
Marquette University 's Straz Tower, at the edge of downtown, or Mashuda Hall, next to the Pabst Mansion, are good budget choices. Rooms are air-conditioned and have private baths. Some have a refrigerator, microwave and cable TV. Call 414-288-7208 to reserve.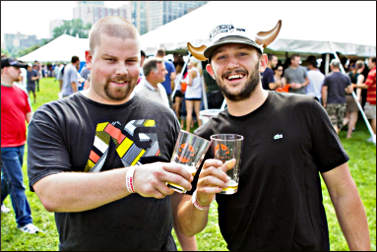 For more, see On budget in a dorm .
Another budget option is the new Cream City Hostel , north of downtown in the Riverwest neighborhood.
The Pfister Hotel is expensive but luxurious. The art-deco Hotel Metro is nearby, a block off Wisconsin on the east side of the river.
Near the river and Pere Marquette Park, the Saint Kate Arts Hotel on Kilbourn Avenue is connected to the ornate Pabst Theater and the modern Marcus Center for the Performing Arts.
The new Dubbel Dutch boutique hotel , restored 1898 Flemish Renaissance twin mansions between the Milwaukee Art Museum and Veterans Park, has 15 rooms and suites.
In the old German area on Old World Third Street, the Aloft Hotel is close to the Riverwalk and the Bradley Center.
On the edge of downtown, across the South Sixth Street bridge from the Harley Davidson Museum, the 102-room Iron Horse Hotel occupies a renovated 1907 warehouse. The hotel has a covered parking area for motorcycles, rag bins, an on-site bike wash, packed saddle bag lunches, road trip maps and in-room storage areas for boots, helmets and heavy riding leathers. It also accepts dogs of all sizes.
Not far from the lake, County Clare is an Irish boutique hotel, almost walking distance from downtown. Its rooms are attractive, and a full hot breakfast is served. There's live music in the pub (smoke may seep into the rooms upstairs).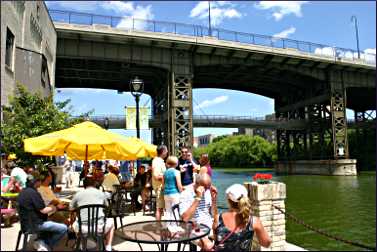 The Knickerbocker is well-located, a block from the lake and walking distance to downtown. The 1929 hotel now rents privately owned apartment suites and includes Osteria del Mondo, a well-regarded Italian restaurant.
The Hampton Inn and Suites Downtown Milwaukee on Wisconsin Avenue is well-located and refurbished.
The art-deco Ambassador Hotel also has been refurbished. It's three blocks west of the Pabst Mansion on Wisconsin Avenue.
Dining : The Milwaukee Public Market has nearly everything you'd want to pick up and eat --- pastries, cheeses, sushi, fruit, soups, sandwiches, candies --- and it's all on mouthwatering display. It's at the edge of downtown on Water Street, walking distance of the Historic Third Ward and its many cafes and restaurants.
On West Wisconsin Avenue downtown, 3rd Street Market Hall includes a variety of food vendors and craft beer.
On Old World Third Street, Mader's is a great place for lunch, when prices are much reduced, and it has a good kids' menu, 414-271-3377.
Brewery tours: In 1855, Frederick Miller, who had been a royal brewmaster in Germany, bought a small brewery in Milwaukee.
Miller is the only big brewery left in Milwaukee, though it merged with South African Breweries in 2002, became part of SABMiller and in 2015 was acquired by Anheuser-Busch InBev, the world's largest brewer. Today it is part of Molson Coors.
Miller Brewery tours are given Monday-Saturday, $10.
On the Milwaukee River north of downtown, Lakefront Brewery 's tour is very popular. Tours are given daily and often sell out.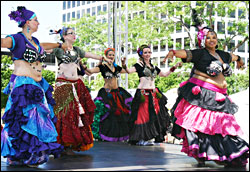 In the suburb of Glendale, Sprecher brews artisan beers and sodas. Tours are given year-round.
There are many other craft breweries. For more, see Mad about brew .
Brewers baseball : The home season starts the first week of April. Check for game-day promotions.
Milwaukee Art Museum : The brise soleil opens at 10 a.m., closes and opens at noon, then closes when the museum closes, 5 p.m. except Thursdays. Admission to the museum is $19, $17 for students, free for children 12 and under and free for everybody on the first Thursday of the month.
Harley-Davidson Museum : The museum is in the southeast corner of the junction of U.S. 43 and 794, on the Menominee River in a warehouse-rail district just south of downtown. It has a restaurant, gift shops, special-events space and a gathering area for up to 15,000 riders.
Tickets are $20, $14 for students and $10 for children 5-17.
Discovery World : The child-oriented science museum is at Pier Wisconsin on the lakefront, just south of the art museum. It includes an Automation Dream Machine, TechnoJungle, Innovation Labs, video and audio studios and aquariums.
Admission is $20, $16 for children 3-17.
Bicycling : The giant Oak Leaf Trail goes north from downtown along the lake and Milwaukee River and south along the lake from South Shore Park.
North of town, it connects to the 30-mile Ozaukee County Interurban Trail in Brown Deer. For more, see Bicycling along Lake Michigan .
The Hank Aaron State Trail runs along the Menomonee River from American Family Field to the Maier Festival Park on Lake Michigan, connecting to the Oak Leaf Trail on both ends.
Information : Milwaukee tourism , 800-554-1448.
Last updated on February 2, 2022