Ghosts of Galena
This sweet town in northwest Illinois is packed with history ... and mystery.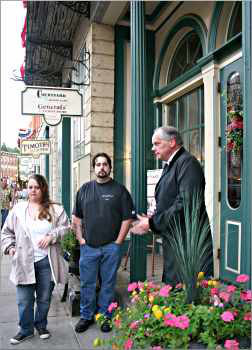 In the northwest corner of Illinois, there's no more cheerful place than Galena.
Today, it's known for its shops and giggling bands of women on a girlfriend getaway. But in the 1850s, it was the busiest port between St. Louis and St. Paul, and rows of elegant homes were built with lead-mining fortunes.
Eventually, demand for lead waned, and the river connecting Galena to the Mississippi filled with silt. The town went into a deep sleep until the 1960s, by which point it had become a virtual museum.
Today, it's a vacation destination, with all kinds of tours on offer: trolley tours, vineyard tours, scooter tours . . . and ghost tours. Several, in fact.
"Galena is a very nice place," says historian Steve Repp, who was first to lead All About a Ghost tours downtown. "But there's a certain mystery to it."
Repp starts his tours by asking if people are "ready to cross over to the other side," but mostly, he talks about the past.
He points to the 1855 DeSoto House, where Abraham Lincoln spoke in 1856 from a balcony, still draped in red, white and blue bunting, and from which Ulysses S. Grant ran his successful 1868 presidential campaign.
He points to the 1856 building where Grant worked as a clerk in his brother's leather shop.
"Galena looks much as it did then," he said. "Put in some dirt and wooden boardwalks, and you're there."
The first published account of a ghost was in 1845, when two residents reported a very tall, ghostly figure beckoning on their wall and became convinced it was a veteran of the War of 1812. There were phantoms reported in mines, on a bridge, in boarding houses.
From Main Street, Repp leads his guests to the 1875 Turner Hall, used as a theater. In the balcony, set builders have reported seeing the ghostly figure of an older man with a goatee, rolled-up sleeves and laser-like eyes; a local pastor heard a garbled voice coming from the balcony.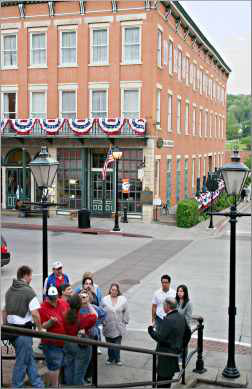 The ghost is said to be Charles Scheerer, the hall's longtime business manager and Galena's mayor when he suddenly died in the hall in 1910.
In the 1867 Farmers' Guest House, once a hotel, guests have detected the aroma of pipe tobacco. At Vinny Vanucchi's restaurant, workers have felt taps on the shoulder, heard whispered names and seen a mist-like figure.
At the restaurant One Eleven Main, once a mortuary, employees have reported a piano moving on its own and a woman in a white dress.
Repp brings his tours into the restaurant to see a photo, taken by a chef, that shows three swooping, wraith-like figures. He says ghost sightings seem to follow remodeling projects.
"When people go into these old buildings and start to disrupt things, I've noticed certain unusual things occur," he said. "It makes you wonder."
At the end of the tour I was on, Repp gathered the group and asked if any of us had had experience with ghosts.
"I've been doing this for five years and I've heard a thousand stories," he said. "If you say three-quarters of them were made up to dupe me, that still leaves a quarter."
One woman had smelled cigar smoke from her recently deceased grandfather.
Another told of a little girl ghost who once tugged on her skirt and, she believes, placed a piece of lost jewelry on a counter for her after she'd cleaned the entire house searching for it.
"I think this little ghost had been around for a while; I could kind of see her out of the corner of my eye," she said. "I don't necessarily believe in ghosts, but it happened."
Repp says that sometimes only a couple of people on the tour tell of encounters with ghosts, and sometimes nearly everyone does. He's never had an encounter himself.
"The other day, 15 people told stories of things that had happened, if not to them, to their mothers or sisters or brothers; it was unbelievable," he said. "It makes you wonder."
Trip Tips: Ghost tours in Galena, Illinois
The Haunted Galena Tour Company offers Haunted Galena Ghost Walks and Spirits & Spirits Tours from mid-April to October.
Amelia's Galena Ghost Tours offers ghost-hunting tours by shuttle bus, with paranormal detecting equipment.
Matthew's Haunted Pub Crawl visits several haunted pubs.
In October, there are other frightful things to do in Galena, including a Halloween parade.
For more, see Galena getaway.
Last updated on February 2, 2022