Galena getaway
In northwest Illinois, this historic village is a favorite destination.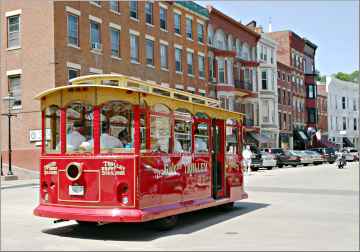 In the grand scheme of things, Galena, Ill., was destined to be a flash in the pan.
The flash came from the shiny lead sulfide upon which the town's fortunes were built in the 1830s, '40s and '50s; galena is the Latin word for the ore.
It made many people rich, and in the 1850s, Galena, three miles from the Mississippi, was the busiest port between St. Paul and St. Louis.
The new railroad approached, but the steamboat lines made sure it stayed away from Galena.
Then the lead market weakened, trade routes shifted and the town's steep hillsides, which had given up their trees for the smelting furnaces and their limestone for houses, began to erode into the Galena River.
By 1910, the river had shrunk so much the steamboats couldn't get through.
Galena settled into obscurity. But its luster began to return in the 1960s, when people looked around and saw a town that wasn't just old, but antique.
On Main Street were rows and rows of brick storefronts. High above on "Quality Hill," and across the now-puny river, were rows of Italianate mansions and Queen Annes and Greek Revivals.
Well, everyone's seen nice houses. But what sets Galena's architecture apart is what's not there: no concrete boxes, no plywood facades, barely anything built in the 20th century, except a Carnegie library and the old hilltop high school, now condos. Galena's residents simply couldn't afford to replace anything.
With prospects so diminished, no one could afford to modernize the mansions or the old brick storefronts that lined downtown, which included the leather shop in which Ulysses S. Grant worked before war broke out.
The town was rediscovered in the 1960s, and antiques dealers moved in. Mansions and storefronts were restored, though not to an unholy perfection.
Galena has continued to evolve. Today, the antiques shops largely are gone, replaced by specialty boutiques and galleries that cater to tourists from Chicago. Wine tastings in Main Street shops and vineyard tours in the countryside are in vogue.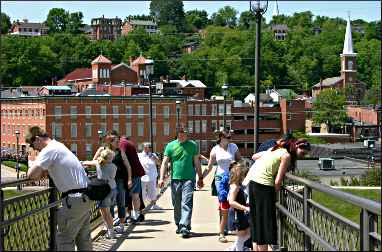 History is a growth industry: There are two trolley companies, two ghost tours, a walking tour, kayak tours on the placid Galena River, even a scooter tour to a country vineyard.
Festivals cram the town with even more visitors than it gets on ordinary weekends, when crowds jostle on the narrow sidewalks and noise from packs of Harleys stops conversations.
Along Main Street, fancy shops sell cappuccino, pottery, retro toys, beads, cookwares and crystal.
The DeSoto House Hotel is in the center of it all, its wrought-iron balcony hung with red, white and blue bunting in memory of 1856, when Abraham Lincoln spoke from it, and 1868, when Gen. Ulysses Grant ran his successful presidential campaign out of the hotel.
Hugging the hillside above downtown is Bench Street, home to inns, the Galena/Jo Daviess County History Museum and four of the churches whose white steeples contribute so much to the town's skyline.
The really fine mansions, several of them guest houses, are a huff and a puff higher, on Prospect Street.
This historic district is best seen from across the river in pleasant Grant Park, reached by footbridge. Here is a statue of the great man, who was not so great in 1860, when, having resigned from the Army, he came to Galena to work as a clerk in his father's leather shop.
When war broke out, Grant formed a volunteer company of locals and began drilling them.
Two years later, he was commander-in-chief of the Union Army. In another two years, he returned to Galena's huzzahs and a house bought for him by local businessmen.
Today, the Grant Home is open for tours, with almost all of its original furnishings.
This peaceful part of Galena also contains houses that have a variety of histories and architectural styles, explained on the trolley tours.
Guides toss out interesting historical tidbits, of which Galena seems to have a limitless supply: For example, Gen. Grant, who died of throat cancer, smoked more than 20 foot-long cigars a day and was given 10,000 boxes of cigars by a tobacco company after the war.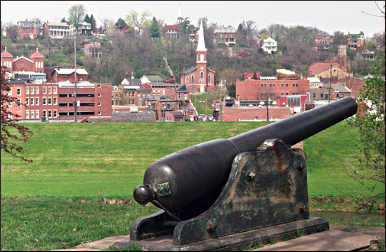 Galena had a short heyday, but the town packed a lot into it. The characters it produced, including nine Civil War generals and one accused traitor, provide plenty of grist for ghost tours and cemetery walks.
Not surprisingly, all this history and charm attracts tourists. Galena's current population is 3,400, but weekend visitors push it back toward and sometimes past its 1858 peak of 14,000.
May and the first half of June is the best time to visit; in summer and fall, the streets can be crowded.
Obviously, this old flash in the pan has plenty of flash left.
Trip Trips: Galena, Illinois
How to get there: It's half an hour east of Dubuque, Iowa.
When to go: Spring is lovely. It can be crowded in summer and on fall weekends. There's still plenty to do in winter, and you can ski at nearby Chestnut Mountain.
2023 events: April 28-30, Grant's Home Front Reenactment. Aug. 12-13, Market House Square Arts Festival. Sept. 23, Fall Harvest Festival at Galena Cellars. October, Oktoberfest. Oct. 7-8, Galena Country Fair. October, Halloween Parade & Festival. December, Night of the Luminaria and Living Windows.
Trolley tours: Galena Trolley Tours operates daily from May through October.
Ghost tours: There are several; see Ghosts on the prowl.
Outdoors recreation: There's paddling, bicycling and bird-watching. For more, see Outdoors in Galena.
Girlfriend getaways: There's lots of shopping all the time. And on the typical weekend, there are wine tastings, cooking classes, craft workshops, teas, gallery shows and historic-home tours.
Historic sites and museums: The Galena & U.S. Grant Museum is open daily year-round. The Grant Home is open Wednesday through Sunday.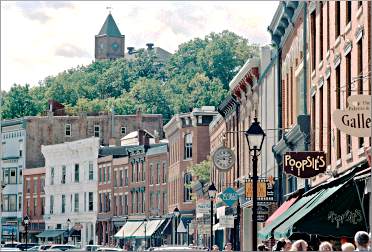 Fifteen minutes east in Elizabeth, the Apple River Fort offers living-history programs. For more, see Remembering Black Hawk.
Accommodations: For summer and fall weekends, book far in advance. There are many nice inns, cottages and B&Bs, virtually all Victorian.
There are dozens of inns, but you can start by looking at the members of the Bed and Breakfast Inns of Galena. There are also motels, resorts and vacation rentals.
The ideal thing to do is arrive midweek at the visitors center, just across the river in the old railroad depot, and leaf through its photo album of inns. Many smaller places have a two-night minimum on peak weekends.
Greenbriar Country Inn & Suites, a short walk from downtown, offers a good value and doesn't have a two-night minimum. The DeSoto House Hotel on Main Street is well-known and convenient.
Up on U.S. 20, the Irish Cottage Boutique Hotel has a day spa and pub with live entertainment. Rooms on the back side are quiet and have a view.
Dining: There are many good restaurants on Main Street, including Fritz and Frites, a French-German bistro; Vinny Vanucchi's, a long-time Italian favorite; One Eleven Main, which serves an eclectic array of American standards; and Fried Green Tomatoes, which has a large Italian menu.
Information: Galena/Jo Daviess County tourism, 877-464-2536.
Last updated on February 2, 2022