Little pageants on the prairie
A scrappy pioneer family is brought to life each year in two towns that played a prominent role in the life of Laura Ingalls Wilder.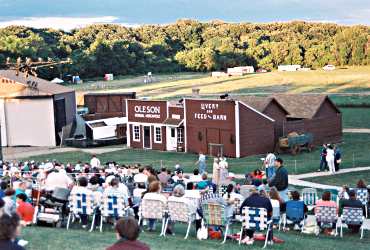 It's morning in the Little Town on the Prairie, and we're thumbing through the guest book at the Prairie House Manor B&B.
"I can't believe we are in the 'Little Town' where Laura grew up," one woman wrote. "This is truly a dream come true," wrote another.
So many little girls, so many dreams. When Laura Ingalls Wilder wrote her nine books about growing up on the American frontier of the 1870s and 1880s, she had no idea her idealized portrait of pioneer life would be such powerful medicine to so many.
Most people are elated to see the real places where Laura lived. A few, perhaps those who cherished her most, are deflated.
"When you're little, it's all so warm and fuzzy, so sentimental," said devoted fan Jennifer Smith of Lake Forest, Calif., over breakfast. "Now, I think, 'What a miserable life they led.' "
De Smet, S.D., was the end of the line for the Ingallses; Charles Ingalls had moved his wife and four daughters seven times in 10 years.
He seemed to have a knack for leading his family into disaster: to land in Kansas that still was owned by the Osage; to Walnut Grove, Minn., a year into a grasshopper plague; to a failing hotel in Burr Oak, Iowa, just as the plague ended and crops flourished.
But what do young readers remember from the books? Laura exploring Plum Creek, Pa playing his fiddle and Christmas stockings filled with peppermint candy and shiny new pennies.
The first book, "Little House in the Big Woods," was published in 1932. Today, Pa Ingalls' meandering path from Pepin, Wis., to points all across the Midwest has become a well-beaten tourist route.
Two of the towns have been elevated to shrinelike status: Walnut Grove, Minn., made famous by the TV series "Little House on the Prairie," and De Smet,S.D., location of five of Laura's books and two family homes.
Both towns have museums and sites that can be visited year-round. But true fans come during pageant season.
A story comes alive
It's twilight on the banks of Plum Creek, and in the distance we see cars, waves of them as far as the eye can see, like the prairie grass Laura loved. Walnut Grove, a farm town of only 625, draws thousands of visitors to its pageant, held every July since 1978.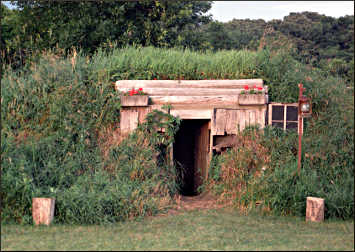 I'm sitting next to 7-year-old Jacob Eastman, whose parents have driven him here from Milwaukee. His eyes are shining.
"His teacher read his class the books a little at a time, and at the end of the year, they had a party and made Laura's wedding cake," says Cindy Eastman. "We came because he got so excited about it."
A covered wagon pulled by two horses pulls up to a grass-covered dugout on the edge of the outdoor set, and the play begins. It's technically impressive --- hydraulic lifts move wooden sets, and buried gas lines start a prairie fire that Jacob calls "way awesome."
The acting is exuberant: Nellie Oleson is a swaggering brat, Mr. Kennedy is a stand-up comic and stoic Pa shocks us by flinging down a pole and whining, "Every day is a nightmare!"
When it's over, Jacob rushes off to get an autograph from Laura. But nasty Nellie has the biggest circle of admirers. "Do you want to know who my real sisters are? Mary and Laura!" She guffaws. "Pretty neat, huh?"
All the next morning, Sunday, we listen for the peals of the bell at English Lutheran. The bell, for which Pa gave the astounding sum of $26.15 (remembered by Laura as $3), is all that's left from the Ingalls' 3½ years in Walnut Grove.
My 7-year-old daughter stands outside the church, staring up at it. "That's the same bell that Laura, Pa, Mary and Ma heard," she whispers.
Finally, we step inside the church and ring the bell. It sounds exactly like every other church bell; somehow, we're disappointed.
A baby grasshopper is hopping on the dashboard when we get back in the car. The grasshopper plague of 1873-77 is the most memorable part of "On the Banks of Plum Creek," and the town's Wilder museum has a fascinating exhibit about the insect, which infested the area as recently as 1989.
When we visit, the museum is full of visitors. We buy postcards and note that, according to the attendance board behind the counter, no one from Hawaii has visited this year.
The clerk looks worried. "I don't know why Hawaii is so late this year," she says, and turns over the board. "It was No. 3 last year. We've had all six Canadian provinces and 33 countries, though."
Not far north of town is the former Ingalls farm. Their first dwelling there prompted virtually the only complaint Ma made in seven books: "Oh, Charles, we've never had to live in a dugout yet."
It was scraped out of the steep banks of Plum Creek; today, wheat grows a few yards above the depression that marks the site, and the wild plum trees below still shade the creek's muddy waters.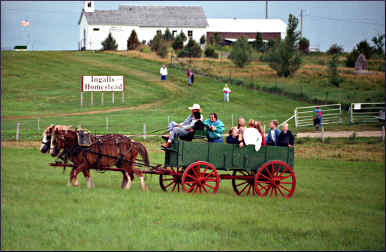 Back at Plum Creek Park, the Family Festival is in full swing. Children are splashing through the creek, which is clear here, and a bluegrass quintet is playing on a stage. Harry Brosam is making a broom from his own broom corn and has drawn a crowd that's hypnotized by his bundling and winding.
Traveling west
We buy a child-size broom and head west for De Smet. In 1879, Ma and the four girls traveled part of the way on the train; Pa had taken a job with the railroad and had preceded them. De Smet today is a quiet but fairly prosperous town of 1,200.
The tour starts at the Surveyor's House, the Ingallses' borrowed first home. It's small, though 12-year-old Laura thought it was a palace; at any rate, it was big enough for other homesteaders to sleep on the floor, 25 cents per night.
Next we head to Ma and Pa's frame home, which Pa built in 1887; despite his lust for wide open spaces, he never made it as a farmer.
There's a wealth of photos, clothes, furniture and books owned by the family, including Rose Wilder Lane, Laura's only child and a world traveler who, according to our guide, once was the highest-paid journalist in the world.
Upstairs, we meet Jennifer Smith, who has read nearly everything written about the family, and we start gossiping.
We ponder the odd fact that Ma, Laura and Rose each had infant boys who died, and that the four daughters produced only one grandchild. We muse on Pa's inability to bring in a crop, and Ma's unnatural calm --- and, according to Rose, her silence.
That night, we drive to a hillside near the shores of Silver Lake, now a cattail marsh, to see De Smet's pageant, which it has put on since 1972. There are wagon rides for the kids, and people from all over the continent have come to sit on these concrete benches on the prairie.
And this spot, with the prairie rolling off into a horizon aglow with the setting sun, resonates with the past. When the pageant ends with a floodlight on the cottonwood seedlings Pa planted, now tall and full, a reverent sigh rises from the audience.
As a young woman in De Smet, Laura suffered her own string of disasters. She was 27 when she and Almanzo, her husband, moved to a farm in Missouri and finally carved out a modest prosperity.
At age 63, she began to mine her memories about "the Land of Used-to-Be," as she called it. At first, she thought one book would be enough. "But to my surprise," she wrote, "I have discovered that I have led a very interesting life."
Trip Tips: Walnut Grove, Minn., and De Smet, S.D.
Getting there : Walnut Grove is a three-hour drive west of the Twin Cities. De Smet is another two hours. Both pageants start at 9 p.m., so you'll want to reserve overnight accommodations.
Walnut Grove pageant : In 2022, its 45th anniversary, the pageant will be performed July 8-9, 15-16 and 22-23.
Admission is $25 for wide VIP seats, $20 for reserved chair seating and $18 for seating on the hillside, where admission for children 5 and younger is free. It's another $3 for handling. Reserve at 888-859-3102.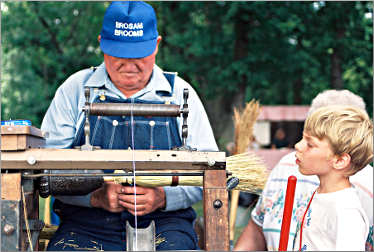 A Family Festival and Laura and Nellie look-alike contests are held each Saturday in Walnut Grove City Park. The town also offers bus tours and serves pageant suppers in the community center.
The Laura Ingalls Wilder Museum is open year-round, with limited weekend hours in winter, 800-528-7280.
De Smet pageant : In 2022, the special production "On the Prairie: Laura's Legacy" celebrates the pageant's 51st anniversary. It will be performed July 8-10, 15-17 and 22-24. Tickets are $15, $10 for children 6-12; no advance tickets are sold, but no one is turned away.
There's a Discover Laura Center across from the gift shop and tour headquarters. The Wilder Memorial Society, founded in 1957, gives tours year-round, $14, $7 for children 6-12.
Accommodations : In Walnut Grove, there are campsites in Plum Creek Park .
In Springfield, Minn., Rothenburg Campground has sites near the municipal pool in Riverside Park.
For lodgings, reserve as soon as possible. Marshall , 40 minutes away, has many motels and inns.
In De Smet, the 1894 Prairie House Manor B&B has six rooms, 800-297-2416.
For other lodgings, check De Smet tourism .
Fun stops along Minnesota 14, Laura Ingalls Wilder Historic Highway : Springfield, Minn., has a playground, pool and water slide in pleasant Riverside Park.
Near Sanborn, seven miles west of Springfield, the Sod House on the Prairie is open for tours.
For more, see Little sod house on the prairie .
Nine miles south of Sanborn, the Jeffers Petroglyphs preserve ancient carvings in an outcropping of hard quartzite. The site is operated by the Minnesota Historical Society.
For more, see Written in stone and Road trip: Southwest Minnesota .
Between Walnut Grove and De Smet, there's a roadside beach in Balaton, and Lake Benton has a wayside rest with a dock on the lake.
Background : William Anderson's "The Little House Guidebook" is a travelogue with photos of all the Wilder sites. "Laura," by Donald Zochert, is full of fascinating details not found in the books.
More about Laura : See Laura Ingalls Wilder sites stories.
Last updated on January 15, 2022