Taking the train
It's fun, it's easy and it's cheap if you plan ahead.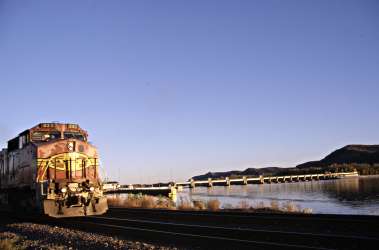 Sometimes, we forget that Amtrak can be a great way to get around. (For excursion trains, see 5 great/train rides.)
We've all heard stories about late trains. Well, you don't take the train to a business meeting-you take it if you've got the time and a sense of adventure.
If you do that, you can expect some incredible deals.
Trains work just like airplanes-the cheapest seats sell first. If you can plan ahead, you'll reap the rewards. Say you're a Twin Cities parent, and you know your children have a four-day school break on the third weekend in October. So you decide to take the family to Chicago to see Navy Pier and visit the museums (See Chicago with kids ).
If booked early, the fare for two adults and two children ages 2-15 is a meager $291.60 if the family has an AAA card, which shaves 10 percent off the fare. You'll catch the Empire Builder in St. Paul at 7:50 a.m. and it'll roll into Chicago at 3:55 p.m. On the way back, you'll get on the train at 2:15 p.m. and arrive in St. Paul at 10:31 p.m.
Amtrak's web site also offers weekly specials for the Empire Builder (CHI-MSP-SEA). They go fast, so book quickly if you see one, and don't forget to  book your return at the same time.
And unlike the airlines, Amtrak allows multiple stopovers. Say you want to travel from the Twin Cities to Chicago over the Memorial Day weekend, but along the way, you want to stop in La Crosse to tour the brewery, in the Wisconsin Dells to try out a water park and in Milwaukee to see the art museum.
The fare for all four legs to Chicago is a whopping $65.70 if booked early. The Twin Cities-Chicago train also stops in Red Wing and Winona in Minnesota and Tomah, Portage and Columbus in Wisconsin.
Also consider the train for short hops to cities where parking is very expensive. Say you're in Milwaukee for one of its big lakefront festivals, and you decide to go down to Chicago on one of the seven daily commuter trains. Round-trip with an AAA card is $37.80-not much more than the daily parking fee at downtown hotels.
And bicyclists can use the train to go on a bike trip. From La Crosse, for example, there are 101 miles on four state trails. Cyclists also can ride along the Mississippi between Red Wing, Winona and La Crosse and take the train back to their starting point.
In Missouri, the Amtrak route follows the 225-mile Katy Trail. Cyclists can  ride west from St. Louis to Hermann, Jefferson City or Sedalia and take the train back, or vice versa.
Check with local stations to reserve space on a train's bike racks, $5-$10. Bikes also can be carried as checked luggage.
Unfortunately, it's not always easy to get information out of Amtrak, though it's easy to book online, www.amtrak.com. Local numbers tend to be busy, and if you call the national number, 800-872-7245, you'll get Julie, the annoying automated agent. Just press "0" for a human agent.
Depots aren't always close to lodgings. If not, ask hotels if they'll send a van. And many proprietors of B&Bs will pick you up, especially on a weekday. In western Minnesota, the proprietor of the renowned cross-country ski resort Maplelag regularly drives into Detroit Lakes to pick up guests, who roll in at 2:38 a.m.
Last updated on September 15, 2010