Chicago with kids
For curious children, this inviting city overflows with treasures.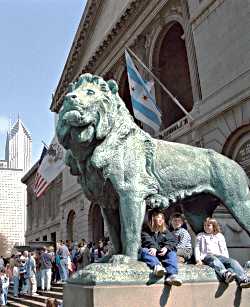 For parents, it's hard to predict what kids will like best about Chicago.
During spring break one year, my friend Rebecca and I took our children to Chicago, with an itinerary that alternated visits to museums with visits to zoos and parks.
Pitting high culture against popular culture, we knew what the biggest hits would be: the Ferris wheel at Navy Pier, Lincoln Park Zoo, the elevated train, deep-dish pizza, perhaps the Museum of Science and Industry.
But we were wrong.
This is what they really liked: Miniature French boudoirs and English drawing rooms at the Art Institute. Seahorses disguised as seaweed at Shedd Aquarium. Quesadillas and freshly squeezed limeade at Frontera, one of the hippest restaurants in town.
They loved the museums, where they learned that if it's naked, it's French, and if it's sharp and dangerous, it's German.
The skyscrapers for which Chicago is famed, however, was not a hit. They were more interested in the beggars sitting beneath them.
In Chicago, our five children learned a lot about the world. And we learned a lot about them.
Our first stop was Shedd Aquarium. Climbing its steps, in the middle of Chicago's lakefront Museum Campus, we could see the skyline stretching north and south and sailboats bobbing in the harbor.
Inside, we watched dolphins jumping and heard beluga whales "talking" with high-pitched squeaks. We walked from hall to hall, looking at sting rays as big as bathroom rugs, porcelain anemones with lavender-tipped arms, green moray eels peering out from crevices with maniacal eyes.
We could hardly stop watching the sleek river otters at play: "If there's such a thing as reincarnation, that's what I want to be next time around," said my daughter Madeleine.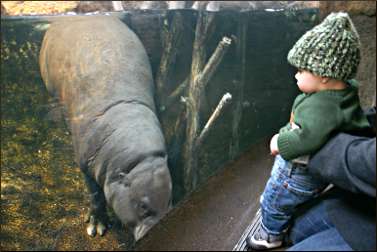 But nothing captivated us like the leafy seadragon, a foot-long seahorse with floating appendages that could not be distinguished from seaweed.
"They're so weird, they're the weirdest thing in the world," said my son Peter, even after watching a video of a male seahorse giving birth to 150 babies.
Picking out dinner
From Shedd, we drove down Lake Shore Drive to Water Tower Place, where we parked, expensively, and went to dinner.
We should have gone next door to the top of the 94-floor John Hancock Center, for the view of the city at sunset. And we could have walked two blocks from our hotel to the Chicago Cultural Center, to hear a free Scandinavian folk-music concert under the world's largest Tiffany dome.
They were the first of many concessions to fatigue.
The next morning, Peter wanted to go back to Water Tower Place, to give money to a woman who had asked us the night before. "She was wearing designer jeans," Madeleine said scornfully.
"She bought those before she lost her job," Peter replied. But we persuaded him to walk to the Art Institute instead.
It was Van Gogh's birthday, so we celebrated by looking at his famous "Bedroom" portrait, in a room that also contained Rousseau's "Waterfall," Toulouse-Lautrec's "At the Moulin Rouge," two Gauguins and, as if those weren't breathtaking enough, Seurat's "Sunday Afternoon on the Island of the Grande Jatte."
Peter loved walking close to the Seurat, then fading back to see how the famous dots changed. But he thought the Thorne Miniature Rooms, dozens of intricately decorated interiors from the 13th century on, were even cooler.
Passing a variety of statues in the buff — "Yep, it's French," Madeleine said of Rodin's "Adam" — we made our way to another kid favorite, the Arms and Armor Hall. Peter's eyes glittered as he gazed at a German pole ax.
"If you'd get me one of those, you wouldn't have to get me a babysitter, because if a robber broke in, Bam! I'd scare him away," he said.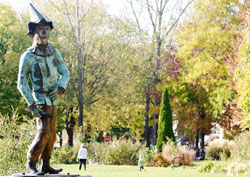 Welcome to the blues
Then I hustled everyone back down Michigan Avenue to the Chicago Cultural Center for a free concert.
That day, the Matthew Skoller Band, regulars at the House of Blues, was paying tribute to local blues harmonica pioneer Sonny Boy Williamson, born that day in 1914.
It was a perfect introduction for children &mdashg; Skoller's hilarious harmonica imitation of a woman scolding a man over the phone told them exactly what the blues are, without the adult language.
In the afternoon, the three oldest children and I left Rebecca with Jonathan, 6, and Rachel, 2, and hopped a taxi to Navy Pier, which has a Ferris wheel, carousel, children's museum, shops, restaurants and docks for excursion boats and the schooner Windy.
We rode the Ferris wheel, which was too slow for us, then went into the Children's Museum, where their favorite feature was a Treehouse Trail that, considering the admission price, was too much like McDonald's Playland.
Leaving, we watched the resident Improv Comedy Troupe perform a 3½-minute version of "The Wizard of Oz" on a raised stage in the middle of the mall.
After stuffed pizza that night at friendly Bacino's, Peter and I strolled 12 blocks down Michigan Avenue.
The Magnificent Mile's temples of commerce shimmered in the evening: Pottery Barn, Banana Republic, Crate & Barrel, the Apple store.
Near the neo-Gothic Tribune Tower, Peter gave a man sitting on the sidewalk two pennies he had found.
"I think we should give all homeless people $30," he said. "It makes me feel really good to give money."
Just like an animal
The next day, we caught the bus to free Lincoln Park Zoo, where volunteers were bringing out the residents in the Children's Zoo — a hedgehog, a parrot, a screech owl named Otis.
In the primate house, we watched a mandrill, which the children immediately identified as the "Lion King" monkey, and a group of Western Lowland gorillas, which included a lively 10-month-old baby.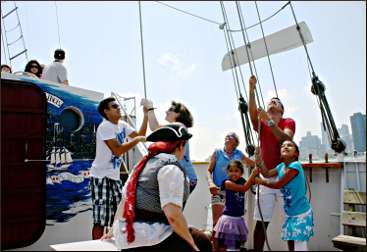 Something about the way she played seemed familiar to us.
"She looks just like Rachel, except she's black and furry," 9-year-old Ben finally said.
The zoo café was packed, so we walked the seven blocks west to Oz Park, and while the children were playing on the wooden towers of Dorothy's Playlot, I fetched sandwiches from the nearby Potbelly Deli.
Then we took the El back to the Loop, soaking up great views of the city as we clattered around each curve.
The children still weren't out of energy. That evening, Rebecca and I watched them careening all over the sidewalk as we walked along Michigan Avenue to dinner at Panda Express.
"I think the excitement of the city stimulates them," she said.
We needed energy the next day for free day at the Museum of Science and Industry, which was packed and clamorous. By 10 a.m., there was already an hour's wait for the submarine tour, but we stuck it out, looking at propaganda posters as we moved along.
The German U-505, seized off the coast of French Africa two days before D-Day, was the first enemy vessel to be captured on the high seas since the War of 1812, and it contained the codes to the German shipping routes.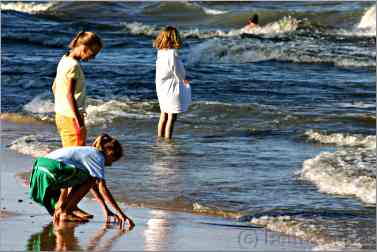 It's a thrilling story that, unfortunately, was mostly lost on the children, though they were interested in the scatological aspects of life at 120 degrees, with two toilets and no showers for 60 men.
We moved on to the giant heart, the flight simulators, the LEGO room, the 1911 ice-cream parlor in Yesterday's Main Street. The Museum of Science and Industry is a wonderful place, but after four hours, we were exhausted.
Fashionable food for kids
Later, when Rebecca suggested we go to Frontera Grill for dinner, I thought she was insane. An Internet restaurant guide had praised its "extraordinary décor, extraordinary service and near-perfect food" but included no mention of families.
We went anyway, and it turned out to be the hit of the week. The walls were covered with brightly colored folk art, and giant papier-mache bears hung in the rafters.
The children gobbled quesadillas and taquitos off the children's menu, and I had a fabulous plate of cobia with garlic achiote and garlic mashed potatoes and parsnips. The pickiest kid of all was the happiest.
"These quesadillas are a fiesta for my taste buds," Ben said.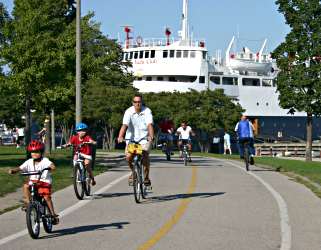 It was an easy walk back to the hotel. When we stopped at the White Hen Pantry to pick up breakfast pastries, I noticed Peter's face was splotched with soot, from hands trailed along bridge rails. The clerk also noticed, and, bringing out a wet cloth, cleaned him up.
I have to say I'm biased about Chicago. I always have a great time there, and I always run across the friendliest people. Now I've indoctrinated my children. Funny — they don't seem to mind a bit.
Trip Tips: Chicago with kids
Getting around: For families, taxis to Navy Pier and the Museum Campus are economical.
It's also very easy to use the CTA, which operates subway/El trains and buses.
Get a multi-day pass. They're for sale at airport stops (also museums, Navy Pier and visitors centers), and you also can order the passes online, with no shipping charges.
Planning an itinerary: I planned around free days at the museums, which change frequently (and are reserved mainly for Illinois residents). You'll save the most at Shedd Aquarium,  the Art Institute of Chicago, Adler Planetarium and the Field Museum of Natural History.
Because waits already are long at the Museum of Science and Industry, it may be best to avoid free day there.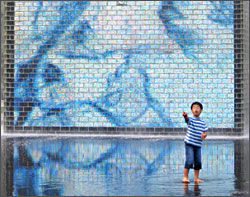 For more, see Cheap Chicago, Chicago at Christmas, Globe-trotting in Chicago and Chow-down in Chicago.
For more about bicycling on the Lakefront Trail, see Chicago by bicycle.
Accommodations: The big question for families: Pool or no pool? Kids like them, but you may not get much sightseeing in if your kids just want to play in the pool.
You'll probably want a room that includes breakfast or has a kitchenette. At Grand and State, a short walk to Michigan Avenue, the Hilton Homewood Suites has two-room suites with kitchenettes, a pool and buffet breakfast.
At State and Ohio, the Embassy Suites has a pool and rooms with mini-fridge and microwave.
The Hilton Suites Chicago has a pool and two-room suites with mini-fridge and microwave. It's near the Oak Street Beach and two blocks from Water Tower Place, with its eight movie screens and Foodlife.
Larger families can get a great deal at a hostel. The Freehand Hotel/Hostel, in a former 1927 hotel in River North, has a communal kitchen as well as bar, cafe and activities concierge. It has rather chic private rooms, even a penthouse, as well as bunks in a shared quad.
In the South Loop, Hostelling International family hostel has a carpeted great room with foosball, ping-pong and a pool table.
At the Chicago Getaway Hostel near Lincoln Park, you can get a private room with shared bath or share a quad, with breakfast included.
Closer to Navy Pier, the Hampton Inn Chicago on Huron Street has a 40th-floor rooftop outdoor pool and includes breakfast.
And for something a little different, spend the night in a museum. Shedd Aquarium, the Field Museum, Adler Planetarium and the Museum of Science and Industry offer sleepovers for children and their parents. For more, see Nights at the museum.
Dining: It's easy to eat well for very little at delis. Cosi, the Corner Bakery, Caffe Baci and Chipotle all are on Michigan near the Cultural Center, and L'Appetito, a great Italian place, is at the foot of the John Hancock Tower.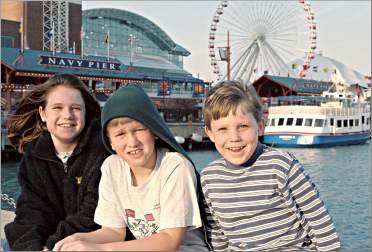 But families can eat even at fancier restaurants; the key is arriving at 5 p.m., so kids won't have to wait. Choose Chicago lists family-friendly ones.
Events: There are lots of free events. As soon as you arrive, stop by the Chicago Cultural Center at Randolph and Michigan or the Chicago Water Works on Michigan Avenue and Pearson for the latest information.
Playgrounds: In Grant Park, along the lakefront, Maggie Daley Park includes climbing walls, play structures, an "enchanted forest" and a twisting, 20-foot-wide loop that's used for roller-skating in summer and ice-skating in winter.
Outdoor baseball: Cubs, 312-831-2827, 800-347-2827. White Sox, 312-831-1769.
Navy Pier: Fireworks shows with music are held Wednesdays and Saturdays in summer. Check for the many free performances and events.
Information: Chicago tourism, 877-244-2246. And be sure to stop by the Cultural Center, on Michigan Avenue across from Millennium Park, to get the latest information.
For more help planning a trip, see Chicago as you like it.
Last updated on October 5, 2021