Dunes of Duluth
On Lake Superior, a windswept spit of sand draws beach bums and boat nerds.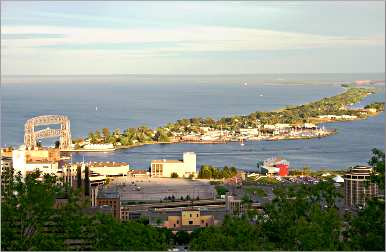 Most people don't think of Duluth as a beach town.
It's a little chilly, for one thing. But the port city has six miles of sandy beach along the largest freshwater sandbar in the world.
Just over the Aerial Lift Bridge, Park Point is where Duluthians play. They hike and run on a two-mile trail through forest and dunes. They paddle canoes and kayaks. They hang out on the beach, watching waves in winter and braving them in summer.
And there's up-close boat-watching on both ends.
Technically, Park Point is an island. Before 1870, the only entry was on the Wisconsin side. Then the people of Duluth dug their own, completing it just before the city of Superior served a federal injunction to stop it.
It was reached first by ferry, then by gondola cars suspended from a raised bridge. In 1930, the lift bridge became Duluth's best-known landmark.
Now, you just clatter over the rising deck of the bridge to get there.
The Lake Superior side of the point is lined by beach cottages, several of which can be rented. There's a city beach pavilion with restrooms, sports fields and a playground.
The road ends at Sky Harbor Airport, beyond which the Park Point Trail leads hikers to the Superior entry.
There's a lighthouse on the Wisconsin side of the entry. It's used mainly by leisure boats and freighters heading for the Burlington Northern ore terminal.
Beyond that, the narrower Wisconsin Point stretches another three miles along Allouez Bay, its Lake Superior side lined by woods and secluded beaches.
Hiking the point
I didn't start to discover the wilder parts of the two points until I first hiked the Park Point Trail.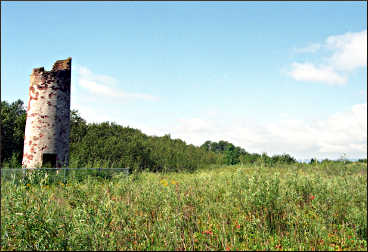 Nearly every step brought a revelation — a hushed thicket of old-growth pines, the stepped gables of an old Coast Guard supply station, sand dunes covered with wildflowers, the curving breakwall around a cove stacked with driftwood.
The brick ruins of Lake Superior's first lighthouse are here, too. Built in 1858, the lighthouse was tended through its 20-year life by keeper R.H. Barrett, who used his own lungs to blow a foghorn that locals dubbed "Barrett's Cow."
I didn't notice the clumps of poison ivy everywhere, however, until other hikers happened to mention it.
I've been there often since. There's nowhere like it — a quiet, wild oasis surrounded by industry, where the sawing of crickets mixes with the grunt of cranes in Superior Harbor.
The 360-degree panorama includes the endless horizon of the lake, the crowded hillsides of Duluth and the hulking Burlington Northern ore terminals, last stop for the Edmund Fitzgerald in 1975.
Once, I brought my kids, who "snowboarded" down a sand dune on their feet and played on a beach covered with bleached driftwood. I'm still discovering new stuff, most recently a shack made of washed-up logs.
On the Wisconsin side
One August, I discovered Wisconsin Point after bicycling along the paved Osaugie Trail from Barker's Island in Superior one evening. Returning to its end point in my car, I continued on a 25 mph blacktop road that led to the wooded point.
Bumping along in the gathering dusk, I passed many pullouts, from which paths led to beaches, and through a corridor of old-growth pines to the harbor entry.
The lighthouse beacon was flashing, and the lights of Duluth twinkled in the distance.
At the tip of the point, a dozen young people already were sitting around a bonfire. Both points attract drinking parties, and secluded Wisconsin Point is known for having fewer police patrols than Park Point.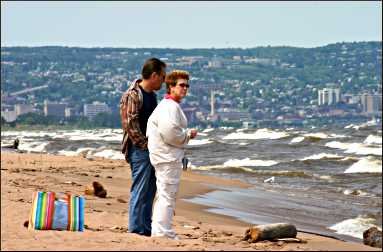 A band of Ojibwe lived on Wisconsin Point until 1914, when they lost their land to the government and railroad. However, in 2011, the Department of Interior ordered the return of 14 acres at the tip of the point.
A dip in Superior
The next day was a hot one, so I did something I've always wanted to do in Duluth: swim in Lake Superior. People need some gumption for that; despite the inviting beaches of Park Point, this is no ordinary lake.
Its temperature swings only a few degrees on either side of 40 year-round, unless a northeast wind blows a layer of warmer water onto its surface, in which case swimming can be tolerable.
This wasn't one of those days, however, so I just plunged in, swam a few yards and swam back, pausing in knee-deep water to have my photo taken for proof.
"You did it like a Duluthian, I'm proud of you," said Maryan Kang, who was at the beach with her son Elliot. Kang, who has lived in Duluth for five years, said she moved from the Twin Cities because she wanted to live where she vacationed.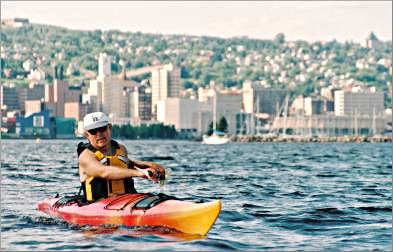 "When I first moved here, I was used to waiting to swim until it got really hot," she said. "Then I got acclimated and realized this is as hot as it gets. If you wait until it's really hot, you'll end up with no swimming days at all."
On the bay side, however, the water is warm. The same weekend, I rented a kayak to explore the harbor.
Unlike the lake, where waves can top 6 feet in a flash and hypothermia can kill capsized kayakers, the harbor is safe if kayakers stay out of shipping lanes.
Paddling along, I saw the 690-foot Courtney Burton coming in, heading for the grain terminals on Connor's Point, under the Blatnik Bridge. I looked into the back yards of houses, most with a canoe or paddleboat stowed away, and passed a wood duck trailing six ducklings.
Circling around a bird sanctuary,  I came upon a wave runner, a Vista cruise boat and a spinnaker, sails billowing in the breeze.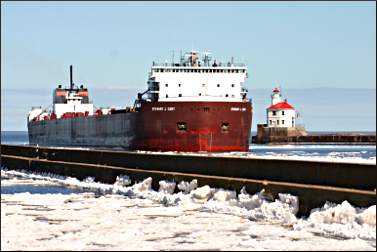 Watching the boats
Boats, of course, are what Duluth-Superior Harbor is all about. I like watching the really big ones.
I've stayed twice at the South Pier Inn on the canal, where guests have decks that give them a view of boats coming and going.
One April, I didn't see any boats from the room, though I saw the James R. Barker coming in from my table in the revolving restaurant atop the Radisson.
And at the end of a lovely hike on the Park Point Trail, I saw the 1,000-foot Stewart J. Cort coming in for a load of taconite.
I was luckier one September, when I splurged on a corner suite. From my balcony, I could see the Utviken across the harbor, loading grain at the AGP dock.
Then the air turned viscous, and wisps of cold air began to brush my bare arms. A curtain of fog rolled in, and the foghorn started to growl.
At 3:30 p.m. bridge bells began to ring and I scanned the harbor vainly until I spotted the Columbia Star emerging from the mist, loaded with coal. Under the same conditions, the Fraser had grounded that summer, despite an escort of two tugs and guidance from local captains.
With my room wrapped by fog, sounds became magnified: the rumble of car tires on the grating of the bridge deck, the screech of gulls, the monotone of the foghorn.
But soon the fog began to burn off, and I set off to hike the Park Point Trail.
The Burns Harbor was at the Burlington Northern docks, its pilot house wrapped in twinkle lights, and by the time I reached the entry lighthouse, it was bathed in sunbeams newly broken through clouds.
Walking back, I watched the white steeples of Superior and buildings of Duluth pop out of fog.
Back at the South Pier Inn, I kept my ears cocked for bells, jumping up only to see a sport-fishing boat go through at 6 a.m. and another at 7 a.m.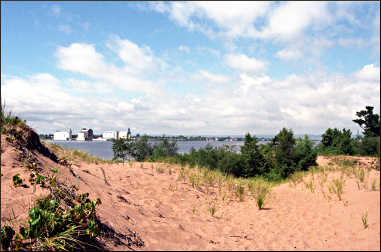 At 8:30 a.m. the Oglebay Norton arrived, a big but ugly coal freighter trailing plumes of black smoke. The older but sleeker Courtney Burton left at 10:15, and at 10:30 the Canadian boat Tadoussac arrived for a load of taconite.
I hung around till 11 a.m., when a green tug chugged through, but then I had to turn over my fabulous Park Point lookout to another boat-watcher.
On a hunch, I drove over the Blatnik Bridge and over to Wisconsin Point, where I lucked out: As I stood at the pier, face to the horizon, I saw the Stewart J. Cort appear.
On the world's largest sandbar, boat sightings are guaranteed — though never enough.
Trip Tips: Minnesota Point and Wisconsin Point
Getting there: To get to Minnesota Point/Park Point, just cross the Aerial Lift Bridge.
To get to Wisconsin Point, take U.S. 2/53 to the edge of Superior, then turn onto Moccasin Mike Road.
It's a nice bicycle ride from Barker's Island. Ride five miles along the harbor on the paved Osaugie Trail to Moccasin Mike Road (speed limit 25 mph). It's another 4½ miles to the light station at the end of Wisconsin Point.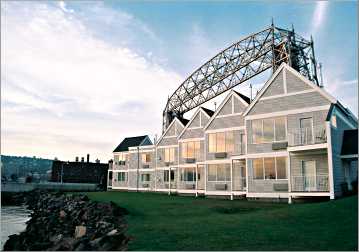 Annual events: Last weekend of June, Park Point Art Fair, a juried show of 120 artists, with music, food and family activities.
Accommodations: There are two hotels, a B&B and quite a few vacation rentals on Park Point. Rates are highest in summer.
The South Pier Inn is right on the canal. Avid boat-watchers might want to splurge on the corner suites, which have full views both of the harbor and Aerial Lift Bridge.
All waterfront suites have whirlpools, gas fireplaces and decks; reserve the ones on the second floor, so people walking on the sidewalk in front of the hotel can't look into your room.
A continental breakfast is included in the rates.
Just a few buildings away, Solglimt B&B is on the Lake Superior side of Park Point. Proprietor Brian Grover grew up on Park Point, and he and his wife, Mary, offer five luxurious rooms in the 1910 house and an addition.
Four blocks from the lift bridge, the Park Point Marina Inn on the bay has 68 rooms with balconies. It has a pool and serves a hot breakfast buffet.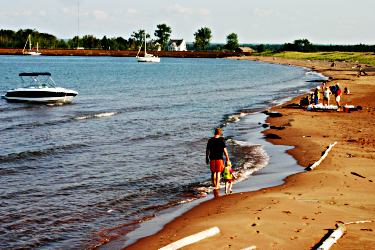 A block away, the Fairfield Inn & Suites by Marriott also has a pool and includes a hot breakfast.
Boat watching: Check online for approximate arrival and departure times.
The free Lake Superior Maritime Visitor Center, next to the Aerial Lift Bridge on Canal Park, gives daily programs and pier history walks in summer.
Hiking: The Park Point Trail, four miles round-trip, starts at the airport; park just outside it. Part of the trail is sand, requiring some stamina; also, watch out for poison ivy.
Swimming: The entire Lake Superior beach is public, but the Park Point Recreation Area beach, with restrooms, starts off 43rd Street. In summer, lifeguards are on duty unless red flags indicate the presence of rip currents, which make swimming dangerous.
The water is warmer on the harbor side, but goose droppings can make swimming unsanitary.
Bird-watching: Minnesota Point is one of the longest freshwater sandbars in the world, and migratory birds use its trees and beaches as a resting point in spring and fall. Allouez Bay on Wisconsin Point also is renowned for bird-watching.
History: For an interesting thread on Park Point ruins and history, see Perfect Duluth Day.
Planning a trip: See our Duluth stories.
Last updated on April 16, 2021