Beguiled by bears
In northern Minnesota, the man who loved bears left a legacy for thousands.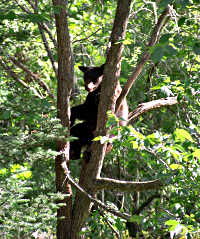 Half a century ago, a Minnesota logger who lived in a forest full of hungry bears decided that if you can't beat 'em, join 'em.
By the time he died at age 86, Vince Shute had fed generations of black bears, become best friends with a bear named Brownie and inspired bear-lovers all over the world.
Shute wasn't a sophisticated man, but he had a heart.
"In 1942, Vince Shute had a logging camp, and it had a cookshack," says Bill Lea of the American Bear Association. "The bears would smell those good smells and break into the shack. Now, Vince and his men were afraid of bears, and every time one came, they'd shoot it. He said that over the next 10 years, he killed scores of bears.
"So finally, Vince came up with another plan. He thought, 'Maybe if I put food outside the cabin, they won't break in.' Well, it worked. What Vince didn't count on is that he would end up feeding these bears for nearly 50 years."
Every day, some of the 80 bears in the forest near Orr, just south of Voyageurs National Park, would drop by for a snack, depending on what else they could find in the woods.
As Shute aged, volunteers began helping him at his homestead, and in 1996, they built a raised wooden observation deck for the thousands of people who showed up to watch him feed the bears.
Today, it's the Vince Shute Wildlife Sanctuary, where volunteer naturalists explain the behavior of the bears who come out of the woods to feast on apples, dates, dog food, sunflower seeds and any other food — as wilderness campers know, bears aren't picky.
When I visited, Bill Lea had flown in from his home in North Carolina. As his wife, Klari, walked around the grounds with a green bucket, laying food on stumps and hollowed-out logs, Lea talked to the tourists on the observation deck.
"Bears are smart, so we have a rule," he said. "We always feed them from green buckets, so they don't associate food with people; they associate it with green buckets."
Bears shuffled around the feeding area, checking out the buffet. On the edge of the clearing, two 1½-year-old cubs cowered. They'd just been kicked out of the den, Lea said.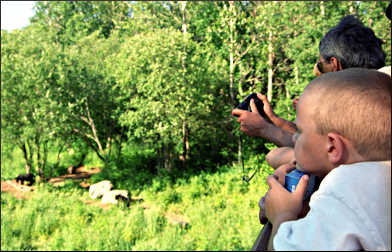 "We always feel sorry for these guys," he said. "It's a scary time of life for them. They're just getting out to get to know the world on their own."
Cameras clicked as tourists, who come from all over the world, photographed the cubs.
"I'm a Girl Scout, so I know what to do if I see a bear," said Kirsten Bowman of Jemison, Ala. "Never run, don't faint, and scream."
Once, she said, she saw a bear in the wild, while hiking with her Girl Scout troop in Tennessee: "I jumped up and down and screamed, and he went away."
These are wild animals, volunteers are careful to note, not Winnie the Pooh. A sign near the entrance warns, "Danger! Bears Look Tame But Are Wild and Unpredictable."
Before the observation deck was built, Lea said, things were getting out of hand. Tourists were pouring alcohol down bears' throats and giving their children rides on bears' shoulders.
"We can manage the bears," he said. "It's the people who are the challenge."
More than 80 black bears frequent the sanctuary every summer, and every night, hundreds of people come to see them. They look from a 3,000-square-foot observation platform that is connected by elevated walkways to the spot where shuttle buses drop visitors.
That protects bears from people — and vice versa.
Before the big observation platform was built, the parking lot was near the feeding area, and sometimes, the people got loose.
"We had a visitor who kept asking, 'Can I pet a bear, can I pet a bear?' " said Kim McGrath of the American Bear Association in Orr. "We explained why she couldn't, and why even we don't.
"But on her way back to the car, she had an opportunity, and she ran her hand right down that bear's back," McGrath said. "Luckily, it was a very tolerant bear. Had it been Oscar, she probably would've lost an arm."
Even though volunteers, who come from all over the world, don't fraternize with the bears, they get to know them well.
"Each bear has a distinct personality," said volunteer Tim Halvorson. "There's one bear, I'm just in love with him. His name is Handsome, and you could pour honey all over your legs and he wouldn't bother you.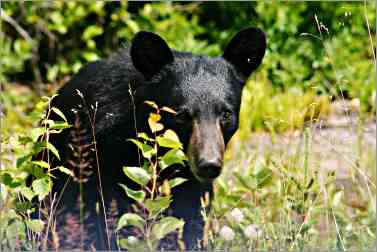 "I just brought him up a blueberry pie," he added, with a sheepish look. "Now Oscar the Grouch, he tends to be dominant. And Lizzy does a lot of bluff-charging. You get to know which ones tend to do that, and you just avoid them."
Shute's favorites were Duffy, a gentle giant who became a poster bear after the Associated Press photographed him eating cinnamon toast out of Shute's mouth, and Brownie, whom Shute called "my cop" because he kept the other bears in line.
Once, Shute nursed Brownie back to health on chicken-noodle soup after he was shot by a hunter.
"They had a special relationship; it was just a beautiful thing to watch," Lea said. "But we don't give people the message that you should do that."
The bear association, McGrath said, has agonized over whether or not it should continue feeding the bears, thereby giving visitors the impression that they, too, can feed bears.
That's a dangerous practice because, from then on, bears will think of that person's porch, or campsite, as a food source. A Voyageurs National Park brochure puts it this way: "Do not ever feed a bear. The next visitor may be a 3-year-old with a jelly sandwich."
"We can't stress enough that we never would have started this, that we're just managing a pre-existing condition," McGrath said.
"We weighed the pros and cons, but we thought, 'What a really incredible educational tool.' It's so incredible to be able to connect a person with a real live bear. If they're seeing a bear, they're much more willing to learn."
Recent visitors, she said, got to see a startling real-life scenario when Elsie, a first-time mother, kicked her yearling cubs out of the den, a move that's necessary because males may kill cubs that still are hanging around a mother in estrus.
"One cub understood right away and scooted up a tree, but the other was not getting the message," McGrath said. "It was violent and very loud; she was beating him up. It was terrible for the humans to watch. They were stunned."
However, other visitors got to watch a mother bear pull a cub onto her lap and nurse him, she said.
It's appropriate, said Bill Lea, that the Vince Shute Wildlife Sanctuary honors a man who himself got quite an education about bears.
"Now, we all know you shouldn't feed bears," Lea said. "We don't honor him because he fed the bears, but because he cared enough to change his lifestyle, so he could peacefully exist with his black-bear neighbors."
Trip Tips: Vince Shute Wildlife Sanctuary in Orr, Minnesota
Getting there: It's 14 miles west of Orr, along Country Road 23. Orr is a two-hour drive north from Duluth.
Hours: It's open from 5-8 p.m. Tuesdays-Sundays from the Saturday of Memorial Day weekend through the Sunday of Labor Day weekend.
What to know: Pets and motorcycles are not allowed. Bring insect repellent.
When to go: June is mating season, so males are off chasing females. Expect the greatest numbers in August, when bears start a feeding frenzy to prepare for winter.
Admission: It's $12, $5 for youths 4-17. Tickets can be bought online.
Nearby attractions: The Orr Bog Walk, behind the visitors center in Orr, includes a half-mile boardwalk through Pelican Lake wetlands.
The Kabetogama Lake Visitor Center in Voyageurs National Park, the vast water playground, is 25 miles north,
In nearby Ely, four bears live at the North American Bear Center and can be seen except when they're hibernating. For more, see Ely and the three bears.
Ely also is the home of the International Wolf Center. For more, see Dreaming of Ely.
Accommodations: The Orr-Pelican Lake area has many resorts, motels and B&Bs.
Information: Vince Shute Wildlife Sanctuary, 218-757-0172.
Last updated on January 19, 2022