Dreaming of Ely
The wilderness around this Minnesota town exerts a magnetic pull on city folk.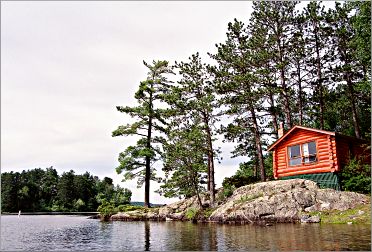 In Ely, one picture is worth a thousand tourists.
Who could ignore the call of its photogenic expanses of sky-blue water and rocky islands amid spruce forest? Who isn't drawn to a shimmering image of the northern lights, or of a moose and calf browsing in a patch of wild calla lilies?
To see Ely is to want to be there, enveloped by tranquility.
The scenery has been around for a long time, ever since glaciers carried off the soil and left a stony, stripped-down landscape that, to many, is the essence of the north woods.
The reputation came later, when the 1.1 million-acre Boundary Waters Canoe Area Wilderness was created and Ely became known as the hub of the unspoiled wilderness. In 1998, National Geographic Traveler magazine named the Boundary Waters one of 50 places in the world everyone should visit.
The area always has inspired rhapsody.
"Anyone who has known the deep woods and the blue lakes, for a week or a season, puts himself to sleep ever afterward with memories of Ely," wrote the late television personality Charles Kuralt, who called Ely the best place to spend July in his book of favorite places, "Charles Kuralt's America."
Local naturalist Sigurd Olson, in his first published work in 1921, described its "naked grandeur as God intended it to be, unscathed by the hand of man."
Of course, Olson wasn't very popular with many locals after the BWCAW was created in 1978.
Not everyone waxed rhapsodic about the unsullied wilderness. Others also appreciated the lake country, but from the motorized boats that now are largely prohibited.
Sportsmen were among the first to arrive after the pine forests were logged. By then, miners had been in Ely for decades; at one time, four iron-ore mines operated within city limits.
The last one closed in 1967, and only a few vestiges of those days can be seen, in the bars lining Sheridan Street and at the old Pioneer mine head-frame on Shagawa Lake.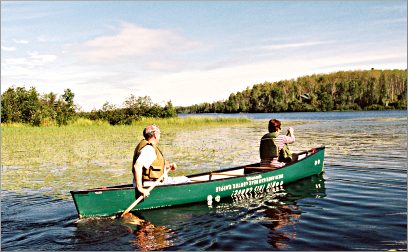 The two groups didn't mix with the canoe crowd that now surges through the streets. But many thought the antipathy had faded until August 2007, when five men and a teen-ager entered the Boundary Waters in motorboats and terrorized as many as 80 campers with threats and rifle fire.
Ely's complex political and natural history make it perhaps the most interesting vacation area in Minnesota.
Many forces have left their mark here. From a pontoon boat, retired science teacher Emily Wahlberg pointed them out on 12-mile-long Burntside Lake, one of the region's biggest and most beautiful with 125 islands.
There's Indian Island, home of a large Ojibwe family and now populated only by spirit houses, and Polka Dot Island, which made a memorable appearance in the Hamm's beer "Land of Sky-Blue Waters" commercial.
Beer makers loved Ely; Grain Belt featured the glowing orange Cabin 26 at Burntside Resort in its ads.
Leisure Island was the summer retreat of Wisconsin tycoon Martin Pattison, whose winter home, the 1890 Fairlawn Mansion in Superior, is more famous. Old saunas can be seen along one stretch of shore, built by the Finns who were the earliest settlers.
To the south, Sigurd Olson's famous Listening Point is marked by a plaque on the black, lichen-covered volcanic rock that slides cleanly into the water.
Only the most tenacious trees and mosses cling to the few inches of soil atop the greenstone and granite outcroppings that form most of the islands and much of the shore. Wahlberg explained how the glaciers scraped away the softer rock and deposited the till in southern Minnesota and Iowa.
"They got the sweet corn, and we got the scenery," she said.
In Hoist Bay, the rusted boiler of the logging tug Bull of the Woods pokes out of the water. Logging, Wahlberg said, took away more than trees.
"There used to be caribou herds here," she says. "But logging took away the forest canopy, replacing it with brush, which brought in deer who had brain-worm disease."
By the time she was through, the quiet lake seemed populated with ghosts. But Wahlberg said many of her passengers listen with half an ear while looking at the shoreline with covetous eyes.
"There's one question I'm always asked," she said: " 'Do you know of any property for sale?' "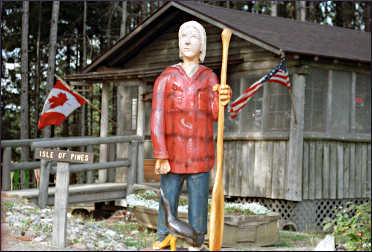 Ely's blue lakes, shimmering off the computer screen, exert a magnetic pull on visitors from all over the world: canoe-toting youth groups from the South, Japanese tourists fresh from the Mall of America; stressed-out Hollywood executives who have to be coaxed to relax.
And many, having first come to Ely to play, then decide to stay.
"The majority of the entrepreneurs in Ely have come from somewhere else; I'd go so far as to say 95 percent," said longtime innkeeper Jo Kovach, a native who returned after her children were grown so she could have "a million-acre front yard" in Ely.
"They've chosen to leave behind the big city and come here. It's a very unusual small town-we have more Ph.D.s than in most college towns, though they might be swabbing toilets."
The main draw still is the pristine waters and forests. But the town, pop. 3,400, is a destination in itself.
The International Wolf Center, opened in 1993, explores the symbolic power of the wolf on human folklore-from Little Red Riding Hood to the Three Little Pigs-and the social dynamics among wolves, once exterminated in every state except Minnesota and Alaska.
Its biggest draws are the resident wolves, who live in a wooded enclosure next to the center but can be watched from a glass-walled viewing room.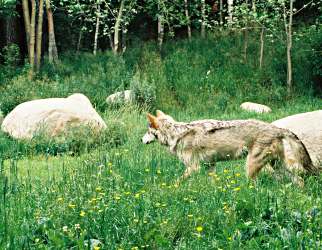 People come by the thousands to learn about pack dynamics and also to join hikes into the woods, to see abandoned dens, to learn how to howl and to find out how researchers track and study wolves.
Down the road, another museum sits in a grove of red pines. Its two cabins were dragged by dog sled from Knife Lake, near the Canadian border, after the 1986 death of Boundary Waters legend Dorothy Molter.
Molter, a Chicago nurse who came to Ely in 1930, was the last person allowed to live within the BWCA, supporting herself by brewing root beer, which she gave to passing canoeists for donations.
Today, the legend lives on at the museum in a video featuring the feisty outdoorswoman, "Dorothy Molter, Root Beer Lady." The bottles she used and reused now are collector's items.
And everyone ends up in downtown Ely. On Sheridan Street is a trinity that few visitors miss-Front Porch Coffee & Tea, a popular breakfast stop; Piragis Northwoods Co., a store and outfitter; and the Brandenburg Gallery.
Along with Arctic explorers Will Steger and Paul Schurke, photographer Jim Brandenburg is Ely's most famous citizen; his outrageously beautiful portraits of lake country have done their bit to bring the adoring masses to Ely.
Sheridan is thick with outfitters and apparel shops. This is the place to gird for cold weather-with laced moosehide boots from the elegant, high-ceilinged Steger Mukluks store, or a fleece anorak from Wintergreen Northwoods Apparel.
Both shops sell through catalogs, which help them survive the long Ely winters.
The main street for the locals is a block away, paralleling Sheridan. Chapman Avenue is a shopping street, too, mostly for necessities, but it also includes little nooks that sell espresso, artisan cheeses, antiques and books.
But on a beautiful day, few want to hang around town.
Hiking trails surround Ely. There's a six-mile loop along the side of Bass Lake, which dropped 60 feet in 1925.
The five-mile Secret-Blackstone Trail winds around three lakes, often on greenstone. Closer to civilization, the Trezona Trail is a five-mile asphalt path around Miners Lake, just north of downtown.
Those who want to camp in the Boundary Waters need to obtain a permit, often far in advance for peak times at popular entries.
But permits for day use are easily obtained at any outfitter; one of the most popular day trips is to the Hegman Lake pictographs, red-ocher Indian paintings on a lakeside cliff not far from the Echo Trail.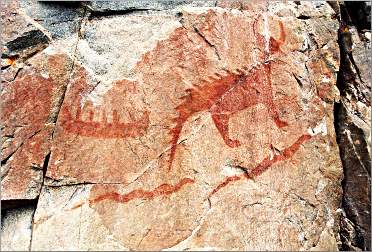 Other non-BWCA lakes, such as picturesque Burntside, have public boat launches, or resorts that rent canoes from their marinas.
The 1913 Burntside Lodge, whose burnt-orange log cabins likely are the most photographed in Minnesota, is an easy jumping-off spot for canoe trips across the lake and up the Dead River, which is named for an Indian cemetery and nearby village and has two scenic campsites.
There's more than enough to do. On a lovely evening in July, Karl and Sherri Dybdal of Minneapolis were celebrating their anniversary in the dining room of Burntside Lodge.
The couple travel to Ely every year and had spent the day, as usual, hiking and fishing for bass in Burntside Lake.
"In Ely, we never say, 'Geez, that was boring,' " Karl Dybdal noted. "It just doesn't happen."
Trip Tips: Summer in Ely, Minnesota
When to go: July and August are peak season for canoeing. Hiking is best in September and early October, after frost kills off bugs. Late May and June is peak season for black flies.
For snow season, see Winter in Ely.
2023 events: July 28-30, Blueberry Arts Festival. Sept. 8-10, Harvest Moon Festival.
Accommodations: There are many resorts around Ely, most of which offer daily rates. The oldest and best-known is Burntside Lodge, five miles west on Burntside Lake.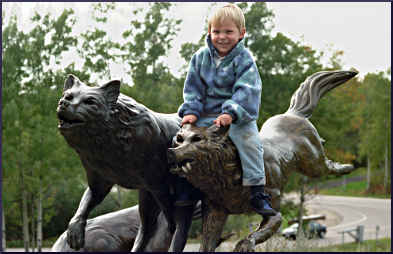 Its lodge and most of its distinctive orange cabins, originally painted with a pigment derived from dried pine needles and now with paint custom-made by Valspar, are on the National Register of Historic Places.
There's a sauna and sand beach, and history and naturalist programs are offered. Guests can rent pontoons for tours of Burntside Lake.
The 1917 Camp Van Vac, on a point in Burntside Lake, is very rustic but beloved by its guests. Some cabins are log and some fieldstone, and there's a wood-fired sauna.
Moose Track Adventures, seven miles east of town, has six cabins and a campground on Farm Lake. It also offers canoe-trip outfitting.
The Adventure Inn, Northwoods Inn and Suites and Motel Ely are downtown.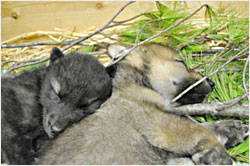 Grand Ely Lodge is a resort/conference center a mile north of downtown, on a ridge above Shagawa Lake.
West of town, Bear Head Lake State Park has a guesthouse and five camper cabins. For more, see Ensconced in Ely.
Fourteen miles south of Ely, the U.S. Forest Service rents two rustic cabins in the Birch Lake Campground on serpentine Birch Lake.
Dining: On Sheridan Street, Insula Restaurant offers fresh takes on burgers and sandwiches and also offers such entrees as free-range fried chicken and braised lamb shank.
Burntside Lodge's airy, bleached-pine dining room is lined with windows overlooking the lake. It's known for walleye, but also serves such dishes as jerk pork, duck pappardelle and steak salad.
The Boathouse on Sheridan Street is a brew pub, and Ely Steak House has a big selection of beers.
Near Whiteside Park, Sir G's serves pizza and other Italian food. Farther down Sheridan, get a treat at Red Cabin Frozen Custard.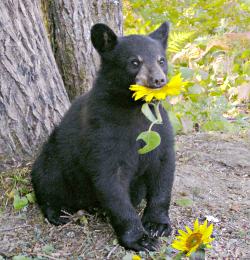 Nightlife: The restored 1936 Historic State Theater shows movies and is the cultural hub.
International Wolf Center: Check in advance for the many on- and off-site special programs, such as animal tracking, twilight hikes and howling trips, and daily programs that are included with admission.
The center is open daily from mid-May to mid-October, then Fridays through Sundays only. Check in advance for exact hours.
North American Bear Center: The visitors center just west of Ely is open daily from May through late October and the week between Christmas and New Year's. Check in advance for exact hours.
Dorothy Molter Museum: It's open daily from Memorial Day to Labor Day, weekends in September, Saturdays in October and occasionally in winter.
Ely Folk School: This school teaches lots of weekend classes in such northwoods skills and crafts as canoe-building, wood-carving and loom-weaving.
Ely-Winton History Museum: On the campus of Vermilion Community College, the center has exhibits on Will Steger's and Paul Schurke's North Pole expedition in 1986 and Schurke's Siberian expedition in 1989.
Canoeing: Outfitters offer all kinds of day-trip and overnight packages at varying rates. If you even think you might buy a boat, use of canoes or kayaks is free on weekly paddles with the friendly staff of Piragis.
Many resorts, including Burntside Lodge, rent canoes by the hour from their marinas.
BWCAW reservations: Day permits are free and can be filled out on-site. Overnight permits need to be reserved. See Minnesota's Boundary Waters.
Swimming: Sand beaches of any size are in short supply around Ely. The town itself has perhaps the best one: Semers Beach on Shagawa Lake, complete with lifeguard and playground.
To get there, take Central three blocks north from Sheridan and turn left onto Shagawa Road (may be unmarked).
Golf: The nine-hole Ely Golf Club is just up Central Avenue.
Shopping: The Brandenburg Gallery is always worth a stop. Piragis Northwoods Company, Steger Mukluks and Wintergreen Northern Wear sell goods for outdoorsy folks.
Casino: Fortune Bay Resort and Casino on Lake Vermilion, run by the Bois Forte Band of Chippewa, has one of the state's more attractive gaming halls and hotels.
Information: Ely tourism, 800-777-7281.
Last updated on February 8, 2022