Escape to Eagle Bluff
A center near Lanesboro welcomes families for weekends filled with nature and good food.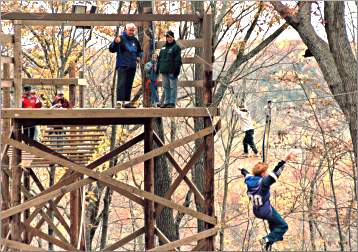 It was a beautiful fall weekend in Lanesboro, and the streets of this picturesque town in Minnesota's bluff country were packed with sightseers and bicycle tourists.
They were browsing in gift shops. They were sampling at the winery. They were bicycling on the Root River State Trail.
In fall, Lanesboro is the darling of day-trippers and weekenders. My children and I love it, too. They spent 15 minutes with me in the arts center, I spent 15 minutes with them in the Indian crafts shop, and then we went in-line skating on the paved trail, across the trestle bridge and along the limestone bluffs.
But after that, instead of going to one of Lanesboro's many bed-and-breakfast inns, where children rarely are allowed anyway, we drove just out of town to the Eagle Bluff Environmental Learning Center.
For here, families are welcomed with open arms.
Eagle Bluff is one of seven residential environmental learning centers in Minnesota, and the only one south of the Twin Cities. But it has perhaps the most spectacular setting, on the bluff above the North Branch of the Root River.
We came for one of Eagle Bluff's Family Getaway Weekends. In the handsome dormitory, we put our bags in our carpeted room — a suite, actually, with a bath separated into three sections, and two rooms with four bunk beds each — and went into the dining hall.
Grapevines, ivy and twinkle lights were twined above the windows, and hors d'oeuvres were being served — shrimp, caviar, baguettes, cheese, melon, veggies and dip, along with iced wine and beer.
We looked around for the family with the most kids and sat next to them. Candles glowed inside wine goblets as we ate a dinner of roast beef, pork, stuffing, scalloped potatoes, salad and penne pasta. For dessert, there was warm apple strudel with caramel sauce and ice cream.
If we hadn't had to bring our own sleeping bags and towels, we'd have sworn we were at a fancy country inn.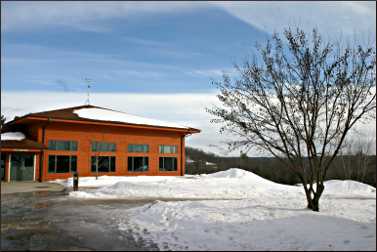 After dinner, we settled in for a concert by Greenwood Tree, two musicians whose repertoire bounced from Irish reels to Chet Atkins blues tunes, Pachelbel's Canon and children's ditties.
"I bet you never thought you'd be spending your Saturday night singing, 'I Know an Old Lady Who Swallowed a Fly,' " said Bill Cagley, strumming his guitar in front of the stone hearth next to Stu Janis, whose hammer dulcimer attracted a curious crowd during the break.
The next morning, we had an enormous brunch and headed out to one of the two ropes courses. One of Eagle Bluff's corps of young naturalists gave us a pep talk.
"Anyone afraid of heights?" he asked. "No? Then you're all liars. Humans have two fears, the fear of heights and the fear of falling. It's just a matter of how much we let them control us."
We all got into harnesses and watched the group ahead inch across cables that were swaying 30 feet above the ground. "I can't believe we're going to do that," said my son Peter.
We watched a 9-year-old become hopelessly frustrated climbing a rope net and turn back. It almost thwarted my daughter Madeleine, too, until another naturalist gently urged her on to the next platform.
After that, it was too late to turn back, and the three of us crossed cables, logs and planks until we got to the last platform, from which we sailed to the ground on a zip line. For children who had never been higher than the top of a slide, it was quite a feat.
"It was certainly different from what I expected," said a relieved Madeleine. "But now I have something to brag about."
Trip Tips: Eagle Bluff in Lanesboro, Minnesota
Getting there: Eagle Bluff Environmental Learning Center is off County Road 8, just west of Lanesboro in the southeast corner of Minnesota.
Events: It offers a spring Becoming an Outdoors Woman weekend, a summer Becoming an Outdoors Family weekend and camps for youths in summer. Lodgings in the center also can be rented by groups.
On Saturdays in summer, Eagle Bluff opens its ropes course to the public. For Halloween, it offers a Haunted High Ropes course.
The center also hosts frequent wellness brunches and dinners on Saturdays. They're open to the public. Reserve at 888-800-9558 or 507-467-2437.
Lanesboro information: For more about the town, see The belle of bluff country.
Last updated on April 16, 2021