The belle of bluff country
In southeast Minnesota, tiny Lanesboro pulls in the tourists.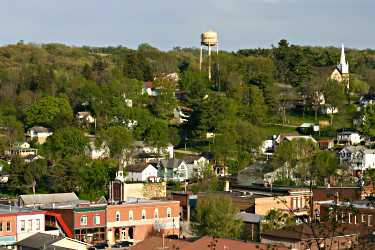 In an isolated bluff-country valley, reached only by small, winding roads, lies one of Minnesota's favorite getaways.
There are no condo resorts here, no wine bars and — heaven forbid — no national franchises. The aroma of manure hangs over downtown on Wednesdays and Fridays, when livestock auctions are held.
Only 725 people live here, and they can't afford to advertise much, so most visitors come via word of mouth.
Even so, Lanesboro is the town every other small town in the region wishes it could be.
For Lanesboro is right on the proverbial street paved with gold. The beautiful Root River State Trail goes through town, following the looping river and crossing it on dozens of wooden bridges.
A professional theater company stages plays nine months a year. Dozens of artists work here; many sell their art at a cooperative gallery. B&Bs occupy lovely Victorian houses, and shops fill the century-old brick storefronts.
Lanesboro, surrounded by tall limestone bluffs, always has been picturesque. In the late 1860s, its four-story Phoenix Hotel was the largest hotel west of the Mississippi, thanks to land speculators who envisioned a spa on the site.
But the hotel burned, and the town turned to agriculture.
By the 1970s, it had fallen asleep. The last train had gone through, and the movie theater had closed. Downtown storefronts were used as grain silos. Lanesboro, with no county seat and no major highway, was the center of nothing.
Then, a miracle happened. During the 1980s, the paved trail was created along the old rail bed, and throngs of bicyclists began to show up.
A native son returned and opened the Commonweal Theatre, first using the old St. Mane movie house and now a $3.5 million building with two auditoriums.
An artists' collective took over an 1879 general store and turned it into the Lanesboro Arts Center, covering its high walls with paintings and placing sculptures on its sturdy floors.
Festivals were started: In June, Rhubarb Festival and Art in the Park, and in August, Buffalo Bill Days, celebrating when Buffalo Bill Cody brought his Wild West Show to town in 1900, performing with his friend Frank "White Beaver" Powell, a La Crosse pharmacist.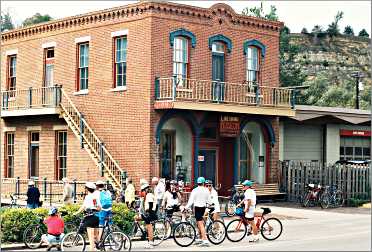 Today, Lanesboro is the recreational and cultural capital of southeast Minnesota.
We go there often, for the wildflowers and morels in spring, bicycling in summer and fall and cross-country skiing in winter.
There's always something going on at night, too: plays at the Commonweal, and often music and dancing at the Sons of Norway hall, a homey nook near Sylvan Park.
Four miles west of town, touring musicians perform in the 250-seat auditorium at Eagle Bluff Environmental Learning Center.
On gray days, tourists take shorter bike rides, then hit the shops on Parkway Avenue. They sell housewares, antiques, jewelry, imported clothing and gifts, and if you're lucky, you can find locally made Amish cashew crunch.
Another local delicacy is Spring Grove soda, in lemon sour, strawberry, black cherry, orange, grape, root beer and cream. You can buy ice-cold bottles of it, along with locally grown cheese, meat, eggs and produce.
There's no question that downtown Lanesboro is a very nice place to be. But, as busy as its streets are, most people take themselves elsewhere, for Lanesboro is just ground zero for explorers.
From it, bicyclists head 31 miles east to Houston or 11 miles west to Fountain, a mostly uphill stretch. But another trail begins 4½ miles west of Lanesboro.
At Isinours Junction, cyclists can turn south onto the Harmony-Preston Valley State Trail, riding 5½ miles into Preston; this shaded stretch, along the South Branch of the Root River, is one of the prettiest of the whole system.
From Preston, it's 12 miles to Harmony, some of it on an 8 percent grade. The first part follows a creek, and the last half is through farm fields.
Canoeists frequent the Root River, and trout fishermen cast their lines from the shady banks of the many creeks. The hills are the domain of turkey hunters and, in early May, of those who stalk the marvelous morel mushroom.
Tour operators take curious visitors to see the Amish at their farms in the nearby ridges and valleys and to shop at their stores.
Today, people from all over the nation and world visit Lanesboro, a fact that still amazes the townsfolk. For a while, some of the old-timers were a little peeved they could no longer get "their" parking space when they go downtown.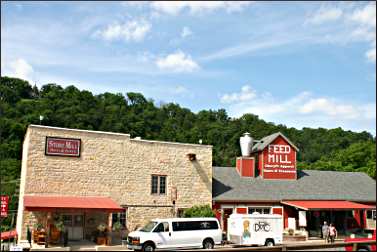 But for everyone else, it's a sacrifice they're willing to bear.
Trip Tips: Lanesboro, Minnesota
Getting there: It's about two hours southeast of the Twin Cities and an hour west of La Crosse.
When to go: In May, the morels and wildflowers come out, and the area is gorgeous.
In summer, you can bicycle on warm days and paddle or tube on hot ones. For more, see Bicycling in bluff country.
Fall is the most popular season for bicycling, and the town is packed. For more about the area in autumn, see Bluff-country byways.
Lanesboro is very quiet in winter, but there's fine cross-country skiing on the state trail, away from towns, especially on the stretch from Isinours Junction to Preston.
2023 events: April 28-30, Bluff Country Studio Art Tour. June 3, Rhubarb Festival. June 17, Art in the Park. Aug. 4-6, Buffalo Bill Days. Sept. 10, Taste of the Trail.
Theater: In 2023, Commonweal Theatre is presenting in repertory "Bernhardt/Hamlet," March 25 through June 24; "Deathtrap," from May 6 through Aug. 19; "Women in Jeopardy!" from July 1 through Oct. 21; "Dr. Jekyll & Mr. Hyde," from Aug. 26 through Oct. 29; and "She Loves Me," from Nov. 4 through Dec. 23.
Bicycling: The 42-mile Root River State Trail and 18-mile Harmony-Preston Valley State Trail, both paved, offer wonderful bicycling.
For more, see Bicycling in bluff country.
Accommodations: Lanesboro has many fine inns and B&Bs. For a list with descriptions, see Lodgings in Lanesboro.
From May through October, especially on weekends, rooms are hard to get, so reserve early.
Camping: Sites at Sylvan Park, on the river, are first-come, first-served. Hot showers are $1 in the adjoining community center.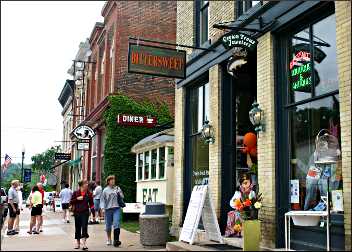 Across Parkway Avenue, the Riverview campground has more sites above the dam. Sixty tent sites are $20 and 43 camper sites are $30.
Dining: The Old Village Hall is the longtime standby and a nice place for dinner, especially on its deck.
Overlooking the river on Parkway Avenue, Juniper's serves sophisticated small plates as well as veggie bowls, burgers, fish and pasta.
Near the Commonweal, the Lanesboro Pastry Shoppe serves breakfast and lunch.
Across Parkway Avenue, the Pedal Pusher Cafe serves comfort food.
In an old granary at the end of Parkway Avenue downtown, Sylvan Brewing serves its own craft beer and has a patio.
Paddling and tubing: Outfitters take paddlers up the North Branch of the Root River for half-day trips, and on the slower South Branch from Preston to Lanesboro if the North Branch is too high.
The one-mile stretch of the South Branch from downtown Lanesboro takes about 45 minutes on a tube; people can get in below the dam, out at the County Road 250 bridge and either get a shuttle or bike or walk back with their tubes on the state trail to do it again.
For more, see By river and trail in Lanesboro.
Cross-country skiing: The Root River State Trail is groomed for cross-country skiing. The trail around Lanesboro gets too trampled for good skiing, but the trail between Isinours Junction and Preston is serene and very scenic.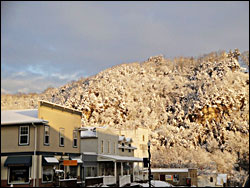 Amish tours: Several Amish tours operate out of Lanesboro. For more, see Amish country.
High ropes course: Eagle Bluff Environmental Learning Center, just west of Lanesboro, opens its high-ropes course to the public on Saturdays in summer.
Reservations are required. For more, see Escape to Eagle Bluff.
Information: Lanesboro tourism, 800-944-2670.
Nearby attractions: Niagara Cave is 15 minutes away, near Harmony, and Mystery Cave is another 10 minutes from there. For more, see Cave country.
The 1899 village Historic Forestville is in Forestville/Mystery Cave State Park. For more, see Brigadoon in bluff country.
Half an hour to the east, Spring Grove is Minnesota's first Norwegian settlement; for more, see In the land of Norwegians.
Its Iowa counterpart, the lively college town of Decorah, is half an hour to the south; for more, see A pocket of Norway.
It's also part of a heritage route that includes a Laura Ingalls Wilder site, Seed Savers and Spillville; for more, see Road trip: Northeast Iowa.
Last updated on January 15, 2022