Minnesota's environmental learning centers
A weekend at an ELC is fun for all ages, and a bargain to boot.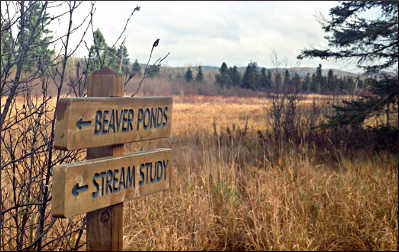 In Minnesota, a weekend at an environmental learning center is the best bargain you'll find anywhere.
There's more to do than at any luxury resort: yoga, high-ropes courses, climbing walls, ski trails, nature hikes, canoeing, skiing and snowshoeing on wooded campuses that include lakes and trails.
At Laurentian on the Iron Range, you can mush your own dog team. Near Lanesboro, Eagle Bluff is renowned for gourmet food and wine.
There are seven residential learning centers in Minnesota. All are non-profit, funded by a variety of governmental entities and private foundations, and serve the public at large as well as Minnesota schoolchildren.
All hold day programs, and some schedule special weekends for families or groups of friends.
Their lodges also are ideal for girlfriend getaways, family reunions, outdoors clubs for groups devoted to yoga, quilting, scrapbooking, bird-watching or any other hobby.
Osprey Wilds Environmental Learning Center : This center, formerly Audubon Center of the North Woods, is near Sandstone in eastern Minnesota, on Grindstone Lake three miles from the Willard Munger State Trail. It has a high-ropes course, zip line and indoor climbing wall, all of which can be sampled free during the fall open house. The 535-acre campus has seven miles of trails.
It offers a Women's Wellness & Adventure Weekend in October and late April or early May; a Winter Family Escape during the December holidays, with sleigh rides, dog-sledding, sking, snowshoeing, star-gazing and winter survival skills; a candlelight ski, snowshoe and skate in February; and a Birding Festival in early June.
It also offers many dinner programs and day events, and guests can stay overnight for $40 per room. Groups can rent historic Schwyzer Lodge, which sleeps 16 in four bedrooms and a back room and has three bathrooms, a modern kitchen, a fireplace and a screened-in porch.
Meals can be prepared by the group or purchased. Two dormitory-style lodges, without a kitchen, also can be rented. Bring bedding and towels or rent them for $5 per person. 888-404-7743 or 320-245-2648.
Deep Portage Conservation Reserve : This comfortable center on 10 square miles of forest near Hackensack, north of Brainerd, offers Family Winter Weekends that include lodgings, meals, programs and gear for snowshoeing, skiing and ice-fishing. Cost is $100, $300 for a family of four.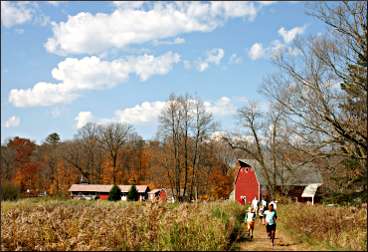 Guests stay in 27 dorm-style rooms, some disabled-accessible, that sleep six to 10 and each have a full bathroom. Bedding, pillows and towels are not provided.
The lodge, which includes an indoor climbing wall and comfortable dining/lounging room with wood-burning fireplace and games, will open for a non-scheduled weekend if it's reserved by a group of 20 or more. 888-280-9908.
For more, see Playground in the woods.
Eagle Bluff Environmental Learning Center : This center near Lanesboro in southeast Minnesota has a high-ropes course, indoor climbing wall and firearms-shooting range.
In winter, it offers an Adult Getaway Weekend that includes snowshoeing, climbing, the ropes course and a gourmet meal. Guests stay in private rooms, each with a bathroom.
In May, it offers a Women in the Outdoors weekend for those 14 and older. It also offers many day programs and dinners. In summer, its high-ropes course is open to the public on Saturdays. 888-800-9558.
For more, see Escape to Eagle Bluff.
Laurentian Environmental Center : This center on the Iron Range, near Virginia, has an outdoor climbing wall and sauna. 888-749-1288.
Long Lake Conservation Center: This center, north of Mille Lacs near Palisade, was the first in the state. 800-450-5522.
Prairie Wetlands Learning Center : This center on the edge of Fergus Falls, in western Minnesota, is operated by the U.S. Fish and Wildlife Service. 218-736-0938.
Wolf Ridge Environmental Learning Center : This beautiful campus in the hills above the North Shore, near the village of Finland, has nearly 2,000 wooded acres that include two lakes, two rivers and 18 miles of trails.
It has two indoor climbing walls, two high-ropes courses, three orienteering courses, a ski chalet and a swimming beach.
Its Winter Snow Days weekend includes snowshoeing, dog sledding, crafts, raptor programs, ropes, indoor climbing wall and a candlelight ski for adults.
It also offers a weeklong family vacation in summer, family canoe trips, a fall hiking weekend and programs for grandparents and grandchildren. 800-523-2733.
Last updated on January 16, 2020