Exploring Isle Royale
Famous for its moose and wolves, this Lake Superior wilderness island is beguiling.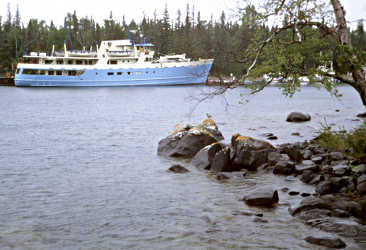 When it rains on Isle Royale, you just have to soak it up.
Moisture comes with the territory in Lake Superior's northern reaches. No one comes here for the weather, despite early advertising that called it a "Summertime 'Bermuda' Paradise."
Bermuda it's not. But paradise? It depends on how you look at it.
On the trails, I noticed, the drizzle made colors pop from their glistening green backdrop — the orange flesh of a toppled cedar, the red and white of baneberry, the blue of a bead lily.
The skies were gray out on Scoville Point, but the air felt as soft as a shawl. Underfoot, the rock pulsated with life, like a coral reef. The closer I looked, the more I saw — water bugs skittering on tiny ponds, lichen clinging to fissures, harebells swinging in the breeze.
Each square foot was lovely, a veritable riot of life. Still, the smaller life forms are not what most people come to see on Isle Royale National Park.
" 'Where can I see a moose?' — that's what they all want to know," said ranger Valerie Newman.
I'd made peace with the rain by the third day of my August visit. Heading along Rock Harbor Trail in the cool drizzle, I thought about who would like this kind of weather.
"Moose can't tolerate temperatures much above 55 degrees," Newman had said during an evening program. "They have no way to sweat, so they need to cool their bodies off."
I looked up, and there was a cow with her calf, browsing in bushes just off the trail. I'd once felt the weight of a moose hoof — the business end of a formidable weapon — so I froze and counted to two minutes, supposedly the length of a moose's attention span.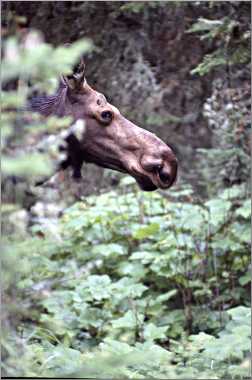 "Stay still and hope she forgets you," Newman had said. "She knows you're something, just not what. If you wait a few minutes, she'll think, 'Hmm, that plant looks good.'"
I got the sense that Mama knew I was there and didn't care, but the calf gave me the big hairy eyeball. When I moved a little closer and took a few photos, it bolted a few yards, then settled down when its mother just kept eating.
Behind me, Kathy LaFontain of Toledo, Ohio, crept up the trail and watched, too. But she hadn't brought her camera, and after a few minutes, she dashed away to fetch it and her friend.
But the moose didn't wait. Mother and calf were on a mission, steadily eating their way from one side of the trail to the other, putting on fat for winter. LaFontain returned only to see their backsides disappearing into thick woods.
"They look so big and clumsy and lummoxy, and then they move away without making a sound," she said admiringly.
Chasing moose
For many, moose are the marquee attraction on Isle Royale, a 45-mile-long land mass surrounded by tiny islands. The island is part of Michigan, but it's closest to Ontario and most easily reached from Minnesota.
Around 1900, moose migrated from Minnesota and were free of predators for nearly 50 years, until Lake Superior froze and a pair of wolves scampered over.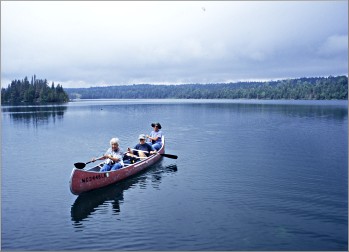 Populations of predator and prey seesaw back and forth, studied and documented by researchers from Michigan Technological University in Houghton since 1958.
The heat-sensitive moose are stressed: A warmer climate stops the 1,000-pound animals from eating as much food as they need to survive the winter; in winter, ticks latch on by the tens of thousands, weakening moose through blood loss and by distracting them from eating; and there are fewer balsam firs, their preferred food.
But their only predators on the island, wolves, became inbred and weak. Between 2012 and 2018, when the number of wolves dwindled from nine to just two, the population of moose doubled, from 750 to 1,500.
That makes Isle Royale one of the best places in the world to see moose.
As I hiked along, I was joined by Elliot Stephens and Sarah Kidnie of Clinton Township, Mich., who said they'd seen moose four times, twice at the Rock Harbor campground.
The two college students said they'd planned to backpack, but when they hoisted their 80-pound packs, filled with $200 worth of deli food and a daily change of clothes, they changed their minds.
"We picked up our packs, walked to the first campsite and said, 'This looks fine,'" Stephens said ruefully.
Ironically, busy Rock Harbor may be the best place to see wildlife in summer. The moose know wolves avoid people, so they hang out nearby. And red foxes know where there are people, there's food.
"We were cooking some shrimp, and four foxes came up," Stephens said. "They were circling around, and I thought they were going to try to take us down."
We took shelter from the rain for a while in Suzy's Cave, named for Suzy Tooker, an island girl who liked to play there. Then, I headed back on the Tobin Harbor Trail, stopping to admire the extravagant flora: curtains of moss, clusters of pearly everlasting, the waxy pink petals of the pipsissewa, or "prince's pine."
It was the middle of the afternoon, and I began to pass tarp-draped backpackers, fresh off the ferry. The light rain wasn't enough to explain their dejected demeanor, and later I heard why: Nearly all of them had become ill in 9- to 10-foot waves that had kicked up soon after they'd left Copper Harbor.
When I reached the harbor, I saw a deckhand wielding a giant hose on the decks of the Ranger III from Houghton, whose passengers had suffered the same fate.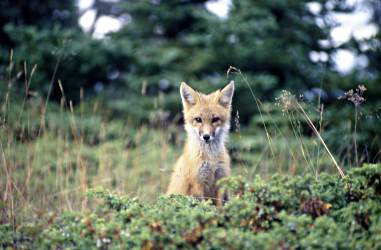 Weather report
You have to really want to be on Isle Royale, because it's not fast, cheap or always pleasant to get there. Yellowstone gets more people in one day than Isle Royale gets in a year; of all the national parks, it gets the fewest visitors, about 17,000 annually.
And once there, a visitor may be subject to savage weather in "hypothermia country," as former ranger Nevada Barr put it in her mystery novel "A Superior Death."
When I was there in early August, peak season, I was prohibited from using the canoe that came with my cottage, even in calm Tobin Harbor, because of high winds on the lake. The nature walks, sightseeing cruises and hiking shuttles I'd planned to take were canceled because of wind and rain.
But I got to hear two evening programs, one given by the two artists in residence, and I had two fine dinners in the restaurant.
When I could get out and explore, the inclement weather made me hunker down and really look at the little things — and on Isle Royale in particular, God is in the details.
And then, on my last day, the sun came out.
Suddenly, the island sprang into action. At 9 a.m., I hopped on the M.V. Sandy excursion boat for the twice-weekly guided trip to Lookout Louise, named for another of the island's adventurous little girls.
Soon, we rounded Scoville Point, where some of the island's last residents still spend summers. After the island became a national park in 1940, residents and their children were given a lease for life. A dozen cabins remain, as do traces of the fisheries, copper mines and resorts that once flourished.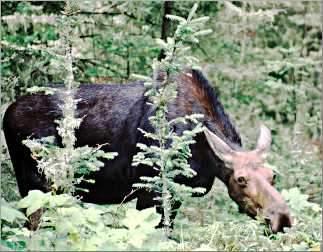 On the other side of Tobin Harbor, the captain dropped us off, and we started climbing up the ridge, passing Hidden Lake. Moose often come to the lake to lick sodium deposits, said ranger Newman, pointing to a much-nibbled balsam she said looked "worse than a Charlie Brown Christmas tree."
The short hike was a microcosm of the island's many faces. Along a boardwalk over a bog, I found a purple-fringed orchid, one of 32 varieties there. Farther up, Newman pointed to the old man's beard lichen that clung to the lower branches of a dying tree and asked if we knew why that should bring a smile to our faces.
"It tells you you're breathing some of the cleanest air on the planet," she said.
In a meadow, she said, archaeologists had found traces of copper mining from 4,500 years ago. And even we could see signs of a more recent attempt — the meadow had been burned, which stripped off vegetation and heated rock outcroppings; miners then poured on cold lake water, which fractured the rock and revealed veins of copper.
Like the Keweenaw Peninsula, Isle Royale yielded up its copper. But despite many attempts, the isolated mines never made much money.
"That great big lake out there led to the end of the mining eras," Newman said.
Loggers tried to extract money, too. Logging wasn't attempted on a large scale until 1935, when the Mead Co. built a camp on Siskiwit Bay; only a year later, its slash piles fed a forest fire that burned more than 26,000 acres, a fifth of the island.
It spurred faster action to create the national park, which had been authorized in 1931.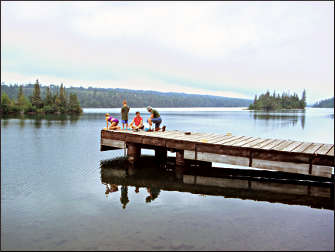 At Lookout Louise, we all admired the view of the archipelago below, mirrored by an armada of clouds lined up in the sky, and the Ontario mainland in the distance.
Then, everyone else went back to the boat, and I headed off down the 42-mile Greenstone Ridge Trail. This ridge, which forms the spine of the 9-mile-wide island, is thought by many geologists to be part of the largest lava flow on Earth.
It was as close to heaven as a person can get on Isle Royale. Swiveling my head to take in views on both sides, I soaked up the sun and helped myself to handfuls of ripe raspberries and thimbleberries, whose voluptuous bushes crowded the trail.
It would have been a bear's heaven, too, except there aren't any bears on Isle Royale.
By the time I reached the Mount Franklin overlook, five scenic miles and two hours later, I'd seen only one party of hikers and a lone canoe, sitting on the trail.
It was another two miles down to Three Mile Campground, and three miles along Tobin Harbor to Rock Harbor, where I had to catch the ferry back to Copper Harbor.
Rain had been fine — but on Isle Royale, blue skies are even better.
When to go: July and August are peak months. The park is open from mid-April through October, but spring and fall can be harsh. Black flies can be annoying in June.
What to know: Despite the French origins of its name, given by fur traders to honor Louis XIV, the island is pronounced ROY-al.
There's a daily user fee of $7 for everyone 16 and older. It can be paid online in advance. A season pass costs $60 and covers an additional three adults traveling with the pass holder.
The park newspaper, the Greenstone, is very helpful in planning trips.
Weather can thwart plans, especially for canoeists and kayakers, so have a backup plan. Those staying in a cottage or motel room should make lodging and ferry reservations at the same time, since one or the other may sell out on a particular day.
Make reservations for the ferry as soon as possible, ideally several months in advance.
Getting there from Grand Portage, Minn.: On the Grand Portage-Isle Royale Transportation Line, the Voyageur II makes the 7½-hour trip to Rock Harbor from mid-May to early October, leaving at 7:30 a.m. from Grand Portage.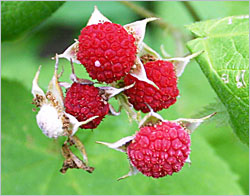 The Monday-Wednesday-Saturday trip during high season reaches Windigo, on the western side of the island, in only 2½ hours, but makes other stops on the northern side of the island on its way to Rock Harbor.
On Tuesday, Thursday and Sunday, the boat leaves Rock Harbor at 8 a.m., returning along the south side of the island. (Note: Isle Royale is part of Michigan, so it's on Eastern time, an hour ahead.)
Day trips leave at 8:30 a.m. and return at 3:30 p.m., giving visitors four hours at Windigo. Reservations are required. 888-746-2305.
In Grand Portage, rooms at the Grand Portage Lodge & Casino are convenient. There's also a campground at the marina.
For more, see Life on the Grand Portage.
Getting there from Copper Harbor, Mich.: The Isle Royale Queen IV makes the three-hour trip to Rock Harbor from mid-May through September. In July, they run every day except Wednesday, daily from August through Labor Day.
Since the boat leaves Copper Harbor at 8 a.m., you'll need to stay overnight. For more, see Copper Harbor refuge.
Getting there from Houghton, Mich.: The park service's Ranger III makes the six-hour trip to Rock Harbor at 9 a.m. Tuesdays and Fridays, returning at 9 a.m. Wednesdays and Saturdays. Passengers get discounts on fares if they buy a package at Rock Harbor Lodge. Reserve online or at 906-482-0984.
The Ranger III also makes three trips to Windigo on Wednesdays in summer, with return the next day.
Getting there from Hancock, Mich., or Grand Marais, Minn.: Fly with Isle Royale Seaplanes.
Wildlife-watching: By 2016, just two inbred wolves lived on the island, not nearly enough to keep the population of 1,300 moose in check.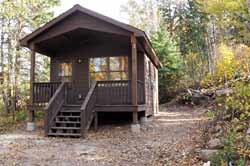 Longtime researcher Rolf Peterson recommended that new wolves be introduced, and 15 new wolves were brought to the island in the winter of 2018-19. Another three came in September 2019, and the wolves have successfully produced pups.
The wolves rarely are spotted, but moose often can be seen around populated areas, where they feel safer. Foxes frequently are seen around campgrounds and lodgings.
Hiking: The Scoville Point loop is four of the best 100 miles in the national-park system, according to Backpacker magazine.
Or hike any part of the 42-mile Greenstone Ridge Trail, which spans the island from Rock Harbor to Windigo Harbor.
Accommodations: In fine weather, camping is the way to go on Isle Royale. Unfortunately, it's often cold, rainy and windy on the island, and then visitors are glad to have a room or cottage, despite the high prices and lack of charm.
Rock Harbor Lodge is run by the concessionaire Aramark: 877-841-1064. It's not really a lodge; the restaurant and gift shop are in a building on the harbor, the office is in another building nearby, and rooms are in 1960s motel-style units facing the water.
Utilitarian duplex housekeeping cottages, also 1960s-vintage, are on a wooded hill over the harbor. Rates include 6 percent sales tax, 3 percent room assessment tax and 21 percent utility surcharge.
All lodgings are quite expensive, especially during peak season, July 15-Aug. 15.
There are also two rustic camper cabins on the other side of the island at Windigo, and they book up quickly. They sleep six in bunk beds and have electricity but not plumbing.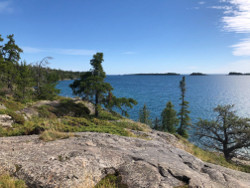 Camping: Permits for tent sites at 36 campgrounds and 88 screened, three-sided shelters can be obtained at the ranger stations on the island.
Groups of seven or more can reserve sites in advance. For smaller parties, use is first-come, first-served; in peak season, there's often competition for the shelters, and campers are expected to share sites if needed.
Dining: Rock Harbor restaurant serves pretty good food, with such entrees as fresh lake trout and pork chops with wild-blueberry glaze. Prices are high, but reasonable for the location. The Greenstone Grill serves burgers, pizza and snacks.
Sightseeing: From Rock Harbor, the M.V. Sandy offers sightseeing cruises as well as cruises that include visits to such sites as the Minong Mine, Edisen Fishery, Passage Island and Rock Harbor Lighthouse.
From Rock Harbor and Windigo visitors centers, rangers lead hikes and give programs on natural and cultural history; check for times when you arrive.
Volunteering: Every year, the Wolf-Moose project seeks volunteers to go on a weeklong backpacking trip in the backcountry with researchers. Volunteers will search for moose bones and collect data.
Volunteers pay a $450 tax-deductible contribution and for their own transportation to the island.
Background: Nevada Barr's 1994 mystery novel "A Superior Death" draws heavily on her experiences as an NPS ranger on the island and includes fascinating details about the island, especially its shipwrecks, frequented by sport divers.
In 2008, she wrote about Isle Royale's moose-wolf study in the darker "Winter Study."
Guidebooks and videos can be purchased from the Isle Royale Natural History Association, 800-678-6925.
Information: Isle Royale National Park, 906-482-0984.
Last updated on May 12, 2021