Copper Harbor refuge
Fortune-seekers left their mark at the tip of Michigan's Keweenaw Peninsula.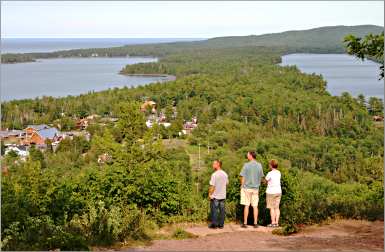 Copper Harbor, Mich., never has had an easy existence.
Indians and explorers always knew there was copper sitting along the Keweenaw Peninsula. But the desolation of the area made mining difficult.
The earliest expedition, sent by London investors in 1771, gave up in disgust on an area Patrick Henry told Congress was "beyond the most distant wilderness and remote as the moon."
Lower Michigan had to be persuaded to take the Keweenaw and the rest of the Upper Peninsula in 1836, when it was applying for statehood.
One opponent complained that the area, separated from Detroit by Lake Michigan and nearly 600 miles, was nothing but "20,000 square miles of howling wilderness."
It was the new state's first geologist, Douglass Houghton, who in 1840 blasted the first copper and iron ore out of a spot near Copper Harbor, which was at the tip of the peninsula and easiest to reach by water.
Houghton's surveys, plus tales of vast masses of pure copper-one of the largest was more than 500 tons-spawned the copper rush of 1843.
In a few years, Copper Harbor was booming, with a hotel, newspaper and a whole lot of saloons.
But soon nearby Eagle River became the boom town, and others after it, with the fortunes funneling mainly to investors in the East. Settlers arrived, tough people who were willing to put up with deprivation and interminable winters.
Today, Copper Harbor is a quiet little resort village that unrolls for tourists each June.
Even on a sunny summer day, there are reminders of its wildness: the snow gauge on U.S. 41, showing a record annual fall of 32½ feet. Bears glimpsed in the woods along the road. Merciless black flies, raising ranges of welts along hairlines. Wrecked ships, blown onto the rocky shore by Lake Superior gales.
In fact, Kate Holmes, bent over a washboard at Fort Wilkins, can tell you just how tough life was.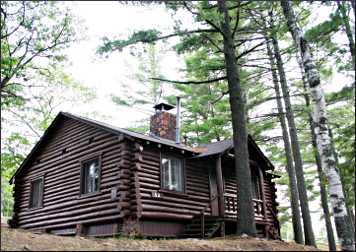 "It ain't so much the snow, but the isolation that can be the death o' you," the laundress says in an Irish brogue.
Time has stood still at the lakeside fort, built in 1844 to handle Indian hostility and mining strife that never materialized.
On the parade ground, a strutting Lt. Richard Muller drills visiting children, who shout "Yes, sir!" to his harangues. Frau Margarethe Baumann, another laundress, gives him a withering look.
"He goes by the book, though we don't know what book that is," she says, crushing plantain leaves to rub on our black-fly bites.
Sgt. Patrick O'Neill is sitting outside the bakery; he's a "temperance man" who spends much of his time tracking down bored soldiers in town saloons.
"Most of the men here are waiting for their enlistments to run up," he says wearily. "The Army wants to reduce the ranks after the Civil War."
Fort Wilkins wasn't a fun place then, but it's fun to visit now. The fort, abandoned in 1870, was restored by the WPA in the 1930s. Costumed actors play real residents, and quarters are furnished as they were in 1870.
The 1866 Copper Harbor Lighthouse also is part of Fort Wilkins State Park, although it's closed to tourists because land access is privately owned.
A few blocks away, from a dock surrounded by gift shops, the Isle Royale Queen III crosses to Isle Royale National Park, 50 miles across Lake Superior.
Hikers heading for the wilderness island provide much of the traffic in Copper Harbor; when the ferry returns in the evening, servers at the adjacent Harbor Haus restaurant whistle a salute and dance a little cancan.
Behind the village, Brockway Mountain Drive, the highest highway between the Rockies and the Alleghenies, climbs a ridge above the lake.
We follow its undulating spine past spectacular views of inland lakes, set deep within thick forests, and the big lake, sometimes with Isle Royale on the horizon.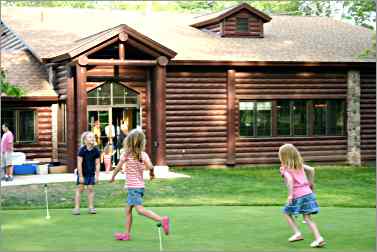 The drive ends 10 miles south in Eagle Harbor, another quiet village where an 1871 lighthouse, now automated, holds museums on copper mining, shipping and local history.
A freighter is passing in the nearby shipping lane, and a plaque on a viewing deck explains how to tell a "saltie" from a laker. The snug little harbor has a sandy beach, but even into July, children swim in wetsuits.
This stretch of shore is lined with agate beaches and, seven miles farther, the site of the first copper bonanza. The fabulous Cliff Lode was discovered near Eagle River in 1845.
Two months later, on the jagged rocks offshore, 37-year-old Douglass Houghton was caught in an open boat by a northeaster; the copper rush went on without him.
Today, Eagle River is a fog-shrouded village with a waterfall, some interesting old houses and 1866 Greek Revival courthouse.
There's a country store that's been around since 1867. It sells homemade ginger cookies, saffron buns and books on Cornish history, plus ice cream for the tourists.
Heading south on U.S. 41, lined with purple cow vetch and covered with trees, we see a bear cub, lounging in the middle of the highway, then wandering from stopped car to stopped car, each with drivers madly fumbling for cameras.
Farther on, we encounter the remnants of copper fever: in Mohawk, roadside stands peddling chunks of pure copper.
In Calumet, big buildings of red stone testify to a big past. In Laurium, cafes sell meat-and-potato pasties the size of cantaloupes.
The Keweenaw Peninsula still is remote to residents of lower Michigan, from which people up north occasionally threaten to secede. But the wildness is almost, though not quite, a thing of the past.
Trip Tips: Copper Harbor on Michigan's Upper Peninsula
Events: July 4, parade and fireworks. Third weekend of August, Art in the Park. Labor Day weekend, Copper Harbor Trails Festival.
Accommodations: Keweenaw Mountain Lodge is in the hills above town and was built by the WPA during the 1930s. It's on a golf course and has handsome log cabins with big fireplaces but no kitchens.
It's now open in winter. It grooms 8.4km of its own cross-country ski trails and has snowshoe routes.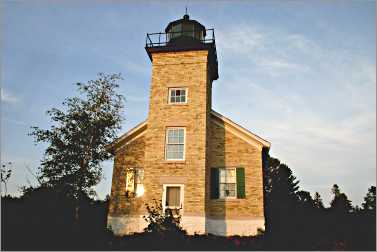 The Bella Vista Motel is on the harbor waterfront, a block from the Isle Royale ferry dock. It has eight cottages as well as motel rooms.
On the main street, two blocks from the ferry dock, Minnetonka Resort includes motel rooms and cottages.
On the harbor, the Harbor Haus restaurant rents a luxury suite. Reserve far in advance.
Near the harbor on Lake Fanny Hooe, Lake Fanny Hooe Resort & Campground has motel rooms and two-bedroom cottages.
Fort Wilkins State Park has 165 grass campsites and a camper cabin around Lake Fanny Hooe.
Dining: On the harbor, the Harbor Haus is known for its views, its German-Austrian cuisine and its dirndl-clad servers, who perform a dance each evening when the Isle Royale ferry arrives.
The Keweenaw Mountain Lodge has an atmospheric log dining room. In town, the Tamarack Inn serves breakfast and lunch.
On the north end of town, Brickside Brewery serves its own craft beer.
Fort Wilkins Historic State Park: The park is open from mid-May through mid-October; actors portray residents daily from late June to late August.
Kayaking: The Keweenaw Adventure Company in Copper Harbor rents kayaks and offers tours.
Mountain biking: More than 25 miles of trails, including 21 miles of singletrack, provide challenging riding with constant elevation changes. The Keweenaw Adventure Company rents bikes and offers tours.
Cruises: Noah's Ark Charters offers boat trips to the Copper Harbor Lighthouse with tour, $39, $25 for children under 14.
Ferries to Isle Royale: The Isle Royale Queen IV makes the three-hour trip to Rock Harbor from mid-May through September. In July, it runs every day except Wednesday, daily from August through Labor Day.
Reserve as far in advance as possible. Since the boat leaves Copper Harbor at 8 a.m., you'll need to stay overnight.
The ferry returns from Isle Royale at 2:45 p.m., so day trippers will have about 3½ hours to explore.
For more, see Isle Royale reverie.
Information: Keweenaw tourism, 800-338-7982.
Last updated on February 1, 2022