Michigan's Pictured Rocks
There's a lot of scenery crammed into one stretch of Lake Superior around Munising.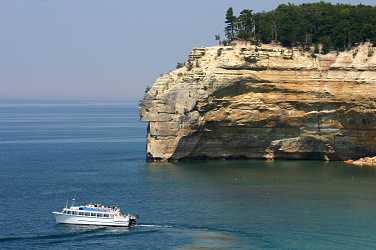 Along Michigan's Pictured Rocks, there's no such thing as a bad view.
White sandstone cliffs line nearly 40 miles of national lakeshore, the nation's first when it was created in 1966. Named for the colorful swishes and whorls painted by mineral-laden water oozing through cracks, Pictured Rocks draws tourists from around the world.
This part of Michigan is inconveniently distant for tourists from big cities: Detroit is closer to Charleston, W.V., than Munising.
But it may be just distant enough. Munising, 45 minutes east of Marquette, sits in a remarkable setting that would be mobbed if it were any closer.
At the foot of a protected bay, it's surrounded by waterfalls, sand beaches and lighthouses.
Grand Island is just opposite, a national recreation area that once held a game preserve and hotel but now is the preserve of campers, hikers and mountain bikers. Shipwrecks lie along its shores in the Alger Underwater Preserve.
The best swimming beach is east of town, a pine-lined crescent just beyond Munising Falls, a delicate cascade that floats 50 feet into a narrow forest bowl.
On the south side of town, Wagner Falls is more robust, bumping over stone terraces before a sheer drop. Its cedar-lined banks served as a girlfriends getaway for a young woman named Tillie Wagner, who homesteaded the site in 1895 and vacationed there with friends.
In town, the glass-bottom boat shipwreck tour is nearly as popular as the sightseeing boats. Divers have the best view of the many wrecks, but thanks to an underwater cliff that rises in some places to within 5 feet of the surface, so do people in boats.
When I went on the tour, we could clearly see the remains of the wooden schooner Bermuda, which sank in 1870 with three sleeping crewmen and a load of iron ore.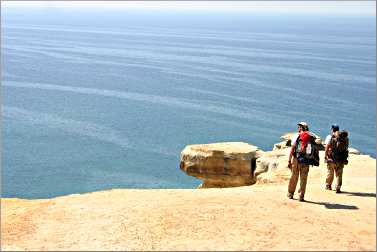 "We should all last as long as this boat without turning green," said Pepper, our narrator, who credited Lake Superior's low temperatures and high alkaline content. "A lot of people liken it to a pirate ship, and it's hard not to make that comparison. Pretty cool, huh?"
Heading toward the open lake, we passed Grand Island's East Channel Lighthouse, a weathered gray wooden light built in 1867.
Then we spied the sandstone cliffs of Pictured Rocks, bulging outward like the sides of a whaleback steamer, stained red by rust.
Through the hull of our boat we saw a real steamer, the 1890 Herman Hettler, which sank with its load of salt in a November 1926 squall. Sailing with only a compass in zero visibility, it rammed onto the rock reef and was abandoned.
Eventually, the Coast Guard had to dynamite the remains, which include such recognizable items as a smokestack, bathtub and commode.
The third wreck we saw was a wooden scow schooner, sturdily constructed with 3 1/2-foot nails but no bow or stern, a poor design for Lake Superior's short, choppy waves, Pepper said.
It would have been built before 1840, perhaps by a French-Canadian trapper, and now it lies in only 8 feet of water.
"It remains a mystery ship for us," Pepper said.
Exploring the lakeshore
Most people see the famous cliffs from excursion boats that leave the town of Munising hourly in peak season. That's what I did the first time I was there, and while I was glad to get the cruise-boat view of the cliffs, I could see that kayakers could get a lot closer.
So the next time, I made a reservation for a kayak tour. But the outfitter lost it, and my husband and I had to move to Plan B. That meant seeing the cliffs from the top, while hiking on a section of the 42-mile North Country National Scenic Trail.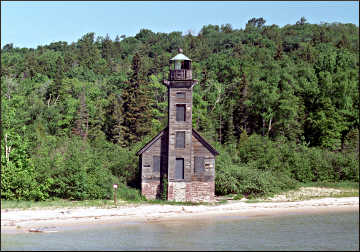 It was one of the luckiest setbacks we've ever had. We were only on top of the Upper Peninsula, but we felt on top of the world.
To get to the trailhead, we drove east of Munising, turning off the paved county road onto a narrow gravel track that lay under a canopy of trees.
Pictured Rocks isn't Yellowstone; roads run just far enough into the national park to deposit hikers, and many of them aren't paved.
At the end of Chapel Road, we parked and headed into the forest. We saw no people, but the croaks of bullfrogs filled the air around a bog covered by a blanket of brilliant green.
Chipmunks lurked everywhere, chirping in surround sound, and a flock of grouse whirred out of our path one by one, taking off like a fleet of miniature helicopters.
We took the long way past Mosquito Falls, really two sets of rapids and falls along the Mosquito River, tucked amid rock outcroppings.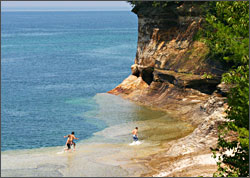 From there, the path led us to the big lake, where we emerged just as the 11 a.m. cruise boat was chugging past. The passengers crowding its decks looked like matchsticks, and we were glad we were literally cooling our heels on land.
Only an inch of water coursed over the rock ledges at the river's mouth, and we splashed along through a whole gallery of cobblestone cairns artfully arranged by some forest sprite.
On the other side of the river, cliffs gradually slid into the water, and I walked over the crumbly gray shingles to a pontoon boat that had tied up.
It hadn't occurred to me to rent a boat, but I could see it would be a good idea.
"This is perfect," said Michele Goodrich of Ortonville, Mich., who had rented the pontoon for the day with her husband and his parents.
"We've done the excursion boats, but this way we can stop and get out and explore the rocks. There will be three of those boats going by and you're just getting started; they really race 'em through."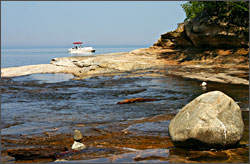 We made a wrong turn at the Mosquito group campsite and spent 15 minutes back in the forest, where we ran into a pack of teen-age boys in swim trunks going the other way.
We hadn't realized how closely the path hugs the clifftop, and once we were back on track, the postcard views never stopped.
There was a spectacular view around every corner: the wide arch at Grand Portal Point, the jutting face of Indian Head, the 200-foot cliff faces splashed with pale yellow, green, brown, white and red.
"It really is as if someone poured paint down the sides," my husband said.
Each vista was framed by turquoise water. Boulder fields lie under the surface, though from our perch on the cliffs, they looked like white gumballs. We spotted the teen boys below, running along the edge of the water and around the cliffs.
We got our chance to cool off at Chapel Beach, the western end of Twelvemile Beach.
By then, we'd hiked seven miles, and we were hot. From a rustic campground in a pine grove, we ran down sand-covered steps into Lake Superior, whose temperature, by late July, was teetering between shocking and refreshing.
We envied the father and daughter who belonged to the lone tent, because at Chapel Rock, we had to head back. The fancifully eroded sandstone spire, topped by a lone white pine, stands alongside a creek, where a bunch of people were playing in the water.
We walked back into the forest, accompanied by another chorus of chipmunks.
We were headed around Lake Superior, so we had to move on.
But when we have a spare week, we'll be back to hike the whole thing. The camping is primitive, but the amenities — sun, sand and non-stop Lake Superior vistas — are pure luxury.
Trip Tips: Michigan's Pictured Rocks National Lakeshore from Munising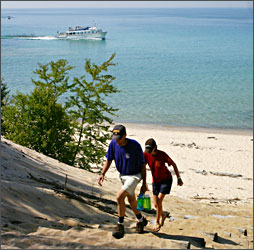 When to go: Black flies are worst from mid-May to mid-July but can be a nuisance into September; stable flies are worst when it's hot and humid. Bring insect repellent and, for the stable flies, long pants and thick socks.
Pictured Rocks National Lakeshore: The annual park newspaper includes a calendar of special programs, including lighthouse tours, concerts and maritime and American Indian cultural programs.
Entrance fees: A seven-day vehicle pass costs $20 in 2023 and will increase to $25 in 2024.
Day hikes: Before you go, check with a visitor center for current conditions.
There are eight access points for day hikes. The 1.2 mile Miners Falls Trail is closest to Munising, and from Miners Castle, it's a five-mile hike to Mosquito Beach.
The next-closest trail is the Chapel Basin loop at the end of Chapel Road. The hike is nine miles, 10 with a detour to Mosquito Falls. Pick up a map at the park's information center in Munising.
For hikes and information about Grand Marais, the eastern gateway of the park, see Dunes of Grand Marais.
Eleven miles south of Munising in Hiawatha National Forest, the Bruno's Run Trail is a nine-mile loop for hiking or mountain biking.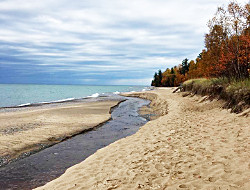 Backpacking: Leave the car in Munising and take the shuttle to Grand Sable Visitor Center for a a four- or five-day hiking trip on the 42-mile stretch of the North Country Trail, which hugs the lake for the 34 miles between Munising Falls and Hurricane River and then skirts Grand Sable Dunes.
To plan your itinerary, consult the park mileage chart.
Backcountry camping : Permits are required for camping along the trail at 14 small rustic campgrounds, $5 per night, per person, plus a $15 reservation fee.
Reserve at Recreation.gov, 877-444-6777. Groups larger than six must stay at designated group sites.
Backpacker shuttle: From mid-June through September, the Altran shuttle provides service along three routes on the 42-mile trail. Reservations are required, preferably at least a week in advance, 906-387-4845.
Drive-in camping: Rustic drive-in campsites at Twelvemile, Hurricane River or Little Beaver Lake also require a reservation at Recreation.gov, 877-444-6777. Fee is $25 per night. Little Beaver Lake is a mile off the trail.
If park campgrounds are full, try the one at East Branch of Fox River State Forest, south of Grand Marais, or Kingston Lake State Forest, just off H-58 near Twelvemile Beach.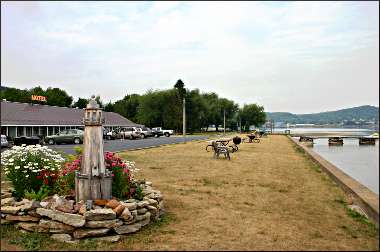 Au Sable Light tours: This 1874 lighthouse is 7½ miles west of Grand Sable on the trail or 12 miles by car to Hurricane River, then a 1½-mile hike. Ranger-led tours are given Wednesday-Sunday in summer, $5.
Grand Island Recreation Area: The island across from Munising can be reached by the ferry, which offers bicycle and kayak rentals on the island. The park rents two rustic cabins and 19 campsites, a few of which are first-come, first-served.
Lodgings in Munising : The Roam Inn, just off the highway and seven blocks west of the cruise docks, is in the 1896 home of a lumber baron.
Sunset Motel on the Bay has the nicest location by far. It's a quiet, pleasant motel on the water, away from the strip-like downtown, and is closest to Munising Falls. 906-387-4574.
The Holiday Inn Express overlooks the bay on the west side of town, with balconies or patios on lakeside rooms and an indoor pool. 906-387-4800.
Pictured Rocks Inn & Suites is closest to the downtown/strip area and has an indoor pool. 906-387-2493,
There is a cluster of inns on Michigan 28 southeast of town, including the Americinn, which features an indoor pool with slide. 906-387-2000.
Campgrounds: Three miles west of Munising, there's camping at the municipal Munising Tourist Park on the Lake Superior shoreline.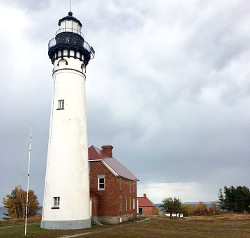 Five miles west of Munising, the U.S. Forest Service operates the rustic Bay Furnace Campground on the lakeshore.
Dining: In the Roam Inn, Tracey's serves traditional favorites with sophisticated touches.
West of Munising near Au Train, the stone Brownstone Inn serves steaks, chicken and three kinds of Lake Superior whitefish, 906-892-8332.
There's excellent dining and shopping in Marquette, 43 miles west.
Craft beer: In Munising, ByGeorge Brewing has a taproom at the corner of East Superior and Birch streets. East Channel Brewing has a taproom on Maple Street.
Glass Bottom Shipwreck Tour: The two-hour tours are given out of Munising from Memorial Day weekend to mid-October. 906-387-4477.
Pictured Rocks Boat Cruises: The 2½- to 3-hour cruises along the national lakeshore go out of Munising from Memorial Day weekend through mid-October, eight times daily in peak season. 800-650-2379, 906-387-2379.
Kayaking: It's not for inexperienced paddlers. Sudden squalls can trap kayakers against the sheer cliffs, and cruise boats have to rescue them every once in a while (if the kayakers are lucky).
Outfitters ought to know the weather forecast, and you can also check the Pictured Rocks Marine Weather Conditions Facebook page.
Pictured Rocks Kayaking and Northern Waters Adventures offer guided tours. Here's a Miles Paddled report on a trip with Pictured Rocks Kayaking, which uses a large boat to transport customers and kayaks to the cliffs.
Paddling Michigan/Uncle Ducky Outfitters, based west of Munising in Christmas, offers guided day trips along the national lakeshore and rents kayaks to paddlers with experience.
In its Paddler's Village, it offers accommodations in platform tents, yurts and cabins. It also includes a cafe and beer garden.
Rental gear: Downtown, Downwind Sports rents gear.
Information: Munising tourism, 906-387-2138.
Last updated on December 15, 2021