Marquette's double appeal
This college town on Lake Superior is both sophisticated and outdoorsy.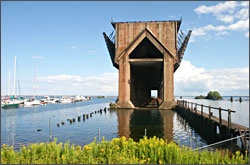 The first time I visited Marquette, I saw mostly Yooper Land.
I chuckled at a 10-foot mosquito, a giant chainsaw and packages of Roadkill Helper. I noted the best-sellers in the bookstore window: "A Look at Life From a Deer Stand" and "Leap of Faith 2: God Loves Packer Fans."
This is the Marquette that's sports-crazy, hunting-happy and tough as nails, with a population descended from Cornish, Finnish and Italian immigrants who could put up with the rigors of iron mines and, later, their closings.
A few years later, I saw cosmopolitan Marquette. Elegant townhouses had sprouted along its harbor on Lake Superior, and an exhibit of art doors lined jogging paths like giant dominoes. I shopped in a gallery and bought a picnic lunch at the food co-op.
That's the Marquette named a Distinctive Destination by the National Trust for Historic Preservation, which cited its arts and architecture and called it "a must-see for travelers looking to get off the beaten path."
Marquette has barely 20,000 people but is the largest town on Michigan's Upper Peninsula, sometimes called Baja Wisconsin.
It's so off the beaten path that many people from Lower Michigan never make it there --- nearly 500 miles and Lake Michigan separate Marquette from Detroit.
The thickly forested U.P. is the Alaska of Michigan, to which it contributes only 3 percent of the state's population. Locals think they suffer the Lower 48's longest winter and heaviest snowfalls, and they're almost right.
Residents have the same feisty independence as Alaskans; between trips to Green Bay, their sports and shopping mecca, they occasionally agitate for secession as the 51st state of Superior.
At the heart of this wilderness with attitude is Marquette, a still-flourishing port and home of Northern Michigan University.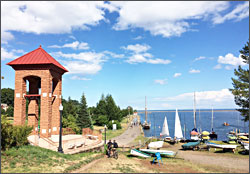 Built on riches from the 1844 discovery of pure iron deposits in Negaunee, eight miles to its west, Marquette is a handsome town.
Rising from hills on the lip of Lake Superior are a succession of ornate red-sandstone buildings that the National Trust calls "magnificent."
There's the 1894 city hall, with its tiled roof and cupola; the domed 1902 Beaux Arts courthouse; and the 1890 twin-towered Romanesque St. Peter's Cathedral, in which Frederic Baraga, "the snowshoe priest," is buried.
This Slovenian priest is the original tough guy of Lake Superior, arriving in 1831 and cementing his place in history with a long and frenetic life canoeing and snowshoeing between Ojibwe settlements in Sault Ste. Marie, La Pointe and Grand Portage, compiling an Ojibwe dictionary on the side.
He ended up in Marquette, which now is the center of efforts to canonize him.
Other hardy folks are commemorated at the Maritime Museum, near the 1866 Marquette Harbor lighthouse.
The "storm warriors" of Marquette's life-saving station became renowned for their heroics, and in 1899 developed the first motorized lifeboat for rescues along the rocky shoreline.
Today, that same shoreline is the pride of Marquette. A five-mile bicycle path starts from the downtown harbor, once heavily industrial but now lined with art installations, sailboats and newly built condos.
I was looking at an exhibit called "Grandma's Doors," honoring the lives of local women, when I met retired school administrator Judy Valente.
"I remember when there were big piles of coal here; it was horrible," she said. "Now, I can sit in the Vierling restaurant and watch the ice skaters, and it's almost like a Norman Rockwell painting."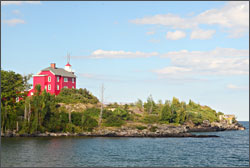 Across from the old wooden ore dock at the foot of downtown, I met another tourist coming out of Thill's Fish House. John Gorisch of Downers Grove, Ill., said he'd been vacationing on nearby Lake Michigamme for more than 50 years.
"Oh, there's a million things to do around here," he said. "I explore all over. I go into the woods, and now I'm going to (the nearby town of) Christmas to look for some nice round rocks."
From downtown, the bicycle path hugs the lake, passing Mattson Park, the Maritime Museum and the strawberry-red lighthouse on its way to McCarty's Cove, with a wide crescent of fine white sand, and Shiras Park, across from a rocky island crowded with gulls.
It passes the modern ore dock, where 1,000-foot Great Lakes freighters drop off coal and pick up taconite pellets from the two mines that still operate in Negaunee and Ishpeming. Then it arrives at Presque Isle Park.
This narrow peninsula is Marquette's playground. It was designed by Frederick Law Olmsted, who also designed New York City's Central Park and is called the father of landscape architecture.
But only 15 of its 323 acres are developed: Olmsted's firm recommended that the city "Preserve it, treasure it, as little altered as may be for all time."
So it's mostly woods, including hemlock and virgin white pine, criss-crossed by trails and girded by a narrow drive that follows more than two miles of shoreline.
Kayakers frequent the two coves created by this knob of land. To the west, there's a view of islands and the wilderness that begins where the city ends.
Northern Michigan University is nearby, with its Superior Dome. It's the world's largest wooden dome, 14 stories high, and the site of a U.S. Olympic Education Center, one of only four nationwide.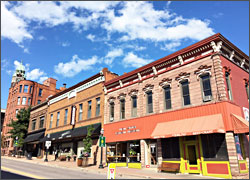 In winter, hundreds of locals show up every day to use the dome's walking and running tracks. They're out on the trails, too.
Marquette is an outdoors town, with Marquette Mountain for alpine skiers and miles of trails for cross-country skiers.
In January, it hosts the Noquemanon marathon, one of the largest ski races in the nation. In February, it's the U.P. 200 sled-dog marathon, on which mushers race 240 miles to Grand Marais and back.
In summer, the bicyclists come out. In June, Marquette hosts the Superior Bike Fest road races, and in August the Ore to Shore mountain-bike race.
Around the dome, Marquette looks like any other college town.
Third Street is lined with import and outdoors shops, restaurants and coffeehouses and links the college to the dramatic hills of downtown and more shops --- "a dynamic array of retail shops, galleries and restaurants situated to provide breathtaking views of the waterfront," said the National Trust.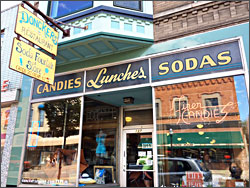 Jim DeCaire, co-founder of Da Yoopers Tourist Trap, home of the giant chainsaw, says the down-home Yoopers he represents don't begrudge Marquette its big-city ways --- on the contrary.
"We consider Marquette a jewel, an exceptionally beautiful town," he says fervently. "It's one of a kind."
Trip Trips: Marquette, Michigan
Getting there : It's 146 miles from Ironwood on the Wisconsin border and 161 miles from the Mackinac Bridge in the east.
Pictured Rocks National Lakeshore is 43 miles east. For more, see Michigan's Pictured Rocks .
What to know : Like most of the U.P., Marquette is on Eastern Standard Time.
2022 events : July 22-24, Hiawatha Traditional Music Festival in Tourist Park. July 29, Blueberry Festival downtown. July 30-31, Art on the Rocks in Lower Harbor Park. Aug., HarborFest . Sept. 2-4, Blues Fest in Lower Harbor Park. Sept., UP Fall Beer Festival .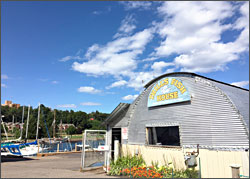 There's a Farmers Market Saturdays from mid-May through October at Marquette Commons, an ice-skating rink in winter. It's at 112 S. Third St.
Accommodations : The Landmark Inn overlooks the harbor in downtown Marquette; the 1930 hotel has handsomely renovated rooms. It also has had quite a few reports of ghosts.
The Hampton Inn is on Lake Superior, a stone's throw from the Lower Harbor Ore Dock.
Near Presque Isle Park, facing Lake Superior, Nestledown Scandinavian Bed & Breakfast has five rooms, a suite and a cottage.
The 1896 Big Bay Lighthouse B&B is 35 miles west of Marquette. For more, see Dwelling in the past .
Nearby, in the village of Big Bay, the Thunder Bay Inn rents rooms and includes a restaurant. Originally, it was a vacation retreat for Henry Ford and his executives, and it was used in the filming of the 1959 film "Anatomy of a Murder," based on actual events in the town.
Camping : The municipal Tourist Park on the north edge of town has modern and rustic sites with showers. It's on the city bike path between the NMU campus and Presque Isle Park.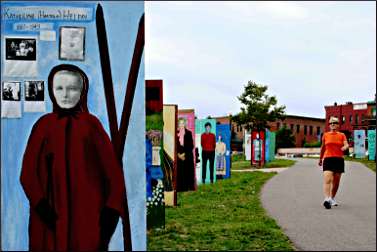 There are six rustic cabins in Little Presque Isle state forest, six miles north of town around Harlow Lake, a half hour's walk to Lake Superior beach.
Thirty-five miles west of town, Van Riper State Park has two cabins and modern campgrounds on Lake Michigamme.
Dining : The Vierling Restaurant & Marquette Harbor Brewery, overlooking the harbor at 119 S. Front St., offers a convivial atmosphere, its own Marquette Harbor beers and fresh whitefish purchased a block away at Thill's Fish House.
Next to the Vierling, Elizabeth's Chophouse specializes in surf and turf. Half a block away, Lagniappe Cajun Creole Eatery serves Louisiana-style food.
Babycakes Muffin Company , at 223 W. Washington, is a lively place to have cappuccino and baked goods, and it also serves soups, salads and sandwiches.
In Mattson Park, the concession sells pizza and ice cream.
Breweries : In addition to Marquette Harbor Brewery at the Vierling, they include Blackrocks Brewery , which offers live music and is between downtown and the university; Ore Dock Brewing , just a block from the historic dock; and Drifa Brewing , a co-op off the lakeshore on the south edge of town.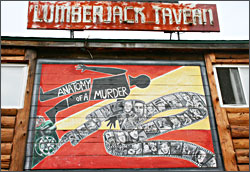 Skiing : Marquette Mountain is three miles south of downtown and has 25 runs and a 600-foot vertical drop.
Among many cross-country ski areas is Blueberry Ridge, with 20 kilometers of trails on seven loops in Escanaba River State Forest, seven miles south of downtown.
Presque Isle Park has four miles of groomed trails.
Beaches : McCarty's Cove is next to the Coast Guard Station and South Beach just south of the power plant.
Presque Isle Park : This park, north of downtown, is an excellent place to walk and picnic.
Maritime Museum : The museum and Harbor Lighthouse are open daily from Memorial Day weekend through late October.
Nearby attractions : Da Yoopers Tourist Trap & Museum is 15 minutes west of Marquette, on U.S. 41 outside Ishpeming.
The U.S. National Ski and Snowboard Hall of Fame & Museum also is in Ishpeming.
Information : Marquette tourism , 800-544-4321.
Last updated on January 19, 2022