Drama on the Prairie Coteau
At Minnesota's Blue Mounds, the shifting beauty of the prairie has a showcase.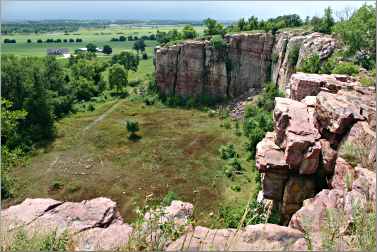 In the land of 10,000 lakes, prairie often is dismissed as, well, dull.
But in the farthest corner of Minnesota, a dramatic patch of terrain offers more spectacle than an Imax show.
I stood atop Blue Mounds one afternoon in June, watching as bolts of lightening rocketed earthward from a leaden, wraparound sky.
At my feet, domes of blood-red rock erupted out of pale grass; nearby, piles of boulders squatted at the edge of a 90-foot cliff, but there was no shelter for anything bigger than a squirrel.
This 1½-mile-long cliff line, erupting out of the southwest Minnesota prairie like a mirage — it was called Blue Mounds by early settlers, who first glimpsed it in the far-off haze — is home to one of the last bits of prairie left in Minnesota, and it's not dull.
In early summer, the filmy pink strands of prairie smoke wave in the breeze, then give way to the yellow blooms of prickly pear cactus and then to a sea of big bluestem and Indian grass.
Hawks wheel overhead, and a herd of more than 100 bison graze behind wire fence.
These all have parts in the drama, but the scenes often are stolen by the looming sky and by wind, which rarely stops.
This Prairie Coteau, known locally as Buffalo Ridge, is the uplifted floor of an ancient sea, its red sand cooked and pressed into hard, almost marble-like quartzite.
During the last Ice Age, its immovable mass split the advancing glacier, which dumped debris on its flanks and formed a high plateau that juts into northwest Iowa on one edge and North Dakota on the other.
It rises to more than 750 feet above the surrounding plain, and the steady winds that blow over its top now turn turbines on wind towers that feed electricity to the Twin Cities.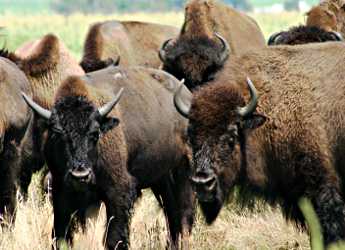 Its outcroppings of 1.5 billion-year-old rock also appear at the sacred quarries of Pipestone, 20 miles north, and at Jeffers Petroglyphs to the east, near Sanborn. At Blue Mounds, the cliff line and surrounding terrain, too rocky to plow, are preserved as Blue Mounds State Park.
When it became a state park, in 1961, three bison were brought in from Nebraska. The park's herd has flourished and can be observed from platforms near the park's north entrance and from Mound Trail, which follows the fence of their summer pasture.
There's a beach on Lower Mound Lake — a creek impoundment; Rock County is the only county in Minnesota that does not have a natural lake — and hiking on 13 miles of trails.
The Lower Cliffline Trail leads along the curving cliff, used by thousands of rock climbers every year.
Between the Upper Cliffline and Upper Mound trails, a 1,250-foot line of rocks aligns the rising and setting sun on the first day of spring and the first day of fall; no one knows why.
Author Frederick Manfred lived amid this mystery and drama for decades and made it the setting for his books, calling it "Siouxland."
His home, a quartzite aerie with a six-sided writing tower he called a "tipi," now is the park's interpretive center.
Every day, Manfred looked out on the changing prairie landscape. It's a tableau best seen early in the morning, when wildflowers emerge from haze and the cliffs gleam red in the morning sun, or late, when the slow-moving bison are silhouetted against the horizon.
These also are the best times to hear the calls of grassland birds — meadowlarks, nighthawks, sparrows.
National Geographic photographer Jim Brandenburg, who grew up six miles to the south in Luverne, also was inspired by this landscape.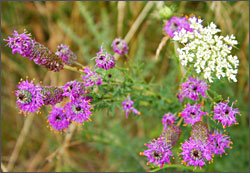 In 1999, he opened the Brandenburg Gallery downtown, and profits go toward prairie education and preservation.
On the walls hang many images of Blue Mounds, so beautiful it's as if God arranged all the elements just for him — lightning bolts snaking toward Earth, Indian grass glowing in the fierce orange of the setting sun, clouds sitting plump and rosy in endless sky.
The Lakota and other Plains Indians also were inspired by this "empty" prairie. To them, it was God's canvas, the spiritual backdrop for their culture.
"We did not think of the great open plains, the beautiful rolling hills, and winding streams with tangled growth, as wild," said Lakota chief Luther Standing Bear.
"Only to the white man was nature a wilderness, and only to him was the land infested with wild animals and savage people. To us, it was tame. Earth was bountiful, and we were surrounded with the blessing of the Great Mystery."
Trip Tips: Blue Mounds State Park and Luverne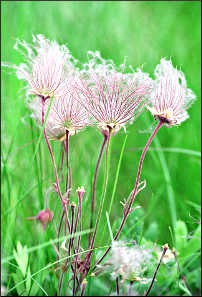 Getting there : It's four hours west of the Twin Cities.
Since it's just off I-90, Luverne and Blue Mounds make a good halfway stop for those traveling to the Black Hills. Other good stops on I-90:
In Fairmont , the Aquatic Park has four pools and two slides; turn south on Minnesota 15 and turn left on Johnson Street, at the southern edge of town.
This prairie town also has a chain of lakes on its western edge; there are swimming beaches on Lake Sisseton, in Ward Park, and on Budd and Hall lakes, from Gomsrud Park.
In Worthington, windsurfers frequent Sailboard Beach on the eastern edge of 785-acre Lake Okabena.
On the northwest side of the lake, there's a beach in Centennial Park and a municipal pool with water slide across from it. On the south side of the lake, there's a beach in Slater Park.
Accommodations : The most interesting place to stay is 20 miles north in Pipestone. The 1888 Historic Calumet Inn , built of quartzite, has 38 rooms, some furnished with antiques and some modern.
For more, see Pipestone homage .
In Luverne, there's a GrandStay Hotel & Suites, a Quality Inn and a Super 8.
Craft beer : On Luverne's Main Street, Take 16 Brewing serves its own beer.
Events : In Luverne, Buffalo Days is the first weekend of June. Events include a parade, arts fair, buffalo-chip throwing contest and pedal-tractor pull contest for children.
Blue Mounds State Park : There's camping and 13 miles of hiking trails. A paved bike trail connects the park to Luverne.
Brandenburg Gallery : It's in Rock County Courthouse Square at 213 Luverne St.
Other Luverne sights : The town has many quartzite buildings, among them the 1892 Hinkly House Museum. In addition to Victorian furnishings, it features a brick passageway that runs under the yard and served as cyclone shelter, fruit cellar and dynamite shed.
In addition to the Brandenburg Gallery, downtown has some nice shops.
Information : Luverne tourism , 507-449-2388.
For more about nearby attractions, see Road trip: Southwest Minnesota .
There's also a bison herd at Minnesota's Minneopa State Park , near Mankato.
Last updated on February 5, 2021