Afoot in the Porkies
On the Upper Peninsula, a splendid wilderness remains unchanged.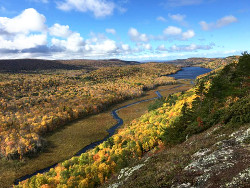 Just up north, there's a vast wilderness of lakes, virgin forest and wild rivers lined by waterfalls and rapids.
It isn't like other north-woods forests — not as they are in this century, anyway. It's a wilderness unto itself, and though it's no farther than the state parks farther up Minnesota's North Shore, it seems a world away.
It feels a world away, too.
This is Porcupine Mountains Wilderness State Park, on Michigan's Upper Peninsula, and parts of it look like nowhere else in the region.
Hiking high above Lake of the Clouds, from which the Carp River winds into the horizon between rolling green ridges, I felt as if I should be off to find a ring or rescue a princess.
The forest floor, darkened by old-growth hemlocks, also has a fairy-tale feel — peeping through the windows of a little cottage, I felt like Goldilocks, wondering if anyone was home — though I'd just passed the occupants toting their gear back along the trail.
Except for the popular Lake of the Clouds overlook, which nearly can be reached by car, the Porkies are a place for hikers and backpackers, many of whom vie for nights in the park's 19 rustic log cabins and four yurts.
A hundred miles of trails crisscross the 94 square miles of the park, whose ridges rise 1,000 feet above 23 miles of Lake Superior shoreline.
Under the timber lies the edges of lava that welled out of the Earth a billion years ago and, as it grew heavier, buckled in the middle to form the Lake Superior basin. Its edges sloped upward, forming the Porkies, now worn down and smoothed by erosion and glaciers.
Copper formed in the lava flows, and the first miners arrived thousands of years ago, leaving pits and stone tools to mark their existence.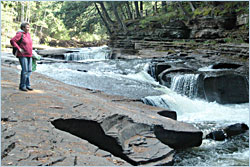 The Ojibwe, who named the area Kaug Wudjoo, place of the crouching porcupine, arrived not long before French explorers, who noticed copper nuggets on the rocky shoreline.
Fortune-seekers followed, then mining companies, nearly all of which were stymied by the rugged topography. The earliest expedition, sent by London investors in 1771, gave up in disgust on an area Patrick Henry told Congress was "beyond the most distant wilderness and remote as the moon."
Loggers were able to wrest more from the land but got a late start, after mining companies finally gave up.
The interior of the Porcupines still was untouched when the area was designated a state park in 1945, and its stand of old-growth forest — sugar maple, eastern hemlock, yellow birch — is considered the biggest and best of its kind east of the Mississippi.
In the fall, these trees burst into color. In winter, there's skiing — cross-country and downhill, in a ski area with a vertical drop of 641 feet — on the most copious snowfalls in the Midwest.
In spring, the snowmelt turns the dozens of waterfalls into ferocious gushers. In summer, people actually can swim from sandy beaches.
Despite all this, the Porkies never have been overrun by tourists. The U.P. is separated from the rest of Michigan by Lake Michigan, and Minnesota and Wisconsin have their own wildernesses.
Many visitors, like me, discover the Porkies while taking the Circle Tour around Lake Superior. And then, like me, they want to return.
One September, my niece and I drove to the Porkies. We hiked first from the Lake of the Clouds overlook, where the four-mile Escarpment Trail begins on a worn outcropping of basalt.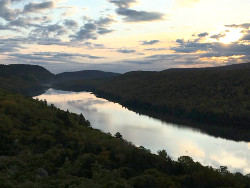 Following the ridge that formed at lava's edge, we were 300 feet above the valley floor, above hawks coasting atop breezes that made the treetops below ripple in green waves.
Afterward, we joined retired naturalist Bob Sprague's Black Bear Habitat hike. Bears are frequently seen in the Porcupines, usually fleetingly.
"They get gone before you even know they're there," Sprague said. "You'll have to satisfy yourself with evidence of bears."
He found it everywhere, showing us a rotten log a bear had ripped apart looking for grubs; claw marks on a red oak, where a bear was reaching for acorns; a surprisingly small den; and a clump of hair on the branch of a small red pine, where a bear had bitten off the top and others had rubbed, leaving their scents.
He told us what bears eat — berries, ants, fiddlehead ferns — as well as what they like — bacon, pastries, fried chicken, licorice. Backpackers who don't hoist their food into a tree have a very good chance of losing it, he said.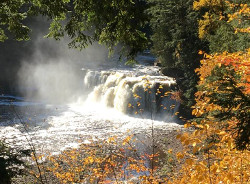 "Earlier this summer, I saw a bear off the trail with a big Ziploc bag of pancake mix," he said. "The Girl Scouts had failed to put their food in a tree."
The next day, we pored over the tantalizing list of hikes. The Union Spring Trail: "From the floating dock, view over 700 gallons of clear water bubble out of the ground each minute . . ."
North Mirror Lake Trail: "Surrounded by rugged bluffs and magnificent pines, at 1,532 feet, it is the highest lake in the park . . . " Of course, we were dying to hike on the 16-mile Lake Superior Trail, but just getting to the big lake would take us hours.
So we decided to skip and jump our way across the park. We walked the milelong loop of the Union Mine Trail, using a guide to identify the spots where miners had scrabbled for copper alongside the pools and rock slides of the cold Union River.
Farther west along South Boundary Road, we picked our way along the Little Carp River Trail, past Overlooked Falls, Greenstone Falls and a series of rapids.
Under the forest canopy, we'd barely noticed a light drizzle, only how it made the fallen maple leaves and glossy wood fungus glisten with color; the entire forest was a wet canvas, brought to life by the constant hum of rushing water.
At the end of South Boundary Road, we turned toward Lake Superior and descended to the banks of the Presque Isle River along the West River Trail, overhung by 350-year-old hemlocks.
The crashing Manabezho, Manido and Nawadaha falls are here, named for the legendary spirit-warriors of Ojibwe lore.
Everywhere, we saw signs of violence wreaked by water — in the scallops and potholes drilled into the riverbed by swirling gravel, in the angry foam whipped up at the river's mouth by the thrusts of Lake Superior.
Another sign was in black-and-white print: "Beautiful but dangerous . . . wading or swimming could end your vacation."
We'd seen plenty in the park, but not enough. The Porcupines, I suspect, always leaves its visitors wanting more.
Trip Tips: Porcupine Mountains Wilderness State Park in Michigan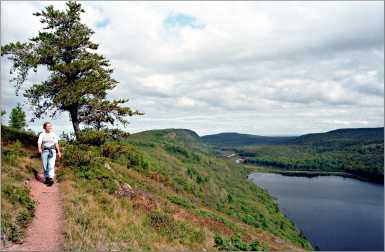 Getting there: It's an hour north of Ironwood, on the Wisconsin-Michigan border. From U.S. 2 in Wakefield, drive north on Michigan 28 and 64. The main entrance to the park is near Silver City.
When you get there, you'll be on Eastern Standard Time. The closest town is Ontonagon, 15 miles east. If you're coming from the west, stock up on groceries at the Super One on the east side of Ironwood.
When to go: From mid-May through June, flies are a problem. By late September, frost has killed deer flies, horse flies and the even-worse stable fly.
Winter: There's downhill skiing, cross-country skiing and some of the region's best snowshoeing.
For more, see White gold in the Porkies.
Waterfalls : There are seven in the park, three of them on the Presque Isle River.
2023 events: Aug. 25-26, Porcupine Mountains Music Festival.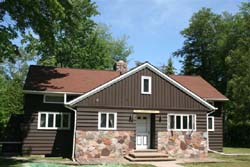 Accommodations: Mountain View Lodges, just outside the eastern entrance to the park, are very attractive two-bedroom cabins with wood-burning fireplaces, VCRs, cable TV, well-equipped kitchens, screened porches and sofa sleepers. A sand beach on Lake Superior is lined with fire pits. Four cabins are open to pets and one is wheelchair-accessible.
Three miles east of the park entrance, the Americinn in Silver City has an indoor pool, restaurant, free hot breakfast and pet-friendly rooms.
In the park, the modern Kaug Wudjoo Lodge sleeps up to 12 in four bedrooms, one with a queen, one with a queen and a single, one with three singles and one with two bunk beds. There are two baths, but only one has a shower.
From May through November, it rents for $1,330 per week. From December through April, it's $200 per night, with a four-night minimum. Reserve up to a year in advance at 906-885-5275.
Camping: Union Bay Campground, along Lake Superior near the visitors center, has showers and electricity. Presque Isle Campground is rustic and 17 miles from a phone and supplies.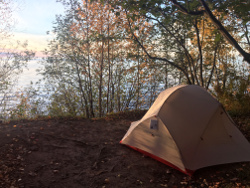 Reserve up to six months in advance at Michigan DNR Reservations, 800-447-2757.
There are 63 numbered backcountry campsites that can be reserved between May 15 and Oct. 15. Campers must pick up permits at one of three check stations; make sure you pick it up before 8 p.m. or you'll have to wait until the next day.
Cabins: The park also has 19 wood-heated rustic cabins and four yurts, $68, plus the three-room Cotten Cabin near Presque Isle, which sleeps eight and rents for $125.
Most of the cabins sleep four, but some sleep six or eight. Seven are within a mile of a trailhead, and one is handicapped-accessible; others require a hike of up to four miles.
Cookware and tableware are provided, but guests need to bring a stove. Cabins on Mirror Lake, Lily Pond and Lake of the Clouds include boats.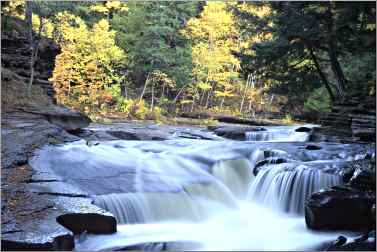 The yurts are open year-round, and two can be reached only by trail. Two of the yurts are on Lake Superior near the Union Bay campground. One is near the Union River and three miles away, and the Lost Creek yurt is a seven-mile hike or ski on hilly terrain.
The yurts do not have electricity or running water. Water is supplied at one yurt; at the others, guests must filter water from streams. Wood is provided. They sleep four.
In the Union Bay campground, there's also a new tiny house that sleeps four and has a kitchen, electricity and heat.
Reserve cabins, yurts and the tiny house six months in advance at Michigan DNR Reservations, 800-447-2757.
Information: Porcupine Mountains Wilderness State Park, 906-885-5275. Porcupine Mountains tourism, 906-884-2047. The park also has a Facebook page.
The 358-page book "Porcupine Mountains Companion" (Nequaket Natural History Associates, $18.95), written by Bob Sprague and Michael Rafferty, has lots of helpful information, including trail descriptions, tips on dealing with fly invasions and 21 pages about the cabin descriptions.
Last updated on April 26, 2021