Downhill on the Iron Range
In northern Minnesota, Giants Ridge resort offers first-class skiing.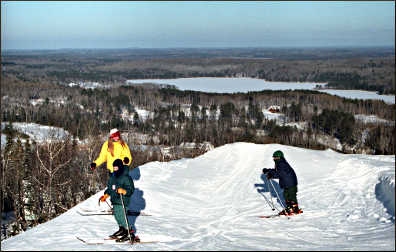 During three days at Giants Ridge one January, I kept wondering: Where are all the people?
The sun was shining, the snow was ideal, and most schoolchildren still were on winter break. The handsome Lodge at Giants Ridge was giving discounts on its already low midweek rates, and kids could ski free.
All that, and no lift lines.
Giants Ridge, which lies on the eastern edge of an exposed stretch of the Laurentian Divide that the Ojibwe called the Sleeping Giant, or Mesabi, is not as well-known as it should be.
At least, not among ordinary skiers — as the site of Minnesota high-school state meets and many other races, as well as a favorite spot to train, it's old hat to elite skiers.
The ski hill was opened in 1984 to provide jobs on Iron Range. In 1997, an acclaimed golf course was added, and the Lodge opened in 1999. It's all still owned and operated by the IRRRB, or Iron Range Resources & Rehabilitation Board.
What visitors to Giants Ridge learn is that the Iron Range is about more than mining.
From the top of the hill, alpine skiers gaze down upon Sabin and Wynne lakes, where the Embarrass River widens to create a lovely north-woods tableau, complete with islands.
At the bottom, cross-country skiers can head out into 70 kilometers of trails through stands of birch and fir, on the edge of Superior National Forest.
Giants Ridge is off the beaten path, 70 miles north of Duluth and 45 miles southwest of Ely.
The nearby towns — Gilbert, Biwabik, Aurora — are not exactly tourist magnets. But it's not hicksville, either.
At Giants Ridge, skiers live very well. All the rooms at the Lodge are suites, which impressed my son Peter.
"Isn't this great?" he said, running from one room to the other. "This is so cool. We've got two rooms, and two TVs."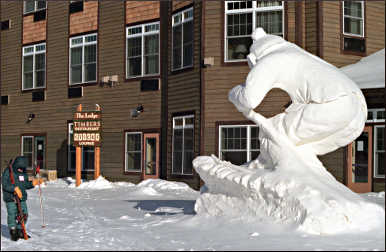 After a couple of hours of late-afternoon skiing — free with the purchase of a next-day pass — we skied right up to the Lodge, stashed our gear in the ski room and walked in for dinner in its restaurant.
The next morning, a light snow was falling, and from our window, we could see skiers already disappearing into the woods.
After pancakes, we headed up the alpine hill, skiing down runs as obsessively groomed as a prize poodle; even on a quiet weekday, Sno-Cats were combing out the runs.
Once, on our favorite Easy Way run, which has a panoramic view and cuts a long swath across the East Face, I got to make not only the first cut on a fresh track along the tree line, but the second, too.
At first, I didn't have such good luck on the cross-country trails. The 10-kilometer Silver trail wasn't tracked for classic skiing, and I ended up on Gold while trying to find the start of Laurentian.
The gradual slog up Gold got a little tedious, so I caught a spur to the Summit trail and skied back, past clusters of high-school teams training up for that weekend's Mesabi Invitational, North America's largest high-school ski event.
We'd gotten a lot of skiing in that day, with no waits at lift lines, so we knocked off early and headed for the Whistling Bird in Gilbert to snag a table as soon as it opened.
Not only is the Caribbean restaurant very popular, it's very small, with tables hugging brightly painted walls lined with folk-art birds and birdhouses. Its flavors also are flamboyant; my spicy rasta pasta, garnished with an orchid, was tossed in a fragrant broth of lime, cilantro and coconut milk.
That evening, in the hot tub, we finally met another Twin Cities family who'd taken advantage of the school break. Connie Diercks and Harry Pontiff of Minneapolis had planned to travel to Wyoming with their two teen-agers, but they'd come to Giants Ridge on the recommendation of a friend.
"We all had a really good day," Diercks said, beaming. "I'm going to put it on the calendar for next year."
The next morning, I tried the cross-country trails again, taking the chair lift up to the start of the Bronze trail. There was a fresh track for skaters but not striders, but with gravity as my friend, I didn't need a great track.
It was an exhilarating 6-kilometer cruise through the woods, requiring just enough exertion to let me feel virtuous.
Then Peter and I hit the mountain again, stopping at noon for lunch at the lodge restaurant, which was a vast improvement over the fried food in the ski chalet. That gave us enough energy to ski the rest of the day.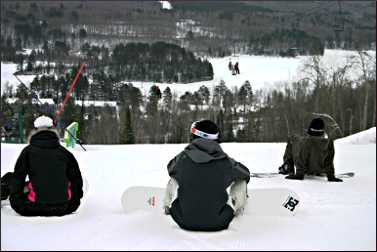 We felt lucky to have fit in so much skiing, at such good prices. On weekends, rooms and lift tickets cost more, and tourists and racers pack the place.
Of course, there are a few drawbacks to coming midweek. The North Face of the mountain may be closed, the trails aren't lit at night, there's not a children's ski program and there's no nightlife — as if people need that after skiing their legs off all day.
The bottom line is, Giants is one of the best places to ski in Minnesota, any time of the week. Its only real rival is Lutsen — and, considering the vagaries of Lake Superior weather and the extra hour to get to Lutsen, Giants Ridge may have an edge.
Trip Tips: Skiing at Giants Ridge in northern Minnesota
Getting there: It's 3¼ hours north of the Twin Cities in best conditions.
Accommodations: The Lodge at Giants Ridge is very nice and right at the foot of the ski hill, with a room for storing skis. All the suites have two rooms, two TVs and mini-fridges. There's also a restaurant, Aveda spa, pool and hot tub.
The Villas at Giants Ridge are just across the road from the ski hill, along Wynne Lake. They have full kitchens, so families can save money on food. They include northwoods-style studios and one- to four-bedroom condos and villas, most with stone fireplaces and whirlpool baths.
Also nearby, Green Gate Guesthouses offers nine cabins, houses and cottages, plus two Gasthaus apartments in Biwabik.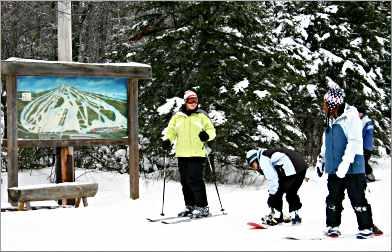 The Super 8 in Eveleth, 15 minutes from Giants Ridge, has a pool, whirlpool, sauna and fitness center.
The AmericInn Lodge & Suites in Virginia has a pool and spa and includes a hot breakfast.
Dining: The Lodge at Giants Ridge has a good restaurant. There are pizza places in Biwabik, as well as a family restaurant.
In Gilbert, the Whistling Bird serves a large menu of steaks, shrimp and pasta, many with Caribbean accents, but it now closes in winter.
Alpine skiing: The ski hill has 35 runs, two snowboarding terrain parks and a snow tubing park.
Cross-country skiing: It's included with a lift ticket. The three-kilometer Northern Lights loop is lighted on weekends. Lanes are wide and tracked for both skating and striding.
For more, see A Giant advantage.
Snowshoeing: The four-mile Sleeping Giant snowshoe trail climbs to the top of the Laurentian Divide.
Information: Giants Ridge, 800-688-7669.
Last updated on February 9, 2021