A Giant advantage
For novice nordic skiers, this Iron Range resort rolls out the red carpet.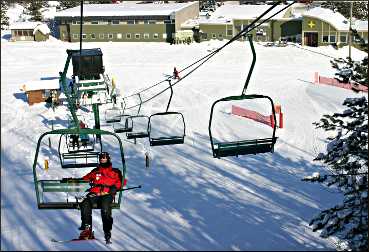 For cross-country skiers, Giants Ridge has it all: Plentiful snow. Scenery. Sixty kilometers of groomed trails.
Best of all, it has chairlifts.
Alpine skiers aren't the only ones who think downhills are more fun than uphills. Nordic skiers also like to put gravity on their side, especially those who are trying to learn how to skate.
Skating is the faster but more demanding technique used by racers and other serious skiers. Not only is it  faster and more fun, but it doesn't require groomed tracks. So skiers need less snow; even a few inches on a lake will do.
There is just one problem: Skating is hard.
Unlike striding, it requires continual forward propulsion. You can't herringbone up hills, stopping to rest if need be; you have to shoot up the hills in one fluid motion. It takes a lot of technique — technique that's hard to learn if you're exhausted after the first hill.
That's where the chairlifts come in.
Unlike other alpine ski resorts, Giants Ridge is just as well-known for nordic skiing. It was an Olympic training center when the state opened the ski area in 1984 as a way to generate jobs on the Iron Range.
It's still a favorite training spot for skiers of all ages, and it hosts the annual state high-school tournament and many other races, including the Mesabi East Invitational, North America's largest high-school ski event.
It's taken a while, but alpine skiers from the Twin Cities have discovered Giants Ridge. It's only a 3¼-hour drive, its grooming is superb, its snow conditions are reliably good and it has a very nice chalet and an all-suites lodge at the foot of the hill.
So if you like both alpine skiing and nordic skiing, you're in luck.
The first time I went there, I skied both alpine and classic, and when I used the chairlift to get to the top of the Bronze nordic trail, I realized its gradual downhill would be an ideal place to practice skating.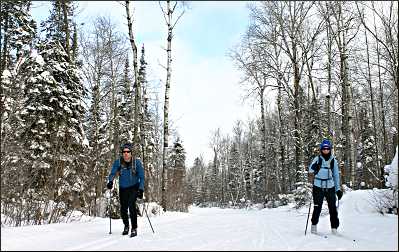 I'd tried it before, and even the slightest incline instantly sapped my strength.
The next time, I brought my new skate skis and settled into the homey Villas at Giant Ridge. In the morning, I just walked across the road to the ski hill.
It was good I was fresh and using my classic skis to check things out, because at the top of the chairlift, I mistakenly headed out on Gold, a harrowing string of steep climbs and drops.
When I finally found Bronze and start to cruise down, I was surprised to see the ski team from Southwest High School in Minneapolis, puffing its way up.
It seemed like a waste of a perfectly good downhill, but each to his own.
Ron Kutsi of nearby Virginia skis hundreds of kilometers every season at Giants Ridge, and he's happy to take the lifts.
"There are never too many downhills, as far as I'm concerned," he said. "Of course, the purists look at me and sneer, 'Why is he doing that?' Hey, I've had knee surgery, I take the lift up and enjoy myself."
Giants Ridge lies on the eastern edge of an exposed stretch of the Laurentian Divide that the Ojibwe called the Mesabi, or Sleeping Giant. To the east lies Sabin and Wynne lakes, where the Embarrass River widens. To the west lies Superior National Forest.
There are lovely views from the six-kilometer Summit Trail, which follows the ridge, and that's one of Kutsi's favorites. But the three-kilometer northern stretch of Gold is his "reward trail."
"That's how I finish up the day and put a smile on my face," he said.
For skating, that was my favorite, too, and I skied it over and over. It was an easy hop from the chairlift onto the rolling trail, where new snow had frosted the spruce tops and made the nubs of branches as fuzzy as baby antlers.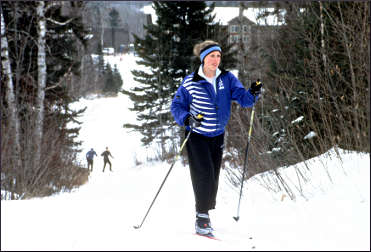 A straightaway beside a marsh was the best part. There, I could "think like Dorothy," almost clicking my heels behind me in a long glide, or, as Ron Kutsi advises, "pretend you have dust mitts on your feet and you're polishing the floor."
The Gold trail flows into the cross-country "stadium" at the foot of the lodge, another good place to practice, and there I ran into three friendly sophomores from Southwest High.
They'd picked up the skating technique quickly, as young folk tend to do, making the rest of us envious.
"My dad said he was going to rent skate skis and try it, and I was like, 'Oh-oh,' " said Maddy Shaw of Minneapolis. "He was getting really frustrated. I don't have the experience to teach him, but he tried hard, and he slept a lot afterward."
The trio took time to give me advice: Keep your feet under you and your weight centered over your feet. Push off with your heel. Use your stomach muscles. Remember to glide.
"You have to keep in mind all the little things you have to do, the little checklist," Shaw said.
Her friend Rosie Frankowski, who went on to ski for the United States in the 2018 Winter Olympics, said she often skis the black-diamond runs at Lutsen with her family, but finds nordic skiing more rewarding.
"Here, you say, 'I just went up and down eight kilometers of hills,' " she said, "and there, it's 'Yeah, I went down a hill . . . with gravity.' "
But since the alpine hills looked so inviting, I skied them, too, enjoying the sweeping panorama of lakes and forest.
For skiers, Giants Ridge seems like the best of both worlds. Or even three worlds — as I looked up the hill, I saw a man coming down on telemark skis, using a style so graceful it looked like dancing.
No matter what kind of skiing you're doing, it's nice to have gravity on your side. After that, everything else is gravy.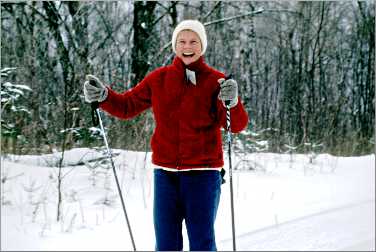 Trip Tips: Giants Ridge on Minnesota's Iron Range
Getting there: It's 3¼ hours north of the Twin Cities in best conditions.
Accommodations: The Lodge at Giants Ridge is very nice and right at the foot of the ski hill, with a room for storing skis. All the suites have two rooms, two TVs and mini-fridges. There's also a restaurant, Aveda spa, pool and hot tub.
The Villas at Giants Ridge are just across the road from the ski hill, along Wynne Lake. They have full kitchens, so families can save money on food. They include northwoods-style studios and one- to four-bedroom condos and villas, most with stone fireplaces and whirlpool baths.
The Super 8 in Eveleth, 15 minutes from Giants Ridge, has a pool, whirlpool, sauna and fitness center.
The AmericInn Lodge & Suites in Virginia has a pool and spa and includes a hot breakfast.
Dining: The Lodge at Giants Ridge has a good restaurant. There are pizza places in Biwabik, as well as a family restaurant.
Cross-country skiing: The three-kilometer Northern Lights loop is lighted on weekends. Lanes are wide and tracked for both skating and striding.
Alpine skiing: The ski hill has 35 runs, two snowboarding terrain parks and a snow tubing park.
For more, see Downhill on the Iron Range.
Snowshoeing: The four-mile Sleeping Giant snowshoe trail climbs to the top of the Laurentian Divide.
Information: Giants Ridge, 800-688-7669.
Last updated on February 9, 2021