Chicago by bicycle
On two wheels, visitors can explore every inch of the lovely lakefront.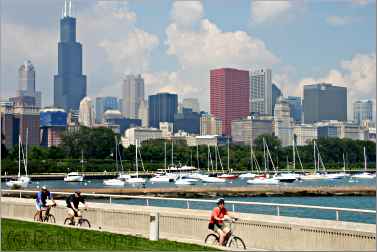 Everything that's worth doing, you can do along Chicago's lakefront.
Seniors in Speedos climb out of Lake Michigan after swimming laps. Chess players hunch over boards in a 1957 pavilion that looks like the Jetsons' carport. Young people gather for beach volleyball and paddle kayaks in the shadow of yachts.
Overhead, a biplane pulls a flapping beer banner through the sky.
Is this Fort Lauderdale? No, but you couldn't tell from the string of beaches, golf courses and marinas.
On fine summer days, the city and all its tourists converge on Lake Michigan and its bright Listerine-colored water, dotted by white sails. In its parks, people skate, bike, jog, fish, fly kites and play tennis.
When we were in Chicago one Labor Day weekend, we saw the whole thing on bikes, riding the 18-mile Lakefront Trail from end to end.
The first afternoon, we rented bikes at Millennium Park and made our way to the lakefront, passing gourmet picnickers with hibachis and tourists clicking away at Buckingham Fountain.
Crossing the Chicago River, we threaded our way through crowds heading to Navy Pier and rode into Olive Park.
At an overlook, we gazed across the water at elegant high-rise apartments on shoreline that was underwater until a character named George Streeter paid contractors to dump their debris there and then, with his new land, seceded from the city.
Many of the parks — Lincoln, Grant, Burnham — also were created from landfill.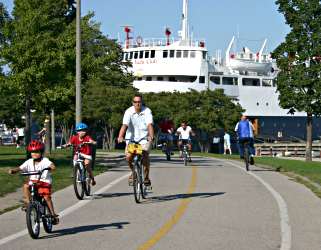 From Ohio Street Beach, we rode to busy Oak Street Beach and Lincoln Park. Amid a stream of skaters and bicyclists, we passed the Chess Pavilion and Theater on the Lake, where local troupes stage plays in summer.
At Belmont Harbor, we circled the marina and stopped to watch dogs playing on a spit of sand.
We found a bird sanctuary amid the dunes at Montrose Harbor and fly fishermen casting lines from concrete risers. But on the other side of the point, we lost sight of the downtown skyline and turned back.
Back at Belmont, the dogs had jumped into the water. At Oak Street Beach, the lifeguards still were out in rowboats, keeping an eye on swimmers bathed in golden light.
Even at dusk, Millennium Park was jumping. Crowds still circled the mirrorlike Cloud Gate sculpture, popularly known as the Bean, and from a distance, it looked as if a squadron of ants was marching across its silvery surface.
In its reflection, the sky had turned a deep midnight blue, and the city lights had multiplied into a galaxy, but most onlookers had eyes only for themselves.
Returning the next morning, we rented the last two bicycles and headed south. We passed the Field Museum and then rebuilt Soldier Field, whose old Doric columns now hug blue stands for Bears fans.
At the entry to Burnham Harbor, alongside McCormick Place, we stopped and sat on a ring of limestone blocks, watching the little dramas around us. A little boy dropped his fishing pole from the seawall into the lake.
Geese goose-stepped across the trail, trying to stay ahead of speeding cyclists. In the water, a young man gunned the engine of a ridiculously phallic cigarette boat, and we snickered as a svelte sailboat slipped easily past him.
The grounds of McCormick Place, called "Mistake on the Lake," also have been redone, and now a waterfall courses down its monolithic flank.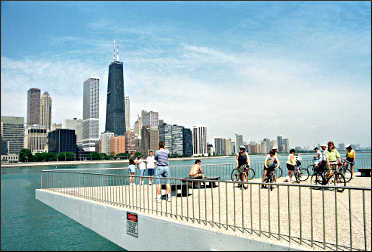 Department-store magnate Montgomery Ward spent 20 years fighting the city and his fellow businessmen to keep this lakefront open to the public, largely succeeding through the 1909 Burnham Plan. The convention complex was seen as the most notable betrayal of his legacy.
We pedaled south, past more beaches and children's "playlots" to Promontory Point. In a handsome stone park house with a round tower, three young women discussed plans for a wedding.
Water-skiers circled the point, and a sunbather stretched out on the limestone seawall, framed by the hazy downtown skyline.
We stopped to eat Polish sausages and freshly squeezed lemonade at 57th Street Beach, then rode on to 63rd Street Beach, which included a palatial Arts and Crafts beachhouse.
Past the tree-shaded Jackson Park golf course, we rode through landscaped gardens up to the door of the South Shore Cultural Center, a 1908 Arts and Crafts manor with crystal chandeliers, French doors and bas-relief ornamentation.
Looking at our map, we saw we could use bike lanes to get within a few blocks of Indiana if we kept riding.
But we turned back, stopping to watch cormorants diving for fish and retrievers fetching rubber bones.
At the Field Museum, we bought a Popsicle from a cart, near a long line of people waiting for the water taxi to Navy Pier.
We couldn't bear to return our bikes until we had to, so we rode back to Lincoln Park and took the North Avenue underpass to Old Town, where we ate seafood cavatappi and cannoli on the geranium-bedecked sidewalk outside Orso's.
Chicago has come a long way since 1904, when muckraker Lincoln Steffens called it "unlovely and ill-smelling." A century of sweat, slaughterhouses and sacrifices built this city, now overflowing with flowers.
The route: It's pretty hard to get lost. Runner's World offers a mile-by-mile rundown with maps.
Bike-sharing/rentals: Divvy Bikes is Chicago's year-round bike-sharing system. There are more than 600 stations, several of them around Millennium Park.
There are many stations along the Lakefront Trail, including Michigan and Oak streets, across from the Oak Street Beach; across Lake Shore Drive from North Avenue Beach; in Lincoln Park; on Montrose Harbor; on the Museum Campus; and near the Museum of Science and Industry. They're also at CTA stations.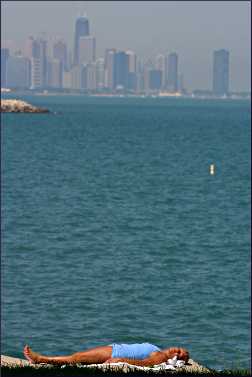 Rentals and tours: You'll save quite a bit if you reserve online, weekdays and/or by the day, rather than by the hour.
In the northeast corner of Millennium Park, McDonald's Cycle Center offers repairs, showers and secure bicycle parking.
It also rents bikes through Bike and Roll Chicago, which also offers guided tours. It has other locations at Navy Pier and the Riverwalk at Wacker and Wabasha. Bikes are first-come, first-served, so get there early on fine-weather weekends.
Bobby's Bike Hike offers guided tours that include bikes. Reserve online and save 10 percent. The store also rents bikes and is on the North Pier Docks across Lake Shore Drive from Navy Pier.
Both business offer theme tours, including food tours and city lights at night tours.
Bicycle events: During the annual Bike the Drive, bicyclists get to ride on a car-free Lake Shore Drive.
Events along the trail: The Chicago Park District offers many festivals and events in its parks.
Theater on the Lake : In Lincoln Park, on the lake side of Diversey Harbor at Fullerton Avenue, this 1920 Prairie-style building hosts the annual Chicago Summer Theater Festival and houses the Lakefront Restaurant, which has a large patio.
Beaches: Chicago's 29 miles of shoreline provides 15 miles of beaches.
Planning a trip: For more, see our Chicago stories, including Chicago as you like it and Cheap Chicago.
Last updated on May 12, 2021