Cheap Chicago
Here are 10 tips to make a trip to the Windy City easy to afford.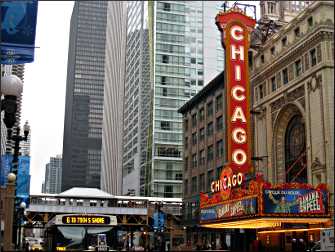 Chicago is on a roll. Millennium Park is wildly popular, and it just keeps getting better, along with the rest of the city.
These days, tourists have to compete with hordes of conventioneers and suburbanites fleeing back to the city. Prices, of course, have gone up.
Still, there's a lot to do for free. Here are 10 tips for making a trip affordable.
For more tips, see Pinching pennies in Chicago.
1. Go when business people and vacationers don't. Hotels are cheapest in Chicago on the weeks before Christmas, a fun time to be in town, and in the depths of winter.
I've also gotten very good deals on the long Memorial Day and Labor Day weekends and in late October for Halloween, which is a big deal in Chicago.
To get affordable hotel rates, avoid going when a big convention or event is in town. So before setting a date, check the McCormick Place convention calendar.
2. Get there cheap. You may still find $1 tickets on the Megabus if you book early enough, though $60 is more typical.
Amtrak also can be inexpensive if booked far ahead.
Driving isn't cheaper once you pay for parking, which costs $40 and up per day.
3. Stay cheap. The Hostelling International family hostel in the South Loop, three blocks from the Art Institute at Congress and Wabash, is quite posh, with pancake happy hours, an Internet room and a carpeted great room with foosball, ping-pong, a pool table and a communal kitchen.
It has private as well as shared rooms, along with the Freehand Hotel, in a former 1927 hotel in River North, and the Chicago Getaway Hostel near Lincoln Park, a renovated women's boardinghouse.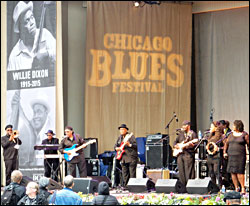 For more, see Where to stay in Chicago.
You could also stay at an Airbnb; there are hundreds in Chicago. But they're not exactly cheap, partly because of a 23.4 percent tax on short-term vacation rentals.
Or exchange your home for one there. That saves not only the hotel rate, but the hotel tax of 17.4 percent.
4. See what's free. Start looking at the Chicago Cultural Center and, across the street, at Millennium Park. They both host lots of free performances, including the summer-long Grant Park Music Festival, with world-class orchestra concerts at Jay Pritzker Pavilion.
Check Choose Chicago's Chicago Style on a Budget page. Chicago's best-known free attraction is the Lincoln Park Zoo; the big park also includes the free Conservatory.
The ornate Cultural Center is home to a Chicago tourism office. When you're there, pick up a copy of the Time Out Chicago guide, which is full of tips. Navy Pier also offers many free events.
On Michigan Avenue, across from the John Hancock Building, the beautiful, neo-Gothic Fourth Presbyterian Church offers free noontime concerts on Fridays year-round.
The Chicago Tribune lists what's new and coming up.
5. Get deals on theater, dance and comedy shows . Get half-price tickets at Hot Tix (online and at two downtown locations ) and Theatre in Chicago. You also have to pay a fee.
The services occasionally offer river cruises, opera concerts and walking and food tours as well.
In February, get tickets for $15 or $30 during Theatre Week.
6. Use public transit and bike-sharing. It's easy to use the CTA, which operates subways, El trains and buses.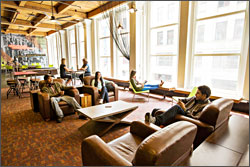 If you buy and register the three-day Ventra card before you arrive, you can avoid the $5 fee for the reloadable card. If you buy it at the machine, you can register it later and get the $5 as a credit.
For bicycling, pick up a blue Divvy bike at one of the many stations around town. A daily pass is $16.50.
7. Eat cheap. It's not hard. Along Michigan Avenue, look for Cosi, the Corner Bakery, Naf Naf Grill, Panda Express and Chipotle; you can eat for $10-$15 at all of them.
And you can get a loaded Chicago hot dog and fries for $5-$10.
8. Use a pass for serious sightseeing. If you know you want to visit the big museums and attractions, buy a CityPass or Go City pass. You'll also be able to bypass long lines.
9. Go to museums on discount days. The big museums used to have one free day a week, but now they vary their schedules.
Mondays and Tuesdays in the off-season (which doesn't include December) are good bets, but sometimes museums schedule entire free weeks. Here's a handy list of free days, mostly for Illinois residents.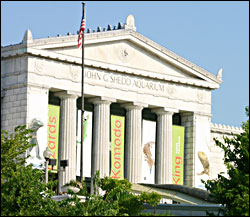 Check Shedd Aquarium, the Art Institute, Adler Planetarium and the Field Museum of Natural History (usually, second Monday of the month).
Because waits already are long at the Museum of Science and Industry, it may be best to avoid free day there.
And there are many other museums that are wonderful and also cheaper. Here's Choose Chicago's 10 museums for $10 or less and its blog on current free things to do.
10. Have a Chicago Greeter show you around. Volunteer Greeters offer free tours of Chicago neighborhoods; reserve seven to 10 days in advance. There's also an Insta-Greeter service available at shorter notice.
More information
For more about architecture tours, neighborhood food tours, ethnic neighborhoods, bicycling on the Lakefront Trail, the Christmas season and traveling with kids, see Chicago stories.
Last updated on January 21, 2022