Summer in Madison
In warm months, head for the brewpubs, bicycle trails and lakes of this exuberant college town.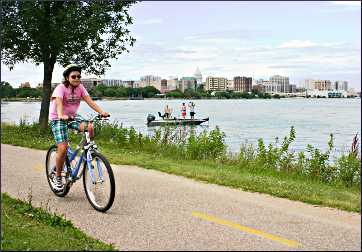 In summer, it's hard to know what to do first in beer- and bicycle-loving Madison.
Bike along Lake Monona, or on the Capital City State Trail? Have a beer and listen to blues on the lakeside terrace of the Memorial Union, or sit in the Bier Garten of Capital Brewery?
In summer, this college town is in its element. Its Great Taste of the Midwest in August is the largest beer festival in Wisconsin and the second-longest running craft-beer festival in North America.
Nearly 150 miles of state bike trails radiate from the town on three sides, and it was one of the first platinum-level bicycle-friendly communities designated by the League of American Bicyclists.
But as much as Madison loves beer and bicycles, it also loves good food. So on Saturdays, all roads lead to the Dane County Farmers' Market.
During summer, that's the most happening scene in the People's Republic of Madison, an idiosyncratic city of 230,000 that a disgruntled Republican governor once called "78 square miles surrounded by reality."
Within this bastion of political correctness beats a party heart, especially in the summer. How could it not, with a big lake on either side of downtown, a dozen beaches, free concerts and miles of bicycle paths to connect it all?
The first thing I did was set off along Gorham Street in a marked bicycle lane, pedaling past James Madison Beach and the domed Capitol before emerging onto the lower half of State Street, lined with "Do Not Enter" signs that, in smaller print, read "Except for Bicycles."
The University of Wisconsin lay at its end, and I circled around the alumni center to the Memorial Union Terrace.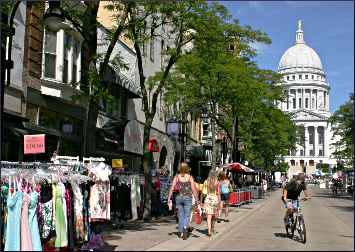 A bluegrass band was playing over the hubbub from hundreds of people, basking in the sun, drinking pitchers of beer and eating hamburgers from the outdoors grill.
College girls in string bikinis and cut-offs tossed their hair on speedboats anchored just offshore, as a steady stream of people carried rented canoes into the water.
As I watched a windsurfer, a sun-bleached Peter Pan plopped down next to me, offered a beer and embarked on a rambling tale that involved several pounds of Maui Wowie, various escapades in Hawaii and Alaska and an eventual return to Neverland.
My bike and I debarked mid-tale and followed the Howard Temin Lakeshore Path through a tunnel of trees and around University Bay to Picnic Point, where people sat around bonfires or on benches, gazing into the sunset.
I traced my path back, except this time I got tangled in the 16 streets that spin out of Capitol Square like a spider's web and are famous for snagging tourists.
The next morning I set out again, stopping first at the farmers market. Odessa Piper, whose pioneering restaurant L'Etoile made her a local demigod, was there demonstrating how spring garlic can be cooked in milk.
Vendors hawked baskets of glistening fruit, but everyone seemed to be eating gooey caramel rolls.
From Capitol Square, I rode down to Monona Terrace, a convention center first designed by Frank Lloyd Wright in 1938. A bike elevator took me to the rooftop garden, where I listened to Caribbean music performed by the rollicking Goongoo Peas.
Sitting on a marble bench dedicated to Otis Redding, I looked over Lake Monona, where the King of Soul's plane crashed in 1967, en route to a Madison concert.
Then the bike elevator took me down to the lakeshore path and Law Park, where the Mad City Water Ski Team performs on Sunday evenings.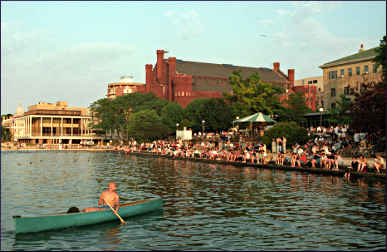 It was 90 in the shade, and I headed south along Lake Monona, stopping for a dip in Monona Bay at Brittingham Beach before riding the seven blocks to shady Henry Vilas Zoo.
Entry is free, so I stopped to watch a bevy of flamingos while walking through to Vilas Park, on Lake Wingra.
There was a beach there, so I took another dip before heading into the University of Wisconsin Arboretum next door, where I foolishly turned off McCaffery Drive and got lost.
I followed bike-route signs and came out on Monona Bay at Bernie's Beach, where I gratefully joined a crowd in the water. Then, with the help of another rider's map, I found my way to Olin Park and the path around Lake Monona.
There was the white dome of the Capitol, gleaming across the water — tourist trap, now bicyclist's friend. I pointed my tires in its direction.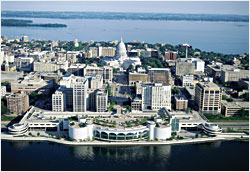 Trip Tips: Summer in Madison, Wisconsin
Getting around: Bike or walk when possible. Driving on the one-ways of the isthmus and the streets that radiate from the Capitol can be frustrating, and parking is strictly enforced. Read meters and signs, or you may be ticketed and even towed.
2023 events: May 26-28, Brat Fest. June 10-11, Waterfront Festival at Yahara Park Place on Lake Monona. July 8-9, Art Fair on the Square. Aug. 12, Great Taste of the Midwest beer festival in Olin Park. (tickets sell out in early May). Sept. 2-3, Taste of Madison, with music on three stages. Sept. 16-17, Willy Street Fair.
Dane County Farmers' Market: This big, fun market is held 6 a.m. to 2 p.m. Saturdays from mid-April through early November on Capitol Square. Then it moves to Monona Terrace until the Saturday before Christmas.
For more, see Foodies in Madison.
Mad-City Ski Team water-ski shows: They're at 6 p.m. Sundays from Memorial Day to Labor Day at Law Park, on the north side of Monona Terrace on Lake Monona. The team has won five of the last six National Show Ski Championships.
Outdoor concerts: There are dozens, including: mid-June to mid-July, Concerts on the Rooftop of Monona Terrace, 7-9 p.m. Thursdays. Late June through July, Wisconsin Chamber Orchestra Concerts on the Square, Wednesdays at 7 p.m.
Bicycling: The 13-mile Monona Lake Loop is paved, signed and scenic.
The 17-mile Capital City State Trail winds east-west across the southern part of the Madison area, connecting with the 40-mile Military Ridge State Trail in the west, in Verona.
Just west of the parking area at Dawley Park, it connects with the Southwest Commuter Bike Path, which parallels Monroe Street as it heads north to downtown.
Now it connects to the 41-mile Badger State Trail to the Illinois border (for more, see A slice of cheese country ).
Eventually, it will connect with the 52-mile Glacial Drumlin State Trail, which now starts in the suburb of Cottage Grove and winds to the Milwaukee suburb of Waukesha (for more, see Riding the Glacial Drumlin ).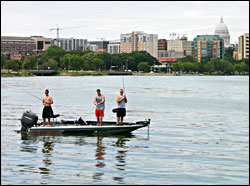 A copy of the city's Madison Bicycling Resource Guide & Route Map is invaluable; to get one, call 608-266-4761. Bike shops also have them.
You can also download a copy of the city's bike map.
Bicycle rental: Trek's B-Cycle bicycle-sharing program is designed for people who want to make quick trips around the isthmus, swapping bikes in and out of 39 stations. You can get a daily pass for $5, good for unlimited rides of up to 30 minutes.
There are many places to rent bicycles in Madison, including Machinery Row Bicycles at 601 Williamson St. and Budget Bicycle Center on Regent Street, between downtown and Camp Randall.
Paddling: Madison Boats rents rents kayaks, canoes, stand-up paddleboards and paddleboats on Lake Wingra, Lake Mendota and, from Brittingham Park, Lake Monona.
Canoes, kayaks and stand-up paddleboards can be rented in the Memorial Union Boathouse for use on Lake Mendota.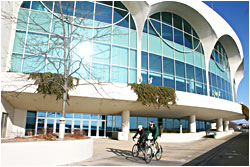 Craft beer: Breweries include Karben 4, Ale Asylum, Vintage and One Barrel breweries in Madison and Hop Haus and Wisconsin breweries in Verona.
In Middleton, Capital Brewery has a Bier Garten in which there's live music from 6 p.m. Fridays and Saturdays, with food catered by local restaurants.
Cruises: Betty Lou Cruises offers daily themed launch cruises on both Mendota and Monona.
Pontoon-boat rides : Madison School & Community Recreation offers hour-long pontoon-boat rides from Olin Park, Olbrich Park and Tenney Boat Pier from June through September, $5 per person.
Capitol tours: Guided, free tours are given at 9, 10 and 11 a.m. and 1, 2 and 3 p.m. Monday-Saturday, and 1, 2 and 3 p.m. Sundays, 608-266-0382.
Nightlife: Overture Center for the Arts, a block from Capitol Square on State Street, hosts international artists and Broadway shows as well as the local symphony, opera, theater and dance troupes.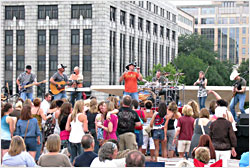 Other venues include the Majestic near the Capitol; the Sylvee and High Noon Saloon, on the isthmus just to the east; and the Barrymore Theatre on Atwood Avenue.
Shopping: State Street and Monroe Street are lined with shops; for more, see Shopping in Madison.
And don't miss the huge Art Fair on the Square and Art Fair Off the Square in July.
Camping: There are 54 sites at Capital Springs State Recreation Area, just south of town and connected by the Capital City State Trail. The campground has showers and flush toilets.
Accommodations: If you want to be in the middle of everything, stay at the Memorial Union, which includes lakeview rooms and suites, most with two beds.
The newly renovated Edgewater Hotel on Lake Mendota, near the Capitol, is the only downtown hotel on the lakeshore.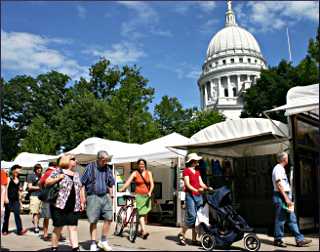 The university's Wisconsin Union Hotel is next to Camp Randall and includes suites with kitchenettes as well as rooms.
The university also rents rooms in the Fluno Center, a block from State Street at 610 Langdon St. There's a large pool, and a continental breakfast and parking is included in the rate.
Mansion Hill Inn, between Lake Mendota and the Capitol, is a stunning 1858 Romanesque Revival mansion with 10 rooms. It's been renovated under new owners and no longer has the personality of the original, but it's luxurious.
The Graduate is a boutique hotel a block off State Street and a block from the campus.
The Hilton Monona Terrace, three blocks from Capitol Square, is on the shore of Lake Monona and has a pool.
Madison Concourse Hotel and Governor's Club right on Capitol Square is best-located and has a pool. The DoubleTree and Inn on the Park are nearby.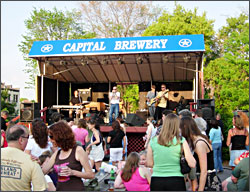 Hotel Ruby Marie is four blocks from Capitol Square at the point where U.S. 151 (East Washington Avenue) comes out onto Lake Monona, and its attractive rooms have mini-fridges.
Two blocks from Camp Randall, the Arts and Crafts-style Buckingham Inn B&B has three suites.
Rooms come with a full hot breakfast to order in the Come Back In and two drinks in the Up North pub, both in the same building along with the Essen Haus German restaurant.
Dining: Most locals think that in summer, there's nothing better than a burger and a pitcher of beer on the Memorial Union terrace, also an outdoor-music venue. If you don't feel like eating burgers or brats, pick up something from one of the many food carts at the end of State Street.
On Capitol Square, L'Etoile is the original farm-to-table restaurant, expensive but exquisite. Harvest also serves a menu of locally sourced ingredients. The Old Fashioned Tavern and Restaurant serves updated supper-club cuisine, and Marigold Kitchen is a breakfast and lunch cafe.
Or prowl the side streets around Capitol Square, where there are many sidewalk cafes, and pick out the one that looks best to you.
For more, see Foodies in Madison.
Information: Madison tourism, 800-373-6376.
Last updated on February 2, 2022