Shopping in Madison
In this colorful college town, materialism and muckraking co-exist.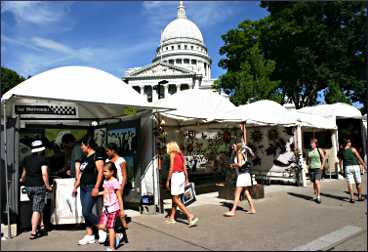 In Madison, a visitor is exposed to many messages: Resist corporate globalization. Fight for social justice. Housing is a RIGHT!
But when I was there one November, no one said anything against materialism.
Madison — sometimes called the People's Republic of Madison — is so anti-establishment and anti-corporate that a Starbuck's caused an uproar when it opened on State Street.
Aside from the Starbucks, and a Gap whose windows often are plastered with political graffiti, State Street is nearly franchise-free — meaning it's lined with small, locally owned, one-of-a-kind businesses.
That makes Madison a great place to shop. My consumption — inconspicuous, I hoped — started in the gift shop next to the Hotel Ruby Marie, with pint glasses from Wisconsin breweries.
From there, I walked downtown, passing the offices of Progressive magazine, which has been agitating since it was founded in Madison in 1909; on its windows hung a sign: "Justice, Not Vengeance."
Then I rounded Madison's beloved, blindingly white Capitol, topped by a gilt damsel called Ms. Forward — Forward is the state motto — with corncobs behind each ear and a badger sitting on her head; her rear end, notes local smart-aleck Michael Feldman, is the highest point in town.
State Street is one of 16 streets, mostly one-way, that radiate from Capitol Square and trap unsuspecting tourists like flies in a web. Cars aren't allowed on State Street, but there's nothing pedestrian about it; somehow, the flavor of the '60s still wafts from its slightly tatty storefronts.
At Urban Outfitters, two foreign students were giggling over Jesus action figures. Near the cult-fiction section at a bookstore, pamphlets lambasted the World Trade Organization, the media and space weapons.
At a boutique, a glass case held rhinestone tiaras: "The drag queens buy those," said the manager. "We actually sell quite a few."
It also had racks and racks of beaded and sequined party dresses, snapped up by sorority girls to wear clubbing. Across the street, Sassafras carried black-leather sheaths and Italian camisoles.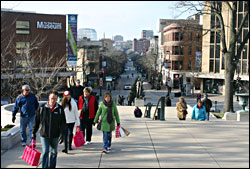 At the State Historical Society Museum, I bought inexpensive die-cast pencil-sharpeners in the shapes of paddleboats and typewriters, but I coveted the Ojibwe boxes of birchbark and porcupine quills.
At the end of State Street, carts were selling Thai, African, Jamaican, Greek, Southern and Cuban take-out.
I bought a tray of Thai noodles and ate them on the steps of the campus library, listening to a man with a wispy white beard play the "Flintstones" theme on a piccolo and watching students with the Wisconsin Public Interest Group paint affordable-housing slogans on plywood.
From State, I drove to Monroe Street, another street of old brick storefronts filled with shops, galleries and coffeehouses just south of Camp Randall Stadium.
At Orange Tree Imports, I found tiny glass candy-cane and bonbon ornaments, chocolate Advent calendars from Germany and classy but inexpensive cooking utensils.
At Calabash, I bought a painted-glass platter from South Africa. The shop was filled with African items: a Namibian wood giraffe, stone carvings from Zimbabwe and pop-can Peugeots fashioned by Soweto teen-agers.
That evening, a Broadway production of "Les Miserables" was playing to a sold-out crowd at the Overture Center for the Arts.
I was at the other end of State Street, listening to national folk artist Utah Phillips — imagine Garrison Keillor as a white-haired, rail-riding anarchist — tell anecdotes about class struggle and sing songs with such refrains as "Dump the bosses off your back."
"In a mass-market environment, a revolutionary song is any song you choose to sing yourself," Phillips said wryly.
I doubted there was a single truly blue-collar worker at the performance, a benefit for Wisconsin Wetlands Association. The Wobblies had a table in the lobby, though; the Industrial Workers of the World may be a footnote in history elsewhere, but they're alive and kicking in 21st century Madison.
The next day, I shopped in earnest. The Winter Art Festival was being held at Monona Terrace, a convention center first designed by Frank Lloyd Wright in 1938 and finished in 1997.
With ceiling-to-floor windows overlooking Lake Monona, and a Jetsons-go-Greek rooftop garden, it's one of Madison's favorite spots.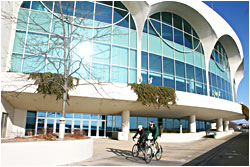 Inside, more than 140 Wisconsin artists were selling their wares; my prize was a walnut coat rack from Marcus and Penny Neal of Cassville, Wis.
At Matthias James' pottery booth, Mary Tonti of Milwaukee was buying a $350 double-glazed jar, "a bargain for the price." In the afternoon, she planned to hit Monroe Street, which she'd discovered the previous day driving around the Arboretum.
"Madison has all these great little shops to stop at," she said. "I think it's because of the diversity of the university, all the students they attract. You've got this great cross-cultural thing going on."
Then I headed for Middleton, Madison's western suburb. That's the home of Clasen's European Bakery, which has been making pastries and breads since 1960.
Its building is modern but its baked goods are Old World — Linzertortes, apfelkuchen, stollen and Lebkuchen, as well as chocolates, cookies, cakes and a big tray of blueberry-streusel bars to sample.
I headed home, having dutifully consumed and stocked up on all things Wisconsin: frozen custard, Clasen's pastries, New Glarus beer. Then, I spotted a black-and-white spotted building, and a sign: Fresh Cheese Curds. I was tempted — but only for a minute.
Trip Tips: Shopping in Madison, Wisconsin
Getting around: Driving on the isthmus can be frustrating, and parking is strictly enforced; read meters and signs or you may be towed. But at night, parking in city ramps is inexpensive.
For more, see Summer in Madison, Madison for all ages and A chocolate tour of Madison.
Shopping: Monroe Street, which heads south from Camp Randall stadium, has lots of fun shops and places to eat. If you're there during rush hour on a weekday, be careful where you park or you'll be towed.
Atwood Avenue, just northeast of downtown, has many shops.
In November, shoppers can catch the Winter Art Fair off the Square in Monona Terrace and the Art & Gift Fairs in the Madison Museum of Contemporary Art on State Street.
The Dane County Farmers' Market is held on Capitol Square from mid-April to early November and in Monona Terrace on Saturday mornings in winter.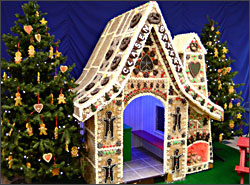 Clasen's European Bakery is on the corner of U.S. 12 and Donna Drive on the northern edge of Middleton.
Madison also has many fine chocolate shops. For more, see A chocolate tour of Madison.
Nightlife: Overture Center for the Arts, a block from Capitol Square on State Street, hosts international artists and Broadway shows as well as the local symphony, opera, theater and dance troupes. 608-266-9055.
Accommodations: Hotel rates are higher on weekends and go through the roof for Badgers games and other special events. But from the first weekend of December to late February, hotels offer Winter Getaway deals on weekends.
The Hilton Monona Terrace, three blocks from Capitol Square, is above the shore of Lake Monona and has a pool.
Madison Concourse Hotel and Governor's Club right on Capitol Square is best-located and has a pool. The DoubleTree and Inn on the Park are nearby.
The Edgewater Hotel on Lake Mendota, near the Capitol, is the only downtown hotel on the lakeshore.
Hotel Ruby Marie is four blocks from Capitol Square at the point where U.S. 151 (East Washington Avenue) comes out onto Lake Monona, and its attractive rooms have mini-fridges.
Mansion Hill Inn, between Lake Mendota and the Capitol, is a stunning 1858 Romanesque Revival mansion with 10 rooms. It's been renovated under new owners and no longer has the personality of the original, but it's luxurious.
The Graduate is a boutique hotel a block off State Street and a block from the campus.
Dining: Madison is a dining heaven. For more, see Foodies in Madison.
Information: Madison tourism, 800-373-6376.
Last updated on January 18, 2022