Bicycling the Central Lakes
In western Minnesota, a 55-mile trail is a window onto the natural world.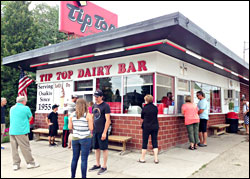 Cruising along western Minnesota's Central Lakes Trail, it's tempting to keep a scorecard.
Egret, five. Blue herons, seven. Beavers, three. Turtles, two. Loons, three. Pelicans, 20. Giant concrete coots, one.
Lots of warblers, hurtling over the trail like guided missiles, and warbler-sized dragonflies. Chipmunks racing the bike across blacktop. Patches of wild rose, and fountain grasses waving their pink heads in the breeze.
Stretching 55 miles between Osakis and Fergus Falls, the Central Lakes is a trail for nature lovers. Lined by dozens of lakes, marshes and ponds, it's flat and mostly open, to the hot sun but also to a steady breeze and expansive views of landscape and sky.
And every eight or nine miles there's a town, which means you can add a lot of pie and ice-cream stops to the scorecard.
I rode the trail one July, head swiveling the whole time. Pelicans performed air shows overhead, coasting in dazzling pure-white formations, then wheeling in unison to display black wings.
Herons stood in bogs that had grown a skin of chartreuse. Everything was bursting with life-even the trail itself, where weeds already had pushed through the new asphalt.
The first day, my husband and I rode from Alexandria's Big Ole to Osakis, where we hunted down the city beach and had really good twist cones at the classic Tip Top Dairy Bar, one of the state's vanishing mom-and-pop drive-ups.
That was 21 miles round-trip. For the next day's 44-mile stretch between Alexandria and Fergus Falls, we started at opposite ends and exchanged car keys in Dalton.
I started from DeLagoon Park on the outskirts of Fergus Falls, passing the Pomme de Terre River and a dozen lakes on the way to Dalton.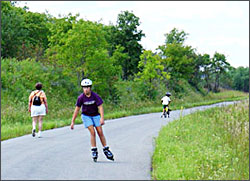 Dalton seemed awfully quiet until we went into the Dalton Cafe and got a hearty greeting from the owner, who was offering nine kinds of pie that day.
"Carbs are a four-letter word, and we don't swear," she said, fetching me a slice of warm strawberry-rhubarb with vanilla ice cream.
On the way out of town, I paused to read an Otter Trail Scenic Byway plaque that explains Dalton's past as a ski-jumping powerhouse.
Dalton also is "Home of the Giants"-steam-driven threshing machines that are kicked into gear every September for the Lake Region Pioneer Threshing Show, held next to the trail.
In Ashby, I stopped at a trailside cafe for lunch. From downtown Ashby, I rode down to the shore of Little Lake to visit the town's 10-foot coot, apparently beloved by Ashby but hardly a glamour bird-the ducklike coot is the carp of the waterfowl world, graceless and barely edible.
From Ashby, the trail enters its most scenic stretch, passing Pelican Lake on an elevated bed and a series of quiet ponds and bogs.
Several times, the bucolic scenes stopped me in my tracks-a little farmhouse wedged between lakes, a pelican preening on a rock, a series of bogs framed by tree branches.
In Evansville, I caught up with Craig and Diane De Jong of nearby Glenwood, who have ridden many of the best-known trails in Minnesota and Wisconsin and were riding the trail for the first time.
"As far as the Minnesota trails go, the ones around Lanesboro are great because there are no 'skeeters," Craig De Jong said. "But this is actually prettier here, with the lakes and all."
Diane De Jong, however, said she prefers trails with more tree cover: "This is more the prairie here," she said.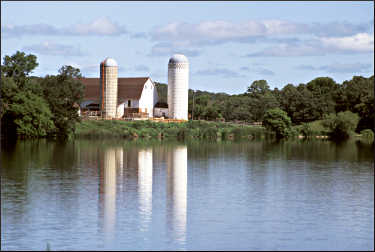 With Minnesota's wide selection of trails, everyone can pick a favorite. I do like a more open trail, where I can see the landscape and watch cloud patterns in the sky, but a lot of people like shade.
There isn't a clinker among 'em. In Minnesota, especially with the addition of the Central Lakes, bicyclists can count their lucky stars.
Trailheads : Osakis has the best city beach, a mile east of the grain elevator along Lake Street, on the other side of the cemetery. It also has the best ice-cream and burger stop.
The 10½ miles into downtown Alexandria include prairie and lake scenery.
From Alexandria, many people like the six-mile stretch to Garfield, but it includes industrial sites.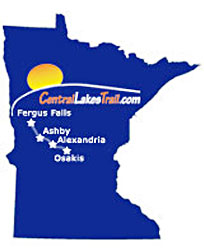 The seven miles to Brandon are very pretty but a little dull compared to the next 13 miles to Ashby, which pass many lakes and bogs with lots of wildlife sightings.
It's eight miles to Dalton, and another eight to DeLagoon Park in Fergus Falls, all lined with lakes.
On the edge of Fergus Falls, turn off the pavement at the "Trailhead, Food & Fuel" sign, which leads into DeLagoon Park. By car, the park is reached by Minnesota 82, which parallels the trail and becomes Pebble Lake Road in Fergus Falls.
Or, take 94 and turn east onto County Road 210 and watch for the other trail parking lot north of the park; if you reach Minnesota 29, you've gone too far.
East of Osakis, the trail connects to the Lake Wobegon Trail.
For more, see Bicycling to Lake Wobegon.
When to ride : Early in the morning or in early evening for best wildlife sightings. Head west in the morning and east in the evening.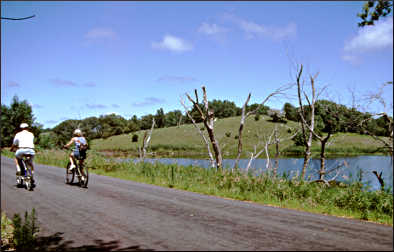 Bike rental and service : Jake's Bikes is just off the trail on Third Avenue in Alexandria. It rents bikes for use on the trail.
Accommodations : On the most scenic part of the trail, two miles east of Ashby, Ashby Resort & Campground has a sand beach on big Pelican Lake and rents motel rooms and cabins as well as tent and RV sites.
Just east of downtown Alexandria, the Geneva Beach Resort is right on the trail.
For more lodgings in Alexandria, see Alexandria's enigma.
Dining : Osakis' cute Tip Top Dairy Bar makes a tasty twist cone and grilled burgers with all the trimmings (from the trail, head up Central Avenue and turn right).
Nightlife : On Wednesdays-Sundays from mid-June through early August, catch a play at the casual, lakeside Theatre L'Homme Dieu in Alexandria, 320-846-3150.
Information : Alexandria tourism, 800-235-9441. Fergus Falls tourism, 800-726-8959.
Last updated on August 28, 2018