Alexandria's enigma
This Minnesota resort town has many lakes and one mysterious stone.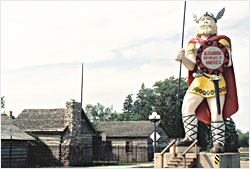 There are many colossal lumberjacks, voyageurs and Indian chiefs scattered around Minnesota, all paying tribute to a colorful past.
But there's only one Big Ole.
He stands at the end of Alexandria's Broadway Street, 28 feet of glowering Viking, brandishing a spear and clutching a glistening silver shield that reads "Alexandria, Birthplace of America."
The past he represents is so fantastical it's been debated for more than a century. Were Vikings roaming Minnesota 130 years before Columbus touched land?
The claim is based on a 202-pound stone slab found 23 miles away in Kensington, wrestled from the roots of an aspen tree in 1898 by a barely literate Swedish farmer named Olof Ohman.
Scratched into the stone were ancient runes that, depending on the translation, read, "8 Goths and 22 Northmen are on this acquisition business from Vinland, far to the west. We had an encampment by shelters one day's time north from this stone. We were fishing one day. After we came home I found 10 men red from blood and dead. Hail Mary deliver from evil."
On the side was a date — 1362 — and hidden within the inscription were the words, "Eivar composed me."
Scholars of the time immediately debunked the stone, claiming that Ohman, who had six weeks of formal education, faked it. So the farmer took it home and, for six years, used it as a stepping stone outside his granary.
He certainly never profited from his find. His 16-year-old daughter fled home to escape the taunts; his son committed suicide.
But in 1907, a visiting amateur historian from Wisconsin's Door County saw the stone, proclaimed it authentic and spent the rest of his life as its champion.
Few in academic circles were won over, but thanks to Hjalmar Holand and a handful of others, the debate continues.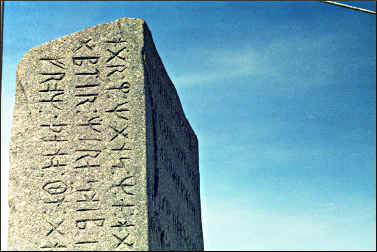 It's just as well, because Alexandria is heavily invested in the legend. Dozens of shops and businesses are named for the Vikings, and even the schools operate as the Runestone Area Education District.
There's usually a tour bus idling outside the Runestone Museum and families posing for pictures at Big Ole's mukluk-shod feet.
Alexandria's lakes, however, are the real draw. Two hug the city's downtown, and seven of Douglas County's largest lakes flank it on three sides.
In fact, Douglas and adjoining Otter Tail County have Minnesota's densest concentration of lakes, thanks to vast chunks of ice that dropped off the last glacier and formed hundreds of lakes amid a rolling landscape of glacial gravel and sand.
They're deep, clean and usually full of fish, though they're not wilderness lakes — the pinelands are northward, and prairie begins just to the west. Farms replaced the hardwood forests long ago, and in the outlying areas, grain elevators often occupy the same block as resorts.
And they're just two hours from the Twin Cities via interstate, making Alexandria's lakes the closest for most big-city dwellers.
Tourists have reveled in these lakes since the late 1870s, when the railroads pushed through to the wheat fields of the Red River Valley. The Hotel Alexandria opened on Lake Geneva in 1883, one of the first resort hotels north of the Twin Cities.
In the following decade, cottages were built by well-to-do outing clubs from Chicago, Minneapolis, St. Paul, Kansas City and Monmouth, Ill.
They sailed and fished, but golf fever took hold early; one of Alexandria's biggest events, the weeklong Resorters Golf Tournament, has been held since 1923.
Theater-goers have had a venue on Lake Le Homme Dieu since 1961, when faculty from St. Cloud University began staging a summer season of musicals and comedies. The cast stays in large cabins on the theater's lakeshore site and puts on five plays over six weeks.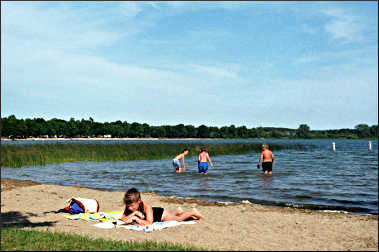 At Viking Speedway on the county fairgrounds, NASCAR races draw crowds on weekends. Junior speed demons hop onto the "Naskarts" at Casey's Amusement Park, which also has bumper boats and miniature golf.
Life is quieter at Lake Carlos State Park, a 1,210-acre patch of nature that wraps around the deep lake's northern tip.
Its sandy beach, rimmed by waving reeds, is one of the prettiest in the area, a fact not lost on the park's campers, who make Lake Carlos the state's third-busiest camping park.
Hikers can walk along 13 miles of hiking trails through a glacial moraine of meadows, marshes and forested ridges.
Not far from the western flank of Lake Carlos, the Carlos Creek Winery invites visitors into the cool of its tasting room and gift shop, where they can taste a crisp, summery Johannesburg Riesling and a full-bodied cabernet sauvignon as well as chardonnays, rose and merlot.
Started in 1999, the winery grows many of its own grapes on it acreage, which includes 7,000 apple trees that produce fruit for sparkling cider and apple wine.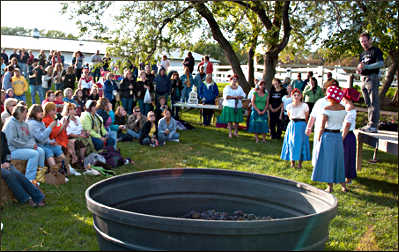 The vineyard and grounds are an oasis of order. Picnic tables sit in the shade of trees; those who bring a picnic can accompany it with a glass of wine from the tasting room.
Or some wood-fired pizza and a glass of craft beer — the grounds now include 22 Northmen Brewing Co. Carlos Creek also offers live music every Saturday.
It's fun to stop at the gift cottages that pop up along the roads that twist to and around Alexandria's lakes. But the best selection of shops are right downtown, behind the 1880s brick storefronts and pillared concrete bank buildings that housed the town's early businesses.
At the end of Broadway, bicycle tourists stream through town on the 55-mile Central Lakes Trail, which connects Alexandria with Fergus Falls to the west and, to the east, Osakis and the Lake Wobegon Trail.
Downtown, tourists stream into the Runestone Museum, where volunteers and a video fuel speculation that the Vikings could have made it to middle America.
What about the blond hair and blue eyes early explorers found among the Mandan Indians in North Dakota, and the 1440 map of "Vinland" that showed a corner of northeast America?
How about those medieval firesteels and axes also found in Minnesota? And didn't the Norwegian baron Magnus Erickson commission an expedition to Greenland from which nine men returned in 1364, two years after the runestone was supposed to have been written?
Perhaps the most compelling question is, if poor Olof Ohman faked it, why? And how? "Nobody could believe he'd do such a thing," intones the narrator of the video.
There's a replica of a Viking house at the museum, furnished with straw berths, a loom and sheepskins. Elsewhere, there's a tipi and Indian gallery, a diorama full of wildlife, and a corner dedicated to golfer Tom Lehman, who grew up in Alexandria, which locals call Alec.
Outside, there's Fort Alexandria, a village of pioneer buildings — a schoolhouse, a church, a general store and a shed filled with vintage tractors, sleighs and boats.
In Alexandria, history covers many bases.
Trip Tips: Exploring Alexandria, Minnesota
Getting there: It's right off I-94, two hours northwest of the Twin Cities.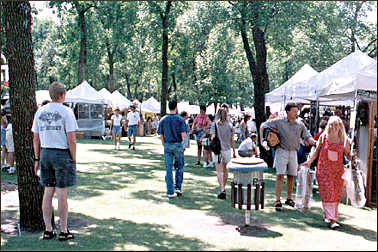 2023 events: July 29-30, Art in the Park. Sept. 15-17, Carlos Creek Winery Grape Stomp & Fall Festival. October, Oktoberfest at 22 Northmen Brewing.
Dining: Downtown on Broadway Street, La Ferme serves a seasonal "farm to fork" menu and has a good selection of craft beer.
The Depot Smokehouse, around the corner from Big Ole, has a long patio overlooking Lake Agnes and serves a large traditional menu. It's best-known for pizza and ribs.
On the south side of town at Viking Plaza Mall, Pike & Pint Grill has a large selection of burgers, sandwiches, steaks and salad.
Craft breweries: On the north end of town, Copper Trail Brewing is open daily and hosts food trucks.
Farther north, next to Carlos Creek Winery, the Viking longhouse taproom of 22 Northmen Brewing, named for the first line of the Kensington Runestone, serves wood-fired pizza as well as craft beer and has a patio.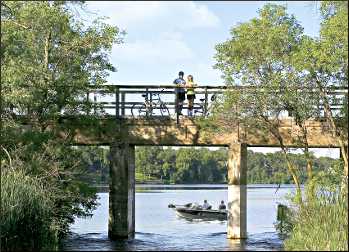 Carlos Creek Winery: It offers daily tastings and self-guided tours and live music on weekends. It's open year-round.
Bicycling: The 55-mile Central Lakes State Trail from Osakis to Fergus Falls goes through Alexandria. The 10½ miles from Osakis to downtown Alexandria include prairie and lake scenery.
From Alexandria, many people like the six-mile stretch to Garfield, but it includes industrial sites.
For more, see Bicycling the Central Lakes.
Inspiration Peak: This wildflower-covered hill is a kame, a pile of rubble deposited by a retreating glacier.
It's one of the highest points in the state, rising 400 feet above the surrounding countryside, glacial moraine that features dozens of lakes that Sinclair Lewis famously likened to "sequins fallen on an old paisley shawl." A short but steep paved trail leads to the top.
To get there, take I-94 to the Brandon exit, just west of Alexandria, and head north on Minnesota 7.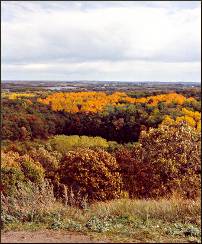 Public beaches: There's a swimming area on Lake Le Homme Dieu, on its isthmus with Lake Geneva, and a shadier beach on Lake Latoka, just south of County Road 82.
Parks: Small children will enjoy Noonans Park, at Nokomis Street and 10th Avenue, with its goofy little fairy-tale fun house and a matching footbridge over a pond with fountains.
Runestone Museum:  Admission is $8, $5 children 5-17.
Theatre l'Homme Dieu: The theater presents plays in summer and concerts throughout the year.
In 2023, it's presenting "Church Basement Ladies' Plowin' Thru,'' June 27-July 1; "Dancing Lessons,'' July 11-15; "Love Letters,'' July 18-21; and "Beautiful, The Carole King Musical,'' Aug. 1-13.
Accommodations: Arrowwood is a large, country-club-style resort on the shores of Lake Darling with attractive units. There's an 18-hole course, stable, indoor tennis, marina, indoor and outdoor pools and Camp Arrowwood for children.
It's a good destination in winter, too, because of its 38,000-square-foot Big Splash indoor water park. If the resort isn't full, non-guests may buy passes. There's also a spa.
The area has many modest, family-run resorts; to choose one, look at the loose-leaf preview book at the chamber of commerce, just inside the Runestone Museum.
Geneva Beach Resort is just outside town and right on the Central Lakes Trail.
Lake Carlos State Park: The park has a beautiful sand beach and is one of the most popular camping parks in Minnesota. It also has four year-round, heated camper cabins; one sleeps five and is handicapped-accessible, and three sleep six.
Information: Alexandria tourism, 800-235-9441.
Last updated on January 15, 2022