Riding the Dakota Rail Trail
On the west edge of the Twin Cities, bicyclists breeze along the bays of Lake Minnetonka.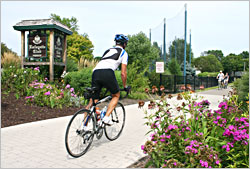 It's easy to see why the Dakota Rail Trail is one of the most popular bicycle trail in Minnesota.
This 25½-mile trail between the Minneapolis suburb of Wayzata and rural Mayer winds through the labyrinthine bays and isthmuses of Lake Minnetonka better than any car can.
It's shady, scenic and paved, so it's beloved by in-line skaters as well as bicyclists.
And for those of us from the city, it affords a glimpse of curiously different lifestyles, one with yachts and country clubs and another with horses and barns.
In good weather, the parade of bicyclists never stops.
The first time we rode the trail, we started in downtown Wayzata on Lake Street, passing the 1906 railroad depot for James J. Hill's Great Northern Railway, whose trains brought grain from the Great Plains into the flour mills of Minneapolis.
They returned with tourists, and before the turn of the century, many were headed for the two dozen hotels on the shores of Lake Minnetonka.
A Three Rivers Parks kiosk marks the trailhead next to the city beach. From there, the trail winds around Shaver Park and follows County Road 15 before ducking into a landscape of lily pads and lakes.
As we passed Tanager Lake at Mile 2, a rider coming from the other end let us know what we were in for, shouting to his friends, "This trail is freakin' gorgeous!"
This time, we started on the north shore of Lake Waconia and headed east on a newer stretch of trail. In St. Bonifacius, a beautiful bridge crosses busy Minnesota 7, depositing bicyclists in front of the St. Boni Bistro.
It was as busy as it was right after the trail opened, when we'd had lunch there and talked to the owner, an early trail supporter.
When I kidded him about other locals not wanting inner-city riffraff riding through the fancy lake villages, he confirmed my suspicions: "Oh, they didn't want you," he said seriously.
Just three years later, we were pretty sure that plenty of the locals are on the trail, too. For one thing, we saw them; for another, it's a great way to get where you're going.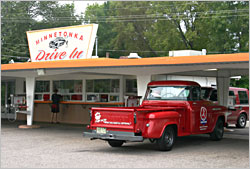 Not far from St. Boni in Minnetrista, we saw a small sign for Big Stone Mini Golf and Sculpture Garden and checked it out. The course was delightfully creative, with thickets of polished logs studding one hole and a giant art bowl catching balls at another.
A towering patch of sunflowers separated the course from a goat yard, and heirloom chickens scratched in the dirt near the office, which also sells organic homemade jams.
We made plans to return so we could play and look around more. There was no way we would have discovered it if we hadn't been on a bike trail.
On the other side of the trail, a blacktop spur led up to a place we'd heard about but never visited: Gale Woods Farm, a working farm and farm-education center run by Three Rivers Parks, with a big red barn and heirloom chickens and sheep.
Donated by the son of Richard and Isobel Gale, it teaches city and suburban kids where food really comes from. On Saturday mornings, people can meet the animals and help with chores, and youths can sign up for a Farmers in Training day camp where they collect eggs, milk cows and feed animals.
From the farm, we rode through downtown Mounds and over a boat crossing into Spring Park.  There, the classic Minnetonka Drive-In conveniently abuts the trail, and there's a little speakerphone bicyclists can use to get their food delivered to the picnic tables.
As we enjoyed root-beer floats, an entire hockey team came down the trail, complete with sticks, shin-guards and, for some reason, fright wigs. They gulped free water at the drive-in and were on their way.
Spring Park is little more than an isthmus between arms of the octopus-like lake, which has 125 miles of shoreline. From there, bicyclists pass a bit of Orono before coming to Minnetonka Beach, another isthmus.
Here, the exclusive Lafayette Club occupies perhaps the best piece of land on the entire lake. It was founded in 1899 on the rise where James J. Hill built the luxurious Hotel Lafayette in 1882; when the hotel burned in 1897, Hill sold the prime lakeshore to the club's founders.
The tennis courts are screened from passing bicyclists, and golfers cross it on a little overhead bridge. Princely houses line both sides of the peninsula, separated only by a street and our trail.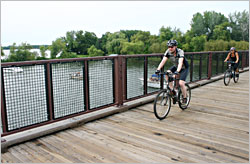 Then the trail crosses the channel between Crystal Bay and Smiths Bay, over a continual procession of speedboats and pontoons. That puts bicyclists in Orono again, and a trail sign points to Noerenberg Gardens, once the estate of the founder of Grain Belt Brewery.
The gardens are another place I've always wanted to visit, so we rode the .9 mile along North Shore Drive. It's a popular spot for weddings, and the grounds were filled with a wedding party, having photos taken among the beautifully landscaped gardens while their guests settled into the small lakefront pavilion.
Just short of Tanager Lake, we turned around and rode back. When you're not sightseeing, the miles go by in a flash, and soon we were back on Lake Waconia.
From there, we continued west through wetlands, meadows and corn fields to the trailhead in Mayer, where a trail kiosk explains the history of the town and Hill's Great Northern Railway.
The trail continues for a few blocks more, and the next stretch will extend it to Hutchinson along Minnesota 7.
Few trails in Minnesota have more attractions than this one. Judging from the numbers, people are happy to ride it again and again.
What to know: If you're coming from the east, it's best to start in Wayzata and not Waconia or Mayer.
Be very careful at highway crossings. And local police have been known to ticket bicyclists who don't stop.
For more about other trails west of Minneapolis, see Bicycling through the Minneapolis suburbs.
Wayzata: The downtown has many shops and restaurants. Caribou Coffee and Ben & Jerry's are among those popular with bicyclists.
In summer, the village holds free concerts at the depot on Wednesday evenings. The biggest annual event is James J. Hill Days, the weekend after Labor Day.
Wayzata Beach and Park: The trail starts here, on the west end of downtown and Lake Street. From U.S. 12, take the Ferndale Road exit. There's parking, and many bicyclists also park across from Shaver Park on Peavey Lane.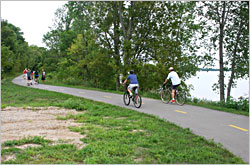 Noerenberg Gardens in Orono: It's open from 8 a.m. to sunset from May 1 to Oct. 15. Gardeners often give free tours. It's 3½ miles from Wayzata.
Minnetonka Drive-In in Spring Park: This friendly spot offers free water and is a great place to stop for soft-serve ice cream or a burger and onion rings.
Big Stone Mini Golf & Sculpture Garden in Minnetrista: This fun spot is open from 11 a.m. to sunset.
Gale Woods Farm in Minnetrista: The visitor center and farm store are open Mondays through Saturdays and Sunday afternoons.
Check for frequent special events, such as Breakfast on the Farm and Harvest Hoedown. It's 10½ miles from Wayzata.
St. Boni Bistro in St. Bonifacius: This organic, sustainable-foods restaurant alongside the trail serves good food and has a patio and a bike rack. It's 13½ miles from Wayzata.
Waconia: The trail passes the north shore of Lake Waconia, though there's no lake access.
The downtown is on the south shore of the lake and has nice restaurants, including the Iron Tap Restaurant & Beer Garden on Main Street, which serves lots of craft beers.
However, it's not that easy to get there.
On the east shore, County Road 155 is scenic but hilly. It connects to County Road 30, and bicyclists have to ride a short stretch on busy Minnesota 5 to get into downtown.
On the west shore, bicyclists have to ride North Shore Road, which is partially gravel, to County Road 10, which has shoulders of varying width. However, there's an off-street bicycle trail from its junction with Waconia Parkway into town.
Last updated on April 27, 2019