Snow heaven on the Gunflint Trail
On the edge of the Boundary Waters, Nordic skiers find snow that sparkles into April.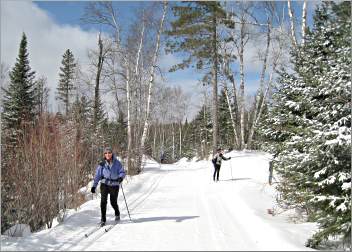 While people in cities to the south are looking for crocuses, folks on northeast Minnesota's Gunflint Trail are enjoying some of the best skiing of the year.
It's not that the Gunflint is so much colder. It's that there's so much snow it keeps itself refrigerated, like glaciers.
"We have a really good base," says Heather Telchow of Golden Eagle Lodge. "Even after these warm days, the snow is like brand new. I grew up in Faribault, and I'm used to it disappearing in a few days. But we don't lose snow like that up here. We keep it forever."
Looking for a reprieve from spring slush? Head for the 57-mile Gunflint Trail, which dead-ends in Minnesota's Boundary Waters Canoe Area Wilderness.
In the 1920s, when the first resorts appeared along this remote stretch, high season was summer. Now, impeccably groomed ski trails, snowmobile paths and sled-dog excursions give it even more cachet in winter.
I was there one year with a group from the North Stars Ski Touring Club, and the skiing was magnificent. On the first day of March, after a light snowfall, we drove to Golden Eagle Lodge in the Central Gunflint, passing a group of snowshoers heading up the Honeymoon Bluff Trail.
On Flour Lake, Golden Eagle Resort grooms nearly 70 kilometers with the McCloughans of neighboring Bearskin Lodge, and its trails are top of the line.
From the 1945 log lodge, we followed the Old Logging Camp Trail above deep, narrow Flour Lake, which looked like a Norwegian fjord sunk deep into forest.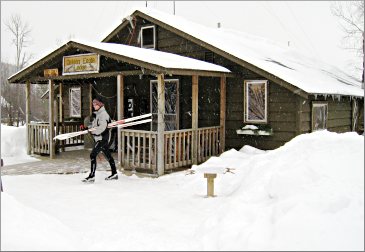 The sun was shining in a blue sky, new snow flocked the boughs of balsam fir, and we could hardly believe our luck as we cruised up the Deer Mouse Trail.
We returned to the lodge on Red Pine, cutting back and forth along the hill's flank like alpine skiers, admiring the northwoods panorama from the beautifully designed trail.
"This is why we live in Minnesota," said Connie, echoing what we all were thinking.
Back at the cozy lodge, Teresa Baumann served us mugs of hot chocolate, topped with whipped cream, and a plate of cookies. Then, on her suggestion, we headed across the frozen lake and skied the trails on the south side of Flour Lake.
From the Beaver Dam Trail, we emerged onto the open Moose Pasture. Wind gusts made it a little bit of Siberia after the protected woods, and we remembered that life on the isolated Gunflint Trail isn't always fun and games.
But soon we were back in the woods and climbing to pine-covered Ridge Run, where we stopped at a few of the viewpoints to look down at the glacier-scoured lake.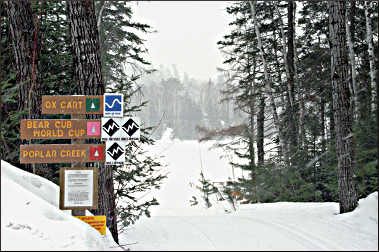 Cross-country skiing doesn't get any better than that. I've skied from Golden Eagle and Bearskin Lodge on other trips, and it's always good.
Once, I skied from Bearskin on the last day of March and had to leave, reluctantly, as gently falling snow brought a fresh coating to the trails.
Both lodges also have lighted loops, for a little cruise in the dark; Golden Eagle hangs kerosene lanterns on its trail, and Bearskin uses strings of twinkle lights.
Best of all, all the lodges on the Gunflint offer lower rates in March. Days are longer, and it's warm enough to have a picnic on the trail. If you can push aside those daydreams of daffodils, "spring" is the time to go.
Trip Tips: Winter on Minnesota's Gunflint Trail
Events : Early January, Gunflint Mail Run sled dog race. End of January, John Beargrease Sled Dog Marathon from Duluth to Grand Portage. March, Dog Days of Winter from the Trail Center.
Accommodations: Skiing generally is good from November through March, and often into April. Lodge rates go down in March, not because the snow isn't good, but because many people forget it's so good.
Cross-country ski trails are best on the Central Gunflint, where Golden Eagle and Bearskin use a Pisten Bully to groom 70 kilometers of trails. Both lodges have short loops lighted at night.
Golden Eagle Lodge has a mixture of older and new cabins, some with whirlpools, and a log lodge. 800-346-2203.
Bearskin Lodge has very nice traditional cabins and lodge suites. There's a large Hot Tub Hus. The owners are avid cross-country skiers. 800-338-4170.
On the other side of the road, on the Banadad Trail, Ted and Barbara Young of Boundary Country Trekking rent two B&B rooms, 800-322-8327.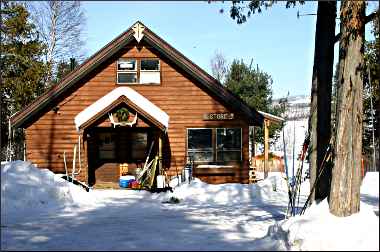 On Poplar Lake, the Poplar Haus rents five log cabins, all dog-friendly, and has a popular restaurant and the trail's only liquor store.
Also on Poplar Lake, Big Bear Lodge rents three lodge rooms, five knotty-pine cabins with wood-burning fireplaces and a camper cabin that sleeps six. The lodge serves beer, wine and pizza. There's a lakeside sauna, and guests get free use of canoes. 218-388-0172.
On the Upper Gunflint, skiing is hillier and not quite as wooded, thanks to the 1999 blowdown and 2007 wildfire. There's lots to do, though.
On Gunflint Lake, Gunflint Lodge is a full-service resort with modern townhouse units that have VCRs, fireplaces and whirlpools or saunas.
It's got a fine restaurant and bistro in its lodge, and a naturalist leads activities. On weekends, it hosts many snowmobilers.
For more, see A Gunflint legend.
Just down the road, also on Gunflint Lake, Gunflint Pines has a nice lodge and A-frames, 800-533-5814.
Cross-country skiers love folksy Heston's Lodge, which has lakeshore log cabins, a sauna and an outdoor wood-fired pizza oven. 800-338-7230.
Cross River Lodge, formerly Moosehorn Lodge, has cabins and B&B rooms, 888-238-5975.
Dining: Don't miss dinner at the Trail Center Lodge, in the central Gunflint. The outside, built for a 1930s logging camp, isn't much to look at, but the inside is adorned with a hodgepodge of old tin signs, moose racks, loggers' saws, wooden wheels and snowshoes.
What's more, the food is very good, and it's served in a hearty atmosphere that transcends the usual skier-snowmobiler divisions. 218-388-2214.
Just up the road, tables at the more modern Poplar Haus restaurant have a nice view of the lake. The menus is small but includes burgers, sandwiches, pizzas and small plates served with creative flair, plus cocktails and craft beer.
The Gunflint Lodge serves sophisticated northwoods cuisine in its popular restaurant Justine's and more casual fare in a bistro, both overlooking Gunflint Lake.
Skiing: In the Central Gunflint, Bearskin and Golden Eagle share a 70-kilometer network of trails, 36 of them also groomed for skating, and three of them lighted.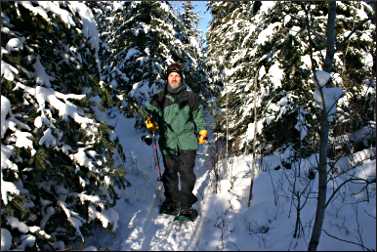 In Upper Gunflint, the Gunflint Lodge, Heston's, Gunflint Pines and Moosehorn Lodge share 90 kilometers, 24 of them groomed for skating.
The 29-kilometer Banadad Trail connects the central and upper systems and is used by Boundary Country Trekking and lodges around Poplar Lake.
Snowshoeing/hiking: Thirteen miles from Grand Marais, the Northern Light Lake Trail climbs up Blueberry Hill to its bald basalt pate and a panorama of the lake and Brule River stretching into the distance. Sometimes the parking lot isn't plowed, however.
Sixteen miles farther, turn off on County Road 66 and drive two miles, just past the Flour Lake Campground.
From here, the Honeymoon Bluff Trail climbs wooden steps to an iron-streaked cliff high above the labyrinthine waters of Hungry Jack Lake and, beyond, West Bearskin Lake. It's especially lovely at sunset.
Another four miles farther, turn onto County Road 65/Hungry Jack Road and go to the Caribou Rock Trail trailhead. The trail leads to overlooks of West Bearskin Lake and Moss Lake.
Information: Gunflint Trail tourism, 800-338-6932.
Last updated on December 6, 2021