A Gunflint legend
In Minnesota canoe country, a historic lodge draws skiers, paddlers and nature-lovers.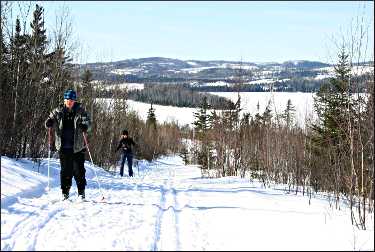 At the Gunflint Lodge, every new luxury burnishes the legend of the rough-hewn outdoorswoman who made them possible.
Justine Kerfoot was a 22-year-old college student when the stock market crashed in 1929. Her family lost their Illinois home and lake cottage, so she gave up medical school and moved to the family fish camp at the edge of the Boundary Waters.
"We were green people who came in from the outside and didn't know anything about anything," she said in a 1997 interview. "I just bulled it through."
She turned the fish camp into a family resort, and her son Bruce made it an all-season luxury retreat.
Guests who once were grateful for strips of carpet around the outhouse hole now have their own whirlpools, saunas and steam showers. It's ironic, since plumbing was Justine Kerfoot's perennial bane.
In another irony, the restaurant, where guests dine on walleye en croûte and organic greens, is named for Justine. But she never quite understood why anyone would come that far north to eat fancy food and sit in hot tubs.
"She was a pork 'n' beaner," said her granddaughter Shawn, who worked at the lodge. "To her, you came up to fish and that was it."
The lodge works hard to cultivate an upscale image, and its cabins look more like golf-course townhouses. But, at heart, it's still Justine's place.
When we arrived to ski one year, a frustrated Eva Kerfoot was having trouble with the phone at the front desk. "It's a problem when it's too rainy and when it's too sunny," she said, blaming a connection that overheated in the May 2007 Ham Lake Fire. She, too, was thinking about the old days.
"I often think about what happened when people wanted to talk to each other, how they took their sled dogs or just walked over with a shovel," she said.
Winter can be bitterly cold, freezing pipes and stalling vehicles. Justine sometimes had to build a charcoal fire under her truck to warm its oil.
But wildfires are worse. On the first day, we skied from the lodge toward Ham Lake, expecting to see traces of the fire, but the views just got prettier the farther we went into the forest.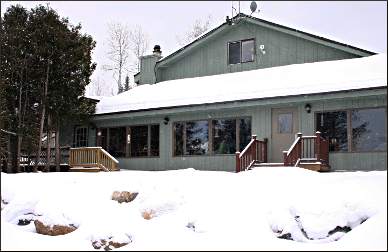 The woods around Gunflint Lodge were affected more by the 1999 Boundary Waters Blowdown, which gave fuel to the fire. This far north, Mother Nature blows hot, cold and at high velocity.
But the snow is the best in Minnesota, coating trails from Thanksgiving to Easter.  There was a light crust on the lake, so some of us skate-skied toward Gunflint Pines resort, returning at dusk to find deer leisurely strolling between the cabins, ignoring barking sled dogs and snowmobilers leaving for a run.
When we got to the lodge, it was dark; a transformer had blown. After the lights came back on, we went into the gift shop, and my friend Connie spotted Justine Kerfoot's autobiographical "Woman of the Boundary Waters." She'd already read it.
"She came from Chicago and didn't look back," she said. "She used to plow the road to Grand Marais and try to get back the same day so she wouldn't have to plow it again."
Women in particular are struck by the story. In the lodge, we looked at photos of Justine the hunter, straddling her first moose; Justine the musher, repairing sled-dog harnesses; Justine the young mother in remote wilderness.
That evening, we joined a group of 15 on naturalist John Silliman's Wolf Howl hike up to Lookout Point, on the ridge of ancient rock that rises behind the lodge.
"The wolves could be a mile away or 100 miles, but lately, they've been hanging around here," he said.
Our faux-wolf chorus got the sled dogs going, but not wolves. Mostly, we stood and stared upward. No one had a headlamp, and the moon was only half-full, but light from the Milky Way streamed out as if the sky was a perforated-tin lampshade.
The next morning, I met a longtime guest from North Carolina sweeping snow off his car with a broom, and I asked if he comes to ski.
"No, we walk around mostly," said Bill Cheek, a retiree from Charlotte. "We walked across the lake yesterday. We love coming here." Then he asked where I was from.
"Oh, I like Midwesterners," he said in an accent thick as slush. "I find them a little smarter than Southerners, just between you and me." Then he brushed the snow off my car, too.
On my way to the trails in the Central Gunflint, I listened to WTIP North Shore radio, which was having a pledge drive; whenever another $20 rolled in, the announcer exclaimed, "Holy cow, that's awesome!"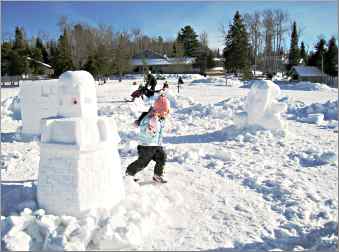 Barb Gecas of Heston's Lodge came on to talk about the activity she was offering for a festival, knitting — "I thought there should be an indoor sport, too," she said — and then there was an interview with Quinn McCloughan, son of the owners of Bearskin Lodge.
His parents, he said, were teachers in the Twin Cities suburb of Wayzata who had bought the resort in a burst of enthusiasm after the American Birkebeiner nordic-skiing race.
"But they've been kind of surprised by the constant work," he said ruefully.
It's not easy to live on a 57-mile dead-end road in the wilderness. Breakfast at Gunflint Lodge was a little chilly the next day because the resort's heat-storing blocks had failed to charge the night before.
But I warmed up by skiing down to Heston's, another family-run resort on Gunflint Lake, where Barb Gecas made me a cappuccino while I waited at the counter and looked around her old-fashioned little store, full of duck decoys and knotty pine.
Gecas runs the resort with her husband, Greg, grandson of the original owners, and she said the owners of Bearskin had jokingly chided her for not telling them how much work it is to run a resort.
"I said, 'What, did we make it look easy?' " she said. "I always tell people it's a lifestyle, not a job."
On the way back, I skied a loop around the campground at Gunflint Pines resort, where children were sledding, and walked onto the lake to look at the snow sculptures. Sculptors also had built them in front of Gunflint Lodge, and I walked out to see those, too.
It was the first day of March and as bright as a day at the beach — brighter, with the sun bouncing off expanses of sparkling snow. From the middle of the lake, Gunflint Lodge looked puny and insignificant against its backdrop of firs and cliffs, just a blip in the wilderness.
Deer were peeking through the window of our cabin when I returned. While we considered the cabin luxurious, a New Yorker no doubt would think it thrillingly rustic, with its mounted elk and stag heads, coyote pelt and fish nets on the walls.
That evening, we went to the Snowboot Ball, which the Gunflint Lodge hosts for everyone on the trail. We helped ourselves to barbecued ribs, pasta salad, baked beans and apple crisp and listened to the rock band Oversize Load while mingling with the others, mostly resort owners and residents.
For a while, I talked to John Bottger, a New Jersey native who helped coordinate the ball with his wife, Barb. He said that on the Gunflint Trail, everyone helps everyone else because, well, they have to.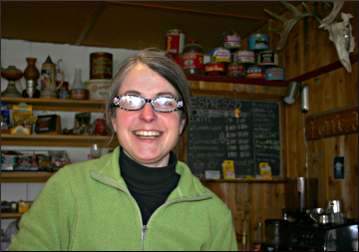 "This is still the wilderness, folks," he said. "I always say, 'You've got to survive before you can thrive.' "
Not everyone likes it, he says. But many get hooked forever.
"I turn off at Grand Marais, and I swear, it's just, 'Ahhh . . .' " says Shawn Kerfoot, who now lives elsewhere. "Some part of my soul is there."
Her grandmother felt the same way: "I never thought I was going to survive, but I did, and finally it became a way of life, and I became very much attached to it."
A favorite Indian proverb, Justine said, summed it up for her:  "No man can live among the pines who is not at peace."
Trip Tips: The Upper Gunflint Trail
Getting there: It's nearly an hour from Grand Marais, which is 4½ to 5 hours from the Twin Cities.
When to go: Skiing is very good from December through March. July and August is best for lake activities and September and October for fall colors.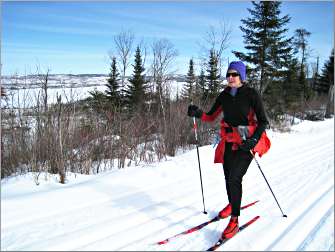 The shoulder seasons are a good time for budget travelers to visit. Frugal skiers should aim for mid-March, when skiing is great but prices drop.
For more, see Snow heaven on the Gunflint Trail.
Accommodations: At the Gunflint Lodge, cabins have wood-burning fireplaces and one to four bedrooms, and some have saunas. Lake homes have fireplaces, saunas, large whirlpools and two to four bedrooms.
One-bedroom cottages have fireplaces, double whirlpools and steam showers. All have kitchens, VCR or DVD players and sound systems. They're expensive in peak season but ideal for groups, which can share costs.
There are many theme weekends, featuring books, wine, chocolate, quilting, dogs, dog-sledding, moose-calling, snowshoe-building and horseback-riding. 800-328-3325.
Just down the road, cross-country skiers love folksy Heston's Lodge, which has lakeshore log cabins, a sauna and an outdoor wood-fired pizza oven, 800-338-7230.
Also on Gunflint Lake, Gunflint Pines has a nice lodge and A-frames, 800-533-5814.
Cross River Lodge, formerly Moosehorn Lodge, has cabins and B&B rooms, 888-238-5975.
Skiing: On the Upper Gunflint, skiing is hillier and not quite as scenic as the Central Gunflint. Many of the well-groomed trails have great views of Gunflint Lake, though.
The Gunflint Lodge, Heston's, Gunflint Pines and Moosehorn Lodge share 90 kilometers, 24 of them groomed for skating.
Snowshoeing: People can snowshoe anywhere. One popular trail is on the road to Golden Eagle Lodge in the Central Gunflint, just past the Flour Lake Campground.
From here, the Honeymoon Bluff Trail climbs wooden steps to an iron-streaked cliff high above the labyrinthine waters of Hungry Jack Lake and, beyond, West Bearskin Lake.
Gunflint Trail: For an overview, see Adventure on the Gunflint Trail.
Last updated on January 18, 2022