Skiing on Minnesota's North Shore
On snow-laden trails, cross-country skiers glide on cloud nine.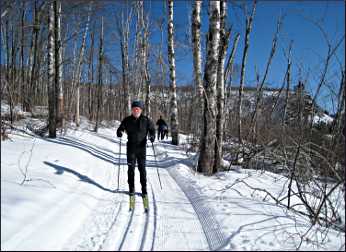 On Minnesota's North Shore, it's a happy day when snow is as abundant as scenery.
Despite its miles of cross-country ski trails, the western shore of Lake Superior gets only modest amounts of lake-effect snow, because the storms that blow in from the east tend to dump it inland, where the land mass is colder.
So if you want to ski, the trick is to head for the hills, ignoring the thinner snow along the highway.
That's what we did one February, driving up from Duluth. A freezing drizzle had made Minnesota 61 slick, and wind buffeted our car. We almost turned back, but we really wanted to ski.
In Beaver Bay, we turned up County Road 4. And just 3 miles up from the lake, as the crow flies, we entered a different world.
Fluffy new snow covered the fir trees that hug the narrow, classical-only lanes of Northwoods Ski Trails, groomed by the Northwoods Ski Club.
It was the first good snow of the season for us, and we were on cloud nine as we glided along the Beaver River toward Tettegouche State Park. The trail hadn't been groomed for a while, but a couple of previous skiers had set a decent track.
Wooded cliffs loomed over the west side of the river, lining Palisade Valley. There's a connector trail through the valley to Tettegouche State Park, and skiing there feels a little like being in a national park out west.
It wasn't groomed, nor was the trail to Bean Lake, a favorite spot on the Superior Hiking Trail. But we were happy to ski the rest of the trails.
And after we crossed the snowmobile trail, we found ourselves on fresh corduroy — the groomer had gone through!
From there, it was an exhilarating glide to our car on perfectly groomed trail. We could hardly bear to leave, but the day was waning.
Another year, we were staying in Little Marais when we saw a few flakes turn into real snow. There hadn't been much, so it seemed like manna from heaven.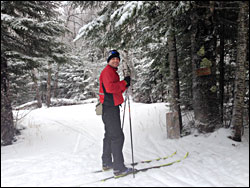 We grabbed our skis and headed up the Sawbill Trail from Tofte to the Britton Peak trailhead, from which the Sugarbush Trail Association carefully maintains 65 kilometers of trails.
We glided along, marveling at the beauty of the new snow, draped so picturesquely on bough and bush.
But under the new fluff lay the old lumps and ice. So after skiing the Piece of Cake loop, we drove farther up the Sawbill Trail to the Moose Fence trailhead.
The Maple Loop was in much better shape, and we were able to turn our attention to the lovely tableaux in the forest and to the trees ahead, from which clumps of snow occasionally exploded over the trail.
It was gorgeous. Gliding along on snowy lanes crowded by spruce and fir, we didn't even notice we were working.
So here's the lesson: If you're driving along Lake Superior and it seems as if you won't be able to ski, you're probably wrong.
Just drive a few miles into the hills, and you're likely to find an entirely different tableau — that winter wonderland that makes you glad to be up north.
Trip Tips: Skiing Minnesota's North Shore
Trail fee: A Great Minnesota Ski Pass, which costs $10 daily, $25 yearly or $70 for three years, is required for skiers 16 and older.
It's available at Holiday stations in Duluth, Two Harbors and Tofte, at the Clearview Store in Lutsen and sports shops around the state. It also can be purchased by mail or online.
Trails: There are 80 kilometers of trails in Duluth, with more just outside town, and the parks departments grooms them quickly after a snowfall.
For details, see Cross-country in Duluth.
The Northwoods Ski Trail near Silver Bay has 19 kilometers of single-track classical trails through rolling forest along the Beaver River and around Bean Lake.
There's a 5-kilometer connecting trail to Tettegouche State Park through gorgeous Palisade Valley, though it may not be groomed.
To get to the trailhead, take County Road 4 from Beaver Bay, turning right onto County Road 5; it's on the left. From Silver Bay, take County Road 5.
The Sugarbush Trail system between Tofte and Lutsen has 65 kilometers of classical and skating trails that are beautifully groomed by Pisten Bully. On the Saturday of President's Day weekend, it offers a candlelight ski.
Many people like the 3-kilometer Tofte Ski-down, a gradual downhill from the Britton Peak trailhead to Sawtooth Outfitters/Bluefin Bay; local resorts, including Bluefin Bay, provide shuttles for their guests.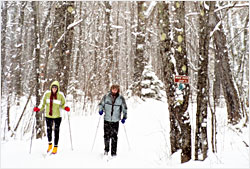 There's also a 4-kilometer ski-down from the Oberg Mountain loop to the golf-course loops at Lutsen Resort. The Oberg trailhead has a warming cabin.
The Homestead Loop, a 12-kilometer intermediate ski from Britton Peak, has views of the lake. For more challenge, ski the 25 kilometers from Moose Fence to Minnesota 61.
At the end of County Road 2 (Sawbill Trail), 22½ miles from Tofte on a mostly gravel road, the 7½ kilometers around Sawbill Lake Campground may have snow when areas closer to the lake don't. They're groomed for classic skiing.
The 57 kilometers of all-classical Norpine Ski Trails system between Lutsen and Cascade River State Park has trails on both sides of the Cascade River.
The Norpine Trail Association maintains the trails west of the Cascade River, up to the Sugarbush Trail system.
Pincushion Mountain, three miles up the Gunflint Trail from Grand Marais, has 25 kilometers of trails tracked and groomed for striding and skating, with a public warming house and a 2-kilometer trail that's lighted most nights.
There's skiing in the state parks, but don't expect great grooming.
Skiing farther up the Gunflint Trail is nearly always excellent, even when conditions are marginal elsewhere in the state.
For more, see Winter on Minnesota's Gunflint Trail.
Lighted skiing: The 10 kilometers of the Erkki Harju Ski Trail in Two Harbors  includes a very nice, easy three-kilometer loop that's lighted. Donations help the local ski club maintain it.
From Minnesota 61, turn onto County Road 2; it's less than a mile.
Equipment rental: Cascade Lodge between Lutsen and Grand Marais, Sawtooth Outfitters in Tofte and Stone Harbor Wilderness Supply in Grand Marais rent skis and also snowshoes. Stone Harbor even rents skijoring kits.
Trail shuttle: Many resorts, including Lutsen Resort and Bluefin Bay, offer shuttles to trailheads; ask when reserving. Sawtooth Outfitters also offers a shuttle from its shop.
Accommodations: Reserve early for weekends; remember, cross-country skiers who want to stay in the Tofte-Lutsen area compete for lodgings with downhill skiers.
For more, see Where to stay on Minnesota's North Shore.
Information: The handy guide "Skiing the North Shore," by Andrew Slade ($15.95) has maps and all the information you need to find the best trails.
Last updated on March 19, 2021