Where to stay on Minnesota's North Shore
Everyone wants a place on the big lake, and here's a guide to the best.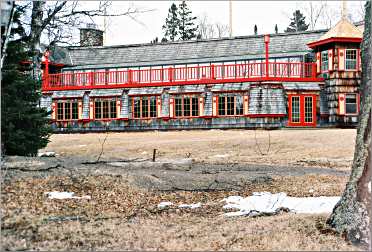 In summer and fall, don't rely on luck to get a reservation on Minnesota's North Shore.
In the heat of summer, everyone wants to bask in Lake Superior's cooling breezes. In fall, everyone wants to see the fall colors. On winter weekends, skiers flock in.
Below are a few of the many places to stay; reserve as far in advance as possible for popular dates, especially Minnesota's school break the third weekend of October.
Rates drop in late October and stay low until the holidays; check for deals. The best deals come in spring. Snow and ice can linger until late April, and traffic doesn't pick up until school lets out in June.
Traditionally, people go to the North Shore to hike, gaze at the lake and gather around  evening campfires, so not all cabins have televisions and phones, and only a few resorts have pools. If you have to have those things, ask in advance.
Many resorts allow pets in some units for a fee. Many resorts offer free shuttles to nearby hiking trailheads, but some are even more accommodating; if that's important to you, ask when reserving.
For an introduction to the area, see Escape to Minnesota's North Shore.
For a guide to highlights and locations, see North Shore by the mile.
Traditional mom-and-pop resorts
Luckily, there are still small family-run resorts on the North Shore that have clean, tidy and updated housekeeping cabins (that is, cabins with a kitchen) on lovely shorelines.
Few cabins have televisions. If you love the old-time North Shore, these are for you.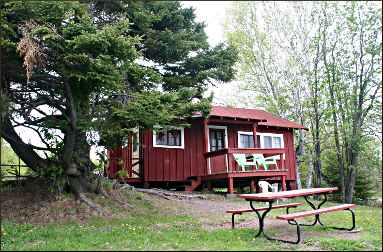 Castle Haven Cabins, 12 miles east of Two Harbors, has 12 two-bedroom cabins right on the lake, and seven have wood-burning fireplaces.
Bell Sheep Homestead, the former J Gregers Inn, is very close to the east end of Gooseberry Falls State Park and on the Gitchi-Gami State Trail. It offers four rooms and a cabin and rents bikes, skis and snowshoes.
Split Rock Cabins has 10 nice housekeeping cabins on flat, grassy Lake Superior shoreline. It's just off the Gitchi-Gami Trail and a half-mile west of the Split Rock River .
Fenstad's Resort in Little Marais has 16 classic cabins on the lake, nine with fireplaces, plus a sauna and playground.
Lamb's Resort and Campground in Schroeder, bordering the Cross River, has 14 cabins amid large poplar and spruce trees. Some small red-log cabins with decks are on the river, have a great view of the roaring Cross River waterfall and are a short walk to the Schroeder Baking Co., which serves pizza, salads and subs as well as morning pastries.
Some cabins are on the lake. The resort also includes RV and tent camping (see Camping, below).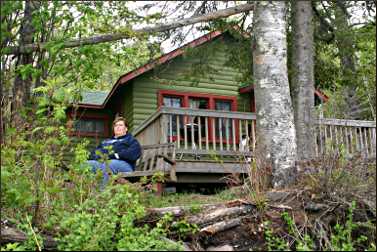 Cobblestone Cabins near Tofte has eight cabins and a wood-fired sauna right on a lovely cobblestone cove. People who love the outdoors and the traditional North Shore experience love this resort, run by avid skier Jan Horak, and its slogan is "For characters and common folk." In summer, it rents by the week.
Koeneke Shoredge near Lutsen has three simple cabins with a great location right on the lake, plus Slabsides, a small cabin without hot running water. There are swings where guests can watch the lake and a rock shore perfect for making a fire.
Parking is a short distance from the cabins, an amenity to many people.
North Country Cottages near Lutsen, formerly Kah-Nee-Tah Cottages, include three cottages amid trees.
The cottages have classic north-woods interiors, with fieldstone wood-burning fireplaces, but no view or access to the lake. Dogs are welcome.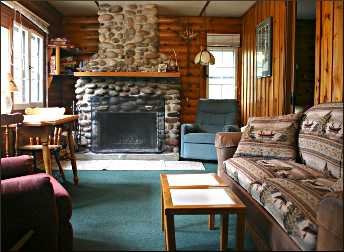 Lund's Motel & Cottages on the edge of downtown Grand Marais has small but cute cottages on a tree-shaded property and also an immaculate motel with good rates.
Grand Marais has many inexpensive mom-and-pop motels, some of which also have cottages, including Nelson's Travelers Rest, across from Lund's. For more, see Mom-and-pop motels of Grand Marais.
Anderson's North Shore Resort just north of Grand Marais has eight attractive cabins on a quiet frontage road on the lake. No. 2, 3 and 4 are right on a large cobblestone beach that would be great for small children.
No. 5 is set back but has a wood-burning fireplace, wrap-around deck and an arty decor.
Croftville Road Cottages, three miles north of Grand Marais, has three restored 1930s cottages on a quiet frontage road on the lake. The Arts and Crafts decor is very attractive, like a good B&B, and each cottage has a gas stove, DVD player, charcoal grill and fire circle, with firewood provided.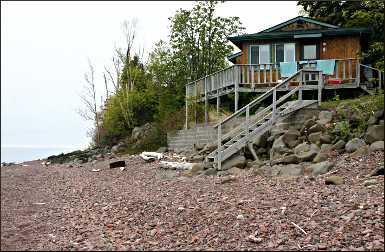 It would be a nice getaway for a couple, but the layout, with a lawn that leads to a rocky but not jagged shoreline, also is appropriate for children.
Devil Track Lake Cabins, 12 miles northwest of Grand Marais , has knotty-pine housekeeping cabins on Devil Track Lake and rents boats. It's open from June through October.
Classic lodges
In Lutsen , the 1952 lodge of Lutsen Resort is a classic, with picture windows overlooking the beach and an incredibly inviting lobby with a wood-burning hearth. It also has a restaurant (also with great views), a pool complex and a great beach for collecting rocks and driftwood.
Activities directors give free kayaking lessons/tours, guide hiking and skiing excursions and provide shuttles for guests who want to go off on their own. The WatersMeet Spa and Wellness Center is just up the hill.
The lodge has comfortably furnished, smallish rooms, many with lake views. On the hills overlooking the lodge/beach, the resort also rents the Cliff House Townhomes and Log Cabins.
For more, see Loving Lutsen.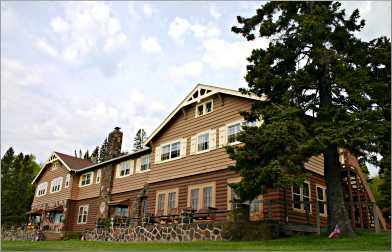 Cascade Lodge, between Lutsen and Grand Marais, has a nice variety of cabins, lodge rooms, motel units and a house, some with whirlpools and fireplaces.
Some of the cabins are 1923 originals; for romance, try Cabin 11, which is reached by its own wooden bridge high above a small waterfall.
The resort faces the lake on the other side of the highway; it's a short walk to the trails of Cascade River State Park.
In winter, guests can ski right onto the Deer Yard Lake-Cascade classical system, which the lodge grooms with a Pisten Bully. It rents cross-country skis and snowshoes.
There's a good restaurant and pub on the premises. In the shoulder seasons, the lodge offers excellent value; check for specials.
Naniboujou Lodge, 14 miles east of Grand Marais, is a striking 1929 lakeshore lodge across from Judge C.R. Magney State Park. Its rooms are simple, without phone or TV, but attractive.
The restaurant, in a great room that has a giant fieldstone fireplace and walls and ceiling decorated with vivid Cree-style designs, is stunning and serves fine food.
For more, see Serenity at Naniboujou.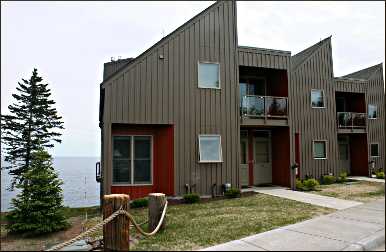 Vacation condos/resorts
This is the new generation of North Shore lodgings, with multiple owners or owned by development companies.
Units are right next to each other, and trees are in short supply or absent. But if you describe your preferences as "upscale," and you value king beds, flat-screen TVs, private whirlpools and dishwashers over the traditional cabin experience (and don't mind paying for them), these are for you.
Two miles west of Gooseberry Falls, Grand Superior Lodge includes lodge rooms and luxury log cabins and townhomes next to the lake. There's also a restaurant and pool area.
On the edge of Beaver Bay, Cove Point Lodge sits on a very pretty cove. It has a cozy lobby with a wood-burning fire, restaurant and pool area, and there are also cottages. Guests can get free use of snowshoes, and it rents bikes.
Temperance Landing, just north of the Cross River in Schroeder, is part of the Bluefin Bay family of resorts; if you gave Ralph Lauren a bunch of Lincoln Logs, this is what he'd make.
The units are in a tight row, right on the lake, and each has a garage or carport. Guests can use the indoor pool, whirlpool and sauna at Surfside on Lake Superior, three miles down the highway.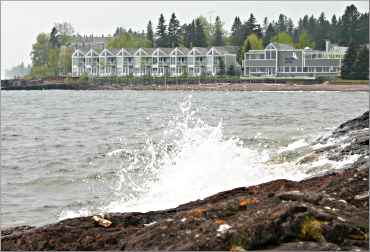 Bluefin Bay's Surfside on Lake Superior, which replaced the old Surf Side resort near Tofte, rents luxury townhomes and includes a pool/spa complex and cafe on the property. There's a shuttle to Bluefin Bay, a mile down the road.
In Tofte, Bluefin Bay has many kinds of units, from standard with hillside view to luxury suites with whirlpool, fireplace and lake view. Some units are more updated than others; ask for one in the newer section if that matters to you.
The resort's biggest assets are lake views, from most units and also from a large outdoor hot tub that is shielded from wind by a glass wall and an outdoor pool.
There's also an indoor pool complex, the Bluefin Grille restaurant, the Superior Waters Spa and Wellness Center and the popular Coho Cafe on the highway.
The resort's activities staff is refreshingly competent, offering gear, shuttles and advice year-round. In the off season, it offers good deals.
Near Lutsen, the older Sea Villas are on the lakeshore 2½ miles south of Lutsen Lodge and have a complex and playground. The villas are individually owned and decorated, with some more attractive than others, and many allow dogs.
On Lutsen Mountain, Caribou Highlands Lodge has a restaurant and attractive lodge rooms, condos and townhomes. It has a large outdoor heated pool and offers free family and children's activities in summer, much like a traditional lake resort.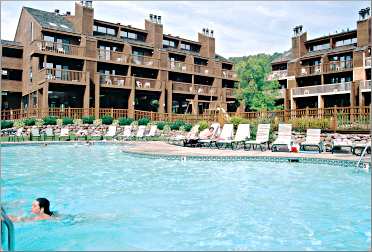 In late summer and early fall, it offers good deals; see Summer's last resort. It can also be quite accommodating to backpackers who need a shuttle (be sure to tip the driver).
Also on Lutsen Mountain, Eagle Ridge ** is attractive and very convenient for skiing, being right under the chairlifts.
Near Lutsen Lodge, the Poplar River Condos have lake views and are managed by Cascade Vacation Rentals.
In Grand Marais, the East Bay Suites has a great location on the pebble beach downtown and is pet-friendly. The suites are handsomely furnished.
Hotels
The Americinn in Silver Bay may be a good place to take your kids; it has a 110-foot spiral water slide and rates include breakfast with waffle bar.
The Americinn in Tofte is across the highway from the lake and has a pool.
In Grand Marais, the Grand Marais Hotel Company manages four properties, the Aspen Lodge and Shoreline Inn, downtown, and the Spruceglen Inn and Aspen Inn on the edge of town. The Shoreline is older but right on the water.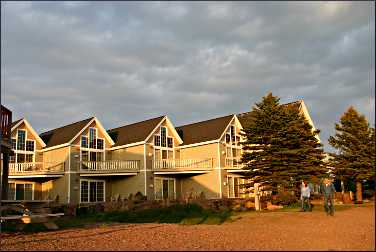 In Grand Portage, the Grand Portage Lodge & Casino is right on Lake Superior and has standard hotel rooms and five suites with fireplaces and whirlpools. It also has a restaurant and indoor pool and sauna.
The lodge and nearby Hollow Rock Resort are operated by the Grand Portage Band of Lake Superior Chippewa. The resort includes seven cabins.
They're very convenient for visiting Grand Portage National Monument and High Falls on the Pigeon River and for catching the ferry to Isle Royale National Park. Staff members also take guests to see the Little Spirit Cedar tree.
Bed-and-breakfast inns
In Two Harbors, the Lighthouse B&B has three spare but tasteful rooms, and you can't beat the location, since it's a real lighthouse. The rooms share one bathroom, and there's a half-bath in the basement.
The Skiff House, on the grounds adjoining the visitors center, has its own bathroom and hot tub.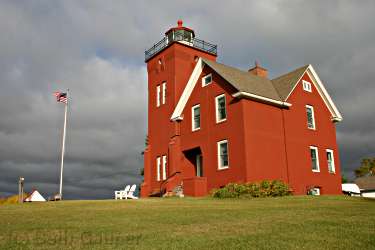 The inn is run by volunteers from the historical society, 888-832-5606. For more, see The Lighthouse Express.
State-park lodgings
Tettegouche State Park has two highly prized places to stay. The luxurious Illgen Falls Cabin is atop 45-foot Illgen Falls on the Baptism River, off Minnesota 1.
It's disabled-accessible, and there's a swimming hole a short walk up the river. For more, see Cabin on a waterfall.
Tettegouche Camp is on the other side of the park, accessible only by a ¾-mile gravel road over which guests must tote all their supplies. It includes four rustic cabins on Mic Mac Lake. Cabin B is right on the lake and most popular.
They share a wood-heated lodge and a heated shower house, and they're as popular in winter as in summer.
For more, see Heirs to a hideaway.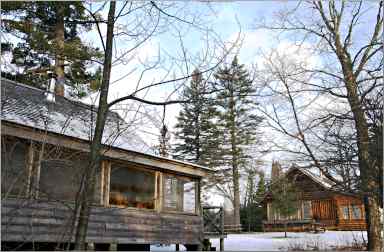 Camping
There's camping at seven of the North Shore's eight state parks. Split Rock Lighthouse is the hardest-to-get reservation in the state, with beautiful cart-in tent sites on the cliff and shoreline backpacker sites as well as drive-in sites with an accessible modern shower building.
If you want one, call 120 days in advance, the minute reservations open.
No. 1 is a sunny but protected site that's off the trail; it's good for campers with dogs who may bark at passersby. No. 2 and 3 are right off the parking lot but on the trail, so they have less privacy.
No. 11 is right on the trail but pretty, tucked into the side of a hill. No. 13 is not so protected but has a view of the lighthouse and a cobblestone beach below it.
No. 16 is perhaps the most scenic camping site in Minnesota, with a dead-on view of the lighthouse from a bench perched at the edge of the cliff (and from the door of your tent). It's also the best site if you're camping with friends; it shares a spur from the trail with No. 17, which has a view nearly as good.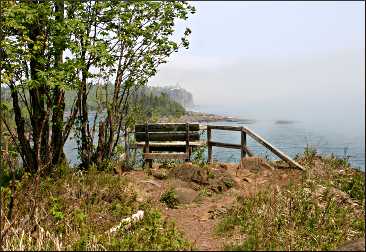 No. 18 has a view and is large. No. 19 is a protected site on the corner of the headland and has a bench with a view of the lighthouse. No. 20 is at the end of the trail and has a view of the other side of the point.
Temperance River, Tettegouche, Gooseberry Falls, Judge C.R. Magney and Cascade River also are in the Top 10 most popular camping parks in Minnesota.
Campsites at the inland Crosby Manitou State Park, east of Finland, are easiest to get. Grand Portage State Park is for day use only.
Reservations can be made online or by phone up to 120 days in advance, starting at 8 a.m. on the first day of availability; after that, online reservations can be made 24 hours a day and by phone between 7 a.m. and 10 p.m., 866-857-2757.
There's a nonrefundable reservation fee of $7, $10 by phone.
In Two Harbors, the municipal Burlington Bay Campground has 136 sites with hook-ups and 10 tent sites. It's open from mid-May to mid-October. 218-834-2021.
In Silver Bay, the municipal Black Beach Campground has 49 sites, 34 with hook-ups.
In Schroeder, Lamb's Resort and Campground has wooded tent campsites on the lake. The ones at the far end of the campground are most scenic — No. 54 is right at the edge of the lake and next to a small cove with a black-sand beach — but farthest from the bathrooms. Vault toilets are closer.
There are RV sites, too. A sauna and showers are available to campers. 218-663-7292.
The municipal Grand Marais Campground has 300 sites on the lakeshore and is next to the North House Folk School. It's dominated by RVs.
Ten miles east of Grand Marais and up County Road 14, not far off the Superior Hiking Trail, Hungry Hippie Farm hostel rents campsites and canvas tents as well as bunks and rooms.
There's also rustic camping on the lakes in Superior National Forest, in the hills above the North Shore. Most sites can be reserved, 877-444-6777.
Campgrounds include Sawbill Lake, 22½ miles from Tofte on County Road 2/Sawbill Trail, on the edge of the Boundary Waters; Sawbill Canoe Outfitters provides some services. The Devil Track Lake campground is 12½ miles from Grand Marais.
Vacation rentals
Many people rent out their North Shore properties through Airbnb, VRBO and HomeAway. They're an especially good option for groups, and they're often available even after nearby resorts have booked up.
For more, see Adventures in renting.
From Tofte, Cascade Vacation Rentals rents more than 200 privately owned homes, cabins and resort units on the North Shore, many quite affordable. Some allow pets for an additional fee.
Last updated on February 3, 2022