Skiing in southeast Minnesota
Snowstorms that blanket the southern woods bring skiers to Winona and nearby parks.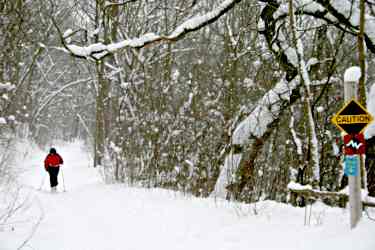 Sometimes, skiers have a hard time figuring out Mother Nature.
It's supposed to snow across northern Minnesota and Wisconsin, but often, storms have veered to the south instead. It's odd, but what can you do? You have to go with the snow.
One year, at the end of February, my friend Becky and I were just about to make the long drive to the snowy Upper Peninsula of Michigan when the southeast Minnesota town of Winona got blanketed with 30 inches.
We'd heard about the trails at St. Mary's University, so we drove down the Mississippi River to check it out.
First, we stopped to try Frontenac State Park , which has 10 kilometers of ski trails. With flakes swirling through the air, we skied through a corridor of sumac and up to the blufftop.
From there, we could see the fuzzy gray outlines of the Mississippi and the hazy white Wisconsin bluffs; the whole world seemed airbrushed.
After we checked into our B&B in Winona, we had a quick burger at Culver's and headed to nearby Whitewater State Park for its snowshoe hike under a full moon.
Slipping into long-tailed Alaskan snowshoes, we followed the naturalist into a wooded glen along the Whitewater River, where he tried to call in a barred owl with the familiar "Who cooks for you."
He didn't sound human to us, but if there was an owl, it wasn't fooled. Looking up, we saw only the constellations and the gnarled branches of oak, sharp against the night sky.
When we got up the next day, Winona was sparkling. Its white steeples and domes pop out on a bright-blue winter day, and its ornate stone buildings look even more elegant draped in snow.
We found the campus of St. Mary's tucked into the foot of the bluffs on the north edge of town.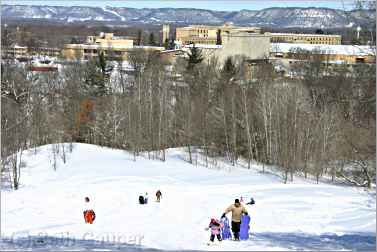 From St. Yon's Hall, crisply laid tracks led us in long, narrow loops up the valleys and along the wooded hillsides, so steep that at one point, we saw the groomer had struggled to stay upright.
We wound around and came out at the top of an open hill, where an eagle was circling above children pulling sleds.
From that vantage, the pale-yellow buildings of St. Mary's looked just like a Tuscan hill town, framed by snow-capped bluffs, and when the bells rang in its campanile, it sounded like one, too.
But the trail made Becky think more of the Superior Hiking Trail.
"This is like a southern version of the North Shore, with these bluffs and overviews," she said.
Looping back, we saw a Pisten Bully chugging along, clinging to the side of a hill. It looked like something a contour farmer would use to cultivate his terraces in the Andes.
The groomer was Brother Jerome Rademacher, a retired St. Mary's physics professor who used to build and sell tractors. He told us he did think of himself as a farmer.
"I like to run tractors," he said. "It's kind of my hobby. I'm a skier, and I've done the Birkie 10 or 12 times, but I'm big into farming and tractors."
A Pisten Bully is the gold standard of groomers and costs $150,000 new, but Brother Jerome got an old one for $20,000. The college almost sold it, he said, but plentiful snow allowed the machine to earn its keep.
"Because we're in the hills, we hold the snow a lot longer," he said. "If we get snow, we keep it."
Brother Jerome died in 2012, but the college still maintains his trails.
From St. Mary's, Becky and I went downtown for lunch in the 1897 former Druid Hall, which now houses Bub's Brewing Co. It's the last remnant of Bub's Sugar Loaf Brewery, which operated from 1856 to 1973 on the side of Winona's famous landmark.
Today, it's a brewpub. I treated myself to a small glass of the house amber and a bowl of bacon-Cheddar-potato soup, which was smooth and rich; Becky's BLT had lots of meaty bacon.
As we ate, we read about the brewery's presidents, most of whom rose to the top by marrying the boss's daughter or widow, starting in 1872 with Peter Bub (pronounced "Boob," German-style).
Winona isn't the north woods. But it was just as scenic, and a lot closer for most folks.
Trip Tips: Skiing around Winona in southeast Minnesota
Getting there : It's 2½ hours southeast of the Twin Cities.
Frontenac State Park : The park south of Red Wing has 10 kilometers of groomed trails. There's a $5 daily vehicle fee. 651-345-3401.
Great River Bluffs State Park, in the bluffs southeast of Winona, has 15 kilometers of trails.
St. Mary's University, Winona : The hillside college has 14.5 kilometers of ski trails groomed for skating and classical. To reach it, turn onto Minnesota 14 from U.S. 61, on the north edge of Winona. A $3 trail fee is requested. 800-635-5987.
Whitewater State Park : It offers moonlight snowshoeing and geocaching on snowshoes.
Accommodations and dining : For help planning a trip, see Afloat in Winona.
Last updated on January 17, 2022