Afloat in Winona
Beneath the surface, a Minnesota river town moves fast.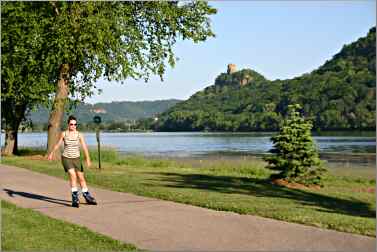 For a river town that has everything going for it, Winona is a little hard for a tourist to get to know.
Those who venture off U.S. 61 find a downtown that's long, spread out and a little forlorn on weekends. To find its Mississippi riverfront, they have to cut across train tracks and around a concrete levee wall.
For 50 years, a paddlewheeler sat atop the riverbank, serving as museum, event center and gathering spot. The Julius C. Wilkie was only a replica of a steamboat, but it served as city icon and festival namesake, so when the rotting structure was demolished in 2008, it left a dent in the city's identity.
Sugar Loaf Mountain, the city's other icon, is literally dented. Quarrymen whittled the limestone pinnacle down to its present shape and used the stone for Winona's sidewalks; before that, it was a dome called Wapasha's Cap, after the influential Dakota leader whose camp was at its base.
The town is famous for its stained glass, but most of the buildings that contain them are closed on weekends. It's also famous for Watkins home remedies, made in Winona since 1885 and still on the shelves.
What kind of town is this, anyway?
To find out, just look around: It's a beautiful town.
Stunning views
Winona is blessed by location. The stretch of river between Winona and Dubuque, Iowa, lined by towering green bluffs, is the loveliest on the Mississippi, often likened to the Rhine in Germany.
Even starchy Lt. Zebulon Pike was struck by the view on his way up the Mississippi in 1805, calling it "a prospect so variegated and romantic that a man may scarcely expect to enjoy such a one but twice or thrice in the course of his life."
It's most stunning from above, where the Garvin Heights overlook affords views of the town, thick with steeples and domes and spread between Lake Winona and the twisting Mississippi.
But it's also striking from the streets, whose stone edifices sport an abundance of turrets and towers, and from the water, where arrowhead marshes and wooded islands dot sloughs and channels.
One June, I was in Winona for Steamboat Days, which celebrates the town's founding by a river captain who, upon the signing of the 1851 Treaty of Mendota, hurried upstream in his steamboat Nominee to stake a claim to land still occupied by a Dakota village of 300.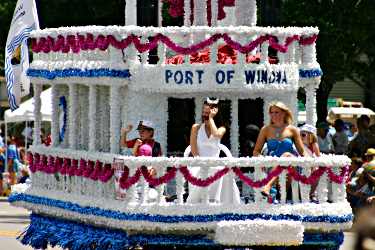 The parade is the highlight of the festival, and I looked for clues to the city in its procession of princesses, Percherons and Shriners in coolie hats, feathered headdresses and toy-sized red Corvettes.
It was great spectacle but not very illuminating, so I headed over to the Winona County Historical Society Museum, in a 1915 armory built to look like a medieval fortress. After Europeans replaced the Dakota, many of whom were taken away in steamboats, Winona became a busy frontier port.
The flimsy steamboats had such a shallow draft pilots often took shortcuts across flooded fields, but they lasted for only a few years before they exploded, burned, collided with other boats, were crushed by ice or snagged on submerged logs.
After this colorful era, Winona became a grain-shipping terminus, then a lumber-milling town.
In 1885, Plainview businessman J.R. Watkins moved to Winona and began using wagon salesmen to distribute his liniments and tonics, which contained stiff doses of alcohol.
By the turn of the century, the wide-roving Watkins Men had made him rich.
Winona's wealth gave the town of 27,000 an unusually large number of splendid buildings, many of which barely escaped urban renewal in the 1960s.
The castlelike 1888 county courthouse is perhaps best known, followed by the 1912 Prairie School-style Merchant's National Bank and the 1895 Church of St. Stanislaus, whose blindingly white domes can be seen from overlooks 20 miles down the river.
All three have beautiful stained glass, as does the 1911 Prairie-style Watkins administration building and the historical society museum, whose art-glass window is a visual history of the town.
On Broadway, the 1886 Alexander Mansion B&B has been painstakingly restored after years as an apartment building. Now, it's opulent enough for its namesake, Maude Alexander, whose family was enriched when her brother married J.R. Watkins' only daughter and her mother became J.R. Watkins' second wife.
The gleaming Victorian decor, evening wine and hors d'oeuvres and four-course organic breakfast impressed my fellow guests.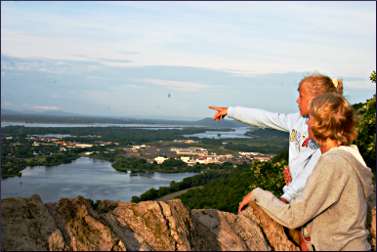 Gerald O'Dwyer of Chicago had come to Winona three weeks earlier for a wedding, and he liked the river valley and town so much he returned to spend the weekend.
"When I came up, I got whiplash, it was so beautiful," he said. "I'm just taken with this area."
Exploring lakes and sloughs
In summer, people head outdoors to bike or skate the five miles around Lake Winona. Just across the bridge in Trempealeau National Wildlife Refuge, they get on their bikes and head south on the 24-mile Great River State Trail.
They swim in Lake Goodview or even in the Mississippi River from the beach on Latsch Island, across from downtown.
And they explore the sloughs, which are perfect for the boats made right in town by Wenonah Canoe. When I was in town, I kayaked on the quiet Prairie Island sloughs.
Herons flapped and kingfishers squabbled as I paddled past the wooded islands where the Dakota built winter homes, to get away from the prairie winds.
In his 1883 "Life on the Mississippi," Mark Twain called them the Thousand Islands, "too beautiful for anything; green? Why, you never saw foliage so green, nor placed so thick . . ."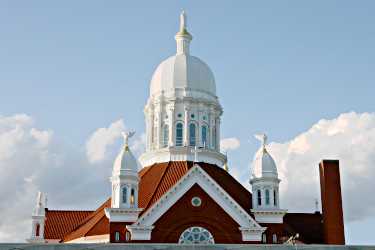 Emerging onto the Mississippi just below Lock and Dam 5A, I watched a train roll along at the foot of the opposite bluff as I paddled upriver and back into the sloughs.
That took only an hour, so I drove farther along Prairie Island Road to Verchota Landing and put in there, paddling northwest.
The gracefully rounded bluffs on both sides, a radiant green in the early-evening sun, were a mesmerizing sight.
A city of festivals
These days, however, Winona is banking on more than its beauty.
In 2002, three nationally known directors who were working together on a University of Minnesota/Guthrie Theater actor-training program decided Minnesota needed a professional summer Shakespeare festival.
They hadn't even considered Winona when the city began to court them, alerted by Theatre du Mississippi director Maggy Jacqmin and her husband, Will Kitchen, a Winona planning commission member who knew someone who knew one of the directors.
By the festival's second season, theatergoers were coming in from 36 states, and the next year the season was expanded from five weeks to six.
The festival now uses the campus of Winona State University and hopes to build a permanent theater. In addition to the plays, festivities include free concerts, lectures, actor conversations, an art exhibit, dramatic vignettes and historic walking tours.
"Winona, for me, is continually surprising," says founding director Paul Barnes, a resident of Ashland, Ore., who says he now spends more time in Winona than anywhere else.
"I love its small-town ambience. It has kind of a down-and-dirty river town kind of history, and it's a blue-collar town but has two universities. It's a really interesting town, a real mix."
Things are happening in Winona. It has a fine restaurant, Signatures, at the Bridges Golf Club in the bluffs above town. The man responsible, state Sen. Bob Kierlin, also is behind the handsome Minnesota Marine Art Museum on  Riverview Drive.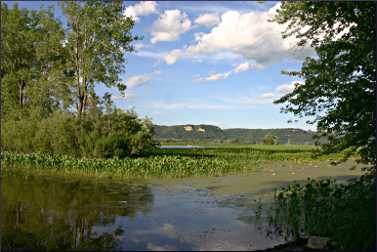 The city is working with consultants to figure out how to take advantage of its riverfront.
"They really have their eyes on the future," Barnes says.
In the meantime, it can always count on beauty.
Trip Tips: Winona in southeast Minnesota
Getting there: It's 2½ hours southeast of the Twin Cities and half an hour from La Crosse.
Taking Amtrak: From the west, the Empire Builder arrives in Winona at 10:11 a.m. From the east, it arrives at 7:50 p.m. 800-872-7245.
When to go: To see the stained-glass windows and Watkins building and museum or to tour the Wenonah Canoe factory, come on a weekday.
2022 events: Feb. 6-13, Frozen River Film Festival. June 15-19, Steamboat Days. June 18-July 31, Great River Shakespeare Festival. June-July, Minnesota Beethoven Festival. Sept. 22-25, Boats and Bluegrass.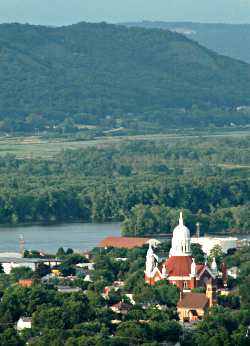 Wednesday Cruise Nights run from early June to late September. Wednesday municipal band concerts are at 8 p.m. from early June to mid-August in Lake Park.
Great River Shakespeare Festival: In 2022, "The African Company Presents Richard III," "Taming of the Shrew" and "Twelfth Night" will be performed June 18-July 31 in repertory.
Many other events are held in conjunction with the festival, such as free concerts, coffeehouse discussions with cast members, Front Porch Conversations with experts, events at Theatre du Mississippi and walking tours hosted by the Winona County Historical Society.
For details and tickets, call 507-474-7900.
Kayaking and canoeing: The visitors center, at U.S. 61 and Huff Street, has trail maps.
You can rent kayaks, canoes, bicycles and stand-up paddleboards from Lake Lodge Recreation Center on the east end of Lake Winona.
On the river, Prairie Island Campground rents canoes, kayaks and stand-up paddleboards as well as bikes and camping gear.
Biking and in-line skating: The five-mile path around Lake Winona is beautiful.
Nightlife: At the Historic Masonic Center on Main Street, Theatre du Mississippi presents concerts. St. Mary's University also schedules concerts.
Minnesota Marine Art Museum: The handsome museum on Riverview Drive shows traditional marine art as well as the folk art of Leo and Marilyn Smith of Fountain City and the 19th-century maps and photographs of Henry Peter Bosse. There's a coffee shop, too.
Garvin Heights Vineyards: It's open for tours Friday-Sunday afternoons from April through December.
Cross-country skiing: In winter, St. Mary's University offers excellent skiing on its pretty hillside campus. With its own Pisten Bully, it grooms 14.5 kilometers of trails for skating and striding.
To reach the campus, turn onto Minnesota 14 from U.S. 61, on the north edge of Winona. A small trail fee is requested.
For details, see Winona with snow.
Ice-climbing: Winona's city-maintained Ice Park is on the bluffs of Bluffside Park, across from Winona Mall off U.S. 14. Big River Climbing Guides offers instruction and gear.
Accommodations: The 1886 Alexander Mansion has four tastefully decorated and comfortable rooms.
Across from St. Mary's, the Village House Inn is a vacation rental with four rooms.
Camping: On the Mississippi, the municipal Prairie Island Campground has a beach, playground, deer park, canoe rental, store and showers.
In the bluffs above town, Great River Bluffs State Park has drive-in and cart-in campsites and breathtaking views of the river valley.
Craft beer: Across from Levee Park, Island City Brewing has a taproom and hosts many events.
Dining: A mile and a half up the bluffs from U.S. 61, Signatures has a lovely view of bluffs through floor-to-ceiling windows and very fine food. For reservations, call 507-454-3767.
Downtown, Nosh Restaurant offers creative cuisine at the corner of Walnut and East Second streets.
Other dining is more casual. Winona's oldest restaurant is the Lakeview Drive-in, founded in 1938. Carhops still serve a large menu of burgers, sandwiches, ice cream and homemade root beer, and vintage cars show up on Wednesdays from mid-June to mid-September for Cruise Night.
It's on the northeast shore of Lake Winona, on Sarnia Street off Mankato Avenue.
For a treat, get soft-serve ice cream at Penguin Zesto, a block from St. Stanislaus at Carimona and East Fourth streets.
Or try pastries from Bloedow Bakery at East Broadway and Laird streets or something healthful from Bluff Country Co-op at West Second and Johnson streets.
For a beer, try the Black Forest Ale or Amber Red at Bub's Brewing Co. at East Fourth and Center streets, the last remnant of a brewery that operated from 1856 to 1973.
The restaurant (pronounced "Boob," German-style) also has a nice selection of salads and sandwiches.
Information: Winona tourism, 800-657-4972.
Last updated on January 15, 2022