Golfing the Brainerd Lakes
In Minnesota's golf mecca, there's a course for everyone to love.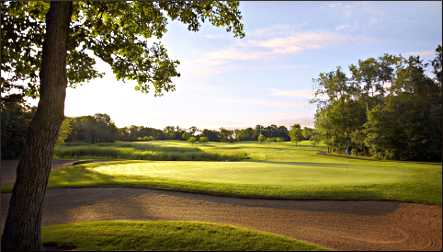 The days when the Brainerd area was best known for lakes are long gone.
Today, it has more golf holes than fishing holes-and there are 465 lakes within 25 miles of Brainerd, a railroad town that lends its name to a swath of north-central Minnesota that includes the lakeside villages of Nisswa, Breezy Point, Crosslake and Deerwood.
Golf Digest has ranked the Brainerd Lakes one of the Top 50 golf destinations in the world, which is pretty good for real estate that spends most of the year under snow.
For the average golfer, the Brainerd area has even more to offer than destinations in Scotland, Florida and California. It has big-name championship courses, such as The Classic at Madden's and Grand View's Deacon's Lodge, which rank No. 42 and 52 on the magazine's list of America's 100 Greatest Public Golf Courses.
But it also has plenty of family-style par-threes, friendly traditional courses and bargain spots where greens fees are a buck a hole.
Whether you are a zero-handicap or a first-timer, there's something for you.
Greens fees have risen well past $100 on the best-known courses. But tee times have gone unsold in the weak economy, and virtually every course offers early- and late-season discounts as well as discounted twilight rates that start as early as 2 p.m.
Most of the courses have ambitious league and tournament schedules, and usually, casual visitors are able to join in for an event or two.
It's a good time to be a golfer. Here's a guide to the best courses in the Brainerd Lakes.
For more about vacationing in the area, see The buzz on Brainerd.
Championship courses
Some of the best courses in the country have been built around Brainerd in the last 15 years, and at the top of our list is The Classic at Madden's on Gull Lake, just north of Brainerd .
Standing on the third tee early on a crisp morning, with the sun still low in the sky and mist rising from water that stretches all the way to the green, you understand not only why you love this course, but why you love golf.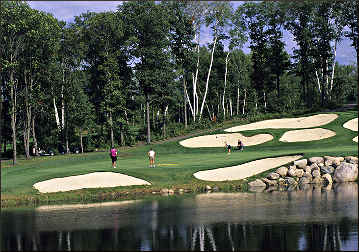 The Classic rolls through hundreds of acres of wetlands and woods with creeks, lakes and waterfalls that make for a breathtaking experience. The course is beautifully designed and impeccably maintained, so it's not just another pretty face, but a great golf experience as well.
Local and national consultants helped Madden's course superintendent Scott Hoffman with the details of the course design, but the vision was his. It was a remarkable achievement, akin to a small local vintner running off with all the blue ribbons at a wine competition.
One of the state's top teachers, Chris Foley, hangs his shingle here, and a nifty clubhouse and restaurant complete the picture. The Classic has a high price tag of $119 weekends, $105 weekdays, which tends to reduce play, adding to the pristine condition of the course.
Discounts may be available in shoulder seasons, but the best rates come with Madden's stay-and-play packages.
No. 2 on our list, but rated the favorite in our unofficial survey of local pros, is Deacon's Lodge near Breezy Point.
Designed by Erik Larson of the Arnold Palmer Design Company, Deacon's added serious depth to the Brainerd golf scene when it opened in 1999. The course features bent grass from tee to green with shaved approaches and mounded greens that make high handicappers send 10-foot downhill putts rolling 30 yards back into the fairway.
Built on 500 acres, it doesn't have the back-and-forth feel you get at more traditional courses. From the tee, every hole opens like a package at Christmas.
Deacon's Lodge is managed by the folks at Grand View Lodge, and there are stay-and-play packages at cabins on-site as well as at Grand View in Nisswa. Rates are $114 and $104, and rounds can be combined with the other Grand View courses for discounts.
Our third selection is Golden Eagle Golf Club in Fifty Lakes, and it also came in third on our local pro survey.
The glaciers that pushed across Minnesota, gouging out lakes and creating ridges, played into the hands of Golden Eagle designers Mike Morley and Bruce McIntosh. In 2001, they used these dramatic elevation changes, right in the middle of the lake country, to create the most unusual and most playable course in the area.
On a clear day, you can stand on the seventh tee and see Brainerd and Crosby, 30 miles to the south.
Golden Eagle is unlike resort courses in a couple of ways. It is privately owned, so co-designer and managing partner Bruce McIntosh probably will be greeting you when you walk into the clubhouse. And at $85/$65, it is 20 percent less expensive than the other premium courses on our list.
Leisurely 10-minute tee-time intervals help put Golden Eagle in the top 2 percent of courses nationally for pace of play. Stay-and-play packages are available at Crosslake lodgings and an on-site cottage.
It's on the northeast edge of the Brainerd Lakes area, and worth the drive.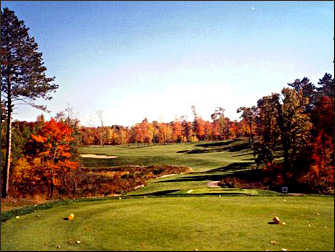 Tied for fourth and fifth are The Legacy Courses at Cragun's on Gull Lake, just north of Brainerd. Both 18-hole courses, Bobby's Legacy and The Dutch Legacy, were designed by second-generation legend Robert Trent Jones Jr.
Virtually across County Road 77 from Madden's Classic, the 36 holes swing and sway through woods and wetlands, with each new hole a puzzle to be solved with brains, skill and a bit of luck. For a shining example, look at No. 13 on The Dutch Legacy.
If you have never played a Jones-designed course, you will be astounded at the sense of size and dimension of these layouts. The monstrous 149 slope from the back tees on Bobby's Legacy will get the attention of people who play golf for a living.
While all area courses see their fair share of wildlife, the Legacy courses, weaving through 1,000 acres, have received the first Audubon Sanctuary designation in the state, and only the second in the country.
In 2009, The Dutch Legacy received Golf Digest's highest rating of five stars, with Bobby's Legacy right behind at 4½ stars. That may have contributed to their eye-popping mid-season 2010 rates of $125, but the ranking also reflects continuing efforts to improve the course.
Stay-and-play packages bring green fees lower, as does twilight pricing.
No. 6 on the championship list is The Preserve, just south of Pequot Lakes. Designed by Dan Helbling and Mike Morley and built as a free-standing course in 1996, it was quickly acquired by Grand View Lodge.
When you arrive and get your first view of the course from the hilltop clubhouse, you instantly get it. Beautiful elevation changes and a tee-to-green carpet of bent grass, along with quirky but interesting hole designs, define the type of experience you will have here.
With its location away from the "home office" of Grand View Lodge, the vibe is a little more laid back and enjoyable. Rates are $104/$94 and can be combined with other courses in a Grand View Lodge stay-and-play package.
The No. 7 course on our list is Grand View's The Pines. Featuring 27 holes across the road from the main lodge in Nisswa, The Pines is a benchmark of how golf courses have changed in the last 20 years.
When opened in 1991, this Joel Goldstrand design was perhaps the top public golf course in the state. It hasn't changed and remains a beauty, with impeccable fairways and greens, as well as landscaping that would fit nicely at the best private country clubs.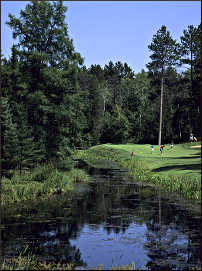 While it may fall behind some of the newer neighbors in scope and drama, it still should be on everyone's must-play list. Rates are $104/$94, with rounds interchangeable with The Preserve in stay-and-play packages. Deacon's Lodge rounds can be added for an extra fee.
The Lakes Course at Ruttger's Bay Lake Lodge in Deerwood, near Crosby, comes in at No. 8 on our list. There have been golfers at Ruttger's since they built their first course in 1921, and this Joel Goldstrand design is only the latest version.
Like the Pines, this course is starting to show a few wrinkles when compared to the more glamorous neighbors, but it remains a fun and challenging romp around two lakes and thousands of trees.
A couple wayward blind shots will teach you to drive ahead for a look before you swing, so the second time around the course is more fun. Rates for this summer are $75/$55, with an assortment of stay-and-play packages to fit almost anyone.
Our final championship course is the Whitebirch Course at Breezy Point. The first of the area's championship resort courses, it, too, is showing its age. A mile down the road from the gates of Breezy Point Resort, it always has had a "Jurassic Park" feel, with some spectacular holes on the back nine.
There are quite a few ordinary holes, too, but that is reflected in the relatively low mid-season green fees of $64/$59. There are also some very reasonable stay-and-play packages, and Antlers Restaurant in the Whitebirch clubhouse is one of the best around.
Traditional courses
Unlike the championship courses, these do not include carts in their rates.
Whitefish Golf Club between Pequot Lakes and Crosslake is our top course in this category, and it's also one of the most popular courses in the area.
This member-owned course has a core of loyal followers who pony up for unlimited-play memberships and then get their money's worth. Pro/manager Steve Bengtson runs a professional but friendly operation and makes sure his shareholders' money is reinvested wisely.
If you're a little crooked off the tee, don't leave your driver in your bag, leave it at home. The mature stand of trees lining each fairway is easy to get into and painfully hard to escape.
Be sure to call ahead for tee times and expect slower than average play at popular times. Rates are $48 weekends, $38 weekdays plus cart, with plentiful junior and senior discounts.
Cuyuna Country Club in Deerwood is the perfect example of a nine-hole course that was built 75 years ago as a town gathering spot and then, in 1988, expanded to 18 holes.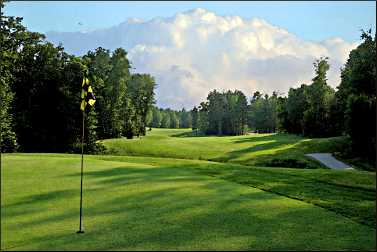 Now, it is a laid back enclave of retirees and locals who are happy to welcome visitors with $39/$20 green fees and a no-nonsense, well-maintained classic course. You won't rave about the course when you're finished, but it's the kind of place that makes you happy you played there.
Pine Beach East and Pine Beach West at Madden's resort are less-intense and lower-pressure golf experiences than the big resort courses. Pine Beach East dates back to the 1920s and offers a nice variety of holes, including a 600-yard-plus par 6).
With the back tees at a friendly 6,100 yards, it is popular with locals from around Gull Lake as well as resort guests. Pine Beach West is even shorter and a great place for families, or anyone who would just like a fun three-hour outing.
Green fees for the courses are reasonable at $45 (East) and $34 (West), but there are stay-and-play packages that can reduce the rate to zero. Both courses share a professional groundskeeping crew and superintendent with The Classic.
Eagles Landing is the course you see as you drive up Minnesota 371, about 15 miles south of Brainerd. There is a lot of visible mounding that gets your attention, but wait until you actually have to deal with it on No. 18 . . . and that's before you get to the double-depth green.
Eagles Landing is relatively new and will continue to improve, but for a 6,800-yard course at $22 plus cart, you can't go wrong. It's a great stop on your way to or from Brainerd.
Crosswoods Golf Course in Crosslake leads you through the woods along the edge of state-forest lands on the front nine and then glides you along the soft backside of town on the back nine.
Operated for years as a par-29 nine-holer, the next generation of the Stone family has expanded and improved the layout over the last decade. A 2008 clubhouse addition, with continued on-course improvements in 2010, make this facility a very nice option.
Rates are $32/$27, but there are endless discount and coupon options.
The Traditional Golf Course at Breezy Point Resort has a long and storied history that matches the colorful background of the resort itself. At a short 5,000 yards, you can visualize Katharine Hepburn types walking the fairways in knickers while sipping martinis with a half-dozen friends.
It may not be serious golf, but it might be a heck of a party. Rates are $36/$32.50 with a long list of discount options.
Bargain courses
Emily Greens is another expanded nine-hole, par 3 course that now is a 5,000-yard, par 65 course of 18 holes. Located just west of Emily on County Road 1, northeast of Crosslake, it claims to have Minnesota's largest green.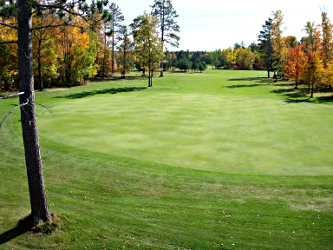 Green fees are listed at $26/$22, but the web site includes coupons and other deals that can lower the rate to as low as $10 for unlimited play. It's a nice family outing and a good place to sign up for a group event.
Black Bear Golf Course north of Pine River allegedly was carved out of the Bristow family farm by Grandpa Cal, as was the Pine River Country Club, a little to the southwest.
The course hasn't changed much since its farm days, but it's a fun place to swing away with abandon. Rates haven't been published, but you can bet on something in the range of a buck a hole.
Nine-hole courses
Pine River Country Club in Pine River is the most traditional of the nine-hole courses in the area, although it's added an executive nine to the 3,400-yard, par 36 layout.
In the process, it added three new holes that have yet to mature. At peak pricing of $16/$13 for nine holes, it probably is priced about right.
Cragun's, Madden's, Grand View and Ruttger's all offer nine-hole short-course options in addition to their full-size courses. They are mostly there as companion courses for warm-up or cool-down, but they are available for family and resort guest play.
Alec's 9 at Ruttger's Bay Lake and The Garden Course at Grand View are old school, Madden's Social Nine is what it says, and Cragun's put some effort and interest in its par-3 Reversible Nine.
Expect to pay about $15 to play one of these courses, but they may be free, depending on the circumstances.
If you want the perfect place to take the kids, check out Wildwedge Family Golf Park just north of Pequot Lakes. It's a cute little par-3 course with kid's tees, or you can opt for a very nice mini-golf option.
Top rates are $13/$11 and even cheaper with coupons, two-for-ones and age discounts. You might even try your hand at night golf, but bring the bug spray.
The Fairways at Howard's Barn is a Fifty Lakes fixture with a no shirt/no shoes/no worries attitude. The wooden cow on the driving range will give you an indication of what conditions to expect, but if you just want to be a little goofy, this is your spot. The bar can be fun, too.
Last updated on March 25, 2010