Summer in the Brainerd Lakes
Away from the crowds, Minnesota's busiest vacation area can be tranquil.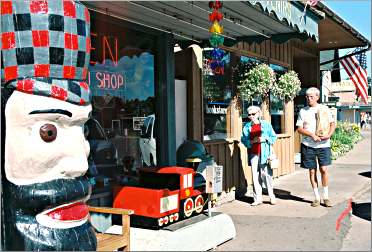 To hear resort owners in the north woods tell it, Brainerd is the Times Square of Minnesota.
"It's crazy down there," they say, shaking their heads. "It's a zoo. We don't want to be like Brainerd."
In Wisconsin, people talk the same way about Door County. Those places are busy, all right. They're busy because plenty of people like that kind of atmosphere-the restaurants, the golf, the shopping, the fancy condo resorts.
Over the years, money has changed the Brainerd lakes area. On the bigger lakes, $2 million cottages have replaced mom-and-pop resorts. Private jets fly into the Brainerd airport, and limos mix with minivans on forested county roads.
Go-cart tracks, miniature-golf courses and amusement parks keep children constantly entertained.
Crowds of 26,000 jam the grandstand at Brainerd International Raceway to watch drag racing, motocross competitions and muscle-car contests in which "the bad boyz of the blacktop battle it out."
The Brainerd lakes haven't been a quiet north-woods destination for a while.
Nearly from the start, they've attracted prominent guests: to Grand View, built on Gull Lake in 1919, and Breezy Point, which was built in 1922 on Pelican Lake and had a casino gambling operation that drew movie stars and mobsters.
Many of the more affluent resort guests later built their own cottages in the area.
In the 1930s, Floyd B. Olson became the first of several Minnesota governors to build a home on Gull Lake, and it became the most prestigious address in Minnesota after Lake Minnetonka.
In the 1990s, the big resorts began building top-quality, famous-name golf courses to draw well-heeled guests from around the nation.
Today, the area has more golf holes than fishing holes-and there are 465 lakes within 25 miles of Brainerd. As greens fees rose-to $100 and more for 18 holes-so did real-estate prices.
But ordinary folks aren't priced out of the Brainerd lakes. And if you know where to look, there are pockets of serenity. There's a gorgeous public beach, quiet parks and traditional resorts, even on Gull Lake.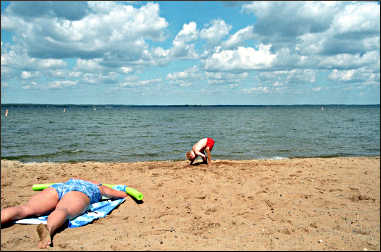 "People like to think Brainerd is the Twin Cities of the north, but you can find the quiet spots," says Roger Lykins, who has owned and operated Lykins Pinehurst Resort for more than 30 years. "It ends up being as secluded as most people want, when they say they want a secluded vacation."
Lykins knows he would make much more money selling his Gull Lake shoreline than operating his nine-cabin resort, shaded by tall Norway and white pines and huge basswood.
'I think of that every spring, when we're getting ready," he says. "But then you get everybody coming back, and we remember why we're here."
Nisswa is the center of what most people call  Brainerd, and when I arrived early one August morning, bicyclists already were gliding by on the Paul Bunyan State Trail. At 9:45, Marlene Dupree was sweeping the sidewalk in front of the Totem Pole, beloved purveyor of souvenirs.
By 9:50, traffic had picked up, and customers started to slip into the store behind Dupree's back. At 9:55, a little boy climbed onto the mechanical train in front of the store, and his mother plugged it with a dime.
At 10 a.m., the smell of hot oil wafted over the street, and the man in the mini-doughnut stand took his first order.
"And they ask what we do all winter," Dupree said. "We relax!"
A five-minute walk from the Totem Pole, at Eagle's Nest Resort, 4-year-old Megan Carlson had just pulled a crappie out of Lower Cullen Lake and was showing it off.
"They can catch a fish every 10 minutes," said her mother, Heidi Carlson, smiling. She looked around the shady resort. "It's really quiet, but there's a lot of action around here."
From Nisswa, I drove east to Pelican Lake, and after a few wrong turns found myself looking out on a broad swath of sand. The scarcity of public beaches in the Brainerd lakes area is odd; even odder, there are no outdoor public swimming pools.
But this beach-wide, well-maintained, on a clear lake-almost makes up for it. And only a handful of people were there.
"It's the best beach in the world for kids," said beach host Chris Certain, who spends the summer camping at the beach, part of Crow Wing State Forest. "My boss says you can't drown in it, unless you put concrete blocks on your feet."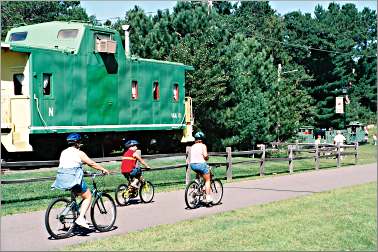 From Pelican Lake, I headed to Breezy Point, a crossroads that is less a village than Breezy Point Resort, a collection of hotel rooms, condos and cabins on the northwest corner of the lake.
From there, I hooked onto the 54-mile Paul Bunyan Scenic Byway and headed toward Crosslake, on the 15-lake Whitefish Chain.
Next to the little downtown, around the mouth of the Pine River on Cross Lake, the Army Corps of Engineers maintains two small beaches, a boat launch and a shady campground, as well as the dam.
It's a lovely spot, and a find for vacationers on a budget.
Crosslake can get busy. But the quiet county roads that circle the Whitefish Chain, through Manhattan Beach and Ideal Corners, still are lined with resorts and supper clubs from the 1920s and '30s, with a languid vacation ambiance that has remained unchanged even as the pace quickens.
The next day, I explored two resorts that, for many people, are synonymous with "Brainerd"; on the far southeast end of Gull Lake, they're closest to the Baxter-Brainerd strip.
Both started small, but Cragun's and Madden's since have grown into behemoths, each sprawling along the lake and offering every conceivable entertainment-magic shows and massage, carnivals and concerts, nature walks and water-skiing.
Cragun's has an enormous indoor sports center; Madden's has an art gallery, an ice-cream parlor and a shopping emporium, all linked by paths that wind past flower beds and fountains.
Each is its own little world, far from reality-which is what most people want on vacation.
There's a different kind of world just two miles up the road, at the Gull Lake Recreation Area, and it's no less charming.
Operated by the Army Corps of Engineers, it has a paved bicycle trail, an oak-shaded picnicking lawn on the lake, a picnic area with playground on the Gull River, a volleyball court, a fishing pier and walking trails, plus a beach and campground.
A family could stay busy there, too, for very little money.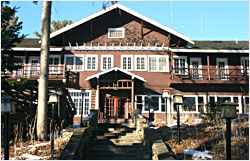 In the Brainerd lakes area, there's room for everyone. People with money are making the waves, but ordinary folk still can enjoy the water.
Trip Tips: Summer in Minnesota's Brainerd Lakes
Getting there: It's 2½ hours from the Twin Cities to the lakes north of Brainerd.
Brainerd itself is a former railroad town that offers little to tourists; when most people speak disparagingly about "Brainerd," they're talking about Baxter, where strip-style development radiates from the junction of Minnesota 371 and 210.
When to go: If you'd like a quieter atmosphere and lower prices, go midweek and avoid the week in mid-August when the Hot Rod Association Nationals fill the area.
Resorts offer good deals from mid-April to mid-June and mid-August to mid-October.
2023 events: June 22-24, Lakes Jam music festival at Brainerd International Raceway. July 28-Aug. 20, Lakes Area Music Festival in Brainerd. Aug. 23-27, Lakes Bluegrass Festival in Pine River.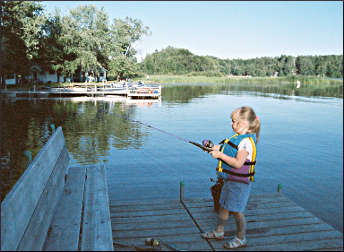 For turtle races in Nisswa and duck races in Pine River, see Critter races.
For fall and winter events, see Autumn in the Brainerd Lakes and Brainerd Lakes in winter.
Smaller resorts: Lykins Pinehurst Resort has a lovely atmosphere, with nine cabins set amid pines and hardwoods above a long beach on Gull Lake's west side. 800-963-2485.
Sandy Beach Resort, established in 1938, has 31 cabins, nearly all right on the beach around a point on west Gull. 218-963-4458.
Two resorts on Lower Cullen Lake are right on the Paul Bunyan State Trail, a ¾-mile walk or bike ride to downtown Nisswa. Both prohibit waverunners.
Good Ol' Days Family Resort has 10 newer cottages and an eight-unit lodge with Arts and Crafts-style decor. It's open year-round.
Next door, the traditional Eagles Nest includes a peaceful collection of 16 small cabins between a large playground and sports area and the lake, which has a swimming area around docks.
Medium-size resorts: Lost Lake Lodge, 10 minutes west of downtown Nisswa, is a small, quiet boutique resort on 80 acres between Lost Lake and the Upper Gull Lake Narrows.
It's known for its fine food; breakfast and dinner are included in its rates. Supervised children's activities, naturalist programs and daily maid service also are included. 800-450-2681.
Boyd Lodge, on the southern shore of Whitefish Lake, is a resort on property that includes two lakes, five miles of trails, and luxury lodgings. 800-450-2693.
Big resorts: Lodgings at the larger resorts generally include a mix of rooms, cottages, cabins and townhomes, some on the lake, some on fairways.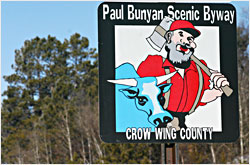 They all have restaurants, supervised children's program, gift shops, boat rentals, indoor pool complexes and fitness facilities, tennis courts and golf on executive and social courses.
Rates drop significantly in the off season, and always ask for packages.
On the northern shore of Gull Lake, Grand View Lodge is a 1919 log classic with a big stone hearth, kerosene-lamp chandeliers, telephones set into wood barrels and stuffed moose and stag heads everywhere. A cobblestone path lined with flower boxes and arts and crafts-style lamps leads to a 1,500-foot beach.
It's the hub of Brainerd-area golf, with 54 holes of its own, including the Pines, the Preserve and Deacon's Lodge. There's a spa and an indoor pool complex with a 110-foot slide. 800-432-3788.
Three other resorts are on the southern edge of Gull Lake, closest to Brainerd-Baxter.
Madden's, on a peninsula, looks more like a New England resort, with beautifully landscaped grounds and a village-like atmosphere.
It's a longtime golf resort, with 63 holes of golf on four courses, including The Classic. It also has a tennis and croquet club. 800-642-5363.
Cragun's, on the southern tip of Gull Lake, is a sprawling resort with 45 holes of golf, including The Legacy, and a large indoor sport center. 800-272-4867.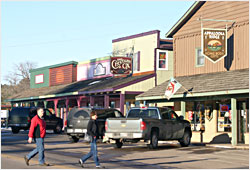 Across the road, on Sylvan Lake, Kavanaugh's Resort has condos and cottages and an indoor and outdoor pool.
East of Pequot Lakes at Breezy Point, Breezy Point Resort on Pelican Lake has a large variety of accommodations, including the historic Fawcett House, and three golf courses-Whitebirch, The Traditional and the Arnold Palmer-designed Deacon's Lodge.
It has a large beach, with a playground adjoining a lawn for volleyball and games. 800-432-3777.
Camping: Two Army Corps of Engineers sites are among the best spots; both have sand beaches, playgrounds and fishing piers.
Gull Lake Recreation Area is on the southeast corner of the lake, just down the road from Madden's, 218-29-3334, and Crosslake Recreation Area is walking distance from stores and restaurants, 218-692-2025. Reserve at Recreation.Gov.
On the northeast side of Brainerd, the city's Lum Park on Rice Lake includes a campground and is near restaurants and coffee shops.
Dining: Many places offer patios and lakeside dining. For a complete guide, see Dining up north: Brainerd to Nisswa.
Craft breweries: In downtown Nisswa, Big Axe Brewing serves sandwiches and burgers as well as its own craft beer, and south of town, Roundhouse Brewery offers music, trivia, poker and axe-throwing and has outdoor seating.
In downtown Crosslake, 14 Lakes Brewing has outdoor seating. Jack Pine Brewery is just north of Baxter off 371.
Golfing: The Classic at Madden's and Grand View's The Pines and Deacon's Lodge courses are top-rated.
For a course-by-course guide, see Golfing the Brainerd Lakes.
Kayaking: In Crosslake, Crow Wing Kayaks rents sit-on-top kayaks and offers shuttles for routes on the Pine River.
Public beaches: To get to the Crow Wing State Forest beach on Pelican Lake, take County Road 18 east of Nisswa and continue east on County Road 4 to its intersection with 118.
From there, it's 1.7 miles to Pelican Beach Road; turn left, and the beach is another mile.
The beaches at the Crosslake and Gull Lake recreation areas also are open to the public for a small fee.
Nightlife: The Gichi-ziibi Center for the Arts in downtown Brainerd hosts concerts and the Lakes Area Music Festival.
In summer, Chris Olson's Elvis Saturday-night outdoor concerts at Breezy Point are popular.
Shopping: Nisswa, with dozens of small shops, is the browsing hub on overcast summer days.
Many families like to come to Nisswa for its Wednesday turtle races. For more, see Fast times in Nisswa.
Pequot Lakes also has many shops.
Paul Bunyan State Trail: The trail starts in Baxter, just east of the junction of Minnesota 371 and 210 (take Excelsior Road, a block north of the intersection, east to Northland Arboretum).
The 15 miles from Baxter to Nisswa are quiet and scenic.
For more, see Bicycling the Bunyan.
Paul Bunyan Scenic Byway: Its 54 miles include two loops east of Pequot Lakes and Pine River. Interesting sites are marked by signs and have information kiosks with Paul Bunyan lore and tall tales.
Auto racing: Brainerd International Raceway holds sanctioned races plus street-rod and muscle-car weekend events. Camping is available on 525 acres. 218-824-7220.
Information: Brainerd Lakes tourism, 800-450-2838.
Last updated on January 17, 2022