Bicycling around Lake Bemidji
The Paul Bunyan Trail is only part of a beautiful ride in northern Minnesota.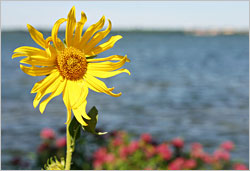 Once, Bemidji was one of the roughest towns in Minnesota. Now, it's one of the coolest.
This is the north-woods logging town that produced the original Paul Bunyan and Babe in 1937, and even today, these figures on Lake Bemidji are rarely without a cluster of tourists at their feet.
Look beyond this iconic but corny duo, as the visitors bureau fervently hopes you do, and you'll find everything else a tourist heart could desire-a gorgeous state park, a paved bicycle trail, a professional playhouse, fine restaurants and shops.
Bemidji is one of my favorite places for a lake break. But as much as I love swimming in the lake, I love bicycling around it even more.
You see a lot riding the 17 miles around Lake Bemidji, one of the most pleasant ways you can spend a summer day.
Start on the northwest corner at Ruttger's Birchmont Lodge, the lake's last resort, and you'll soon pass the Bemidji Town & Country  Club, a golf course that was founded in 1916 and is open to the public.
Then you'll pull into Lake Bemidji State Park, which has a bog walk, a long sand beach, four camper cabins and a full-time naturalist, John Fylpaa, who takes tourists on free weekly pontoon-boat history jaunts around the lake.
The 121-mile Paul Bunyan State Trail starts in the park and follows its eastern shore, crossing the Mississippi River, which enters Lake Bemidji near downtown.
Both entry and exit points are popular fishing spots, and the town is named for the Ojibwe word Bemidgegumaug, or "river flowing crosswise."
This part of the trail is thick with wildflowers. You can keep riding on the Bunyan all the way to Crow Wing State Park, six miles south of Brainerd. Connections to Cass Lake and Park Rapids make this the longest paved bicycle network in the nation.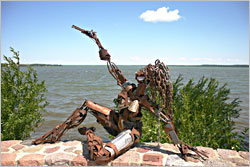 But if you're heading toward downtown, the trail will take you past a small beach and sculptures set along the lake.
They're part of Bemidji's annual Sculpture Walk, and many more interesting pieces by local artists are scattered around downtown and on the lakefront.
There's a lot of talent in this university town. A block from the lake is the Paul Bunyan Playhouse, Minnesota's oldest professional summer-stock company.
There are lots of treat stops, too. Chocolate Plus, the kind of candy store that makes kids' eyes pop out of their heads, is across the street from the playhouse and stays open through intermission.
Cabin Coffee sells huge homemade bars, and across from Paul and Babe, Big River Scoop sells ice cream and pizza by the slice.
After picking your treat, get back to the trail. From Library Park on the lakefront, turn onto Lake Boulevard and ride onto the campus of Bemidji State University and Diamond Point Park.
This lovely point has a quirky history. In 1894, a fellow named Silver came to the lake looking for gold, but found what he thought were diamonds-actually, quartz pebbles. He discovered they were worthless, but not before sinking his money into land.
Two years later, another man also bought up lakeshore-but this one was better at PR. He knew there weren't diamonds but he spread the rumor anyway, making money when St. Paul newspapers printed the story and his land value rocketed.
Today, students and families flock to the park and its beaches, playground and handsome Arts and Crafts-style picnic pavilions. At the Recreation Center, you can rent a kayak, canoe, stand-up paddleboard or bike.
From the campus, the route follows Birchmont Drive past Cameron Park, which has a boat launch, playground and a broad sand beach with a shower tower.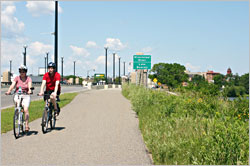 This quiet road rejoins busier County Road 21 just a half mile short of Ruttger's Birchmont Lodge. You can stay there or just enjoy a meal on its beachfront Garden Court Grill.
Randy Ruttger's branch of the famous Minnesota resorting family owned Birchmont Lodge from 1937 to 2018, and it's one of my favorite places for its easy-going atmosphere.
Under new owners, it's gone a bit upscale, with enlarged lodge rooms and dining room, a new rooftop patio bar and even an elevator.
It's great that the town of Bemidji is moving on and modernizing. But we hope its best parts don't change too much.
For more on the town, see Bemidji's behemoths.
For more about the Birchmont Lodge, see Quick break on a lake.
For more about the Paul Bunyan State Trail, see Bicycling the Bunyan.
Nice Ride bikes are available at Bemidji State University's Outdoor Program Center on the lakeshore, $12 a day.
In June, the family-friendly Bike Bemidji: Loop the Lake Festival includes music and food at rest stops.
Last updated on April 15, 2021