Bemidji's behemoths
In Minnesota's north woods, an old logging town is famous for oversized legends.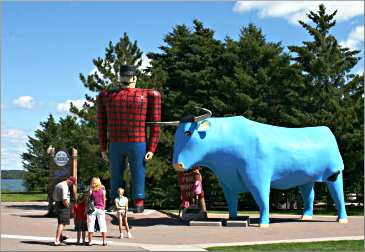 In Bemidji, three faces tell much of the town's story.
Chief Bemidji stands facing the lake the Ojibwe called Bemidgegumaug, or "river flowing crosswise." His real name was Shaynowishkung, and he fed the white people who settled on the lake's shores in 1888.
Their settlement became the first town on the Mississippi, which starts 35 miles away in Itasca State Park, winds north to Bemidji, flows through its lake and heads east before finally turning south.
The first statues of the chief were wooden, built in 1927 and 1952. In 2015, the city installed a 9-foot bronze that depicted the chief more realistically-and respectfully.
A stern, square-shouldered Paul Bunyan stands a block away, near the visitors center.
When he was built for Bemidji's first Winter Carnival in 1937, the town's lumberjacks were still around, still telling stories of the logging camps that, not long before, had fed the area's magnificent white pines into the maw of the sawmill.
The first Babe the Blue Ox was made of canvas and placed over a truck, whose exhaust pipe was funneled through the nostrils and made Babe's breaths steam in the cold winter air.
The two were an immediate sensation, earning a page in Life magazine.
The canvas Babe was replaced by a concrete-and-plaster ox in 1939, and she and Paul sparked a mania for giant mascots that continues today.
As a piece of Americana, they're irresistible. Over the generations, very few tourists have left Bemidji without a photo of Paul and Babe.
A third giant figure stands across Bemidji Avenue, next to Morell's Chippewa Trading Post. Known at the shop as "Injun Joe," he's naked from the waist up, has a single feather stuck in a headband and raises a stiff arm in a "How" salute.
With his presence, unwelcome to some in Bemidji, Injun Joe is a remnant of the historically uneasy relationship between the town and the Ojibwe residents of the nearby White Earth Reservation.
But now a tree has grown in front of Injun Joe, nearly blotting him from view. Passersby are drawn instead to the giant metal powwow dancer across the street, "Niiemii," Ojibwe for "he dances."
And downtown, Ojibwe words have sprouted on the doors of shops -"Boozhoo," or "Welcome," and "Biindigen," or "Come in."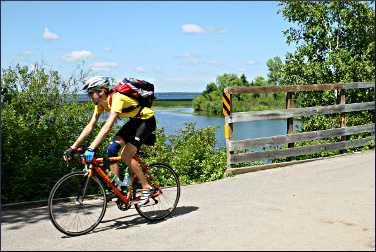 For a small town, Bemidji, pop. 13,400, has many layers. One of the last towns in Minnesota to be settled, it retains a frontier feeling despite the presence of a university and the main campus of Concordia Language Villages, which pulls in students, counselors and visitors from around the world.
It's still a logging town, and the home of many hard-core fishermen and snowmobilers, but it also has some of the best bicycling and paddling.
In the summer, no matter what the activity, visitors fill their lungs with the bracing air beloved by generations of windswept North Dakotans and heat-fleeing Southerners.
On the north end of the lake, Lake Bemidji State Park offers many naturalist programs, canoe rentals and swimming at a long beach facing town.
The park also is the northern trailhead of the 115-mile Paul Bunyan State Trail, which follows the east side of the lake before leading south.
From Diamond Point Park on the west side of the lake, Bemidji State University's Outdoor Program Center rents kayaks, canoes, stand-up paddleboards, sailboats and mountain bikes.
During the long winters-average ice-out on Lake Bemidji is April 26 -the snow-draped forests are threaded with cross-country ski trails, and there's downhill skiing at the family-run Buena Vista Ski Area, which straddles the Laurentian Divide.
Bemidji's downtown is a modest collection of brick storefronts that house coffeehouses, pubs, shops and a theater.
The marquee of the renovated 1918 Chief Theater on Beltrami Avenue blinks year-round, with concerts, dance and community-theater performances in winter. In summer, the professional Paul Bunyan Playhouse presents a slate of musicals and comedies.
The playhouse was started in 1951 by an impresario who brought in a troupe of New York actors for a season but went broke in a month.
It was long enough to hook Bemidji's citizens, who raised enough money to pay the actors' room and board while they performed the rest of the season's plays and to pay for their tickets home.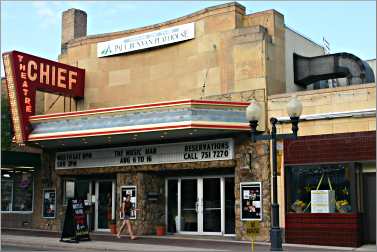 Then, the town raised enough to pay for a season the next year, and the year after that. Now, the Paul Bunyan is Minnesota's oldest professional summer-stock company.
Through the year, students from the Bemidji State put on plays and concerts around town. The Prairie-style Headwaters School of Music and the Arts shows and sells the work of local and regional artists, and hosts frequent concerts by local performers.
The family-run Bemidji Woolen Mills has been going strong since 1920, still famous for its plaid Paul Bunyan jackets, ear-flap caps and other warm items made in the back, where short tours are given on weekdays.
In Bemidji, the old is artfully blended with the new.
Trip Tips: Bemidji, Minnesota
Getting there : It's a 4¼-hour drive north of Minneapolis.
2022 events : June 18, Loop the Lake bike ride. July 16-17, Art in the Park. July 22-23, Anishinaabe Art Festival. Aug. 3-6, Dragon Boat Festival.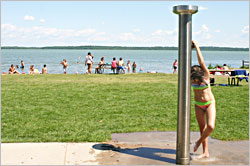 Bicycling : The 17-mile ride around the lake is a very pleasant way to spend an afternoon. For more, see Bicycling around Lake Bemidji.
The Paul Bunyan Trail starts in Lake Bemidji State Park and goes all the way to Baxter via Walker. The first seven miles are a scenic cruise around the east shore of Lake Bemidji.
For more, see Bicycling the Bunyan.
Sports rentals : The Bemidji State Outdoor Program Center rents canoes, kayaks, stand-up paddleboards, sailboats and windsurfers for only $6 an hour at Diamond Point Park, at the end of Fifteenth Street. Mountain bikes rent for $5 an hour.
In the winter, it rents cross-country skis, snowshoes, fat bikes and even ice-fishing equipment.
Beaches : There's a small public beach without services on the south shore, next to the Hampton Inn. On the west shore, at 24th Street, Cameron Park has a nice beach with changing rooms and a shower tower.
Diamond Point Park has beaches, one next to a nice playground. On the north shore, Lake Bemidji State Park has a lovely beach.
Lake Bemidji State Park : It has a year-round naturalist and offers many fun nature programs. Its bog boardwalk is very popular, especially in June, when the pink showy lady's slippers are blooming.
The annual open house, with free admission, is the first Sunday in June.
In summer, naturalist John Fylpaa gives free, narrated pontoon-boat rides with three themes, Exploring the Mississippi, Exploring Lake Bemidji and Paul Bunyan's Footprint. Call 218-308-2300 after noon on Tuesdays to reserve a spot.
Paul Bunyan Playhouse : In 2021, it's put on "All Shook Up," June 4-12; "Brighton Beach Memoirs," June 18-26; "Grease," June 30-July 10; "Sylvia," July 16-24; and "Young Frankenstein (West End Edition)," July 30-Aug. 7.
Accommodations : Ruttger's Birchmont Lodge, on the northwest corner of Lake Bemidji, is a full-service resort with a long beach, indoor pool complex and restaurant. It has lodge rooms as well as cottages along the lake.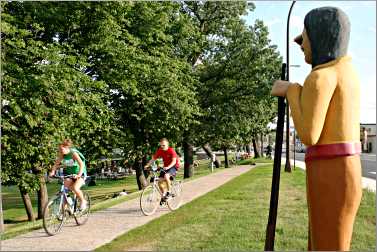 The lodge-style Hampton Inn & Suites on the south shore near downtown has a long sandy beach, and rates include a hot breakfast. The Doubletree by Hilton is next door and also on the lake.
Lake Bemidji State Park has four heated camper cabins, two of them wheelchair-accessible, $60-$75. There's also camping.
Dining : Across the street from the Paul Bunyan Playhouse, Brigid's Irish Pub serves such entrees as Guinness beef stew and shepherd's pie, including a vegetarian version. It also has an impressive beer list, including craft ale from the local Bemidji Brewing.
Down the street, Tutto Bene Ristorante has a pretty patio and serves seafood and steaks as well as pasta. Fozzie's Smokin Bar-B-Q is around the corner.
At Minnesota and Fifth Street, Wild Hare Bistro & Coffeehouse serves breakfast and lunch Monday-Saturday and has a small back patio.
The prettiest spot to dine is the lakeside restaurant at Ruttger's Birchmont Lodge, which has a gorgeous view of the sunset.
Cross-country skiing : Pick up maps at the visitors center or any business. There are trails at Three Island County Park, Movil Maze and Hobson Memorial Forest as well as Lake Bemidji State Park, which hosts candlelight skis.
Downhill skiing : Buena Vista is 15 miles north of downtown on County Road 15. At the bottom of the hill is a re-created logging village.
Concordia Languages Villages : The main campus of the world-renowned language-immersion camps are just north of Bemidji.
For more, see Going abroad in Bemidji and Language camp for adults.
Information : Bemidji tourism, 800-458-2223. The visitor center on Lake Bemidji is worth a stop for its display of Paul Bunyan-sized memorabilia and its Fireplace of States.
Last updated on January 15, 2022