Clear Lake tranquility
In a laid-back Iowa beach town, the '50s never ended.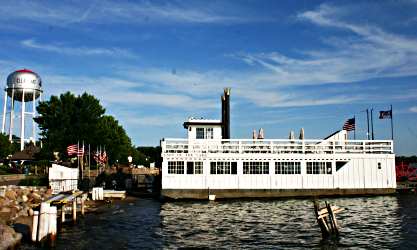 In Clear Lake, the spirit of the 1950s didn't die with Buddy Holly.
This northern Iowa lake town, midway between the Twin Cities and Des Moines, swells with vacationers in summer but retains the laid-back, carefree air of decades past.
On the shores of the lake, classic cars cruise around pocket-sized City Park, fuzzy pink dice dangling from mirrors. Every Saturday and Sunday, the municipal band plays in the bandshell. The Lions Club grills chicken and sweet corn, and a paddlewheeler takes tourists on cruises.
Why change when you've got a good thing going?
Iowans always have revered this town and its shimmering, 7-mile-long lake. Its heyday was in the roaring 1920s and '30s, when dance halls and the Bayside Amusement Park made it the place to be in summer.
In 1948, the Surf Ballroom was built to resemble a beach club, and in 1959, rock pioneer Buddy Holly came to play there.
When Holly's chartered plane crashed in a nearby cornfield after the concert, the whole world heard about Clear Lake.
The crash killed Holly, Ritchie Valens, J.P. "The Big Bopper" Richardson and the pilot, and Feb. 3 became known as "the day the music died," immortalized in Don McLean's "American Pie."
Fans still come from around the world to pay tribute, especially on the anniversary of the crash, when the Surf holds a Winter Dance Party in honor of Holly's 1959 tour.
The Surf, now a National Historic Landmark, was restored to include palm trees, ocean murals, wooden booths painted with fish and bubbles and walls covered with stenciled pineapples. Big-band orchestras play Sundays and classic-rock bands the rest of the week.
In summer, the action is at City Park and on the lake. The old lakeside resorts have disappeared, replaced by vacation homes. Tourists stay in motels and B&Bs or camp at the two state parks.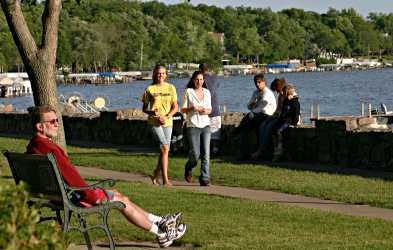 McIntosh Woods State Park has two comfy yurts on the lake, and one June, I rented one. It was the weekend of the Take Me Back music festival in Clear Lake, and classic-rock bands were playing in City Park.
I bought a grilled-chicken sandwich and got onto the Lady of the Lake paddlewheeler for an evening cruise.
Spring-fed Clear Lake was scoured out by glaciers, said captain Rodger Nordman, but it sits above the rest of the countryside, so its shoreline always is cooled by breezes.
In fact, the water is level with the top of the eight-story Brick & Tile Building in neighboring Mason City, the town's tallest.
"I'm kind of partial to Clear Lake, so I think everything's downhill from here," Nordman joked.
Once, the town end of the lake was lined with hotels, restaurants with big dance floors, a casino and an amusement park that had a roller coaster, steam train and wild-animal show.
But the grand hotel burned, twice, and now there's only one hotel, a modern one with a barnlike annex. The casino site is occupied by condos.
But there's still plenty of green space. At the west end of the lake, fishermen launch from McIntosh Woods, and when I was there, they were hauling out walleye until late into the night.
Picnickers, swimmers and boaters go to Clear Lake State Park, which has a 1938 lodge and is shaded by lots of oak trees. On warm summer evenings, Nordman says, the water off its long, sandy beach is lined with hull-to-hull pleasure boats.
The next day, I rode through the parks on my bicycle. Riding the 15 miles around the lake, on a paved trail and marked lanes, is a popular pastime and a good way to see Clear Lake at the right pace: leisurely.
Few towns take advantage of a lake the way this one does. Everything faces the water-the silver water tower, the community center, the pretty but modest yacht club, the park and the patios of the restaurants across the park.
Main Street ends at the water. It has a lot of gifts and antiques shops, plus a moviehouse and three pharmacies, one called Corner Drug. Oldies music is piped over the brick sidewalks, and hanging baskets hang from lampposts.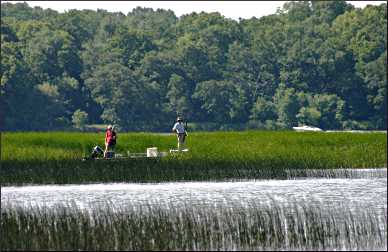 Volunteers go out in trucks at dawn to water the baskets. I met one of these do-gooders at the Clear Lake Arts Center, an airy space fashioned from a squat 1970s bank building.
There, Diane Thompson told me Clear Lake stays busy all year, especially with ice windsurfing in the winter, but is packed only in summer, when City Park is a sea of lawn chairs.
"That park gets used a lot," she said. "That's when it really feels like a Norman Rockwell town."
Even on the busiest summer weekends, it's peaceful and genteel, much like River City in "The Music Man."
Neighboring Mason City was the setting for Meredith Willson's musical, an instant hit when it opened on Broadway in 1957, but it's lost its innocent charm, and Clear Lake hasn't.
Visitors notice right away, says Elaine Ficken, who, with her husband, Gary, started the town's first bed-and-breakfast, the Larch Pine Inn, in 1988.
"It's like a different world, and they sense that the minute they get in town," she says.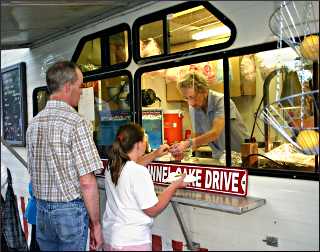 Trip Tips: Clear Lake, Iowa
Getting there: It's just west of I-35 in northern Iowa, halfway between the Twin Cities and Des Moines.
It's just across the interstate from Mason City, known for its Frank Lloyd Wright hotel and Prairie-style houses. For more, see Wright in Mason City.
2023 events: Feb. 2-4, Winter Dance Party. July 22, Art Sail and Iowa Storytelling Festival.
Buddy Holly tribute: On the first weekend of February, people come from around the world to mark the anniversary of the Feb. 3, 1959 plane crash with a Winter Dance Party at the Surf Ballroom.
The plane crash site is five miles north of town and contains a memorial.
Surf Ballroom: Concerts are held year-round, and it's open 8 a.m. to 4 p.m. Monday through Fridays for self-guided tours, $5. 641-357-6151.
Cruises: The Lady of the Lake gives 1½-hour cruises daily in summer.
Accommodations: The 1875 Larch Pine Inn, three blocks from downtown and one block from the lake, has a large veranda and three rooms and a carriage house. 641-357-0345.
The Heartland Inn is on the lake, though it doesn't have a beach. It has a dock and 30 rooms, some with balconies and patios. Call 641-357-5123 or 800-334-3277.
Many cottages, condos and houses can be rented, mostly by the week in summer.
*Camping:*  [McIntosh Woods State

Park](http://www.reserveamerica.com/camping/Mcintosh_Woods_State_Park/r/campgroundDetails.do?contractCode=IA&parkId=610112), on the shores of Clear Lake, rents two yurts, $35 per night or $210 weekly. The bathhouse is disabled-accessible, as is one yurt. Guests can bring a boat or raft to use off the dock. Yurts can be reserved up to a year in advance.
Weekends go fast, but there are often weekday openings. The park is three miles from downtown Clear Lake, 641-829-3847. For more, see A yurt on an Iowa lake.
Closer to town, the campground at Clear Lake State Park is one of the state's most popular.
Dining : Ge-Jo's faces City Park and the lake, serves Italian dishes and excellent pizza and has a small outdoor patio, 641-357-8288.
On Main Street, Starboard Market serves a delicious array of homemade sandwiches, salads and dessert bars.
Craft beer : In a house on the corner of Main Avenue, and North Eight Street, Lake Time Brewery has 10 of its own beers on tap. There's also a patio and deck.
Information : Clear Lake tourism, 800-285-5338.
Last updated on January 31, 2022