A yurt on an Iowa lake
In Clear Lake, a weekend stay is so simple, it's hardly camping.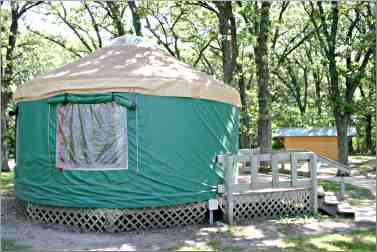 One June, I was a very lazy camper.
I threw a sleeping bag and pillow into the car and drove two hours down Interstate 35 to Clear Lake, Iowa. I didn't bother to look for company; in early June, most people where I live want to go north, not south.
It was their loss. McIntosh Woods State Park is on one of Iowa's most popular lakes, a big expanse of sparkling water that was scoured out by glaciers and sits above the surrounding countryside, catching breezes on hot days.
The park has a sand beach and boat launch, and it's connected by bike lanes to the laid-back beach town of Clear Lake.
Iowa state parks don't charge an entrance fee, and when I got to McIntosh Woods, the office was locked. The only staff turned out to be Andy Carter, whom I found down at the beach, raking out the sand.
He said he'd meet me back at the office and asked where I was from.
"I was born in St. Paul, and I don't ever want to go back," he said. "Too many people. I've got it made right here; it's peaceful."
He collected a $50 damage deposit, then showed me to a little green yurt on the lake. With one other yurt, it had its own dock and its own bathhouse, with hot showers and flush toilets, and there were two picnic tables, grills and firepits.
The two yurts sat all by themselves in a private, oak-shaded cul de sac, pretty posh for $35 a night. Then it occurred to me that it also would be perfect for late-night, blow-out beer parties.
Carter assured me that kind of thing didn't happen much.
"I patrol until midnight," he said. "I'll keep an eye on you."
As it turned out, my fellow yurt guests weren't wild at all. Lindsey Beglinger was a  middle-school custodian from Huxley, Iowa, who has an interest in sustainable housing, and she'd brought her little brother, William.
"Wow, this is like our own private campground," Beglinger said. "I've always wanted to stay in a yurt."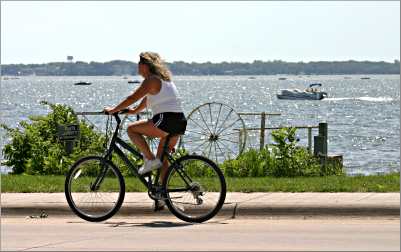 She'd reserved her yurt Feb. 13, nine days before I had, when most summer weekends already were filled. But we'd ended up with a lovely weekend: warm and sunny, with cool nights.
The walleye were biting, and fishermen huddled around the nearby cleaning station late into the night.
The annual Take Me Back oldies music festival had brought thousands of people to Clear Lake's lakeside City Park, and the Lady of the Lake paddlewheeler had started its cruise season.
Lindsey and William mostly hung out at their yurt, fixing foil-wrapped meat and potatoes over their grill.
But I explored the area, riding the 15 miles around the lake on my bike and walking to dinner at Rich's Muskie Lounge, a popular restaurant that has a patio overlooking the lake and is only a block from the yurts.
On Saturday, the Beglingers' mother, Leslee, joined them, and she, too, was impressed.
"We've been Girl Scouts for a long time, and for us, good times are a tent with animals underneath it and a leak," she said. "So this is pretty nice. This is fabulous."
They invited me over for s'mores that evening, but when I returned from a late dinner at one of the Italian restaurants facing City Park, they'd already gone to bed.
I slept so well on my full-size futon, with the ceiling fan whirring softly overhead, that I barely made it out by check-out time, when park manager Tammy Domonoske came down to see what I was doing.
With help from volunteers, Domonoske built the yurts from kits bought from the Colorado Yurt Co. in Montrose, Colo.
The kits for a basic, 16-inch yurt with a screen door, extra window and ceiling-fan mount include the rafters, lattice walls of Douglas fir, fabric cover and acrylic skylight. Domonoske and her crew used recycled materials to make the deck, plank flooring and furniture.
"It was an interesting project," she said. "It's been holding up really well."
Before she put it up, Domonoske said, she consulted Ted Young on Minnesota's Gunflint Trail, who has become known as "the yurt guy" of the Midwest.
In 1984, Young wanted to offer lodge-to-lodge skiing on the 28-kilometer Banadad Trail, but the U.S. Forest Service wouldn't allow a permanent dwelling on federal land.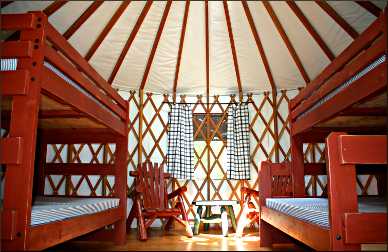 His wife, Barbara, read about yurts in Cross Country Skier magazine and suggested they get one, but he said, "It's silly; who's going to stay in that?"
"Those were Ted's exact words," says Barbara Young with a laugh. "Six months later, another resorter said, 'I just read something fascinating about yurts,' and he looked into it and said, 'This is something we should look into.' "
They ordered a kit, and Barbara sewed the canvas, grommet holes and all, on a portable machine in a one-room cabin without electricity. The first year, they had to take the yurt down in spring, but then they got permission to leave it up.
"When we started, we called it a hut, because we didn't think anyone would know what a yurt was," Ted Young said. "But now everyone in the skiing community knows what they are, so after three or four years, we changed it to yurt."
Trip Tips: Yurts in Iowa
Yurt guests need to bring bedding, pillows, towels and toiletries, plus cooking equipment. No cooking is allowed inside the yurt; generally, each one has a picnic table and fire pit and/or grill.
Guests may want to bring camping chairs if the yurt has a deck. As at camper cabins, guests are expected to clean up after themselves. Usually, there's a two-night minimum.
For information about yurts in other states, see A yen for yurts.
For more about camper cabins, see A roof in the woods.
Iowa: McIntosh Woods State Park, on the shores of Clear Lake, rents two yurts that each sleep four on a double futon and bunk bed, $35 per night or $210 weekly. The bathhouse is disabled-accessible, as is one yurt. Guests can bring a boat or raft to use off the dock.
Yurts can be reserved up to a year in advance, 877-427-2757. Weekends go fast, but there are often weekday openings. The park is three miles from downtown Clear Lake, which can be reached via bike trail.
For more, see Clear Lake tranquility.
Near Winterset, famous for its covered bridges, Pammel Park rents two yurts that sleep eight, $70.
They're available from April through October, and reservations can be made up to two years in advance.
Last updated on June 21, 2019