Minnesota's Little Crow lakes
West of the Twin Cities, easygoing Spicer and New London make a good beach getaway.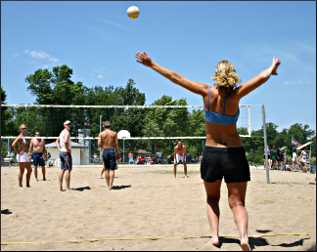 It's a radical idea, but here goes: In Minnesota, you can go up to the lake by heading west.
These lakes not only are out west, they're less than two hours from the Twin Cities, in a pocket of the state many overlook.
"It was a secret to me," said Michele Stillinger, a former Twin Citian working as a naturalist at Sibley State Park. "I thought I wouldn't find anything out here; I was very surprised."
North of Willmar, a smattering of lakes marks the spot where a lobe of the Wisconsin Glacier stopped 12,000 years ago, dumping massive blocks of ice and filling depressions with water.
Today, the resulting lakes and ponds provide habitat for swimmers and sunbathers, but also for waterfowl and animals; the state park once was the hunting grounds for Henry Sibley, Minnesota's first governor.
"I see more wildlife out here than I've ever seen," Stillinger says. "The deer are just thick, and there are coyotes, foxes, bald eagles and great songbirds."
It's not Ely; there might be a little cornfield beyond that beach. There are houses, not log cabins, and there are no pines at all. What the area does have is atmosphere.
Somehow, life around these lakes, strung along the meandering course of the Crow River, has retained the feel of a simpler time — not the 1850s, when the first settlers arrived, but the 1950s, when summer meant long days of sun, sand and surf music.
On the long, broad beach on Spicer's Green Lake, packs of tanned teen-agers play volleyball and take turns diving off two rafts.
At Lake Andrew, in Sibley State Park, barefoot children fish for crappies off the pier, then run into a little stone store for Popsicles.
And Friday nights in New London's Neer Park, a corps of spangled, sun-bleached young water skiers fly along behind three-engine muscle boats, accompanied by the lighthearted party music of the '50s and '60s.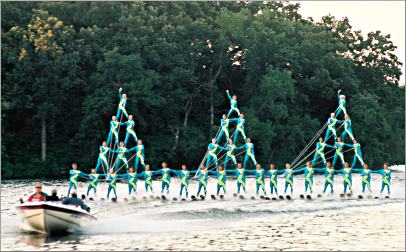 The Little Crow Water Ski Team puts on quite a show for the adoring crowds.
Its skiers perform in 20-woman dance lines, do double flips on 6-foot-long jump skis, ski barefoot at 45 miles per hour and build pyramids that can go up to four tiers and 42 people but are plenty impressive with fewer.
The show always includes a comedy routine, perhaps built around the fictional townsfolk of "Crowville," with Flo the gum-snapping waitress and clumsy Ole, who blows up a grill.
Hairy-legged "queen candidates" wear taffeta party dresses and then, in the next act, perform tricks that land many of them jobs skiing at Disney World or Cypress Gardens.
Here, the skiers go into the crowd after the show, to shake hands and bashfully accept compliments.
It's a wholesome place. One of the biggest events of the year is the annual quilt auction at Green Lake Bible Camp, where gospel-singing counselors serenade the crowds.
And the fastest way to raise local ire, said Allen Latham, is to propose a marina on Green Lake, the area's largest and deepest.
"They don't want the type of action you'll see on the St. Croix or Lake Minnetonka," said Latham, whose grandfather, John Spicer, founded the town around the shores of the lake. "Those are held up as an example of what they don't want. They want to keep it the way it is."
From 1988 to 2018, Latham preserved his part of the past at the inn he and his family ran in their ancestral home, an 1893 Queen Anne on the lake. It became known as Spicer Castle after 1913, when his Aunt Jessie returned from Europe and had its peaked tower replaced by a crenellated turret.
The family kept the atmosphere in the house and on the wooded grounds as close to the original as possible, serving afternoon tea from silver pots, decorating walls with Uncle Mason's cavalry saber and Aunt Agnes' paintings, and taking guests for leisurely cruises on the Spicer Castle Belle.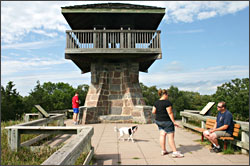 But Latham grew older, and younger generations weren't interested in running the inn.
Before the turn of the century, Green Lake was a busy vacation area. John Spicer shipped out grain on James J. Hill's railroad, and Hill shipped in tourists.
Now, it's mostly residential, except for two county parks, and surrounding lakes also have a mix of homes and a dwindling number of mom-and-pop resorts.
Sibley State Park includes five of the lakes, including Lake Andrew, whose sand beach is lined by shaded picnic tables. From the interpretive center, naturalists lead two to four walks and talks daily, collecting bugs in wetlands, watching for great blue herons and making crafts with kids.
A paved, quarter-mile trail from a park road leads to an observation tower atop Mount Tom, the highest point in 50 miles and once the site of Dakota powwows.
A longer path also leads to Mount Tom, part of 18 miles of hiking trails, and there are five miles of paved biking trails, lined with tree-identification plaques.
For bicyclists, this area is an unheralded find. Little-used County Road 148, a pleasantly rolling, five-mile stretch through cattail marshes and fields, has a wide bike lane and connects Sibley State Park with the little resort town of New London.
New London, home of the Little Crow Water Ski Team, has gifts and antiques shops as well as a coffeehouse, ice-cream parlor and bakery.
From New London, the paved Glacial Lakes State Trail winds 12 miles south to Willmar, passing the big, festive beach on Spicer's Green Lake, and 10 miles north to the county line.
It's a tourist area, but one that is so low-key it almost seems a rarity.
Trip Tips: Little Crow Lakes, Spicer and New London
Getting there: It's two hours west of the Twin Cities.
2023 events: June 21-25, Willmar Fests. July 17-23, Water Days in New London. Aug. 12, New London to New Brighton Antique Car Run.
Little Crow Ski Team shows: The Little Crow Water Ski Team puts on shows Friday evenings in New London's Neer Park, June through Labor Day, except when they're on the road for tournaments. They also perform at festivals. Admission is $5.
Resorts: They're dwindling, but they include Dickerson's Lake Florida Resort in Spicer.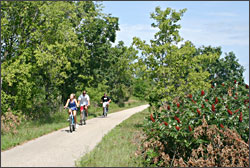 Accommodations: SureStay Hotel by Best Western is right across Spicer's Lake Avenue from the southern beach on Green Lake and has a pool.
The GrandStay Hotel & Suites is at the Little Crow golf resort between Spicer and New London.
Camper cabins: Sibley State Park has four heated, year-round camper cabins; three sleep six, and one sleeps five and is handicapped-accessible. A flush toilet is available year-round and showers seasonally. Reserve up to 120 days in advance at 866-857-2757.
There's also a group center that can accommodate 128, with bunkhouses and a dining hall. To reserve, call 320-354-2055.
Camping: The campsites at Sibley State Park are very popular, especially the ones right above the beach.
Green Lake County Park is a pleasant, full-service park, with a beach, a store, boat rental and 45 campsites, 320-796-5564. Games Lake County Park, just west of New London, is like a resort, 320-354-4453.
For more, see Camping in Kandiyohi.
Dining: Zorbaz on Green Lake, next to Saulsbury Beach in Spicer, is a fun place to have a beer or dinner. Johnny O'Neil's in town serves a full menu that includes prime rib and burgers.
On the south end of New London, the Deep Freeze serves soft-serve ice-cream treats and also barbecue sandwiches.
Craft breweries: In downtown New London, Goat Ridge Brewing serves pizza and tacos and holds various taproom events, such as game and trivia nights and live music.
Nightlife: Zorbaz and O'Neil's offer music on summer weekends.
Sibley State Park: The park has 18 miles of trails and naturalist programs year-round. It's a very popular camping park.
Glacial Lakes State Trail: This paved trail starts from the Civic Center at the northeast edge of Willmar and winds 22 miles past Green Lake in Spicer and on to New London, Hawick and the Kandiyohi/Stearns county line.
Swimming: Saulsbury Beach County Park, on the southern shore of Green Lake, is large and festive. Green Lake County Park, on the north shore, is more quiet and geared to campers.
Golf: The 27-hole Little Crow golf resort is a public course on Minnesota 23, between New London and Spicer, 320-354-2296.
Information: Spicer tourism, 320-796-8066.
Last updated on January 30, 2022