Camping in Kandiyohi
West of the Twin Cities, county parks provide easy access to beach life.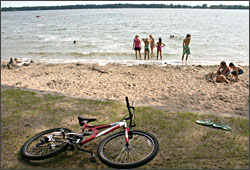 In Kandiyohi County, it's thanks to the last Ice Age that life's a beach today.
Near Willmar, a lobe of the last glacier came to a grinding halt 12,000 years ago, dumping massive blocks of ice that made big dents in the ground.
Now, they're lakes, popping up like mirages at the edge of soybean fields, behind screens of ash and cottonwoods. Farther north, they're hidden amid rocky meadows and rolling hillocks full of glacial rubble.
In summer, these lakes draw vacationers to their sandy beaches and fishing piers. On the south shore of Green Lake near Spicer, young people dive from a raft tower and play volleyball on the broad beach.
On Games Lake near New London, pelicans fly over a long beach as children fly into the water from a red-and-yellow slide and run into the park store for root-beer floats.
County campgrounds along many of these lakes allow families to have an inexpensive beach vacation not far from home.
These county parks don't have the wooded seclusion of most state parks, but they have their advantages: They're easier to get into and they're close to the Twin Cities.
And some of the lakes are just as nice as those in parks farther north.
(For camping even closer to the metro area, see Camping in the Twin Cities.)
One Fourth of July weekend, my husband and I headed west to see the Friday-night water-ski show in New London and check out some of the county parks.
On Big Kandiyohi Lake, we checked into Big Kandiyohi Lake County Park East, which still had tent spaces for the holiday weekend. The primitive sites were in a mosquito-infested nook in the woods, but the beach was nice and roomy, with a water slide and raft.
Then, we headed to New London for a classic Minnesota experience: a performance of the Little Crow Ski Team in Neer Park, on a calm stretch of the Crow River. Since 1979, the troupe of athletic young skiers has put on weekly shows.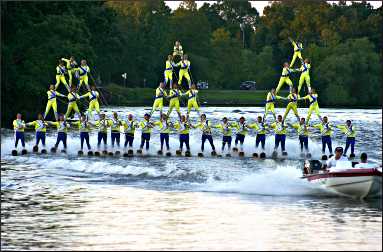 Between silly skits orchestrated by an emcee, the brightly costumed women performed in swivel and ballet lines, and the men skied barefoot at 43 mph and made helicopter spins and flips off the jump.
They combined for pyramids; the grand finale involved five tiers and 6½ tons of skiers, the highest 40 feet above the water.
Then, as the crowd began to leave, the three-man boat crews put on their own show, each gunning their three giant Evinrudes and lifting their boats into near-vertical salutes — nothing athletic, but it required timing, as well as a whole lot of horsepower.
The next day, we drove around the lake to Big Kandiyohi Lake County Park West, a very well-kept park at the edge of a farm field. As at Park 2, recreational vehicles were packed together — but they sat in orderly rows on strips of blacktop.
The bathrooms were clean, the store was welcoming and well stocked, and there was a raft and slide off the narrow beach. For a while, we played with baby rabbits in a big, open pen that must be quite an attraction for little kids.
On our way to Spicer, we spotted Willmar's nice sand beach on the eastern tip of Foot Lake. Hardly anyone was there, unlike Spicer's big Saulsbury Beach County Park on Green Lake. It doesn't have camping, but it's always packed in summer.
For a while, we watched the cutthroat competition of a beach-volleyball tournament, with teams mostly from the Twin Cities; for lunch, we walked next door and got juicy cheeseburgers off the patio grill at Melvin's.
Then, we circled Green Lake to Green Lake County Park, a Santee Dakota summer camp until the Dakota had to give it up in 1851. The park's hills make it picturesque but problematic for tent campers, and its beach was a little small, though attractive, with a slide and raft.
Still, it was the nicest we'd seen until we got to Games Lake County Park just down the road from Sibley State Park.
That park had a long, broad sand beach lined with a swath of tree-shaded grass and picnic tables; it wasn't as windy as Green Lake, since Games Lake is smaller.
Lifeguards watched swimmers from two platforms and from a wakeboard and platform in the water, which had a slide and two rafts.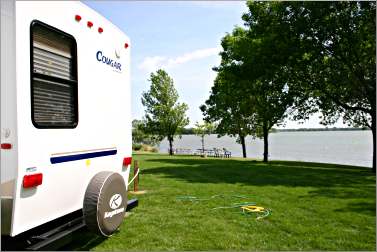 There was a volleyball net in the sand and another on a field at the edge of forest, next to a baseball diamond. In the store, attendants scooped ice cream and took orders for doughnuts and rolls for the next day's breakfast.
The campground was crowded, of course; still, it had the look and feel of a resort.
On the border of Stearns and Meeker counties, we finally found some great tent sites at Lake Koronis Regional Park, near Paynesville.
They were tucked into wooded nooks on the main campground, which, unfortunately, was across the highway from the small and weed-washed beach. Other tent sites sit just above the beach, though they're more open.
Continuing on Minnesota 55 into Wright County, we came to Annandale, just an hour from the Twin Cities. Not only does it have a nice beach on the north shore of Pleasant Lake, but there's also a resortlike camping park just to the east on Cedar Lake.
Schroeder Regional Park's beach was nearly as nice as the one at Games Lake County Park, with two volleyball nets, horseshoes, a playground and an open pavilion. A few pines ringed the beach's grassy fringe, and as we left we spotted a loon on the water.
Sometimes, out west looks a lot like up north.
Trip Tips: Camping in Minnesota's Kandiyohi County
Getting there: Annandale is an hour from the Twin Cities, depending on traffic; Kandiyohi County is a little more than two hours.
Water-ski show: The Little Crow Ski Team puts on shows in New London's Neer Park on most Friday evenings through Labor Day.  Admission is $5, $7 for reserved seats. From downtown New London, turn north on 1st Avenue, then east on Birch Street. Park on the street and walk to the park.
For more about the area, see Minnesota's Little Crow lakes.
Kandiyohi County parks: They take reservations only for stays of seven days or more in summer, except for designated tenting sites.
Online reservations are taken starting in mid-January. At the end of January, reservations can be made online or by phone.
Walk-ups are accepted if there's availability. July is busiest; call before coming.
Just west of New London, Games Lake County Park has a very nice campground and beach, 320-354-4453.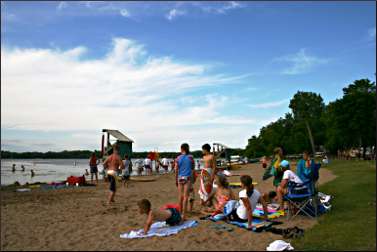 Green Lake County Park on the north shore is well-located, between New London's Neer Park and the festive atmosphere on the south shore. With Games Lake, it's least likely to suffer from algae, and it has a hilltop picnic house that would be good for family reunions.  320-796-5564.
Big Kandiyohi Lake County Park West has a pleasant, low-key atmosphere and a nice beach; however, it may be affected by farm run-off. 320-995-6599.
South of Willmar, Big Kandiyohi Lake County Park East has a nice beach and store. However, its campsites are buggy. 320-664-4707.
Camping in Sibley State Park. In this park near New London, Lakeview Campground is near Lake Andrew, which has a sand beach lined by shaded picnic tables and a little stone store.
In summer, it fills up every weekend; 320-354-2055. Reserve up to a year in advance .
Camping in other counties: Just northeast of Annandale, Schroeder Regional Park and Campground on Cedar Lake in Wright County is very popular.
Near Paynesville, Lake Koronis Regional Park in Stearns County has nice sites for tents as well as RVs. Campers could stay there and spend the day on the beach at Kandiyohi County Park 7, about 25 miles to the west.
Even closer to the Twin Cities, off U.S. 12 near Maple Plain, Baker Park Reserve in Three Rivers Park District has campsites near the beach on Lake Independence.
For more, see Camping in the Twin Cities.
Last updated on March 6, 2019